Melaka Alive is a project that aims to present the past of Melaka in 5D. In other words, it is a cultural performance that tells the history of Melaka as it originally should, from Parameswara to The Malaccan Sultanate to the times of Portuguese occupation through live theatre performance.
The Melaka Alive stage is located nearby the well-famed Porta de Santiago and directly opposite the Proclamation of Independence Memorial.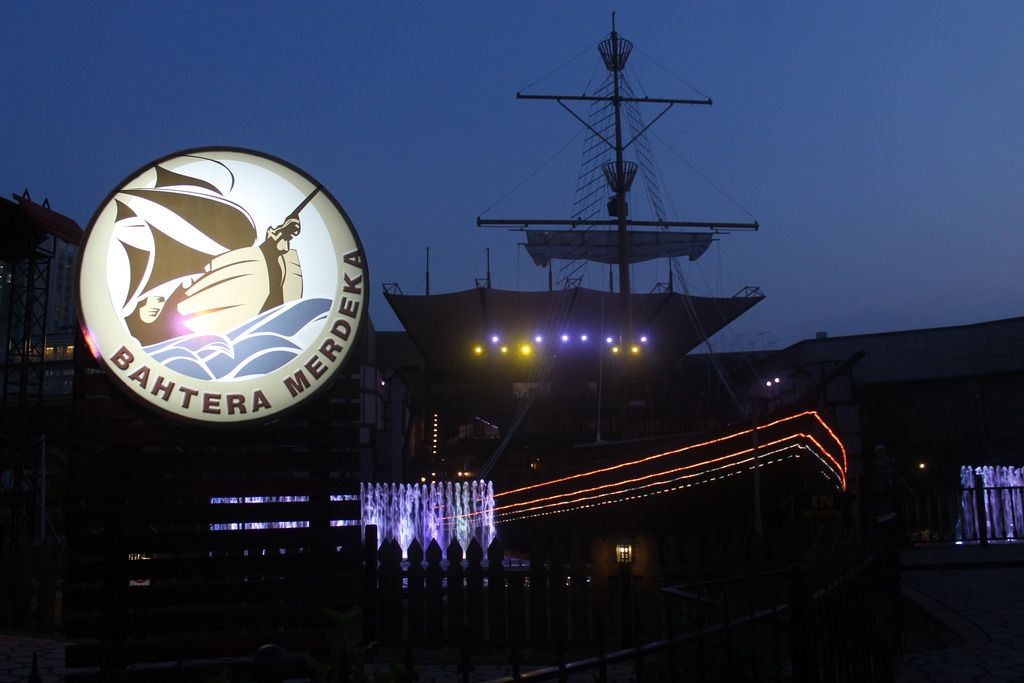 This is the stage. A ship inspired stage.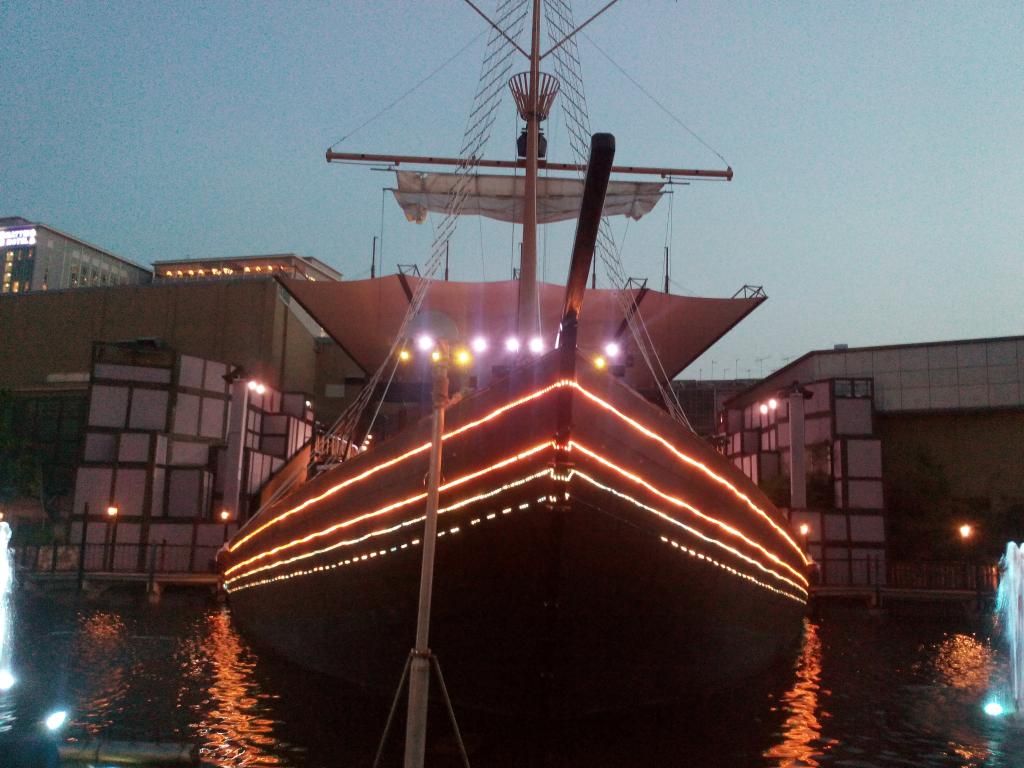 A closer look on Bahtera Merdeka where the Melaka Alive Cultural Performance is staged. We were was told that there will be a few more stage performance that will bring history alive across the famous locations in Melaka; the ruins of Porta de Santiago and The Christ Church in the Dutch Square, but for now it's just The Ship, Bahtera Merdeka.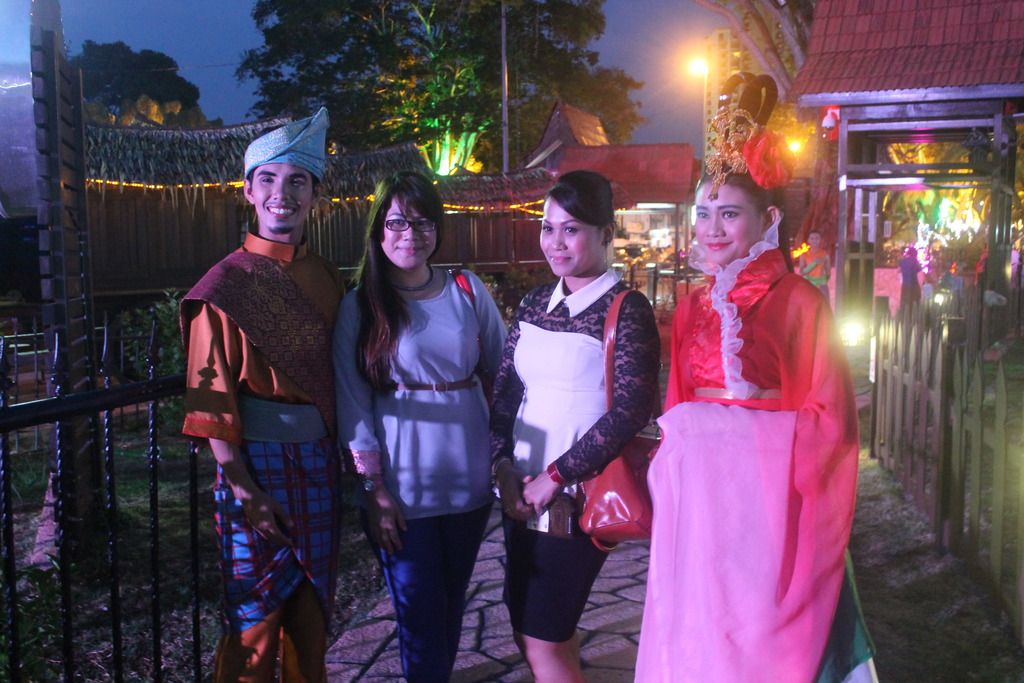 Upon entering, you'll be greeted by the casts who are already fully costumed. They will lead you to board the ship. This is where you'll feel that you have just stepped into a time machine, where you were brought into Melaka of the past.
One word of advice; If you are seated in front and the Bahtera Merdeka's crew hand you a disposable raincoat, you might want to put it on.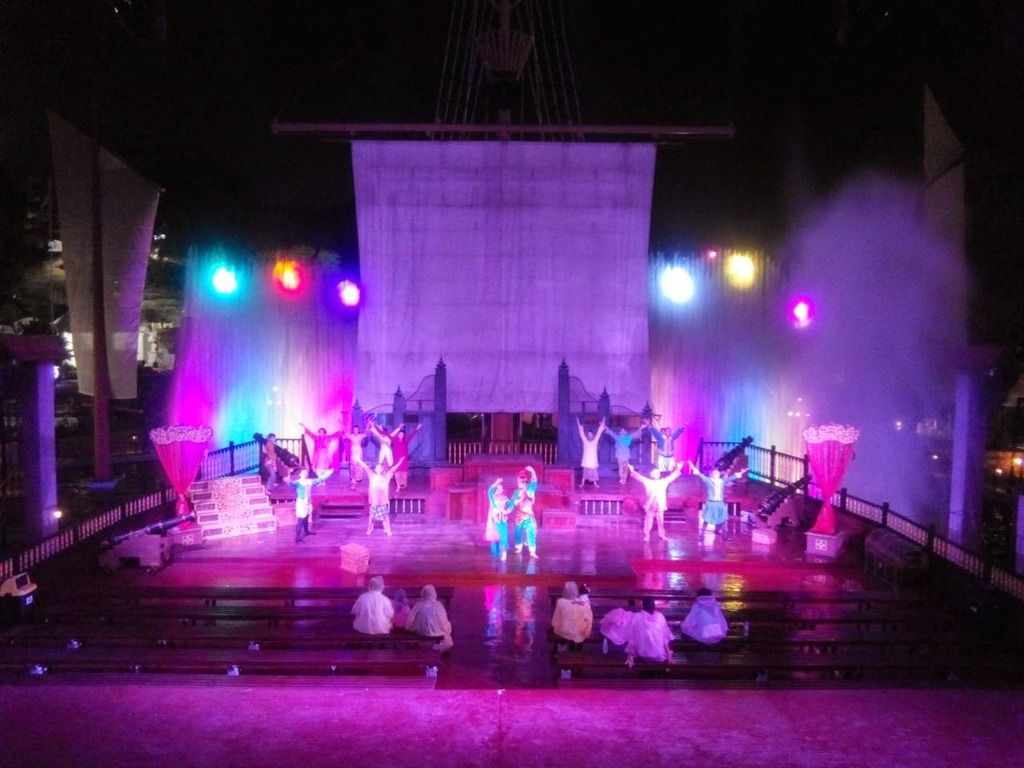 There is plenty of realistic rainfalls and ocean tide's splashes throughout the show. The one that I watched was called 'The Winds of Melaka'

Set on board of the 'Bahtera Merdeka', the  ship inspired stage, this extravaganza tale of Panglima Awang is brought to life in a play that combines spectacular visuals, effects, music and live acting to tell the story of Melaka's rich and diverse history, from the establishment of the city by it's founder Parameswara, to the glorious Melaccan Sultanate to it's fall into the Portuguese hands. Amongst other things, the performance also highlights the legends of the Mouse Deer and dogs, the arrival of Cheng Ho's fleet and the coming of de Sequiera and de Albuquerque to the shores of the kingdom.
So what did wethink about the entire Melaka Alive: The Winds of Melaka performance? Fabulous!
Melaka Alive is definitely a must see tourist attraction for all who visit Melaka and Malaysia. Like it's tagline goes, it is 'very history, very drama in 5D'. Highly recommended for school trips. It beats studying history from the boring textbooks in school.
Interested to see history comes alive before your very eyes? Here's the ticketing details:
Ticket Pricing
MyKad
Adult RM35
Child RM20
Non MyKad
Adult RM45
Child RM28
Senior Citizen (60 years +) RM20 –
Terms & Conditions
Prove of MYKad at redemption counter is needed.
Child 3 years old and below or 90 cm below is free.
Showtimes
Every Thursday to Sunday
Time: 7.30 pm & 9 pm
For more info, visit their site at www.melakaalive.com.my and Facebook page https://www.facebook.com/pages/Official-Melaka-Alive/745782112168059

Nasi ambeng or nasi ambang is a fragrant rice dish consisting of white rice served with chicken curry or chicken cooked in soy sauce, vegetables, fried noodles, some salted fish, fried coconut flesh, and so on. It is cooked during important celebrations and served in a tray to be shared by four to five people.
Experience the unique, communal dining style and delicious food of the Javanese-Malay people at the Nasi Ambeng Festival
Info to the Nasi Ambeng Festival 2015 is as below:
Venue
Homestay Banghuris, Sg. Pelek, Sepang Selangor
Organiser
National Department for Culture and Arts (JKKN)
Phone
+603-5510 2664
Eat, shop & go on two wheels in Taiwan!
Before that grab the best travel deals at Taiwan Travel Fair

Whether you are considering a first or subsequent visits to Taiwan, there's never a better time to tour the island than in 2015! Taiwan Tourism Bureau Kuala Lumpur (TTBKL) is organising its first-ever Taiwan Travel Fair in Malaysia. With the theme of "Time to Enjoy Life", it will be held at 1 Utama Shopping Centre, where the public can get the best deals for Taiwan travel at this one-stop event from 25 to 29 March 2015.
With the first Taiwan Travel Fair, TTBKL hopes to present great value travel deals to Malaysian families. They have tied up with top Taiwanese and Malaysian travel agencies to offer a variety of exciting packages and the most attractive travel deals for all destinations in Taiwan. This also includes customised packages or tours specially-catered for Muslim visitors.
For visitors of the fair who purchase any tour package from participating agents, they stand a chance to participate in a lucky draw for every RM500 spent. Prizes include Taipei return flight tickets sponsored by China Airlines and Eva Airways; and East Asia cruise on Star Aquarius, Star Virgo and Aquarius liners sponsored by Star Cruises. So do make a date with us and visit the Taiwan Tourism Fair to bring back these fabulous prizes!
The Taiwan Travel Fair will be held at the Oval concourse in 1 Utama Shopping Centre from 25 to 29 March 2015. Opens 10 am daily. For more information, visit https://www.facebook.com/tbrockl !
Based on a survey conducted by Taiwan Tourism in 2012, the top attractions for inbound tourists are sights and sceneries, food and shopping. As such, the Taiwan Travel Fair will also highlight three major experiences under the theme of "Time to Enjoy Life":
Time to Eat
When it comes to food, Taiwan has it all. Dine like royalty without paying a king's ransom for it. From juicy seasonal fruits, sumptuous traditional Chinese dishes, healthy vegetarian dishes, icy desserts to creative tea drinks, Taiwanese cuisine makes full use of local ingredients and age-old techniques to surprise and satisfy your palate.
Don't forget the world-famous night markets, filled with the enticing aromas of delicious street food and snacks!
Time to Shop
Taiwan is a shopaholic's dream come true, with many large shopping centres and chain department stores in all four corners of the island. Shop for anything you want, from high-quality made-in-Taiwan 3C products, to famous highland tea and handmade weavings.
For the fashion lover, all kinds of affordable clothing, leather goods and branded products are at your fingertips. In Taiwan, you are sure to find just about everything you want.
Time to go on Two Wheels
These days, the LOHAS (Lifestyles of Health and Sustainability) trend is gaining popularity as people begin to be more health and eco-conscious. Taiwan is well-known for its LOHAS practices, and there is no better way to experience it than to travel along the breath-taking coastal highways by bicycle! Immerse yourself in the beauty of nature and appreciate the simple yet wonderful things in life with your loved ones.
Busy working? Need a quick Japanese food fix? You might want to try Yoshinoya or Hanamaru Udon. Outlet is recently opened and located in Mid Valley Kuala Lumpur.
My wife and I were recently invited for their launching and we managed to try some of the things that Hanamaru Udon are offering.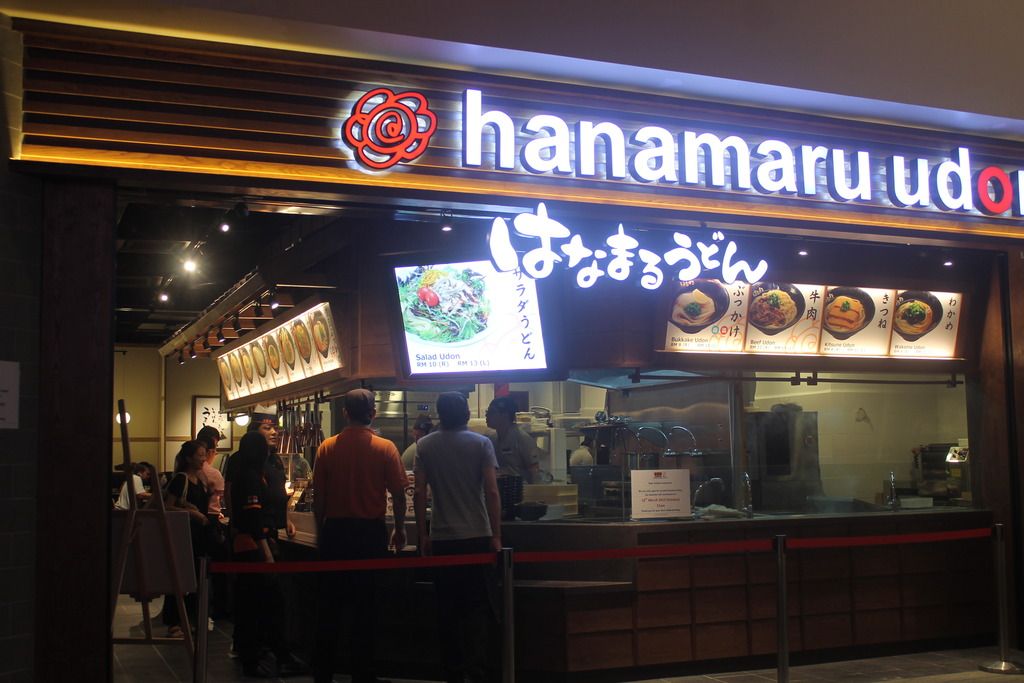 Hanamaru was founded in 2001 in Takamatsu, the capital city of Kagawa Prefecture, where Japan's famous home of Udon. They have 13 types of Udons available at this outlet. Price range from RM7 for a basic udon (zaru Udon, Kamaage Udon and Kake udon). They also have standard Udon (RM8 – Bukkake, Ontama Bukkake, Kamatama, Kitsune, Wakame),and chef's specialty (Salad Udon, Curry Udon, and Beef Udon) and Chicken Soup Udon.
Here's sharing with you we managed to try.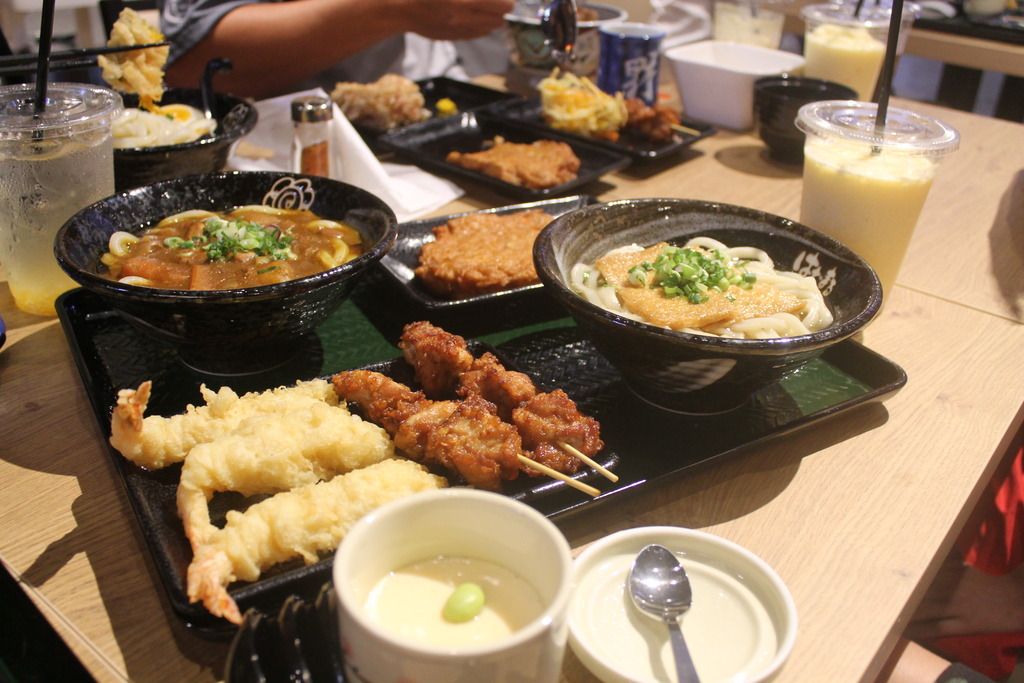 Kitune Udon, Curry Udon, Karaage,  Yasai Age, Ebi Tempura, Chawan Mushi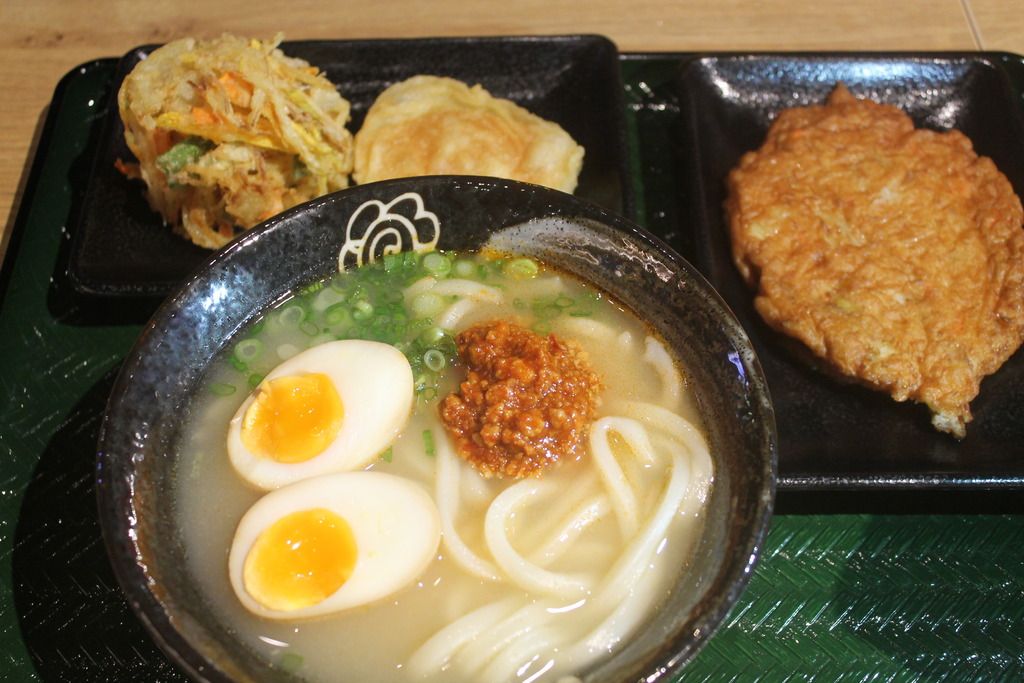 Spicy Miso Chicken Udon, Kakiage
Curry Udon (RM10) It is not only flavourful, but a tad spicy as well. Not very common for Japanese curries but my wife loves this.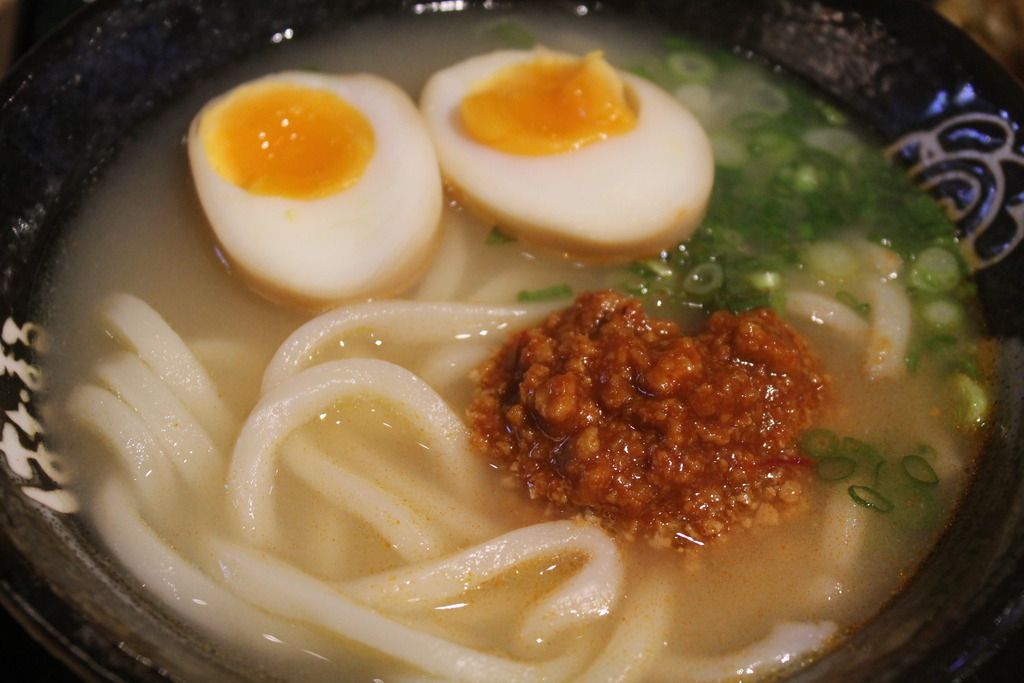 Spicy Miso Chicken Udon (RM12) was rich and flavourful but definitely not for those who doesn't like spicy food. This one gives lingering aftertaste after you had them.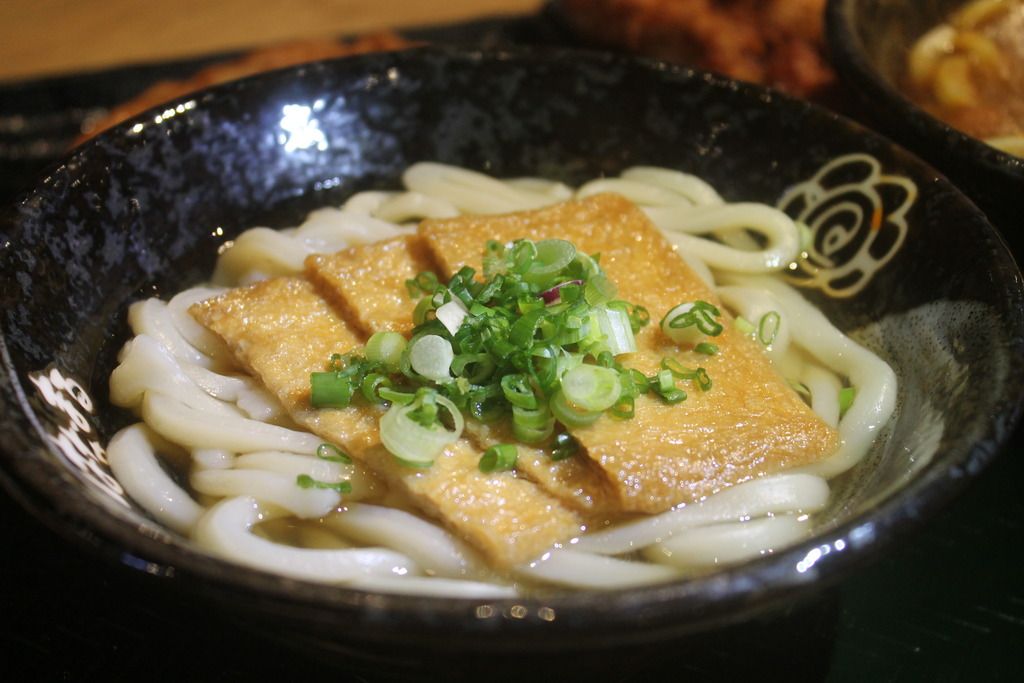 Kitsune Udon (RM8). Kitsune Udon is a delicious dish made with thick udon noodles served in a dashi based soup stock and served with a piece of fried tofu. Great for children or for those who prefers simple udons.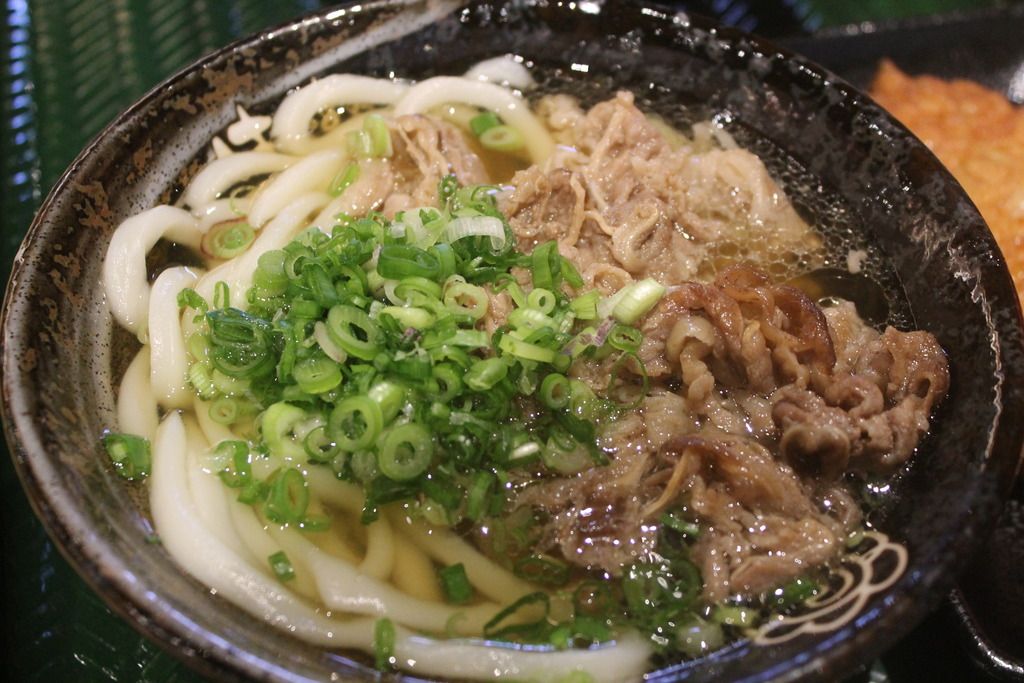 Beef Udon (RM12). I did not had this. My wife and son shared this bowl of udons, so no comment here.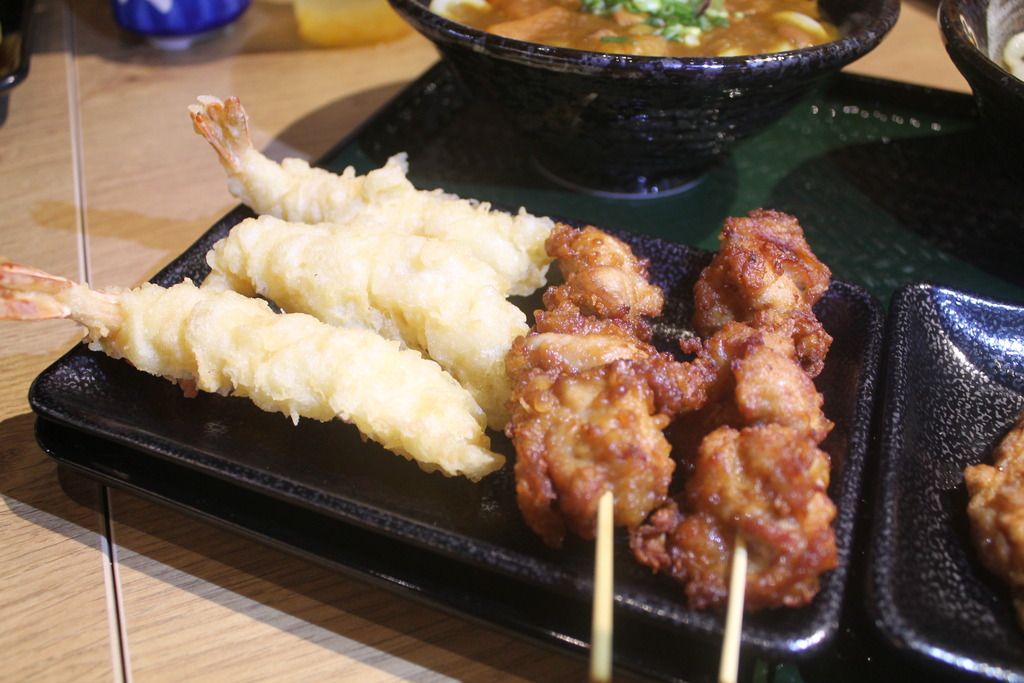 Karaage (RM12), This Karaage is one of those dishes that strikes the perfect balance between flavor, texture and richness. Ebi Tempura (RM20) on the other hand, was a just all right. Quite oily in my opinion though.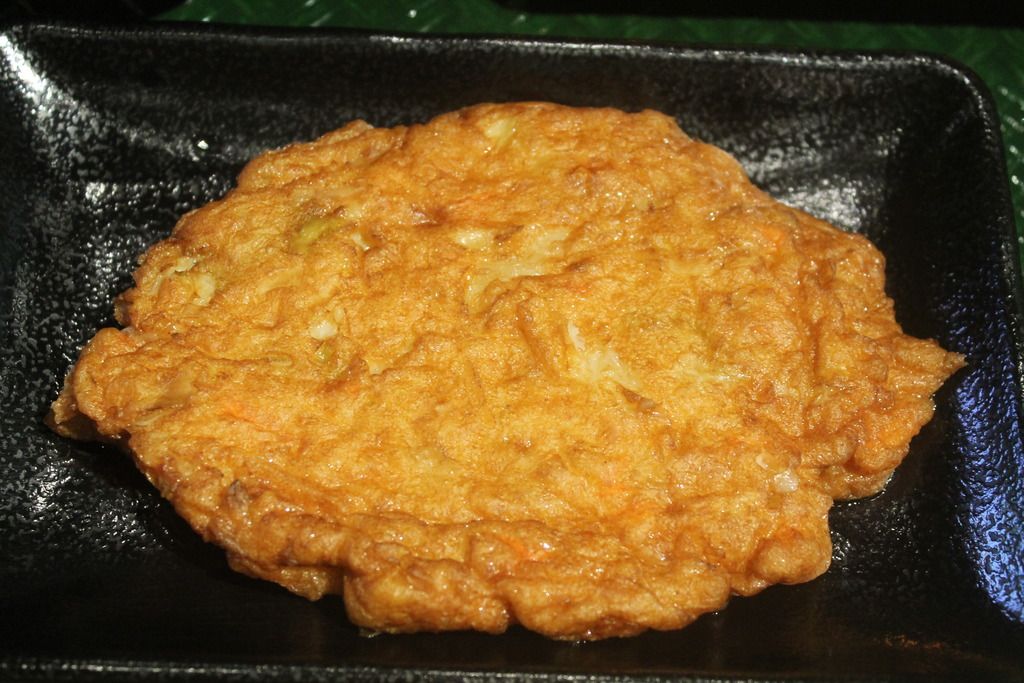 Yasai Age (RM6) . This can be had on it's own or you can add it as a side dish to your udons. Love the taste and the texture.
Sweet Potato Tempura(RM3) and Kakiage (RM3). The sweet potato is just so-so in my opinion. Nothing to complain and nothing to shout about either, but the Kakiage is adeptly fried and rather wholesome.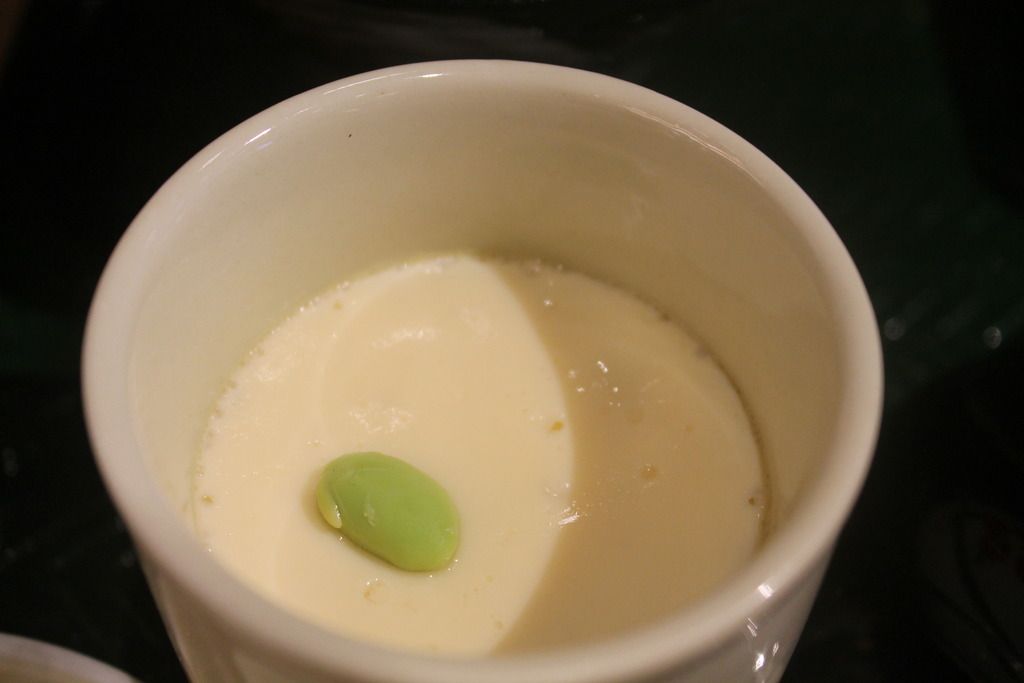 Chawan Mushi (RM8) is worth you calories, definitely. I like the taste and the texture and this one is generously filled with fillings too.
Drooling? Wanna try the Udons in Hanamaru? Below is the details of the restaurant:
Business hours: 11am-10pm daily.
Location: Lot T-015B, Level 3, Mid Valley Megamall, Mid Valley City, Lingkaran Syed Putra, 59200 Kuala Lumpur. (Opposite exhibition hall)
Outlet is Pork Free
Tel: 03-2201 8789
My wife and I did not do those 'traditional' kind of dating like going out for movies or window shopping when we were younger. We had our son quite early in life and we were busy being young parents instead of hanging out around as a couples our age. We were busy changing diapers and whatnot instead of dating.
But as time goes by, the boy grew up and we rediscovered the art of being a youthful couple once again and started dating.
Hanging out in the shopping mall, dinner together and checking out new movies at the cinema became our favourite past time. We do it about once or twice a month these days, depending on what nice movies is being screened.
The most recent one is, Ah Boys To Men 3: Frogmen.
Ah Boys to Men 3: Frogmen brings Singapore's favourite recruits back to the days before enlistment in ABTM. Instead of reporting to Pualu Tekong, the Ah Boys are posted to the Naval Diving Unit (NDU).
Returning to active duty are familiar characters – Ken Chow (Joshua Tan), the spoilt, rich kid, who tries to 'keng' his way out of NS. Aloysius Jin AKA Wayang King (Maxi Lim), whose over-enthusiasm creates more problems for his cabin mates. Lobang (Wang Weiliang), the street-smart wheeler dealer, out to make a quick buck off his cabin mates. Joining them is new face Hei Long AKA The Black Dragon (Wesley Wong), an aggressive gang leader, who prefers to talk with his fists instead of his mouth.
Together, these ragtag band of misfits must somehow survive 40 weeks of training in hell.
So, did we like the movie? Well, I have to say that the movie surpassed our expectation. It's full of action, packed with innuendos that will surely tickle your funny bones and at the same time, is a tearjerker as there is touchy emotional element embedded in some of the scene.
Ah Boys To Men 3: Frogmen will be screened in Malaysian cinema nationwide from 19th March 2015 onwards. It is rated PG-13 for vulgarities and mild nudity. Definitely a movie that's worth paying for and I would rate it a 5/5, so do check it out.