Si Chuan Dou Hua is offering extensive variety of delicious dishes. From 5th February – 5th March 2015 in conjunction of Chinese New
Year 2015.
Went for a menu preview with my wife the other day and here is some of the Chinese New Year's dishes that we managed sample: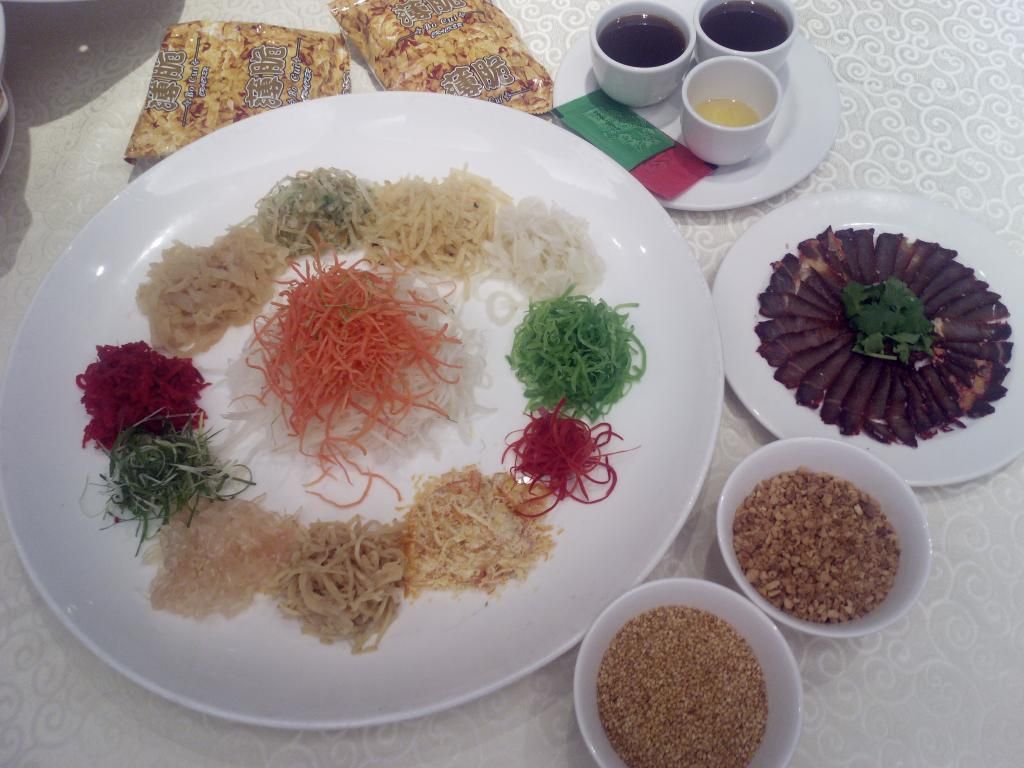 Barbeque Lamb Yee Sang (RM98.00 nett/half portion or RM148.00 nett/full portion)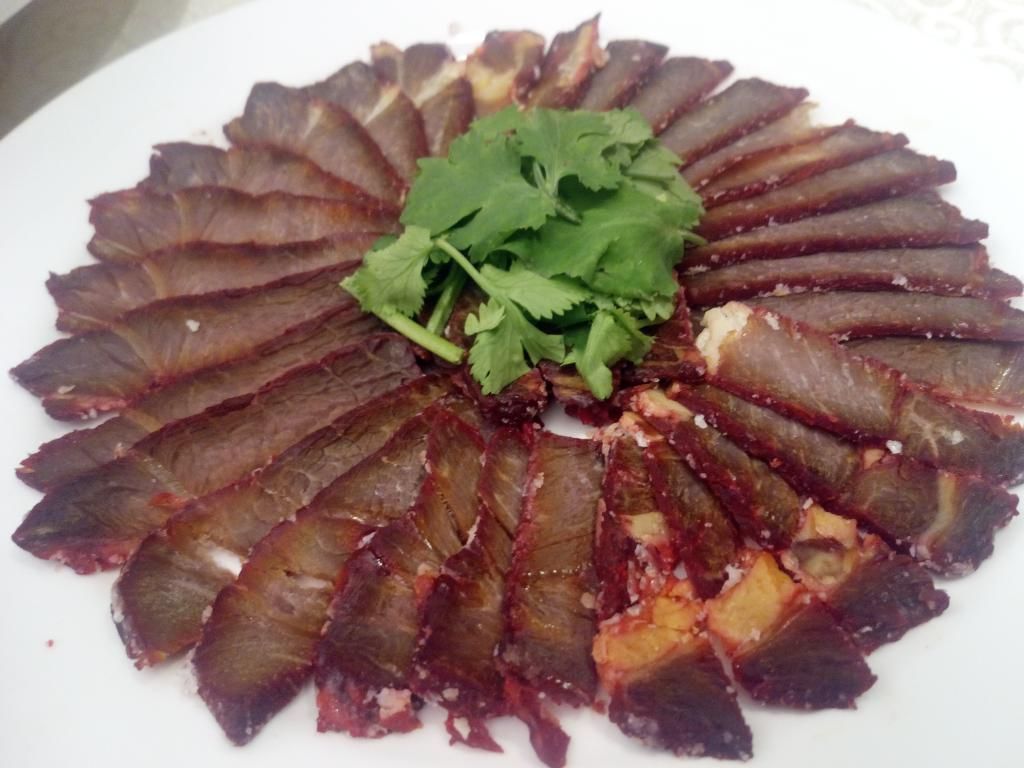 BBQ lamb slices are served with this Yee sang. (RM58.00 nett – RM128.00 nett/half portion or RM98.00 nett – RM238.00 nett/full portion)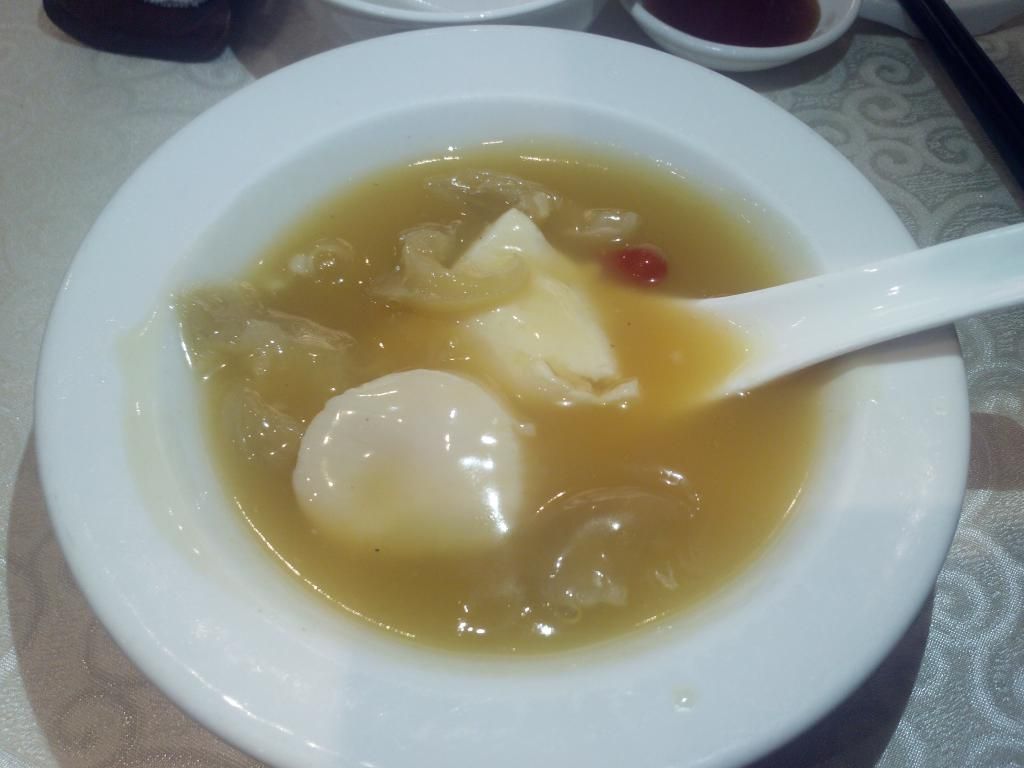 Double-Boiled Shark's Fin Soup with Sea Treasures & Fresh Scallop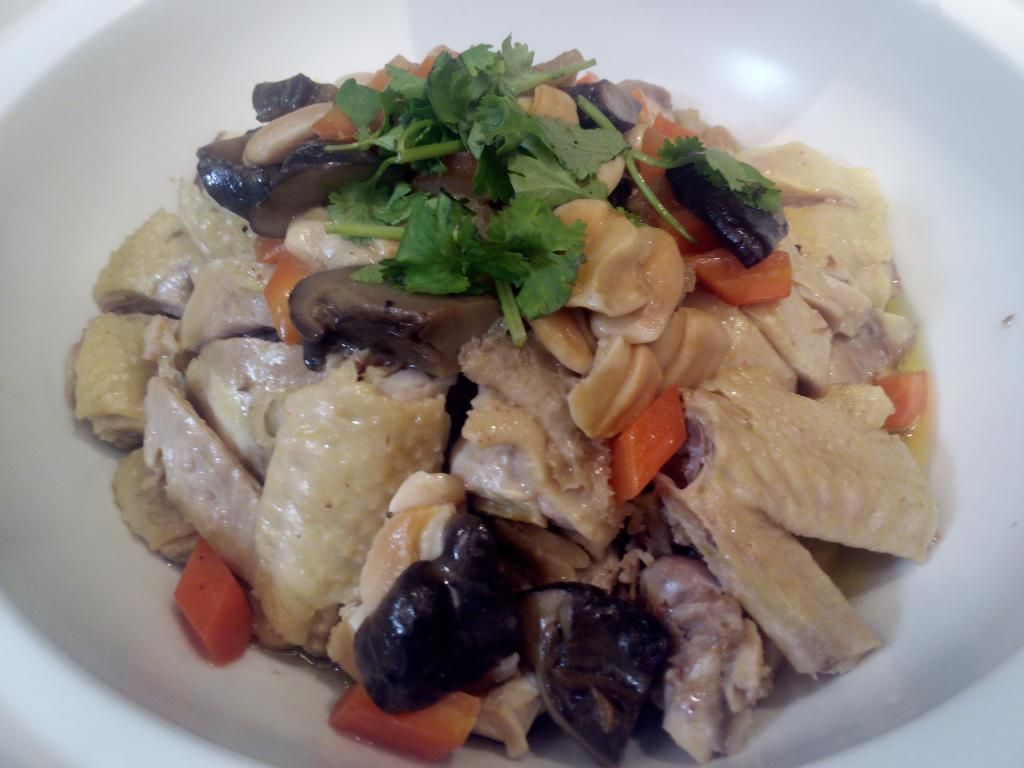 Steamed Village Chicken with Dried Seafood & Chinese Herbs.
Stir-Fried Large Prawns with Egg White served with Fresh Iceberg Lettuce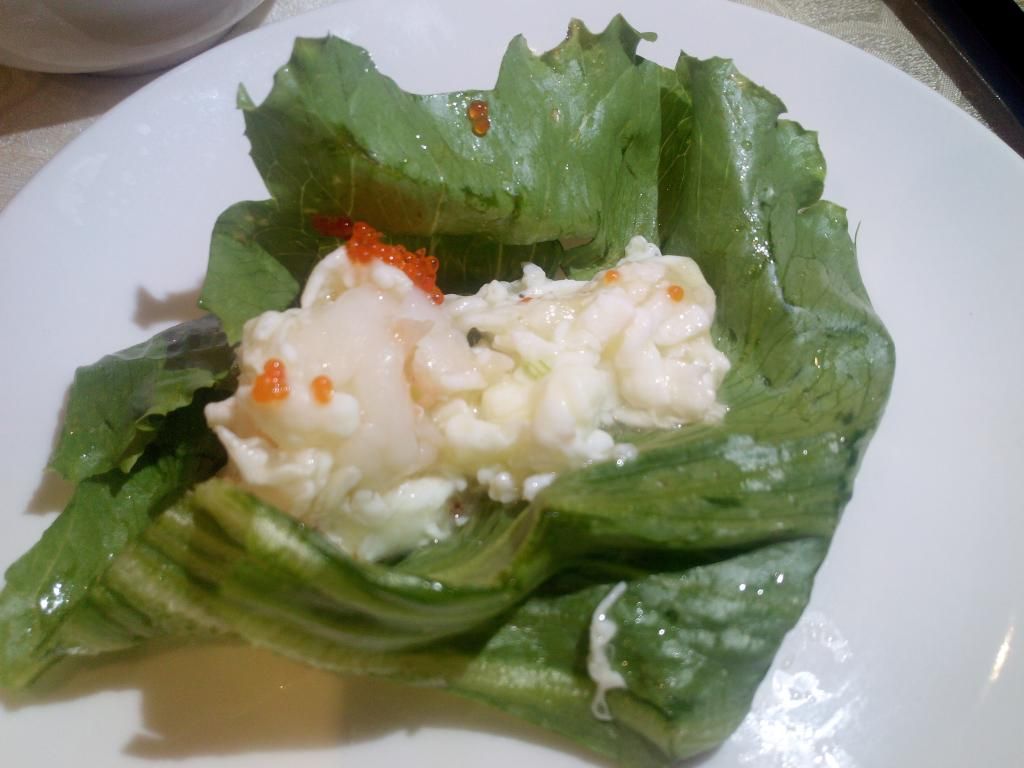 Served with lettuce leaves, the prawns were fresh and well-cooked. Quite a refreshing dish in comparison to the regular fried buttered prawns.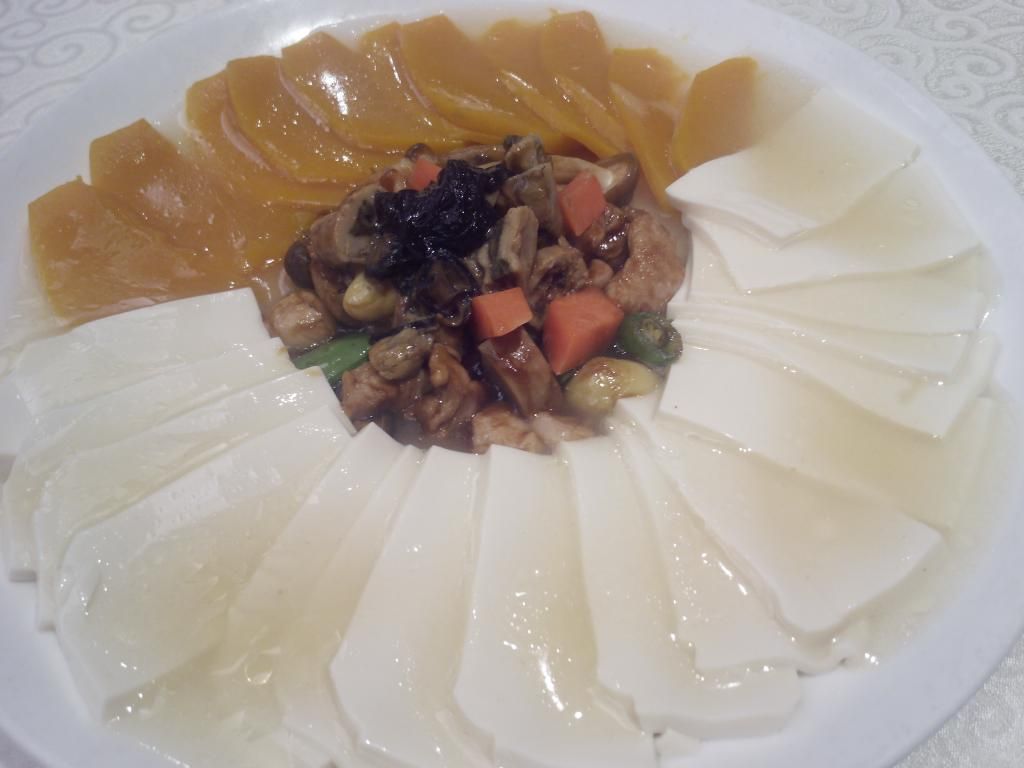 Braised Seasonal Vegetables, Beancurd & Dried Oysters with Pumpkin.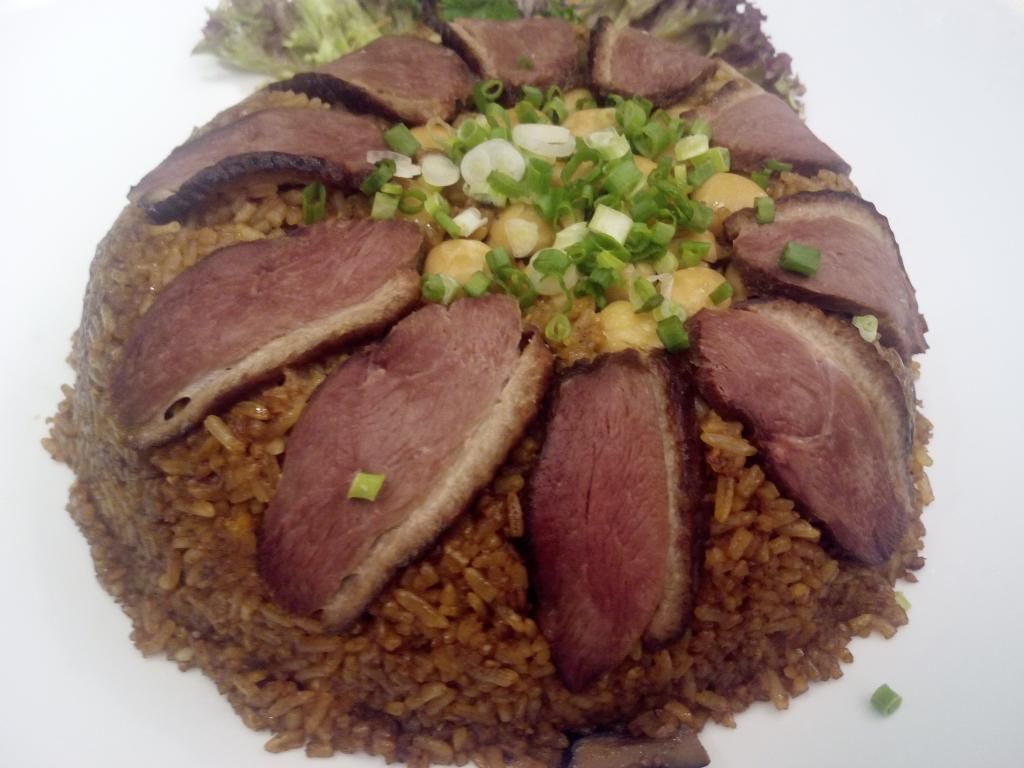 Fried Rice with Black Mushrooms, Lotus Seeds & Smoked Duck.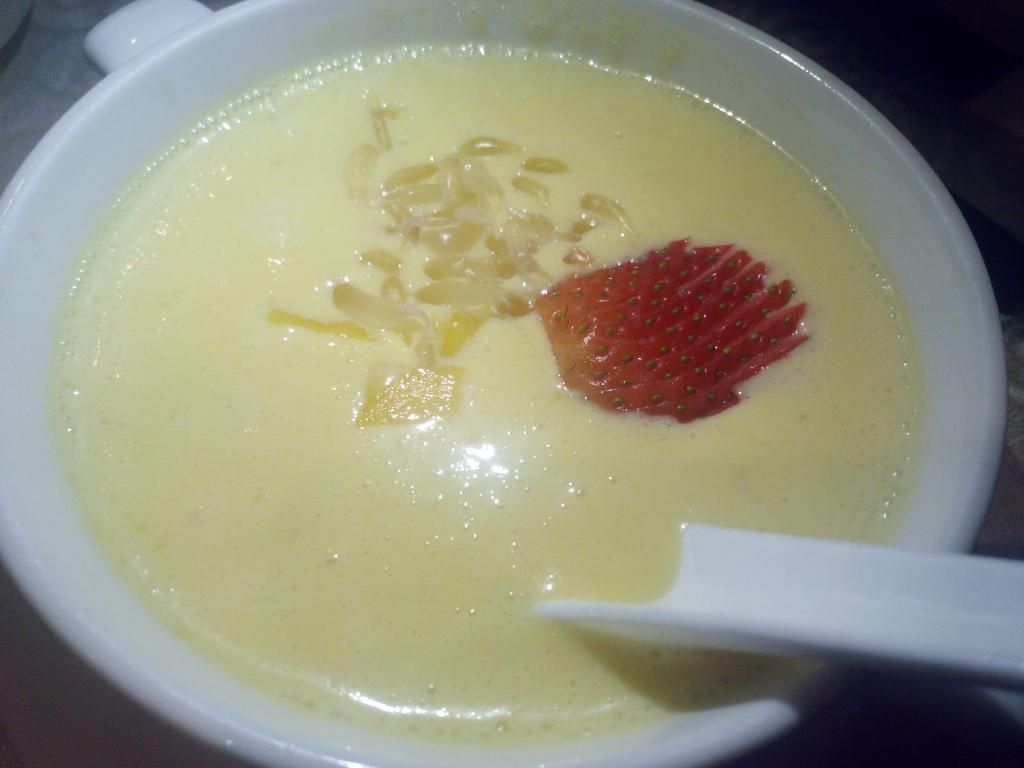 Chilled Mango & Pomelo Sago. Those with sweet tooth will appreciate this.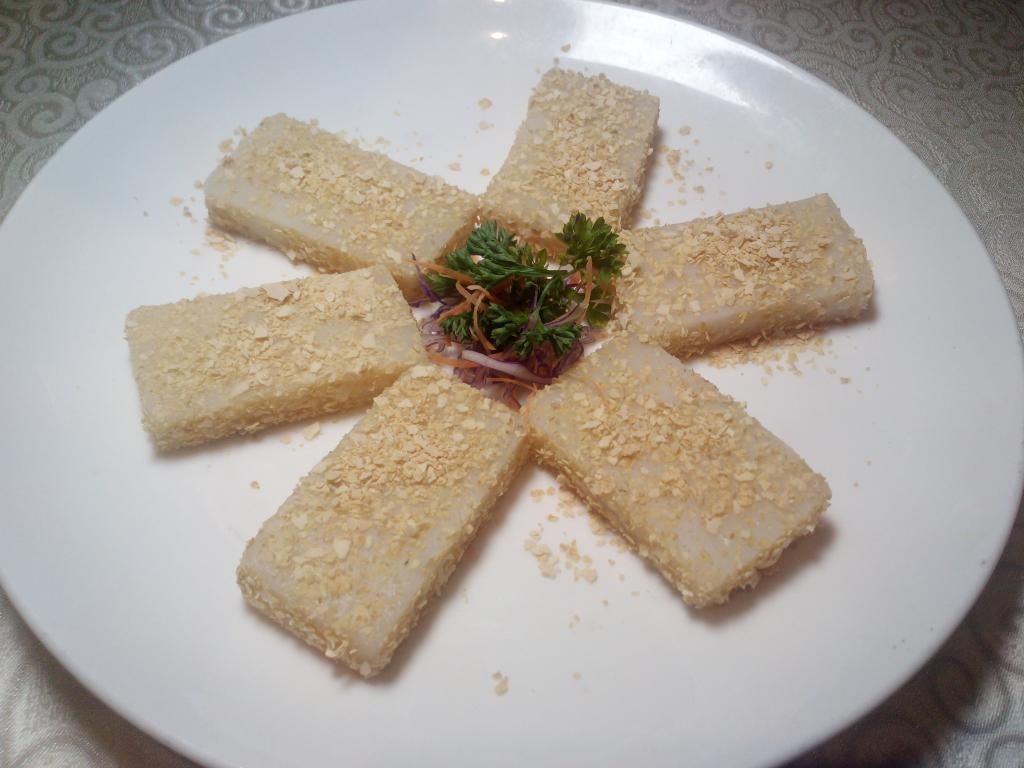 Steamed Nian Gao with Crispy Oats this.
Below is the pricing details for your reference:
58.00 nett per table of 2 persons
Golden Happiness RM188.00 nett per table of 2 persons
Auspicious Blessing RM488.00 nett per table of 4 persons
Blissful Happiness RM688.00 nett per table of 6 persons
Happy & Prosperous RM1288.00 nett per table of 10 persons
Smiles of Fortune RM1388.00 nett per table of 10 persons
Golden Prosperity RM1688.00 nett per table of 10 persons
Bountiful Wealth RM1988.00 nett per table of 10 persons
Prosperous Blessing RM2188.00 nett per table of 10 persons
Vegetarian Abundance RM1188.00 nett per table of 10 persons
* Each set comes with 1 serving of yee sang (different set, different types of yee sang), 4-6 dishes + 2 desserts
For enquiries and reservation, please contact:
Si Chuan Dou Hua Restaurant
PARKROYAL Kuala Lumpur
Jalan Sultan Ismail
50250 Kuala Lumpur
Malaysia.
Tel: (+603) 2147 0088
Fax: (+603) 2782 8455
Email: douhua.prkul@parkroyalhotels.com
URL: www.sichuandouhua.com
Business hours: Daily from 12:00p.m. – 2:30p.m. (lunch) & 6:30p.m. – 10:30p.m. (dinner)
I have recently been invited to the grand launching of one of the most happening and beautiful place in Klang Valley; The Sky at One City.
Located on the 10th floor of One City Mall in Subang Jaya, the place have ample parking at the open space area as well as the basement.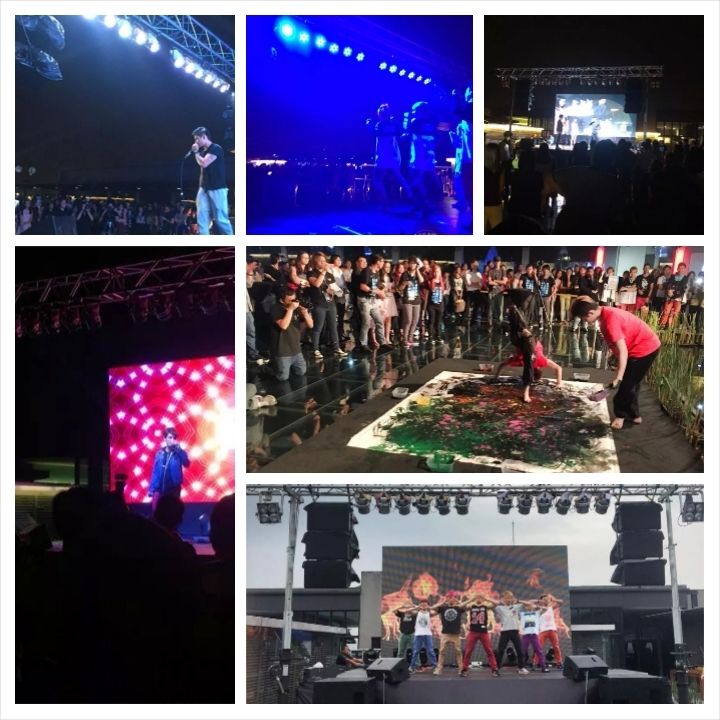 There was an exclusive private VVIP party, by invitation only and plenty of performances by local artists like Rejuvenate Dance Crew, Henley, Dina Malaysia Idol and many more in conjunction of the grand launching of The Sky at One City.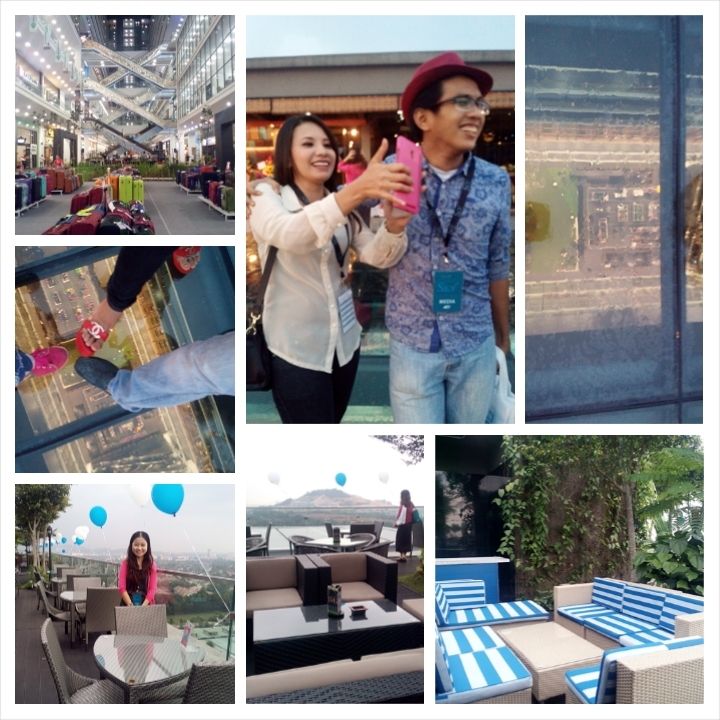 The Sky at One City is actually a rooftop dining place and have not only beautiful sceneries…
Managed to sample some stuff at the restaurants….so let's take a look at what to expect when you dine here.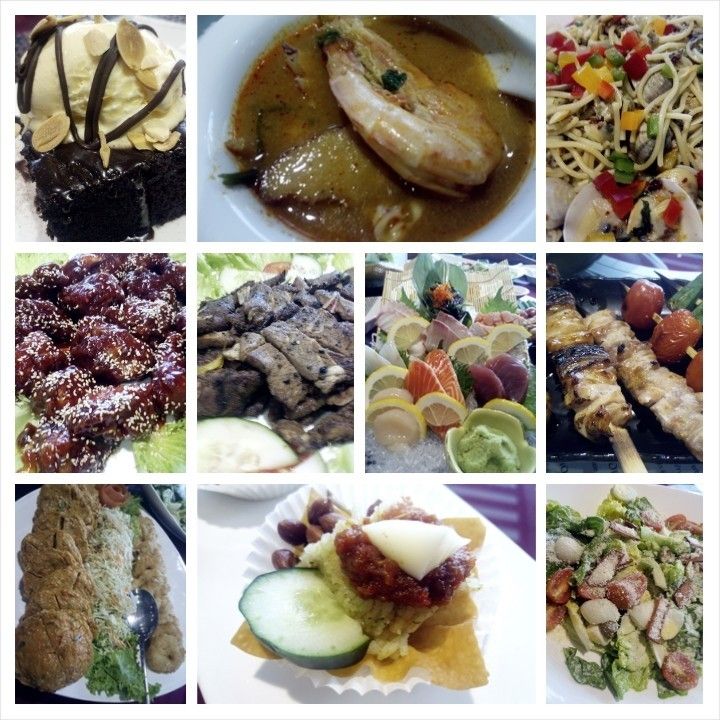 You will be spoiled for choices…plenty of things to go for; from Korean food to Thai Cuisine to fusion and Western delights.
Let's check out the restaurants: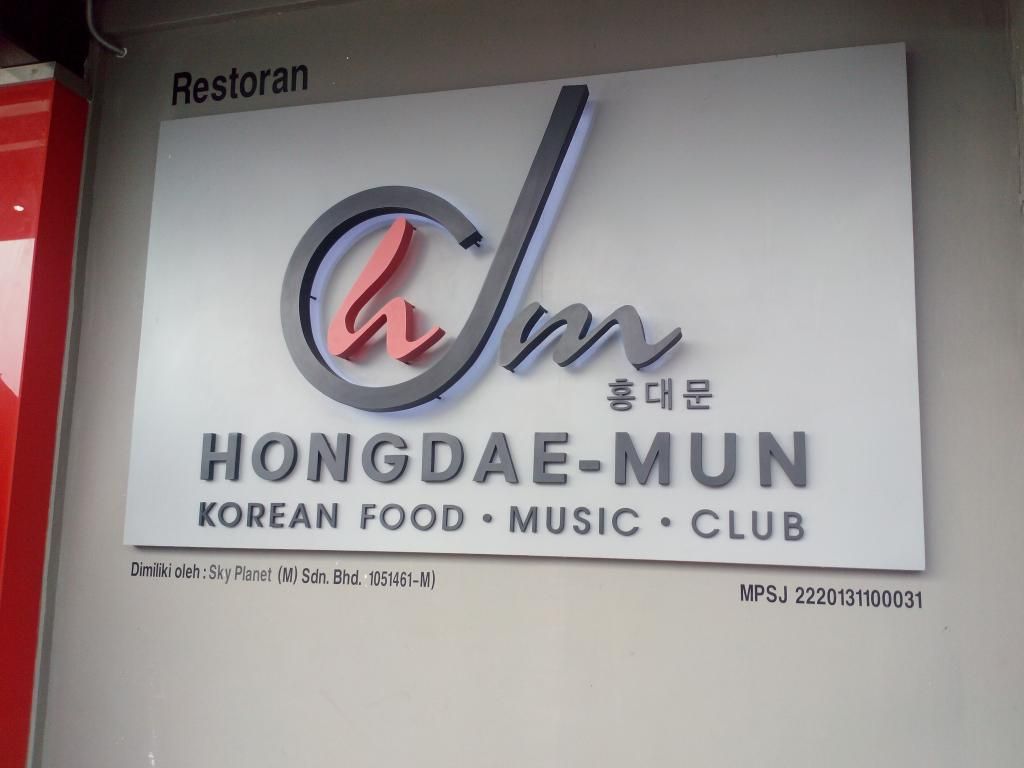 Hong Dae-Mun: offering authentic Korean cuisine.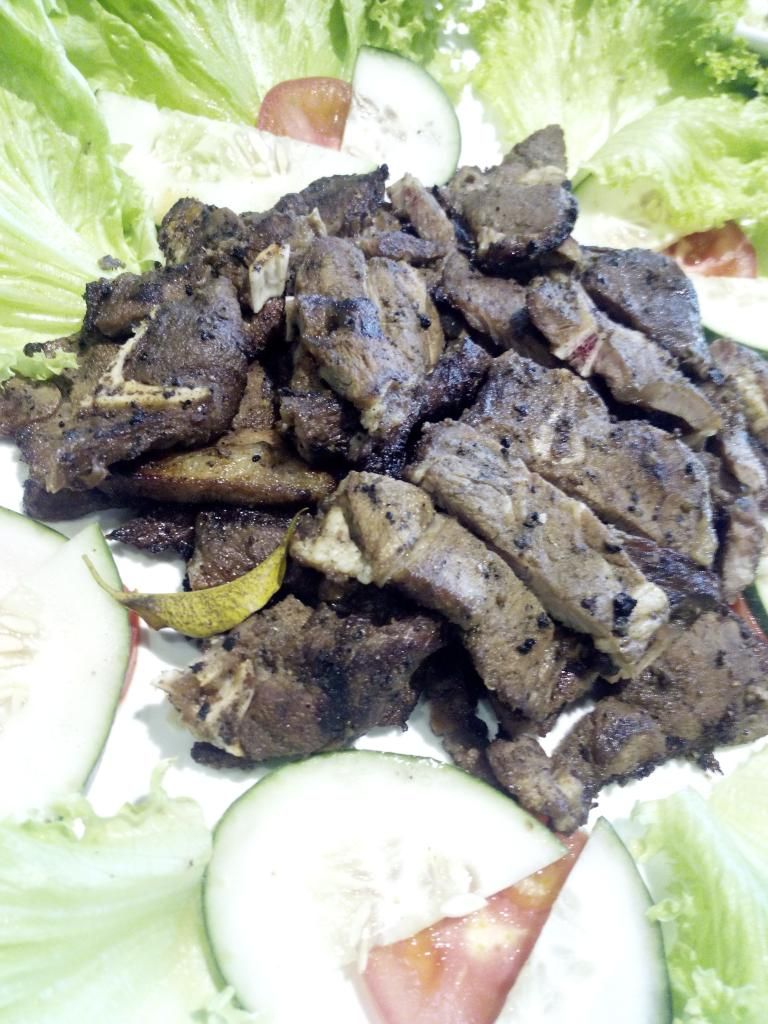 Charcoal Barbeque Lamb. .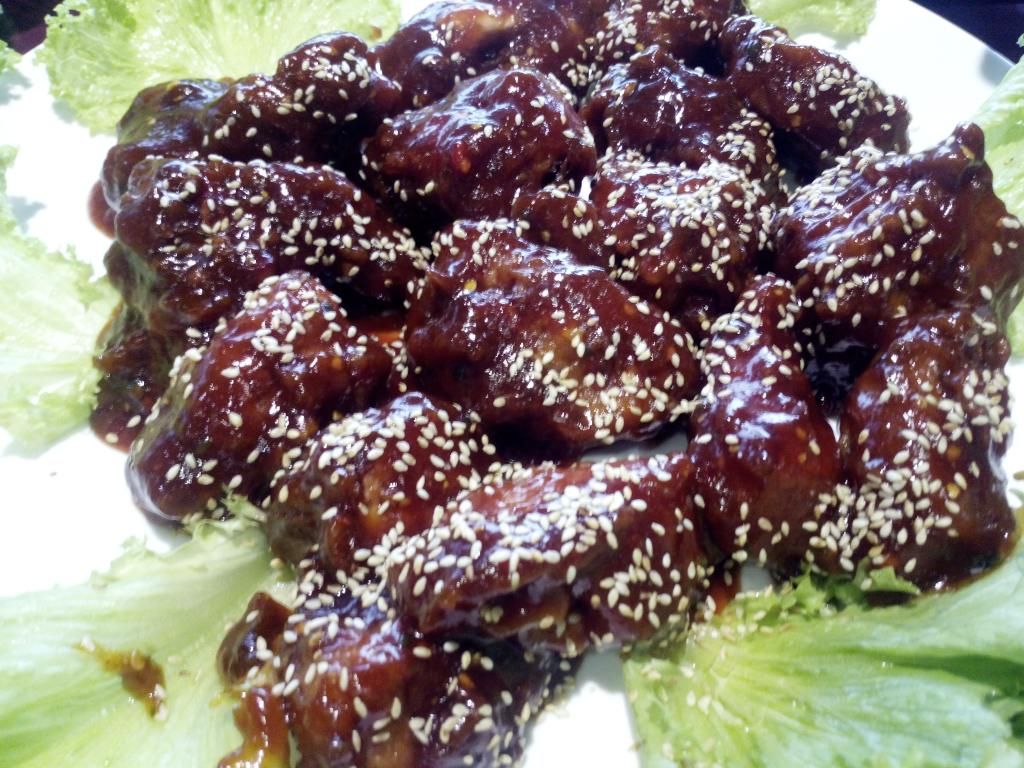 Korean Fried chicken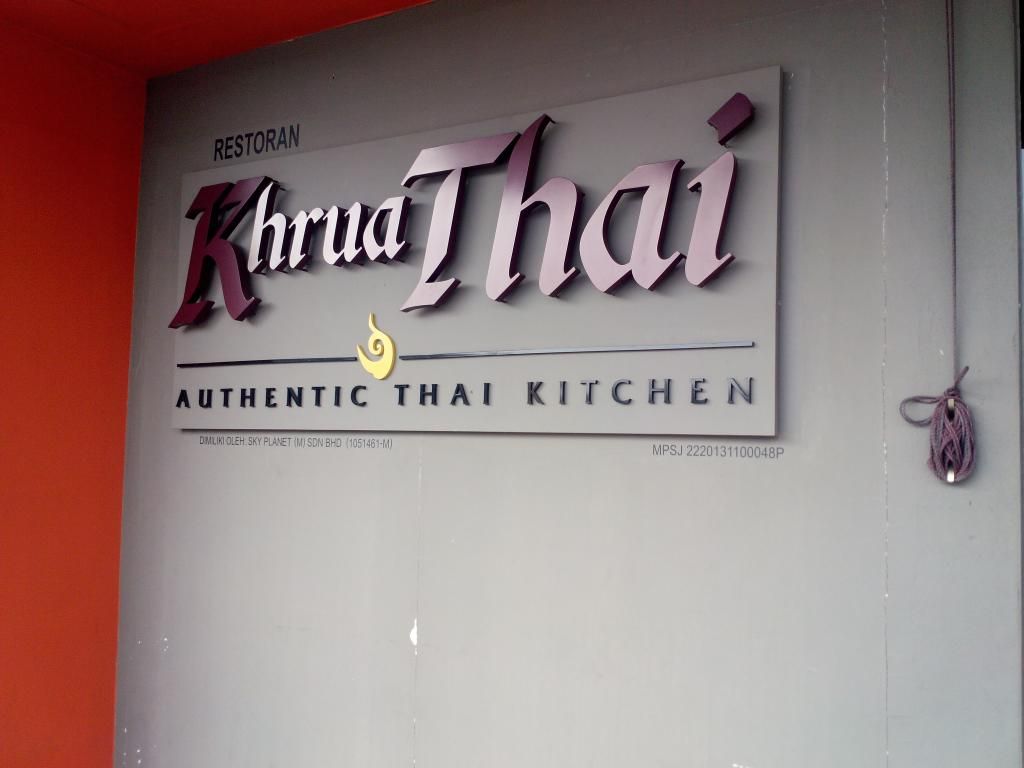 Operation hours: Mon-Sun, 3pm-1am
Contact: 013- 206 0129/ 03- 5115 0129
Krua Thai Authentic Thai Kitchen.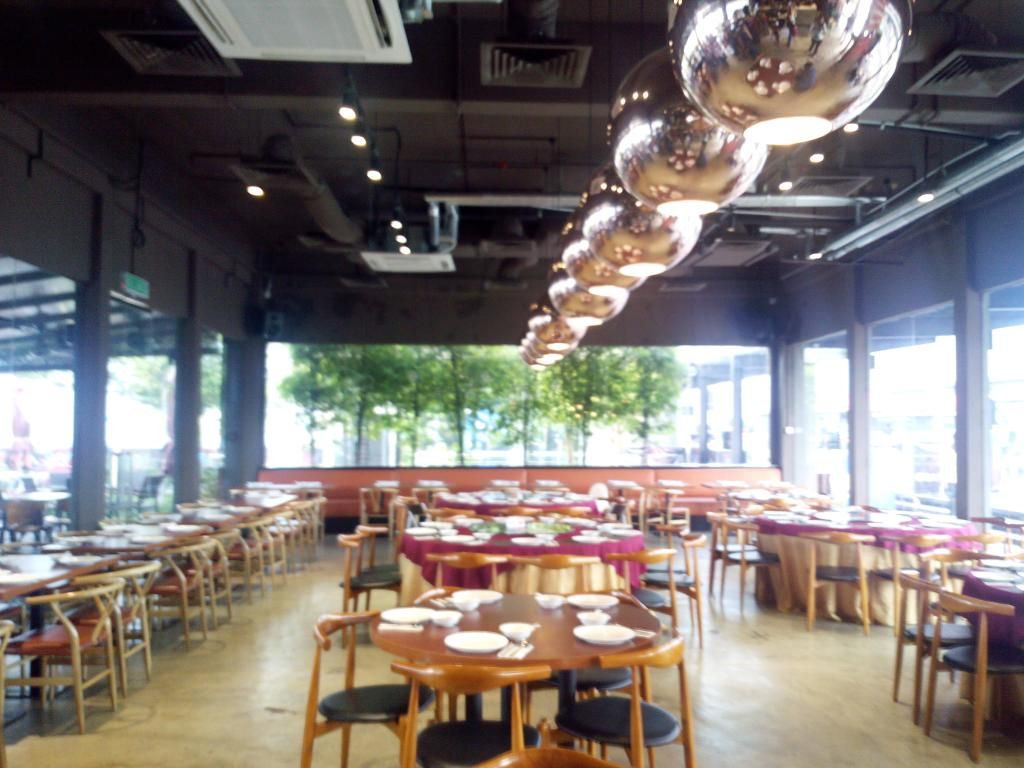 The restaurant offers authentic Thai cuisine.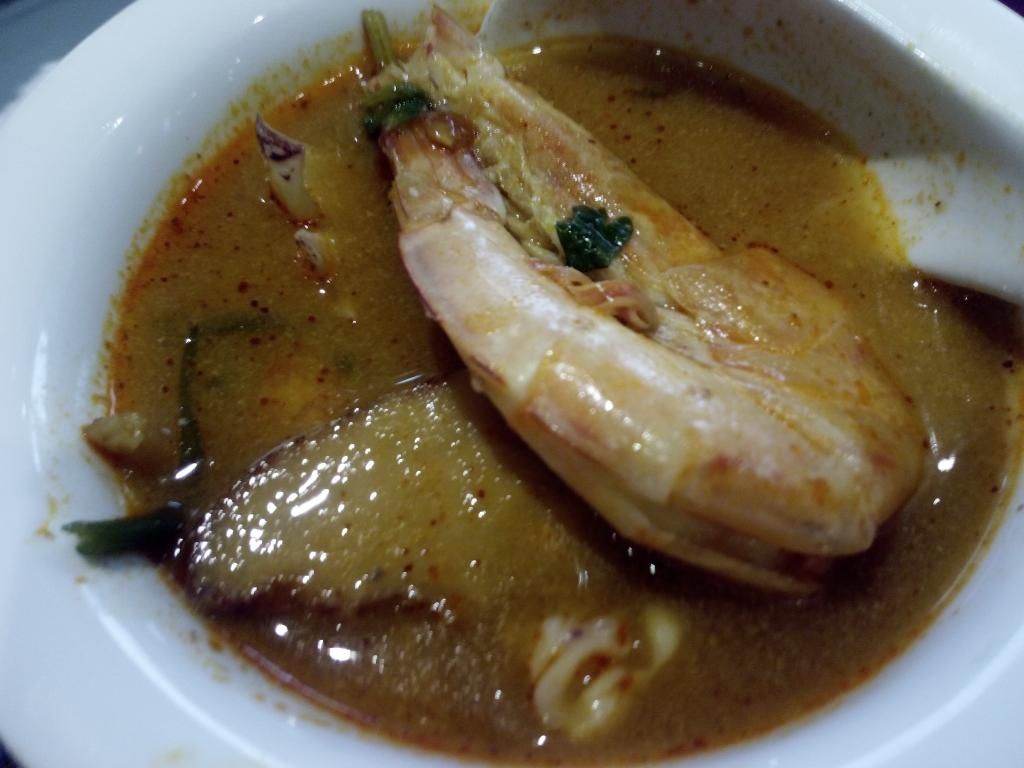 Seafood Tomyam
Prawn and Fish Cake Combo.
Operation hours: Mon-Sun, 11am-11pm
Contact: +013-289 0139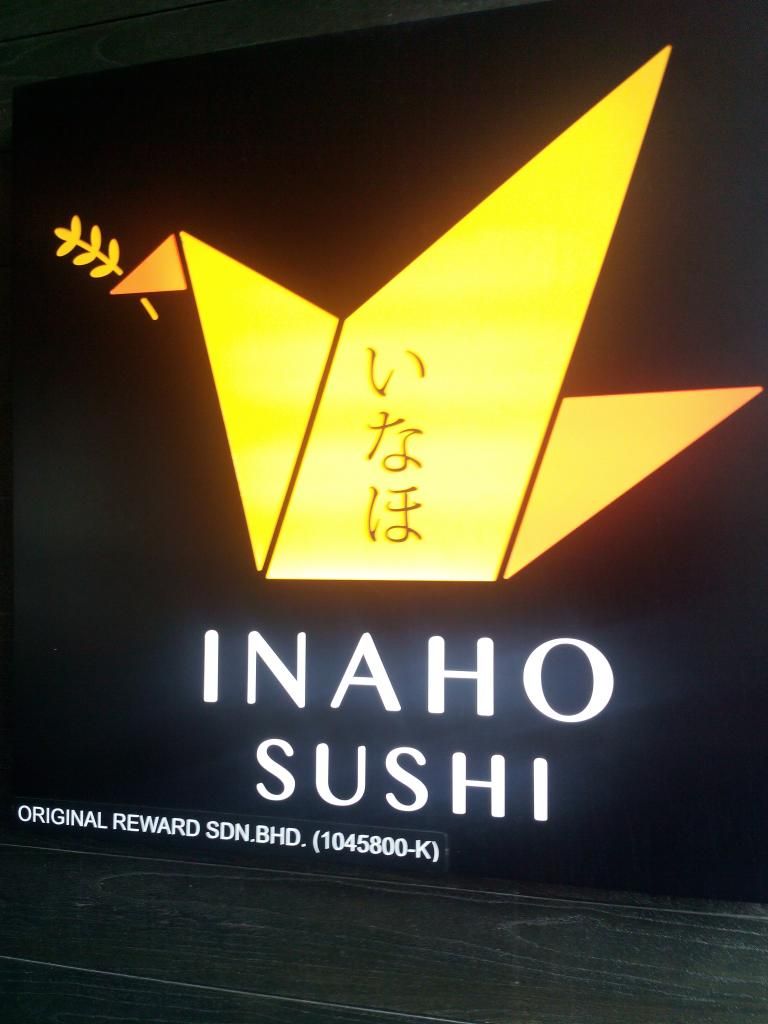 Inaho Sushi offers authentic Japanese cuisine.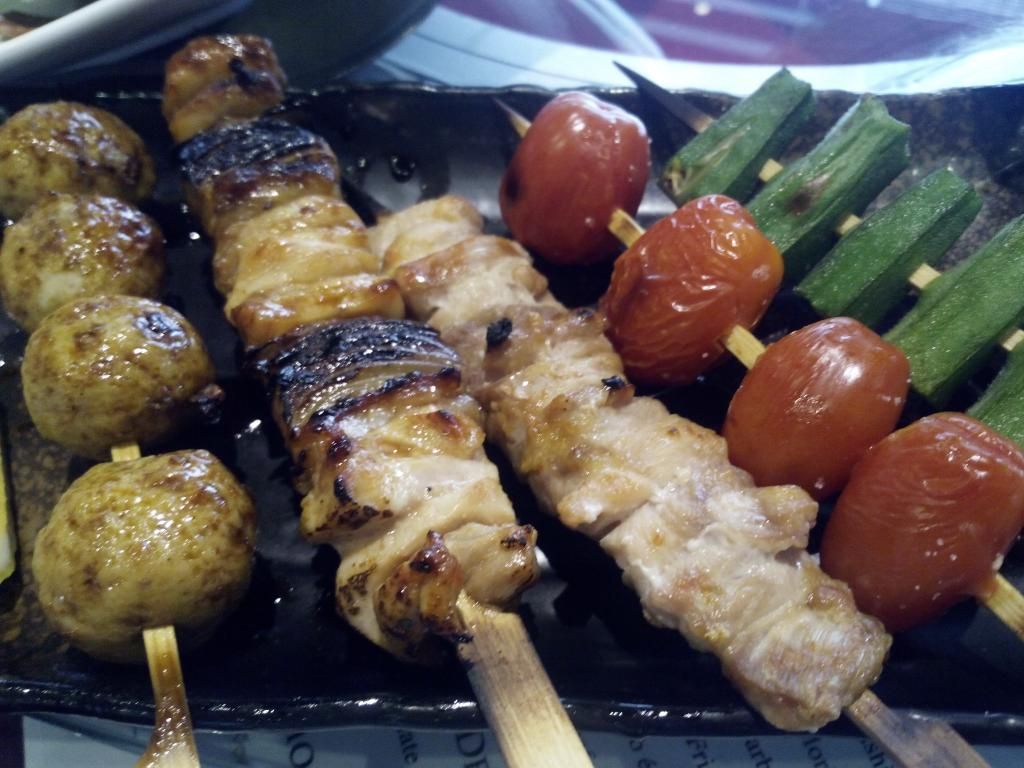 Yakitori Moriawase. An assortment of skewered meat.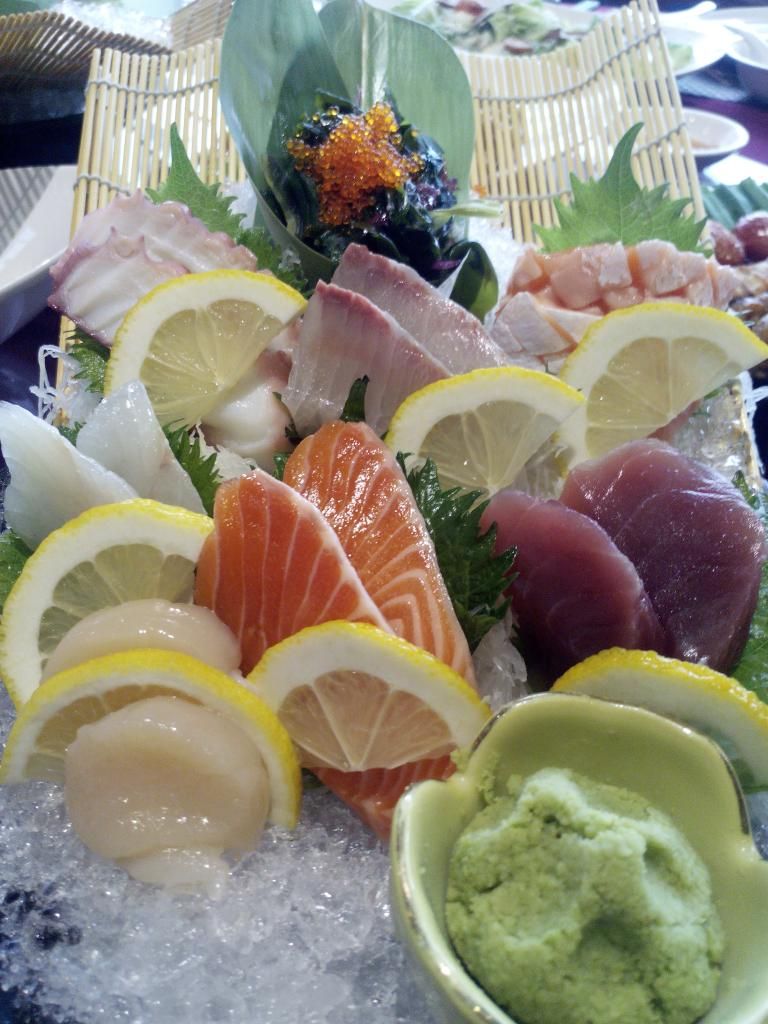 Momiji Sashimi. Momiji literally means 7 types of fishes in Japanese.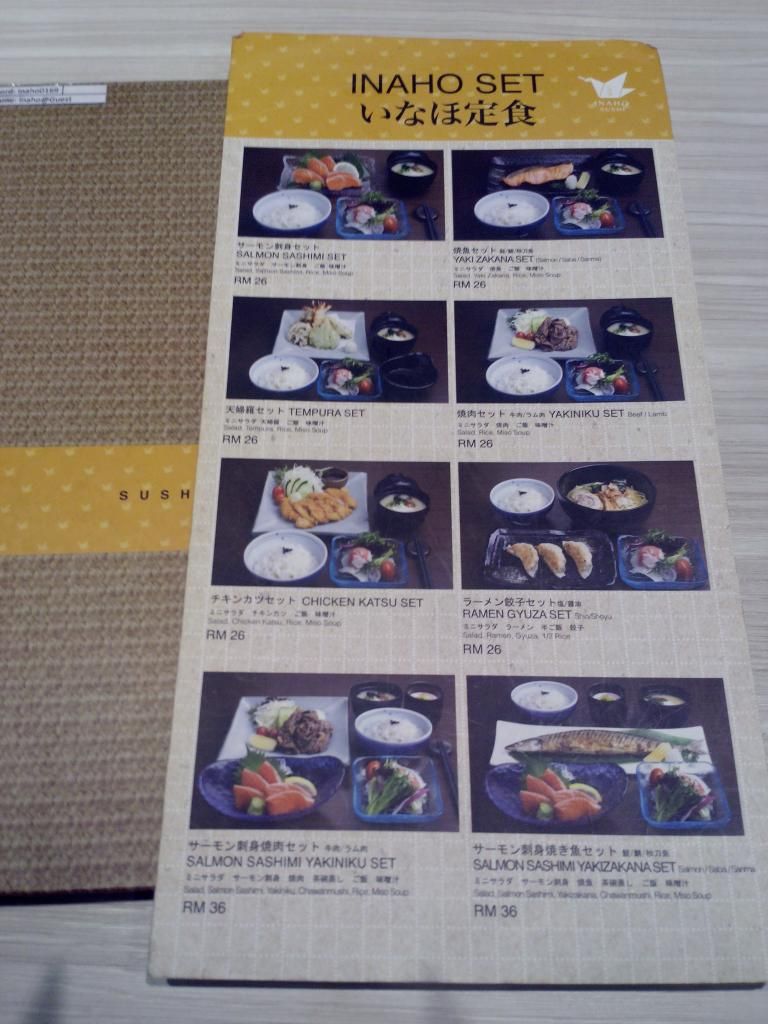 Check out the price range. Not too bad, eh?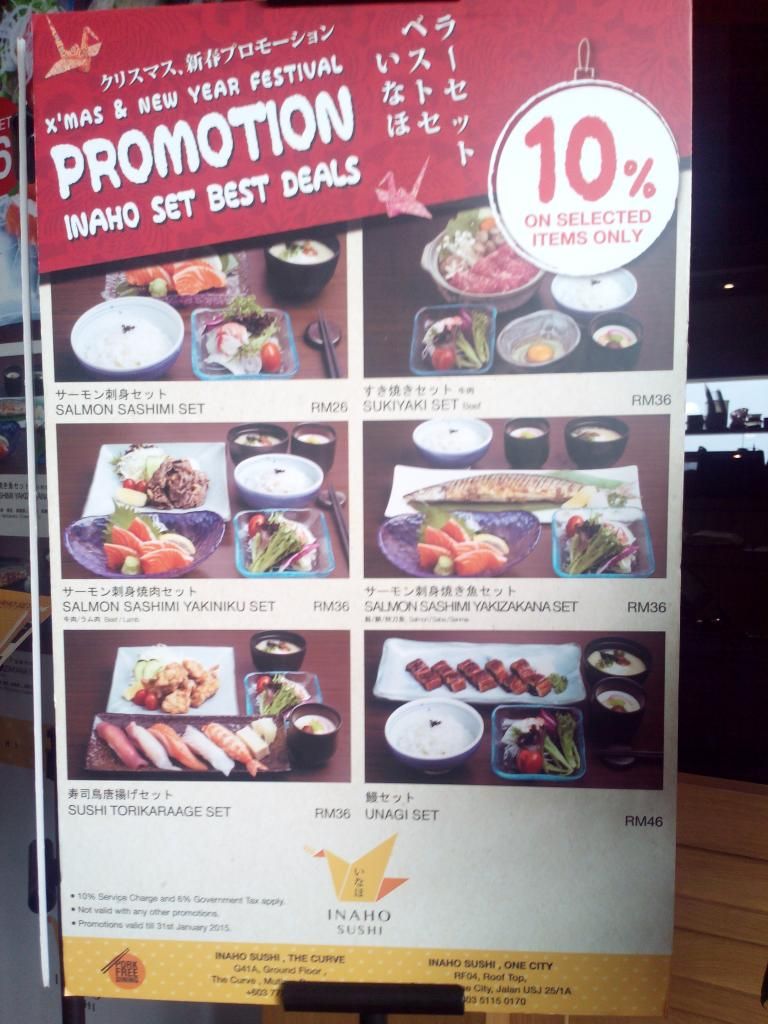 There's 10% off promo ongoing for some selected items, so be sure to make inquiries if you're to dine here.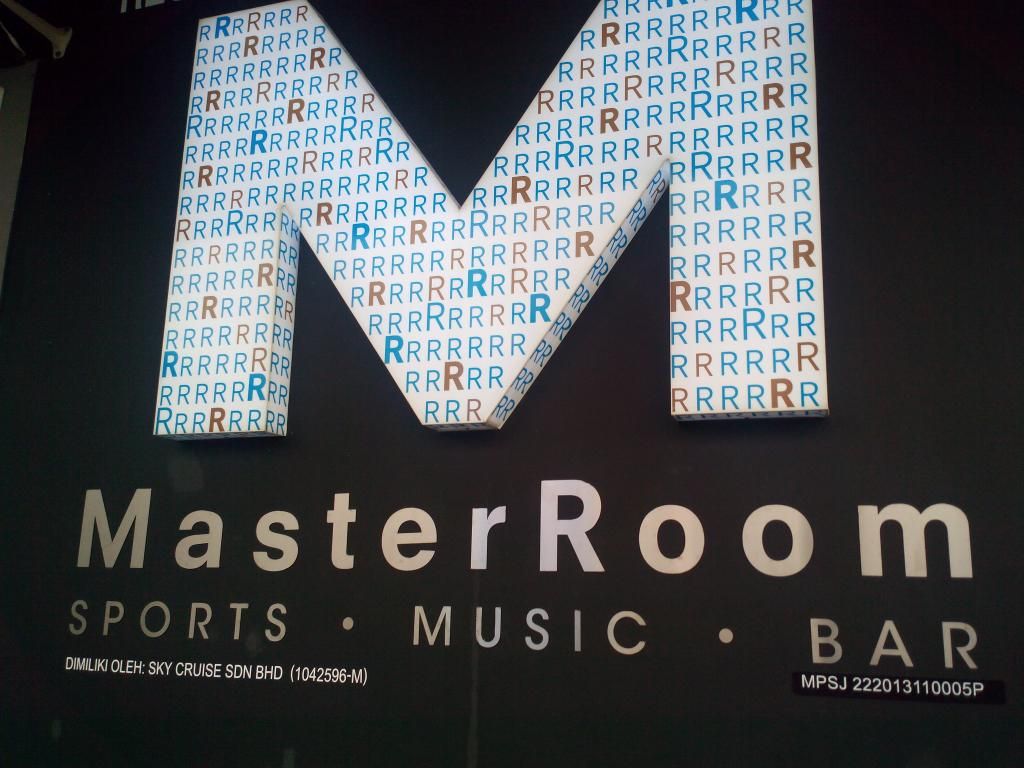 Operation hours: Mon-Sun, 11am-11pm
Contact: 03 5115 0169
Have a bad day at work? Need a place to de-stress? Head over to Master Room.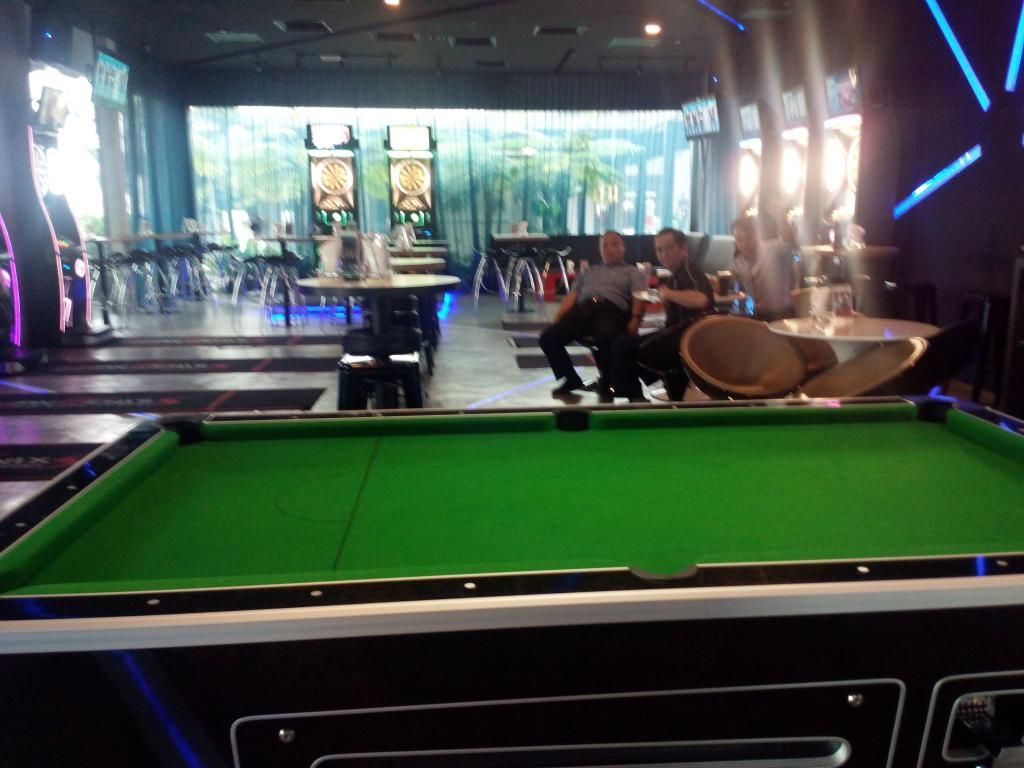 It's a sports bar catered for those who are looking for some after work fun.
Pool table is available for some healthy after work fun. Pool table is available for some pool games.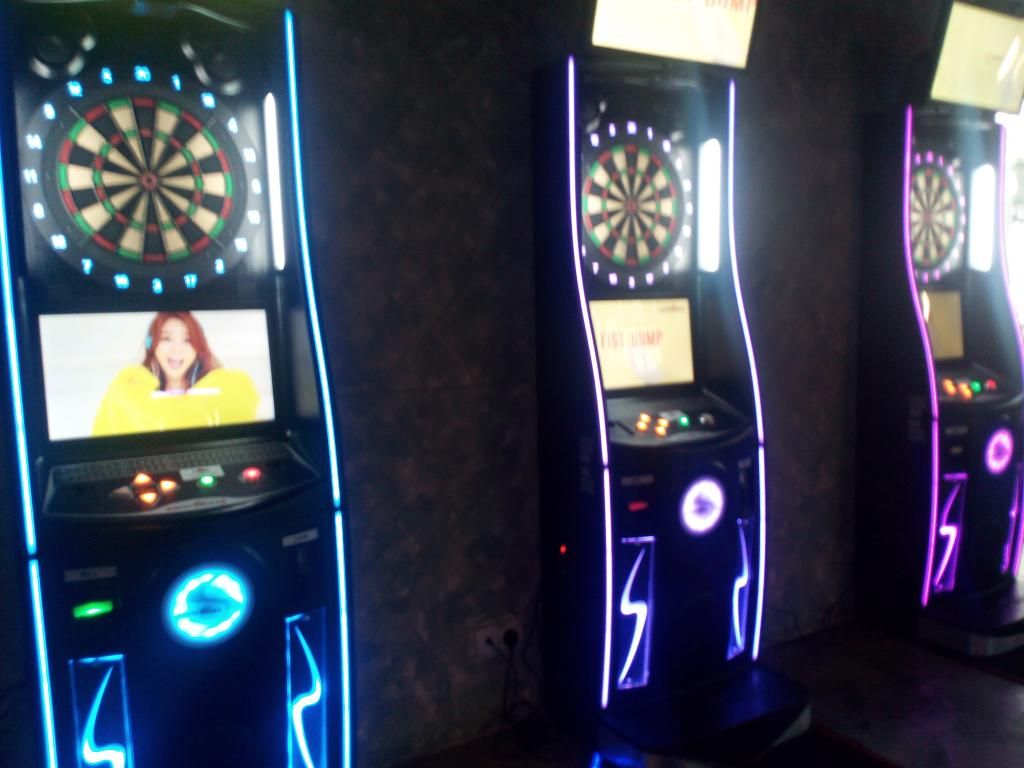 And so is some dart games.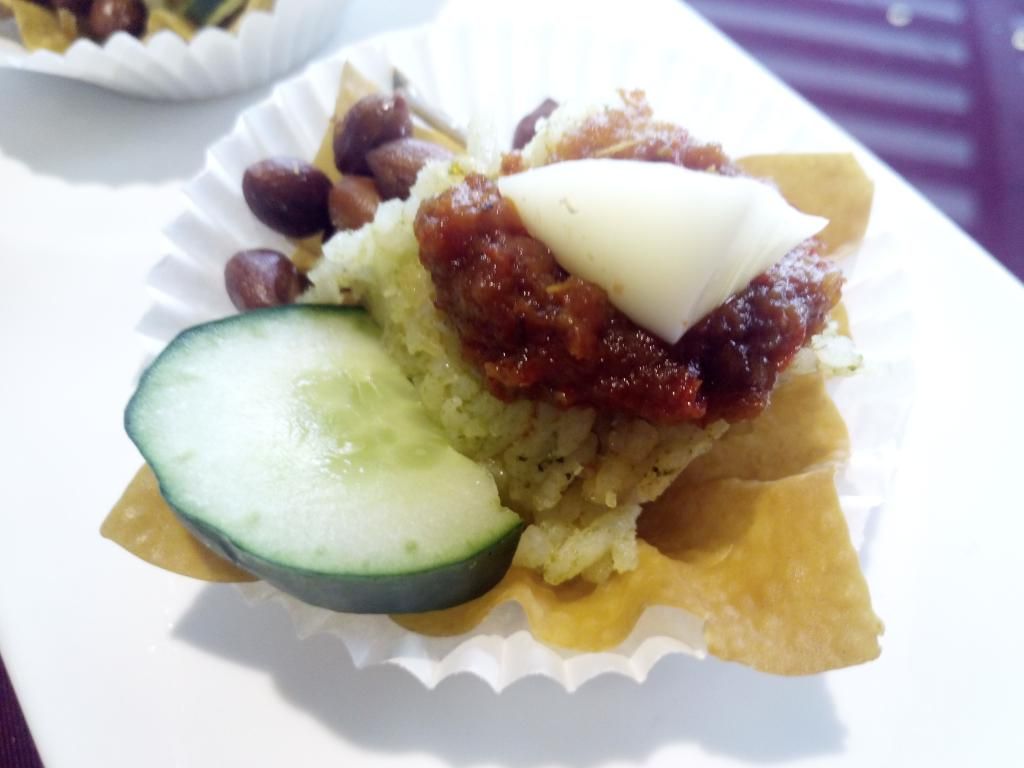 Master Room serves plenty of bar and bistro food, but this Petite Nasi Lemak is the house specialty.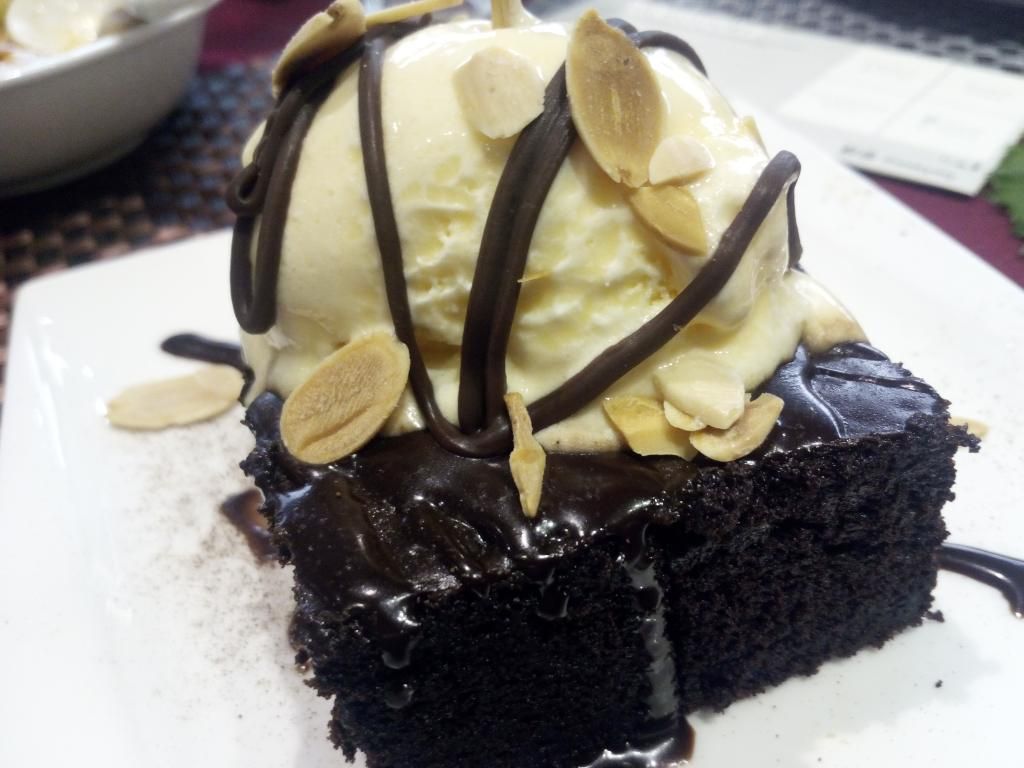 Chocolate Cake with Vanilla ice cream is also good.
Operation hours: Mon-Sun, 3pm-3am
Contact: 03-5115 0189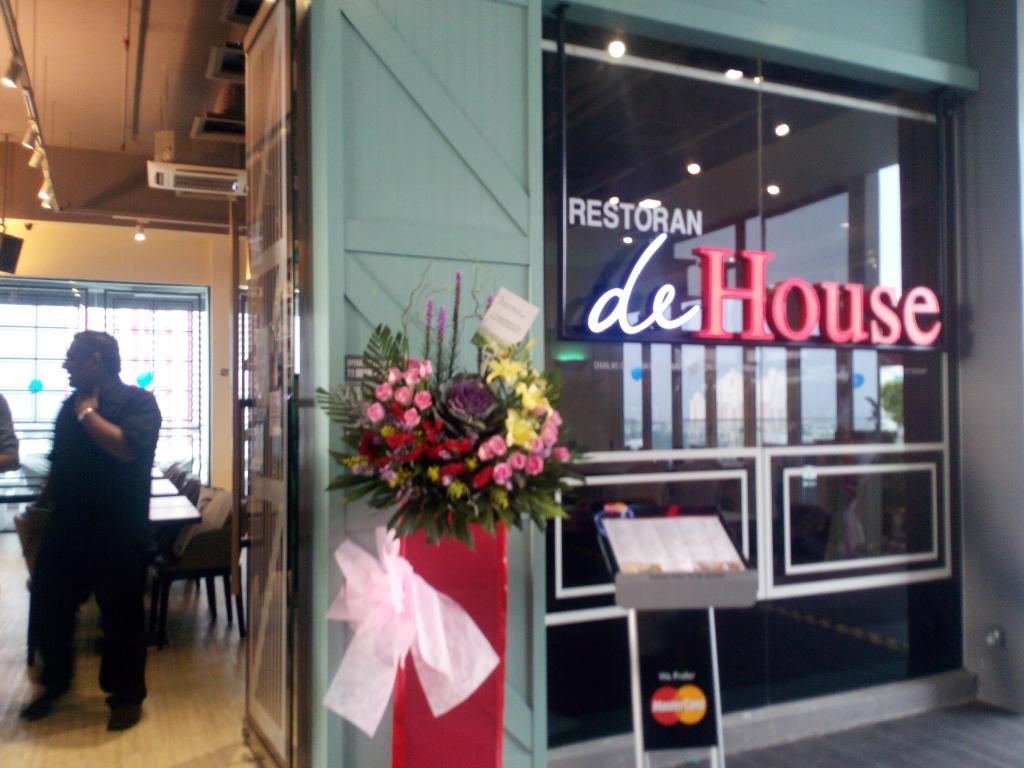 de House Restaurant and Bar serves a healthy selection of western cuisine.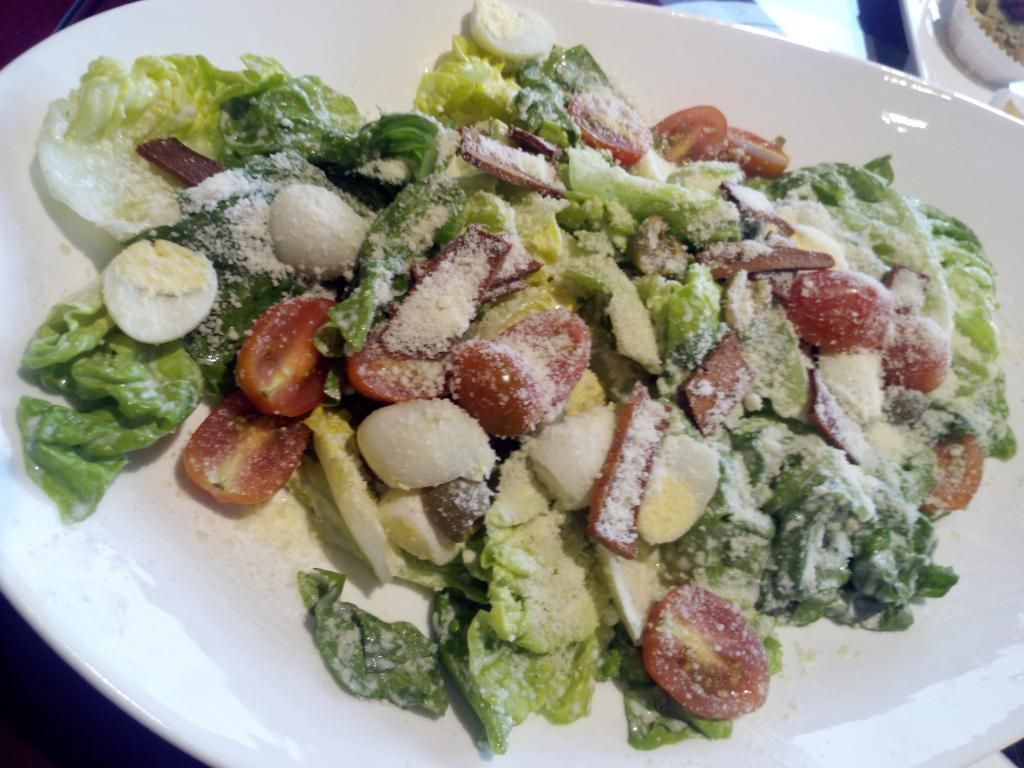 Mediterranean Caesar Salad with Quail Eggs.
Spaghetti Aglio e Olio Vongoli.
Operation hours: Mon-Sun, 11am-11pm
Contact: 03-5115 0119
For more information on The Sky at One City, do hop over here at their Facebook page: https://m.facebook.com/theskymy
Looking for a quick fix for the ever famous local delicacy, nasi lemak in the city? Here's one place you could consider, MyNasi Midvalley.
They provide takeout and dine ins. Here is what they have to offer.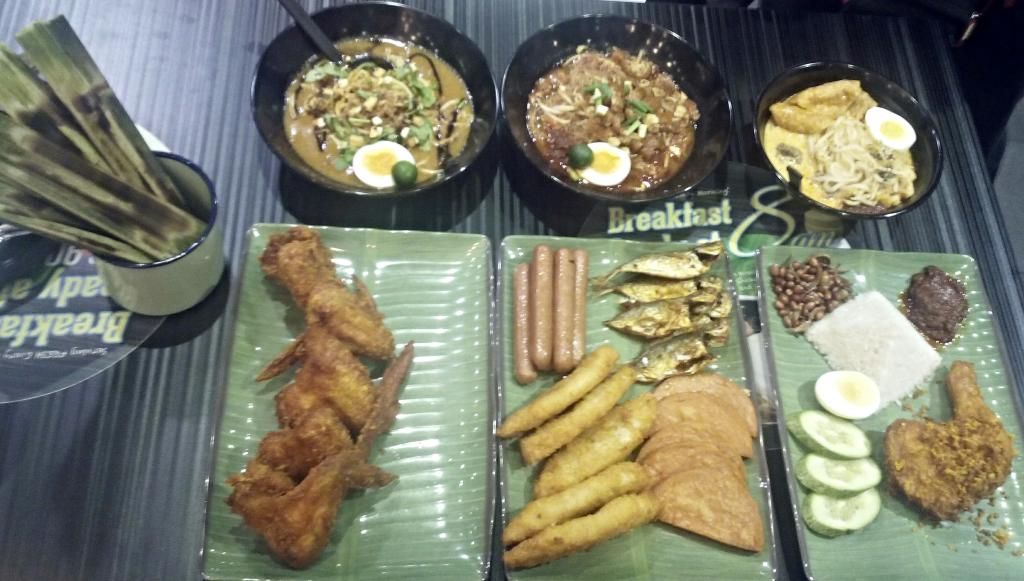 MyNasi, Mee Rebus, Mee Siam, MyLaksa with Cockles, Assorted Side Dishes, Taufu Telur and Otak-Otak Muar.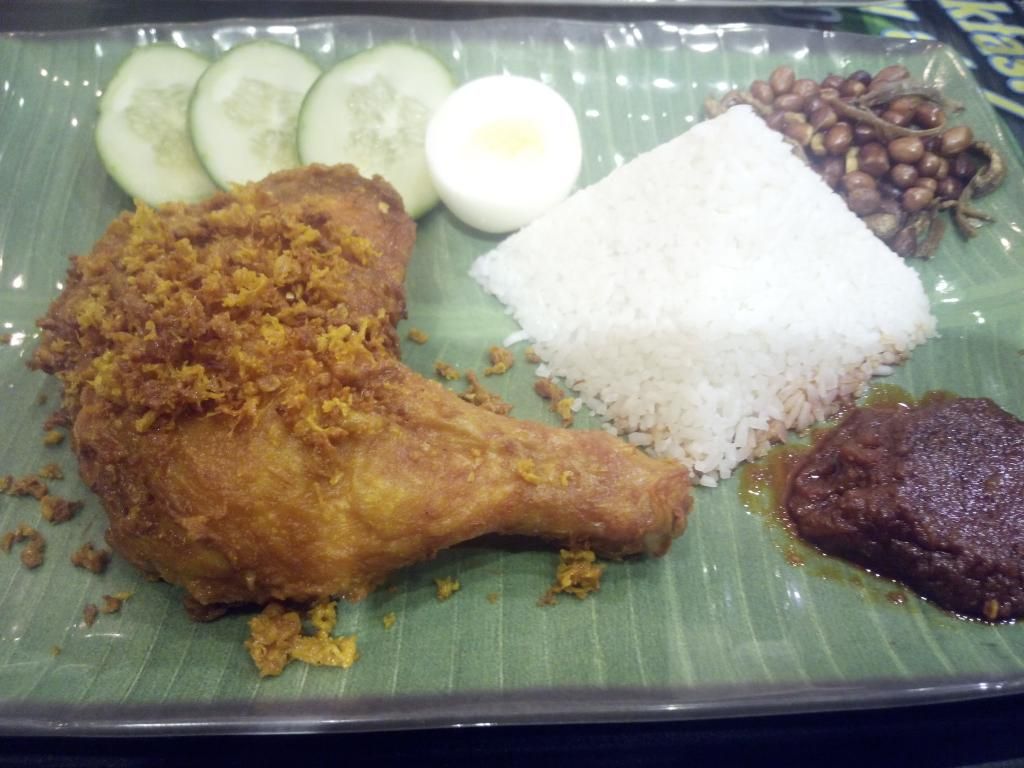 Their specialty: assorted selection of Nasi Lemak. Managed to try this, MyNasi set (RM10.90) with whole chicken thigh. As usual, it's served with a side of sambal, fried anchovies, peanuts and a a slice of boiled eggs.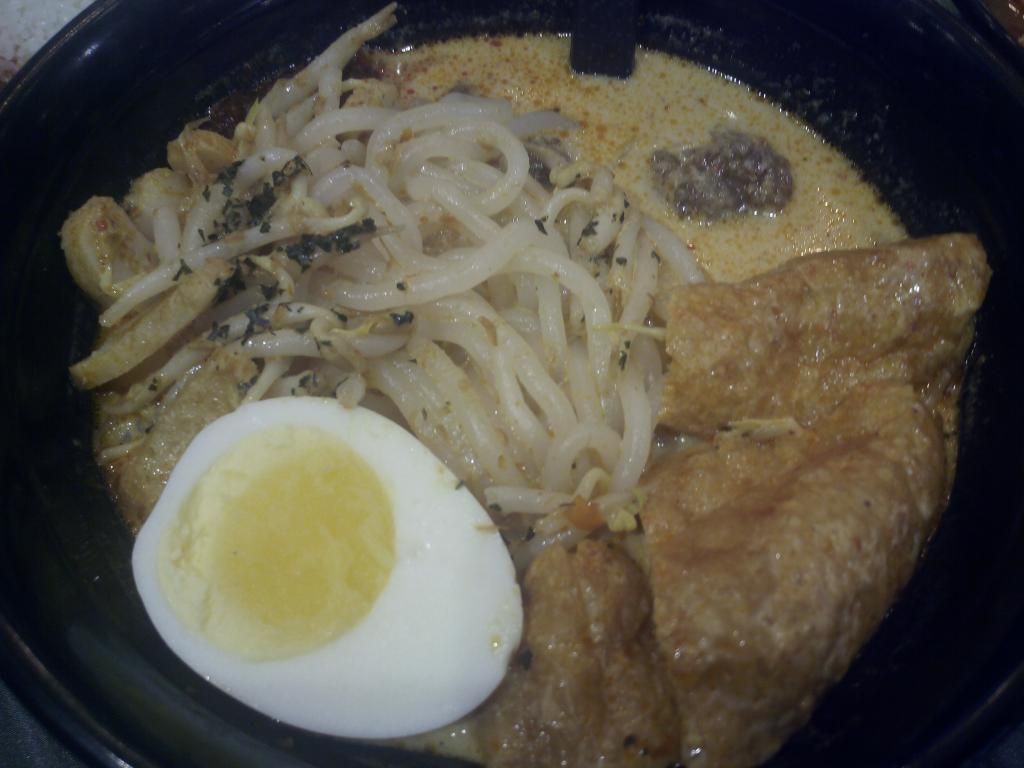 MyLaksa with Cockles (RM8.90) is actually rice noodles served with thick, creamy curry, topped with condiments like blanched beansprouts, fried tofu, a slice of halved boiled egg, chives, cockles and of course, sambal.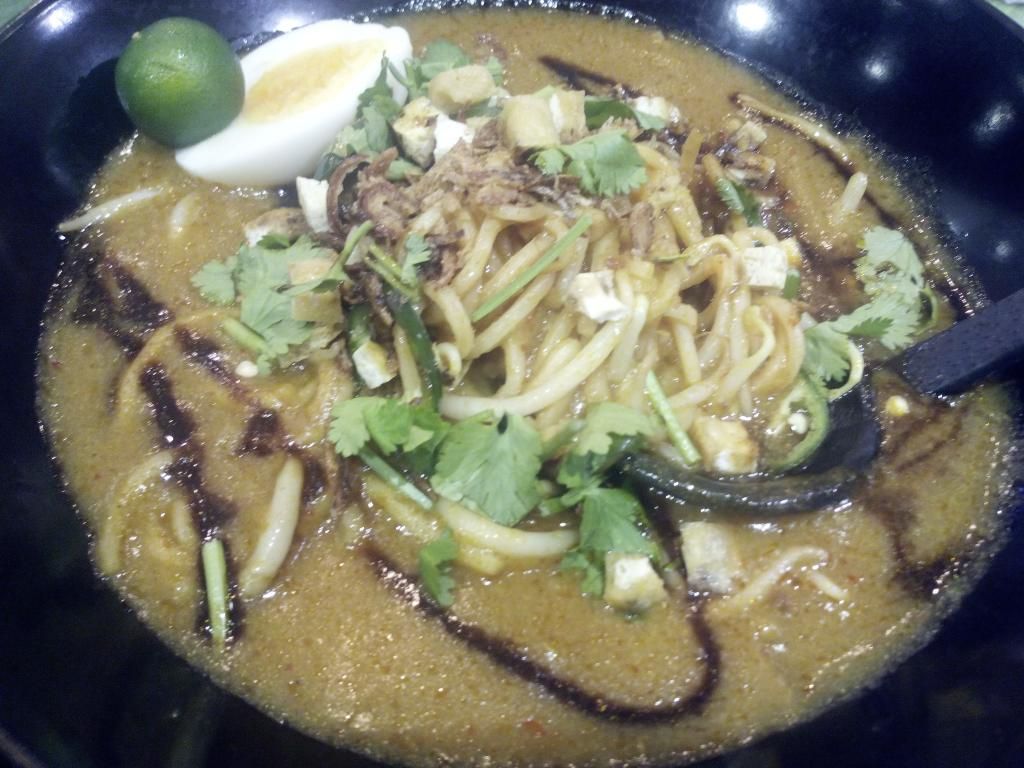 Mee Rebus (RM8.00). Yellow noodles served with spicy tapioca gravy with condiments. The usual suspects like fried tofu, boiled eggs, blanched beansprouts is of course there.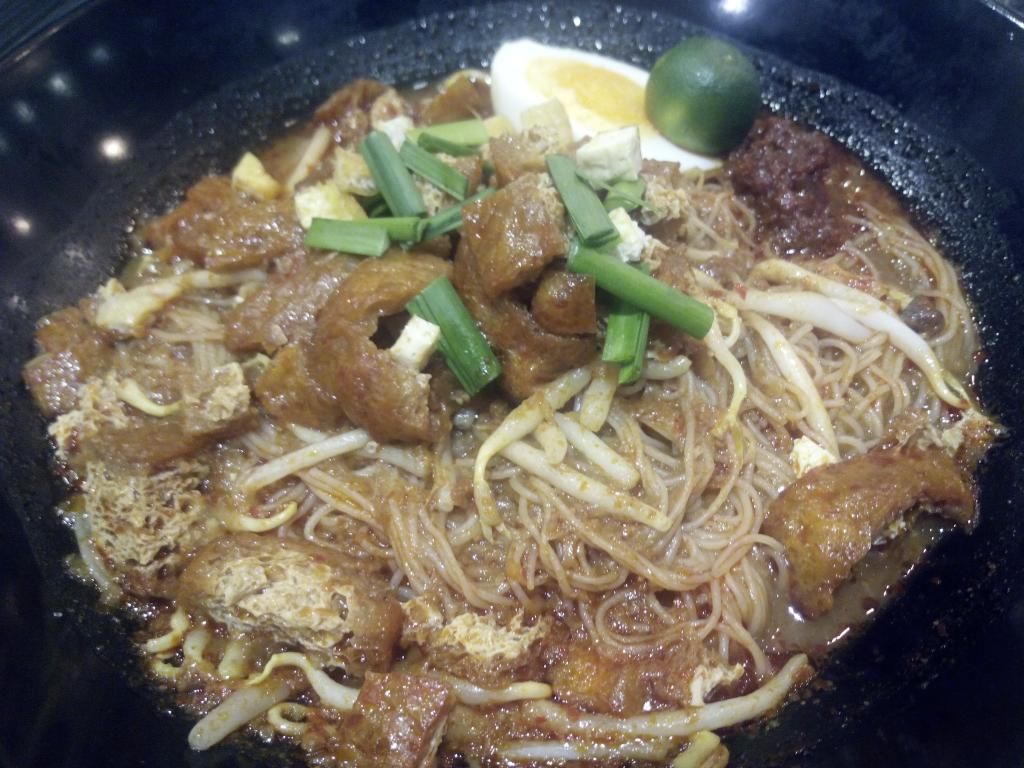 Mee Siam (RM8.00). Rice vercimille served with sweet, spicy and savoury sauce.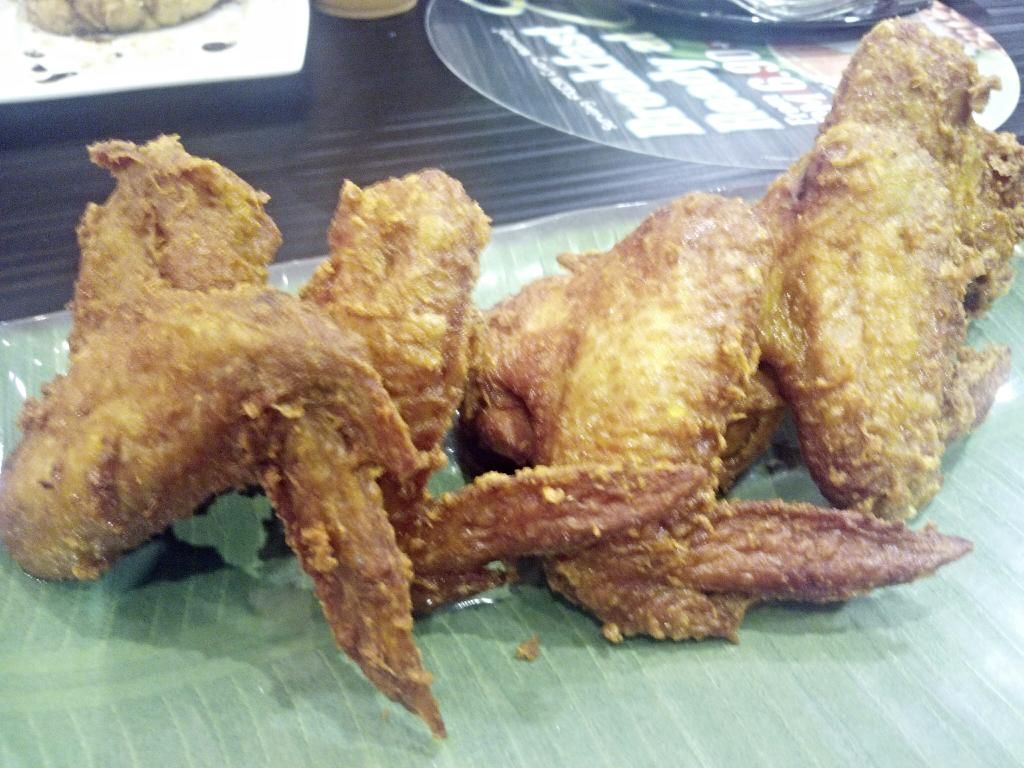 Fried Chicken Wings (RM3.50) per piece.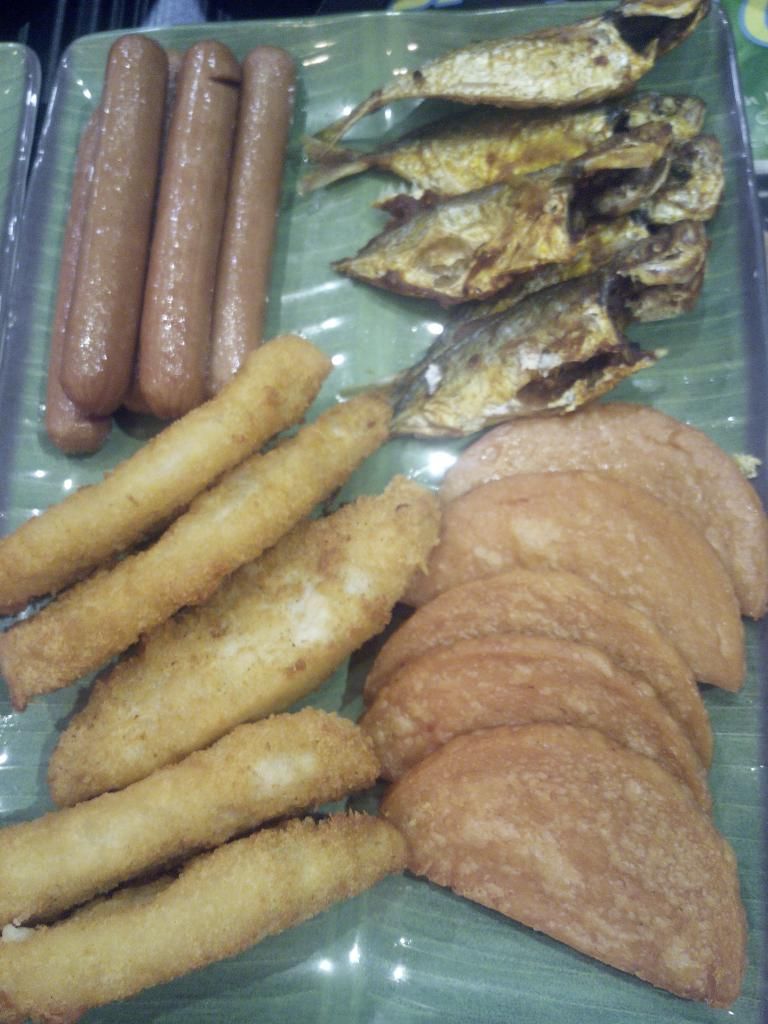 Additional side dishes like breaded fried fish, fried fish, chicken luncheon meat, chicken sausages etc can be ordered separately. Price per piece of these is Rm2 and above.
The house special, Taufu Telur (RM7.90) It's merely a smooth tofu fried in omelete style, drizzled with sweet soya sauce and topped with shredded cucumber and carrots, but this humble dish is delicious enough to warrant a second or third helping.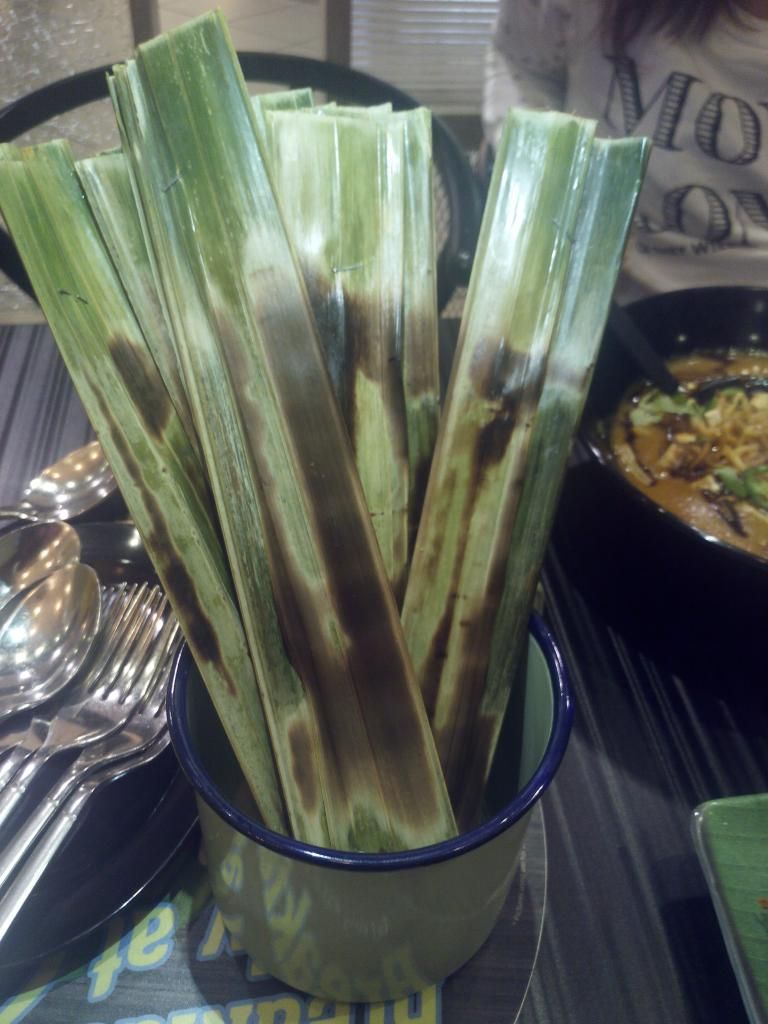 Otak-Otak Muar and other snacks is also available for you to enjoy
Overall, the dining experience here in MyNasi Midvalley is decent.
Here's the restaurant's details should you need a quick meal fix:
My Nasi, Mid Valley Megamall
Lot LG074A, Lower Ground Floor
T: +603 2202 3099
Operation hours – 8am – 10pm
Open Daily
Delivery service is available in the vicinity of Midvalley area.
It's been awhile since my family and I went for a media/ FAM trip due to work commitment. The last was in September where we spent time together up on Resort World Genting for Ice Age Adventure and First World Hotel Behind the Scene Tour.
Been itching for some Cuti Cuti Malaysia moment with my wife and son again to de-stress, and the invitation to Klang Parade Bloggers Day Out came just in time. The motive of this day out is to explore the newly revamped Klang Parade Mall.
Klang Parade underwent a massive makeover  and was refurbished since June 2013, introducing structural additions to the mall including two new brightly lit atriums drenched in natural sunlight during the day, new travelators and a sense of serenity. A product of very careful planning and design by the mall 's owners ARA Asset Management Limited, a new al fresco food and beverage area has been established in front of Klang Parade, replacing spaces previously used as a carpark ramp. Being one of the largest malls in the area, Klang Parade definitely has gone the distance to guarantee a pleasant shopping experience for shoppers like me, paying attention to the assortment of international and regional brands open to the public.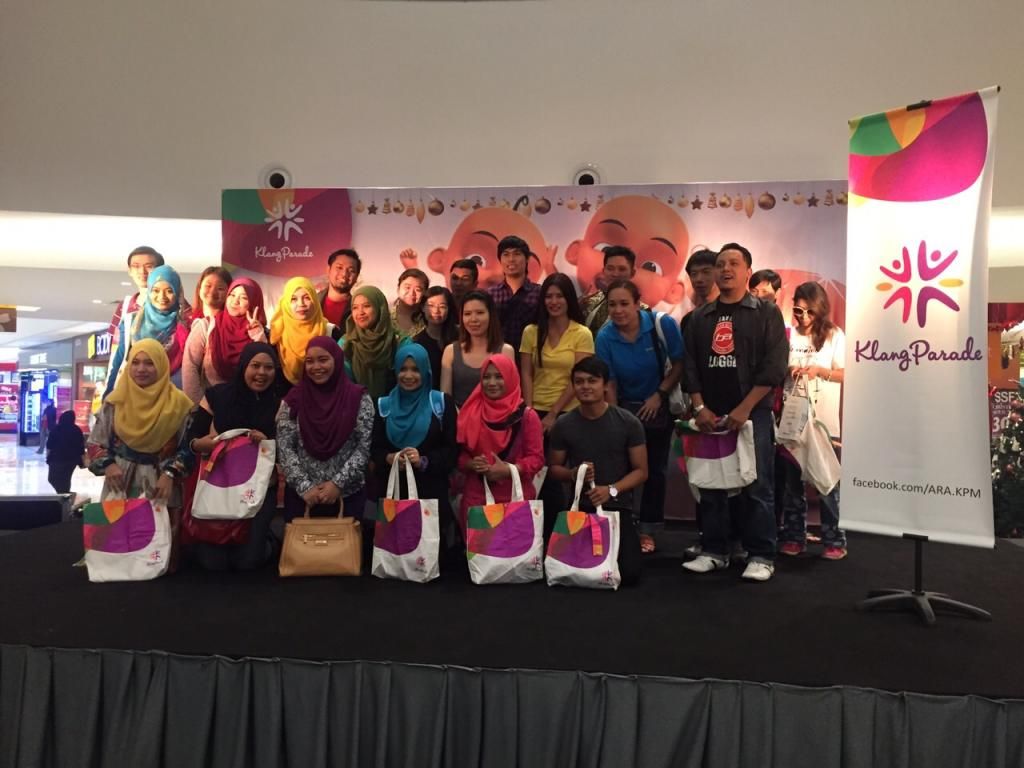 Klang Parade Blogger Day Out. A group photo before the activities of the day started.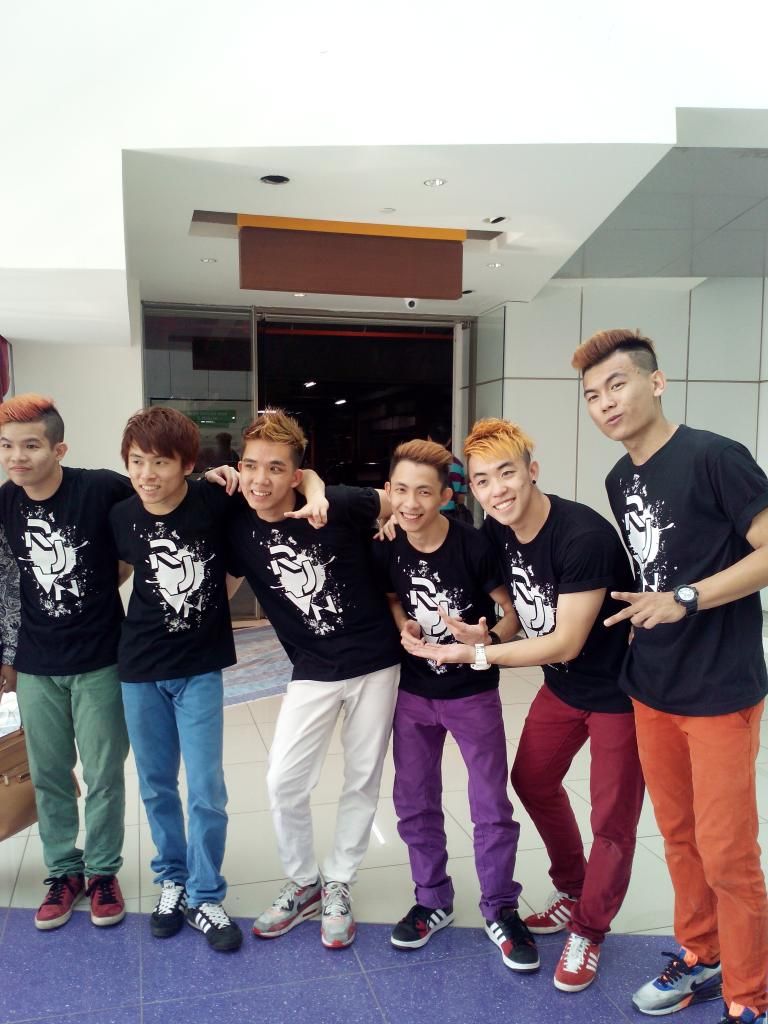 On the way to the first activity on our iterinery was a surprise dance by Rejuvenate Dance Crew, who showcased  energetic choreography movements, just outside their soon to be opened dance studio, called the Peanut Butter Studio.
Look up the Peanut Butter Dance Studio in Klang Parade soon if you want to learn how to breakdance like them
We were ushered to Firezone Family KTV. The Firezone Family KTV is located on the 5th floor after that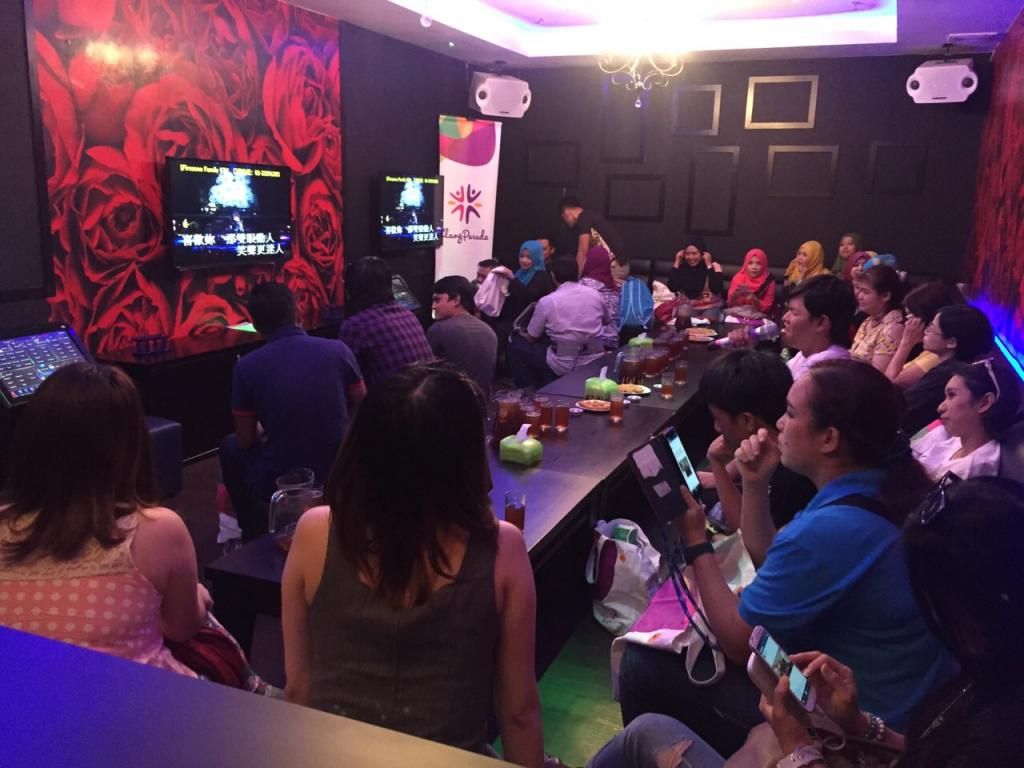 Spacious karaoke rooms provided at Firezone Family KTV, a one stop family KTV with Wifi, Cafe, Snack & Pool KTV. Firezone Family KTV in Klang Parade has 44 units of small, medium, VIP and VVIP rooms. Highly recommended if you are looking for a fun karaoke-ing time with family and friends…or a party.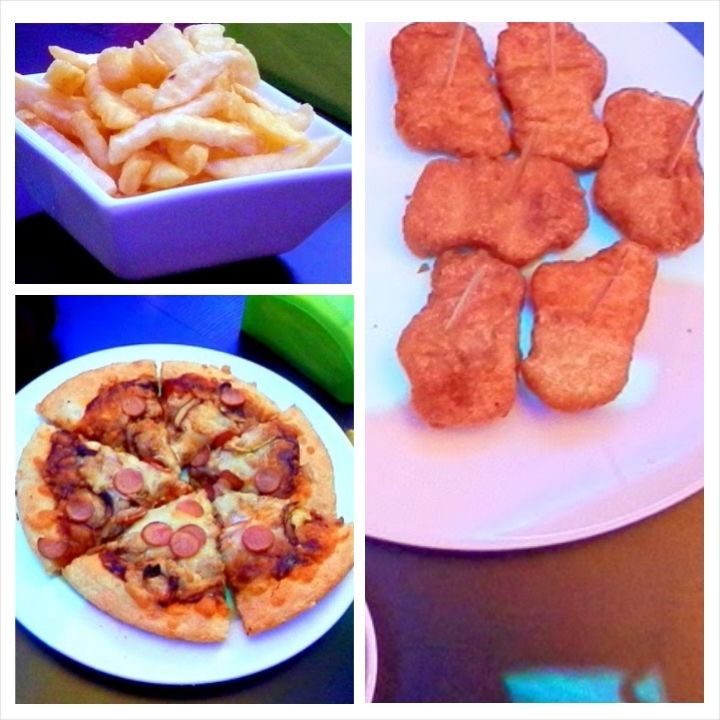 Snacks are readily available to order to in Firezone Family KTV.  We were served pizzas, nuggets and French fries during our session there that day.
To make reservation for karaoke session in Firezone Family KTV Klang Parade, call: +6-03-3359 6303.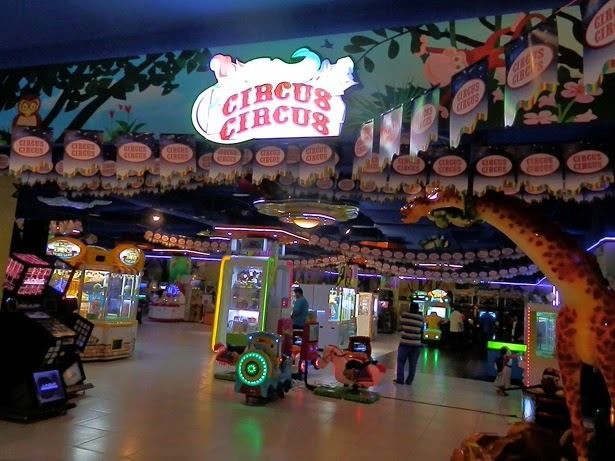 Next stop was the Circus Circus Arcade. The arcade was located 4th floor of Klang Parade.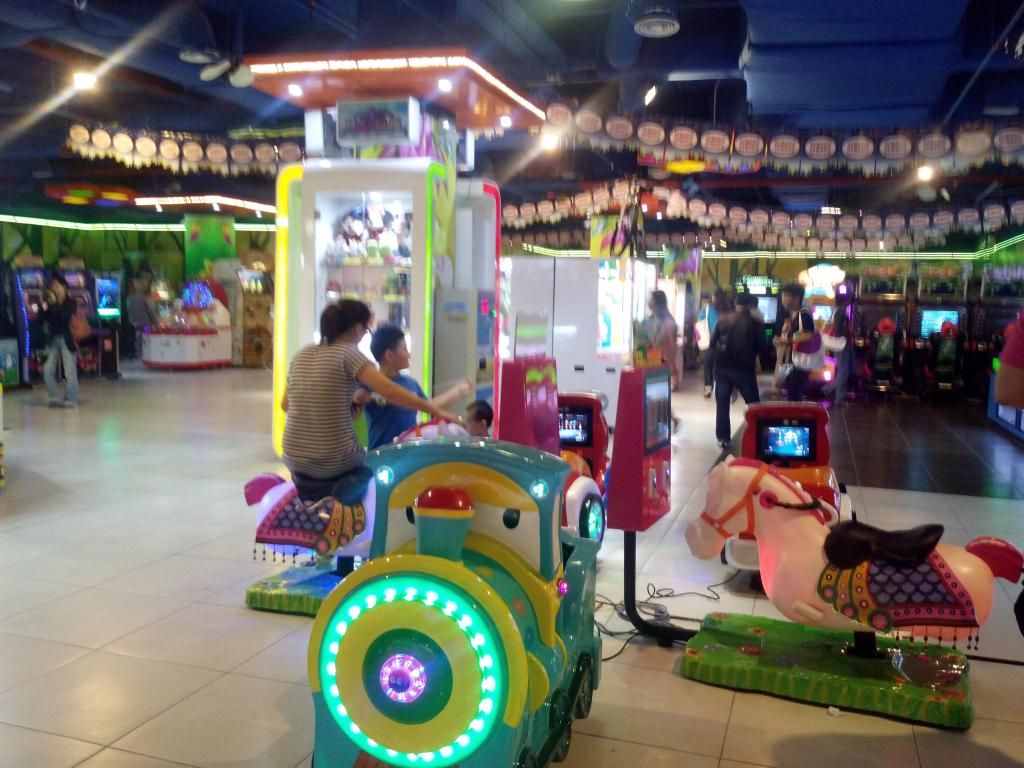 The arcade provides hours of entertainment for both small children and adults alike.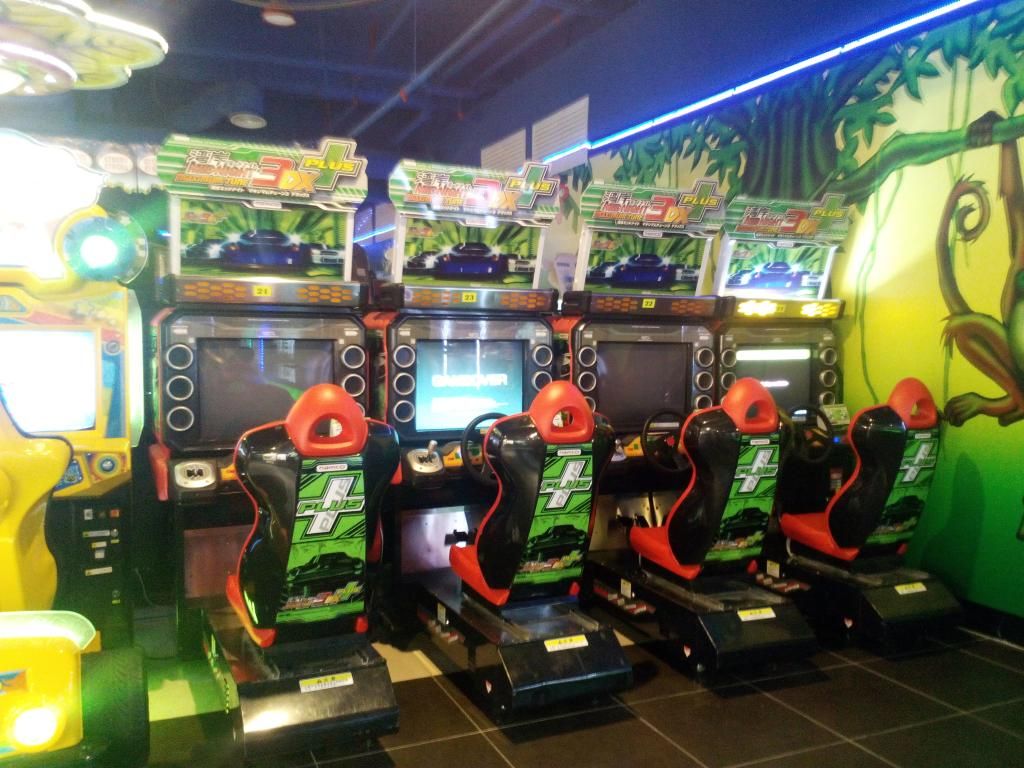 Arcade video games are readily available. My all time favourite? Is of course the car racing machine.
After the arcade visit, bloggers were assigned into three groups for the mall hunt, and here's our first stop. Tune Talk Service Centre. We were introduced to the Tune Talk services and packages and given our very own Tune Talk simpack. My wife was very happy as the number our simpack is 520. Our anniversary date, and also means 'I love you' in Cantonese.
Second station during our mall hunt, Fresh Fruits stall our task was to make our very own skewered fruits.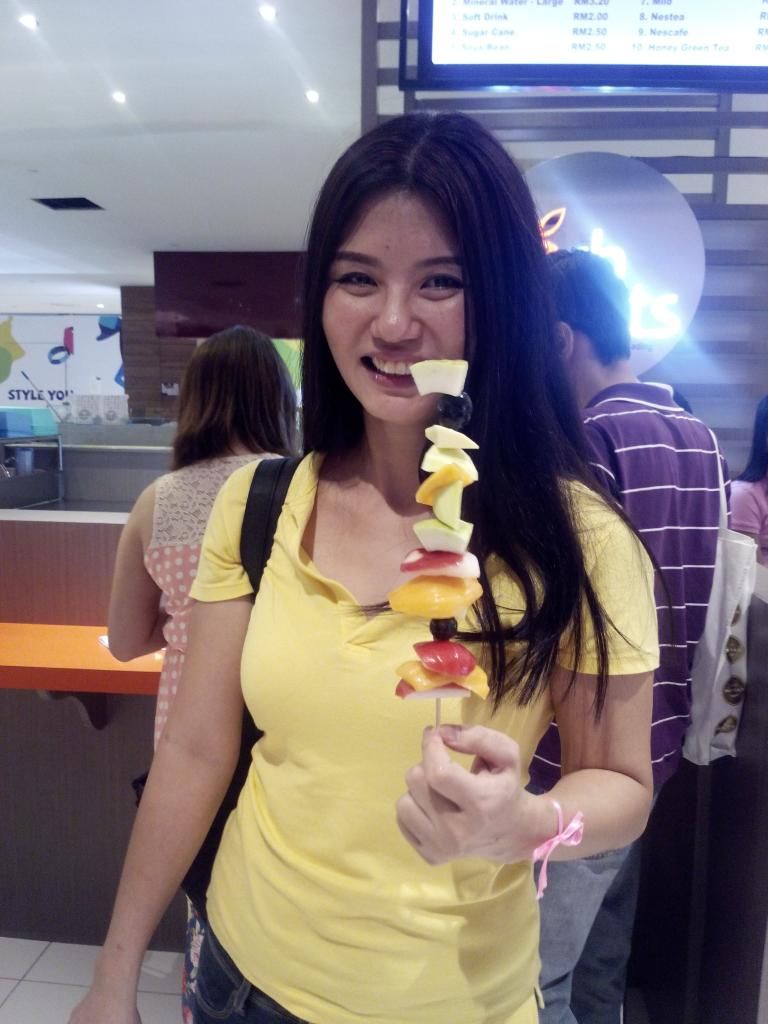 Blogger friend Rane with her skewered fruits.

Third station is the I.GF Nail Spa, an obvious treat for the ladies in our group.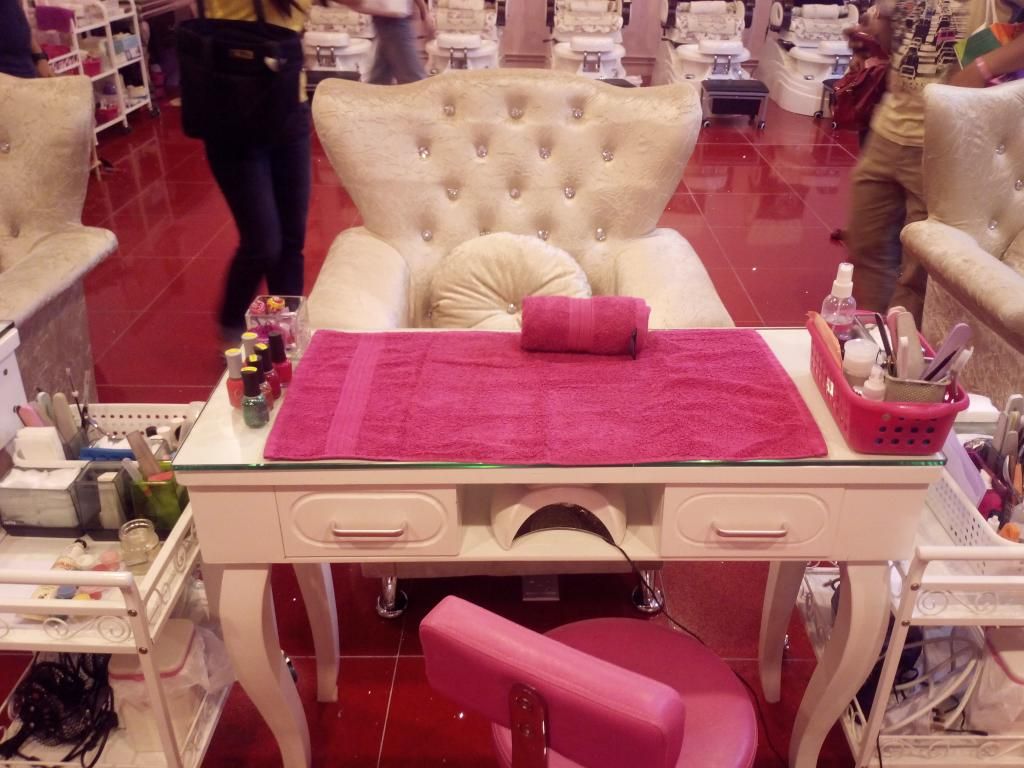 Feminine and girlish setting.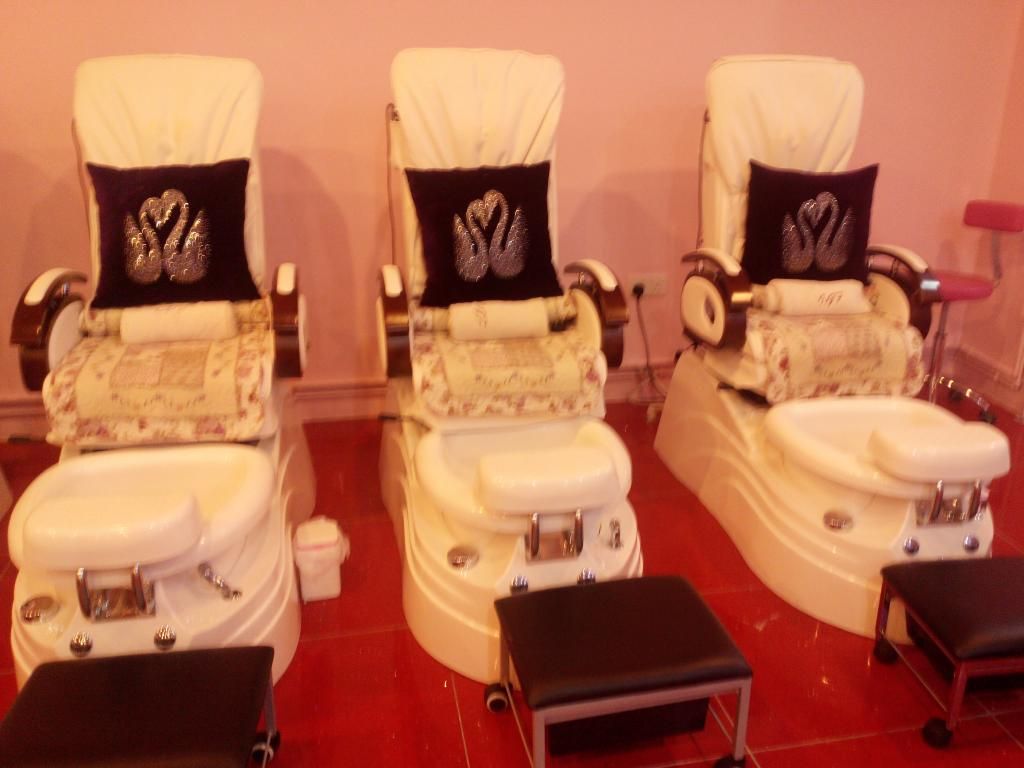 Comfortable chairs for pedicure sessions.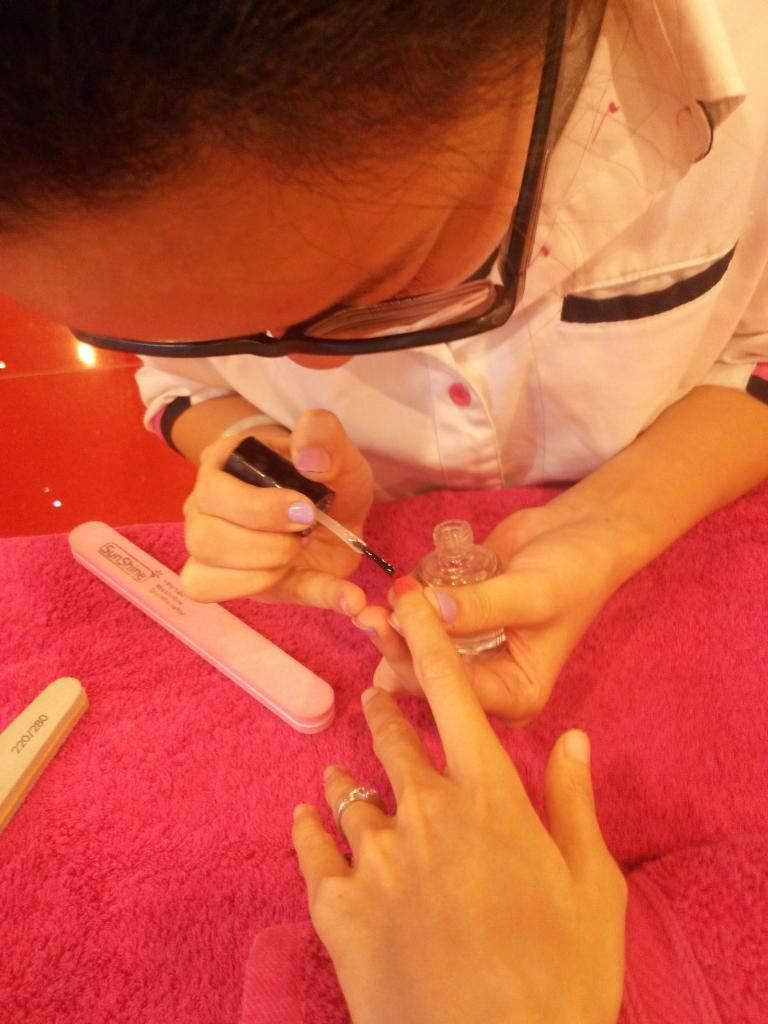 My wife…getting her nail art done.

I did not want to miss the fun and cheekily got mine done too. Who says men can't indulge their metrosexual side? Here is me…holding hands with my missus after the session.This nail spa is highly recommended and a must visit if you're into nail arts.
After the nail spa session, we were ushered to the food court in the vicinity of the Klang Parade Mall for dinner.

The Next Food Junction. There was plenty of stalls in the food court, separated into two, the Halal section and the Non-Halal section.
The food court is rather disappointing in terms of food availability and service was quite slow at the Halal section even though it was not really crowded, but price-wise. It was all right. Hop over to wife's blog HERE to see what she thinks about the food court.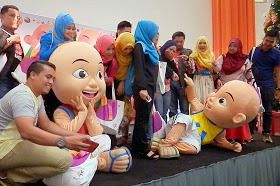 After dinner we proceed to the Upin and Ipin meet and greet and had photography session there. Can't say much about the shopping experience there yet as we did not manage to shop that day, but I can safely say that the mall have is a one stop centre where there is something for the whole family.
Will be dropping by with my family again soon if we are ever in Klang again.
For more information about Klang Parade, visit their facebook page HERE
Klang Parade
2112, KM2 Jalan Meru, 41050 Klang, Selangor, Malaysia
Tel: +603-3343 7889