The tour is mainly aimed to educate the public on how things works behind the scene in Resort World Genting, but our first stop in the Visitor's Galleria, is pretty much a tribute to the founder of Genting Resort World, the late Tan Sri Lim Goh Tong.
In the Visitor's Galleria we were briefed about the life of the late Tan Sri Lim Goh Tong and his ultimate masterpiece; Genting Resort World. The story is very extensive but to cut the long story short, the late Tan Sri hailed from China and migrated to Malaya,( now Malaysia) and works as a carpenter before starting to delve into the world of constructions.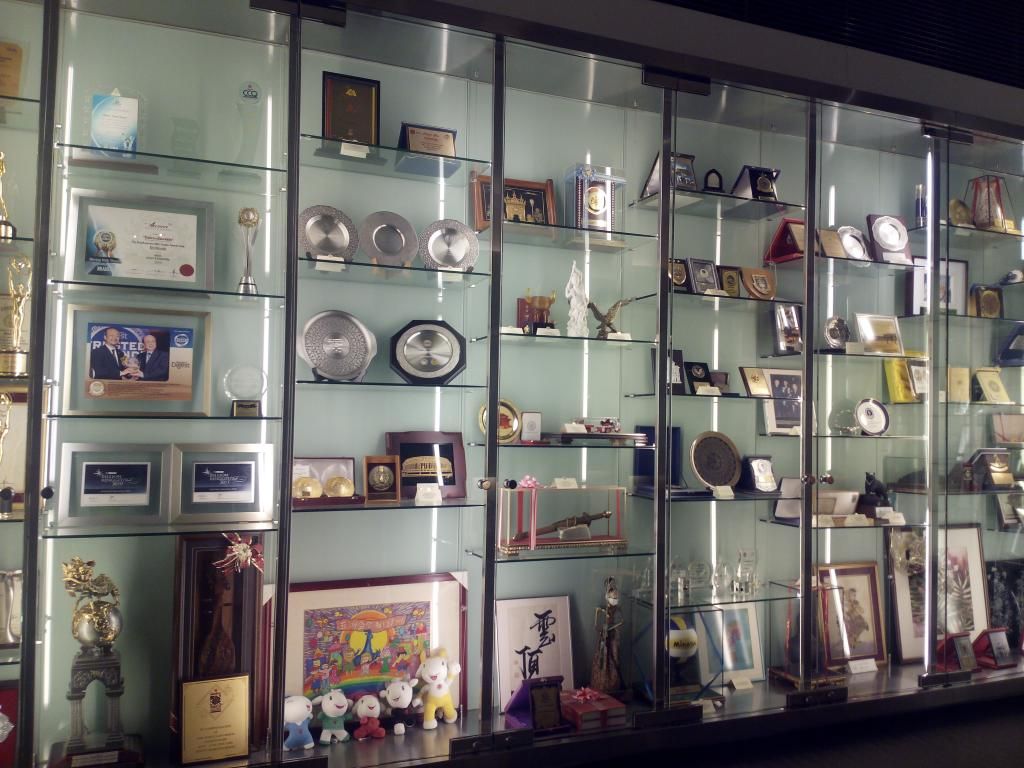 Hall of fame- the late Tan Sri Lim Goh Tong's achievements is all on display here, ranging from trophies to momentous from VIPs from all over the world.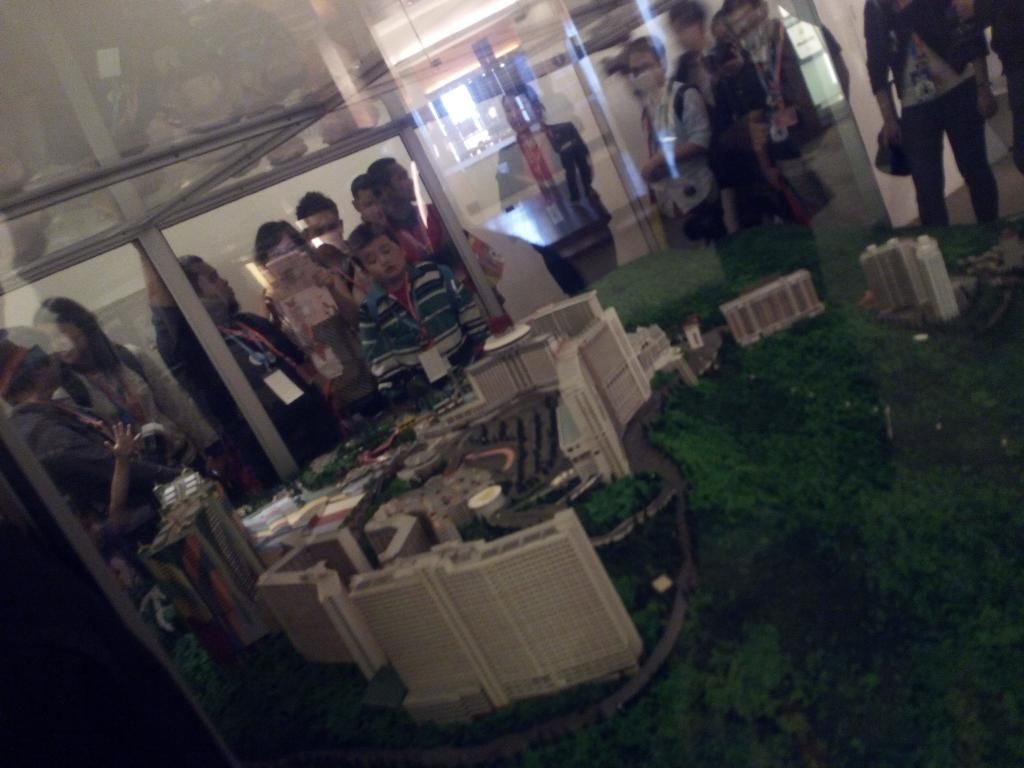 The members of the media were also given an overview of the entire Genting and their future plans, the first Fox World theme park in the world, which is currently in progress and expected to be completely done and open to public by the end of 2016.
This tour may be boring to some and small children may find it a bit mind boggling, but to aspiring adults who wants to be a self-make billionaire, the story of how the late Tan Sri Lim Go Tong is nothing but pure inspiration.
Our next stop is the Genting International Showroom, where the visitors will be given a glimpse on how things works behind the scene of all those world class show and concert in the showroom.
Behind the Scene Tour: Genting International Showroom
The next stop in our itinerary was designed to educate the public  on how things works behind the stage during concerts or shows in Genting International Showroom.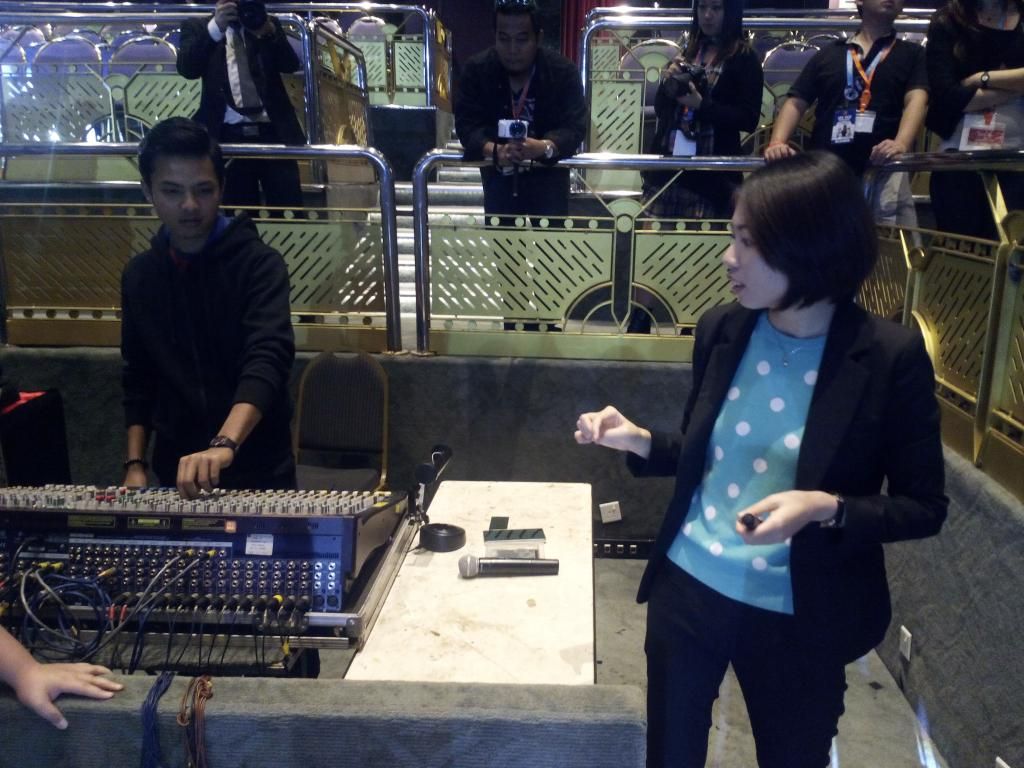 Here's one of the sound and lighting crew member, briefing us on the stage sound and lighting.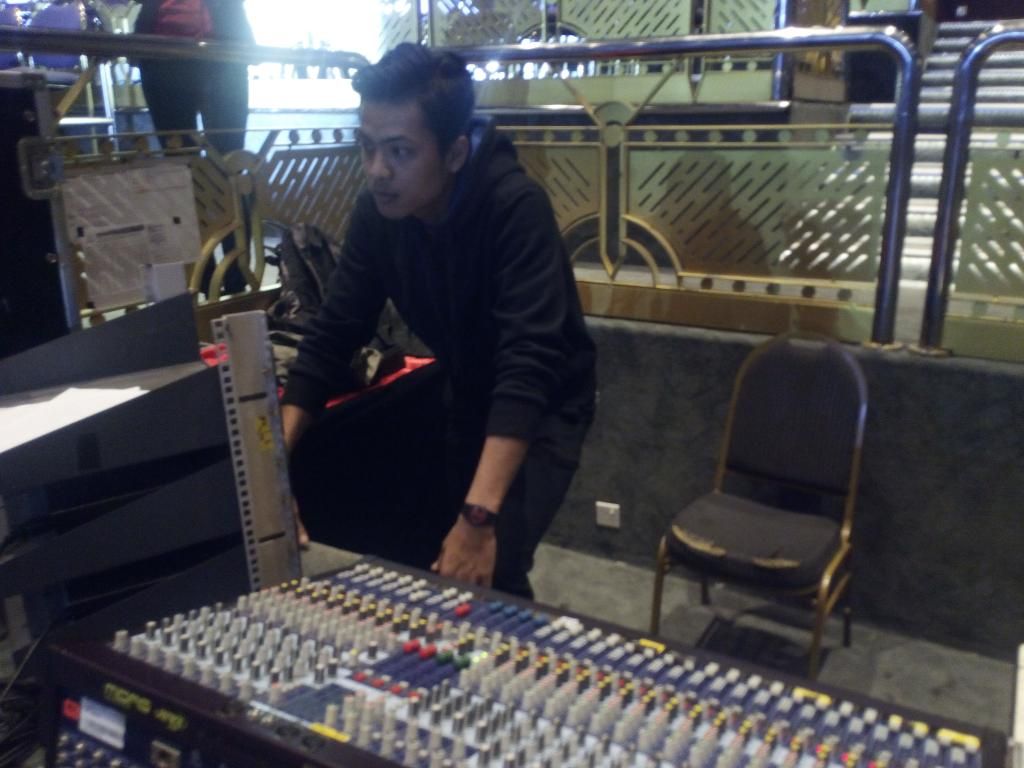 Sound engineer demonstrating the arts of sound and blasting the Genting International Showroom with funky sound.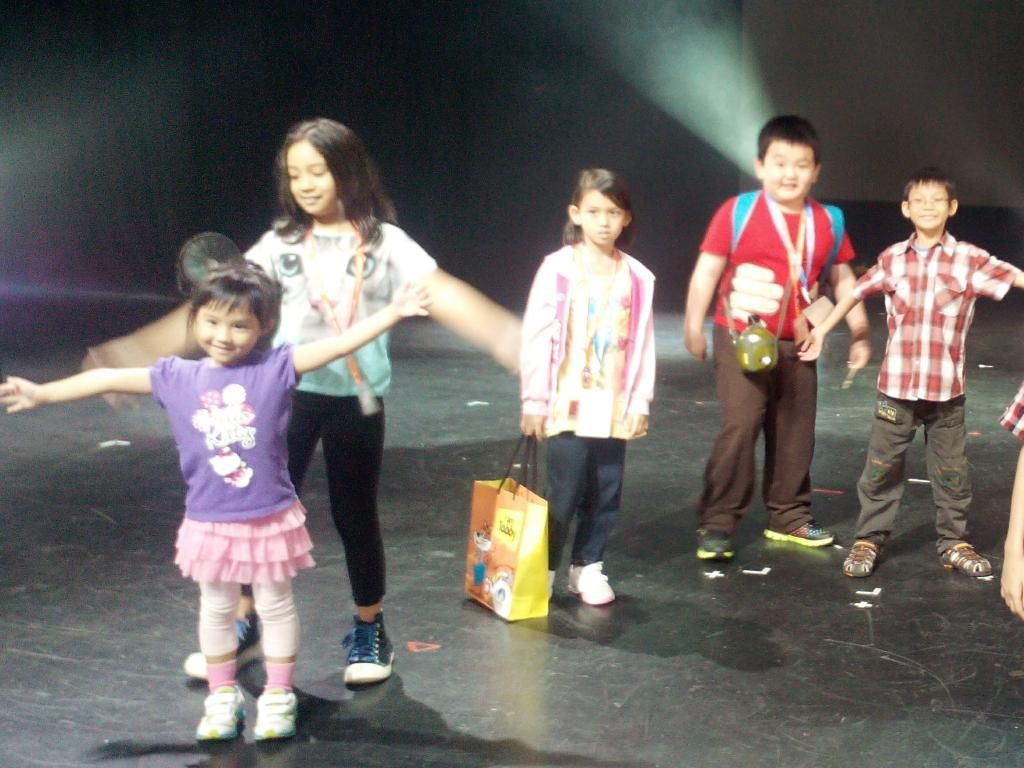 Kid bloggers dancing and having their 5 minutes fame on stage in Genting International Showroom, complete with lighting and music before proceeding to our next stop; the educational visit to First World Hotel Laundry division.
This behind the scene tour is pretty much insightful and I learned that behind every successful show or concert in Genting, there is a whole crew behind of it to make it successful.
Next stop: First World Hotel Laundry
During our visit to the First World Hotel laundry Division, we were given a glimpse on how laundry are done at a a very large scale here in Genting Resorst World.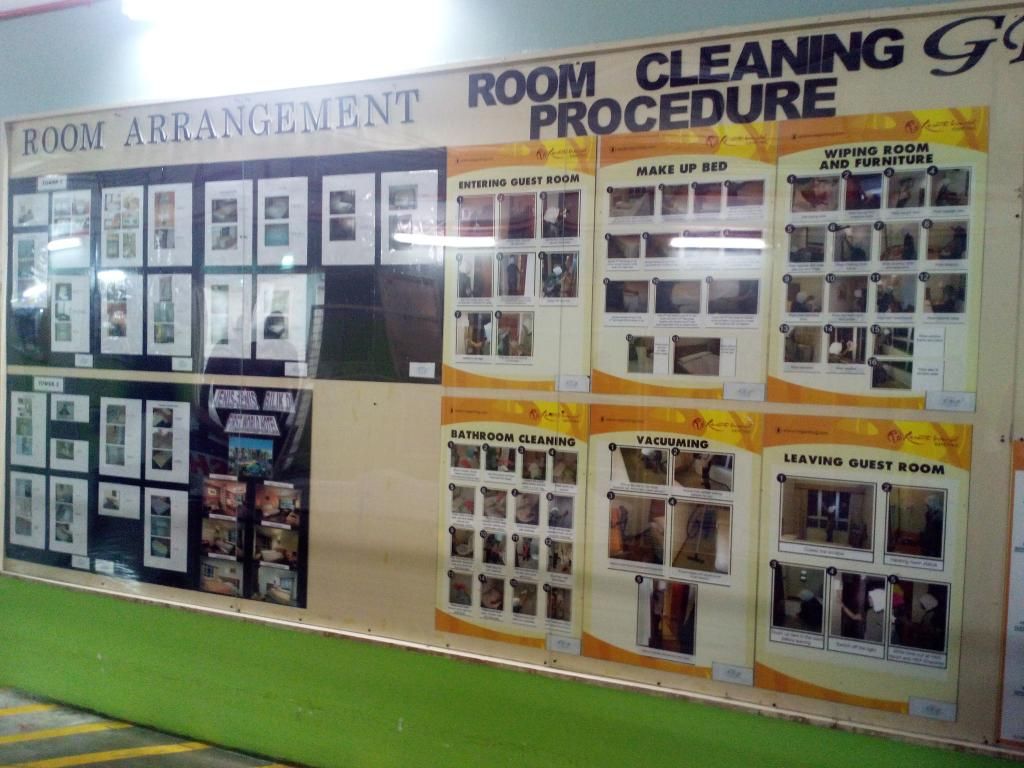 An overview on housekeeping and laundry division.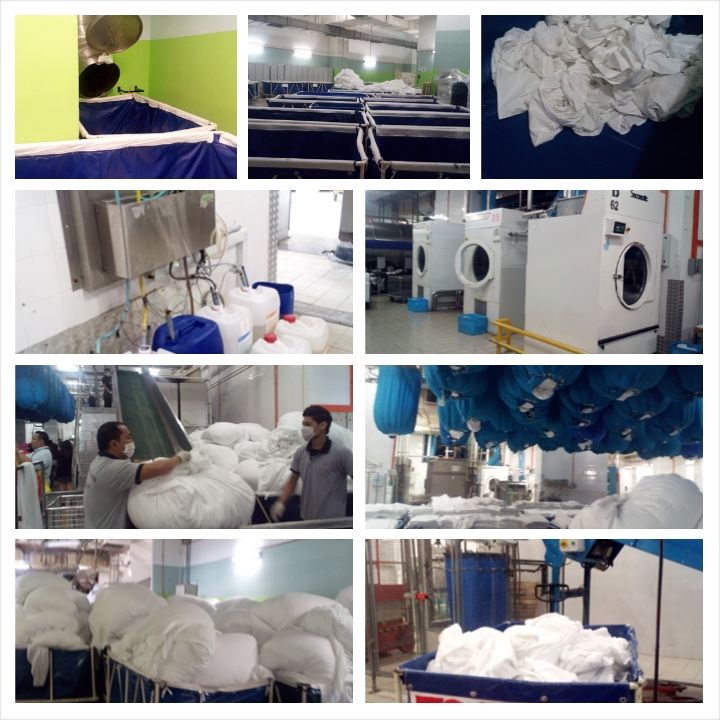 We were shown an A-Z process of laundry in First World Hotel, from collection of dirty linens to washing, drying up, pressing and distributing it back to hotel rooms for your usage. Everything was done using giant machines and the divisions looks more like a mini factory rather than a laundry room.
These are clothes sent by the patrons of First World Hotel for dry cleaning and is now ready to be delivered back to the respective owners. Both wet and dry cleaning service is available upon request for those who are staying in First World Hotel.
The visit is indeed educational, and I believe, through this visit, you not only can learn how hotels manages their laundry but teaches you how to appreciate the unsung heroes who made your stay in hotels comfortable too.
Last stop:  See, Do&Eat Interactive Workshop
The most interesting part of the Behind The Scene Tour, in my humble opinion. Here we get a hands on experience in decorating our own cupcakes and make our own sushis!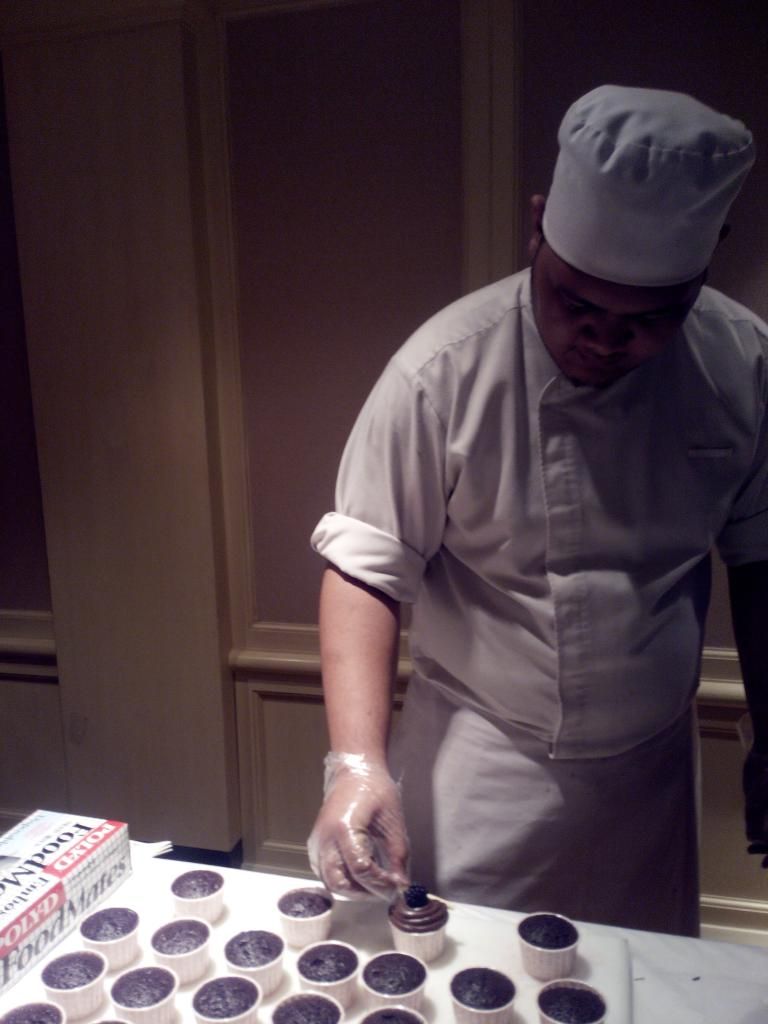 First, there's a cupcake decorating session where the chef gave us a demo on how to decorate cupcakes by using cream, chocolates and fruits.
Here's the members of the media, social media influencers and kids bloggers decorating our own cupcakes.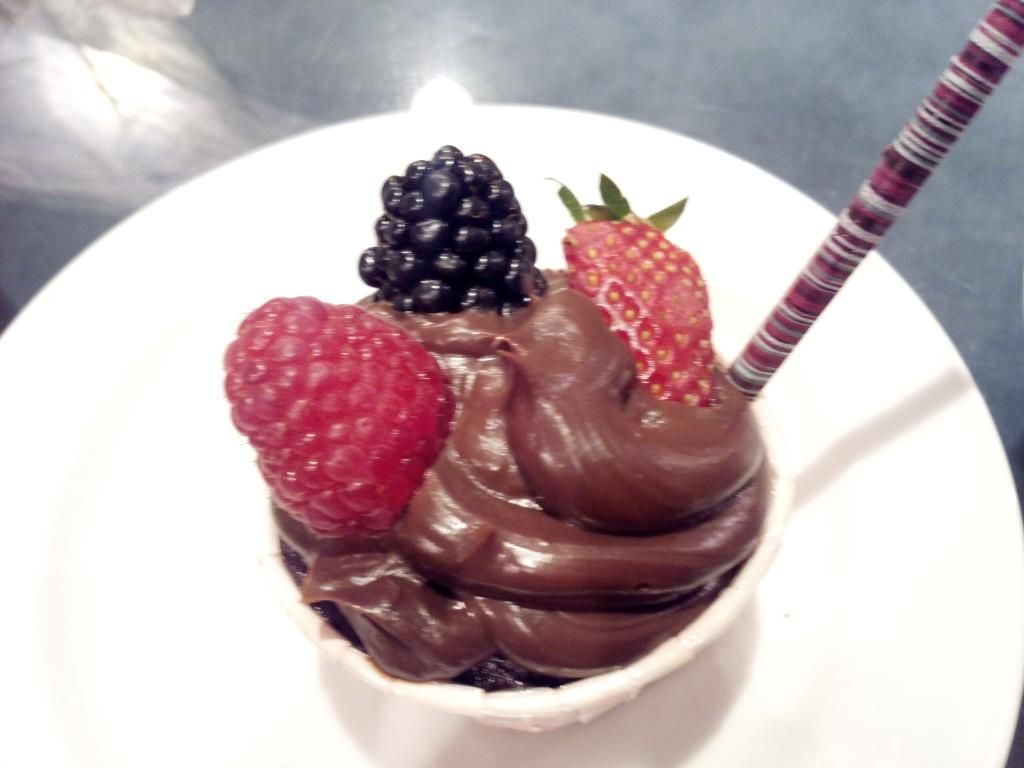 Here's the cupcake that my wife decorated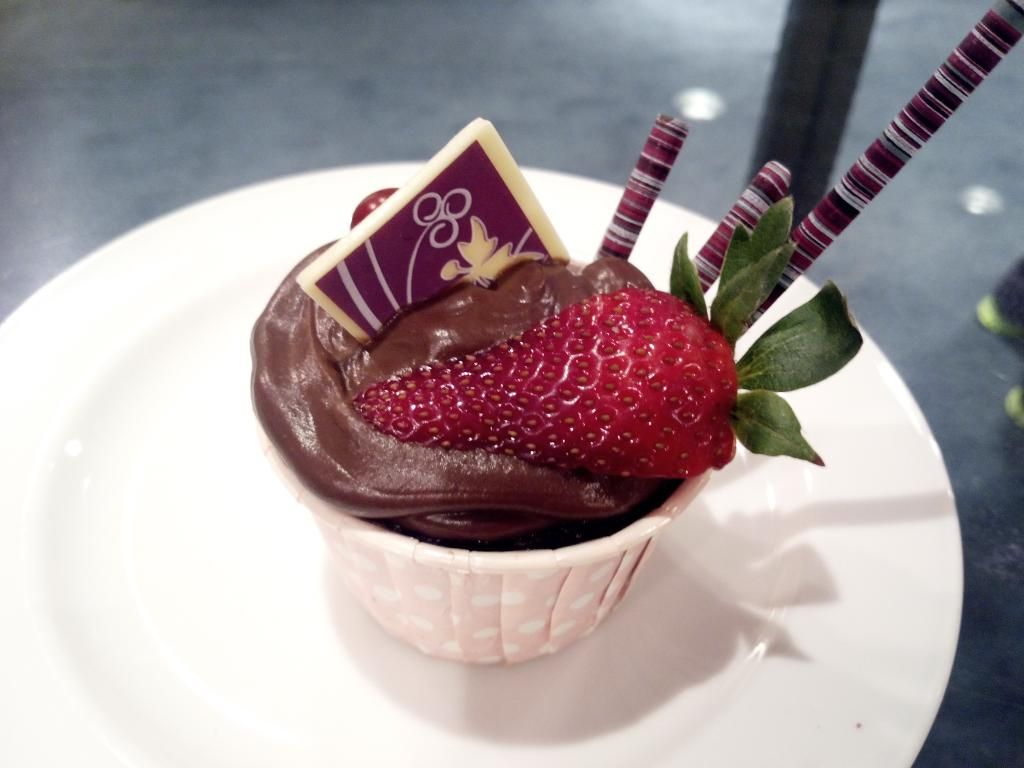 And this is what our son made.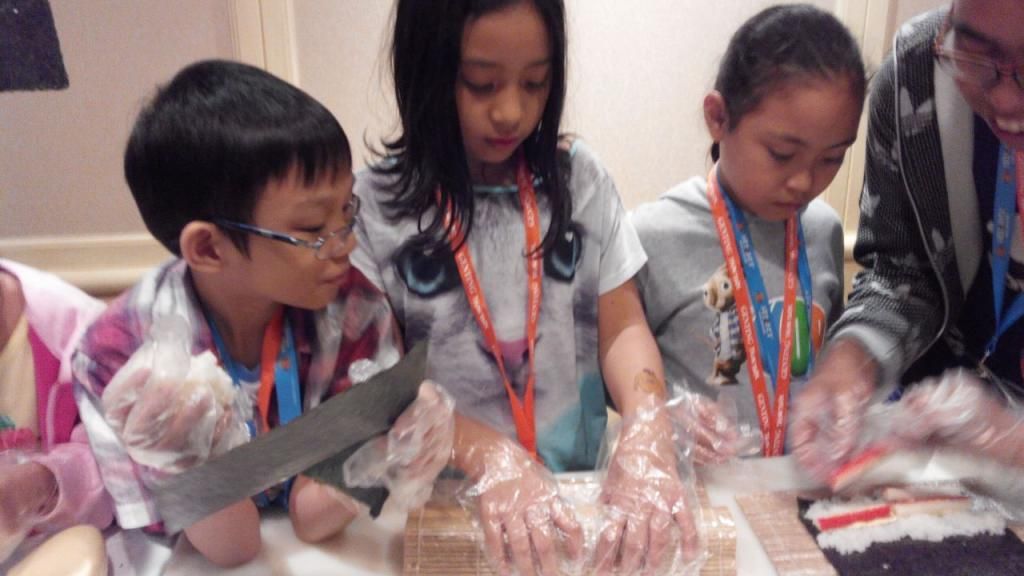 There was a sushi demo too. Here's a pic of the kids and adults alike making their own sushi.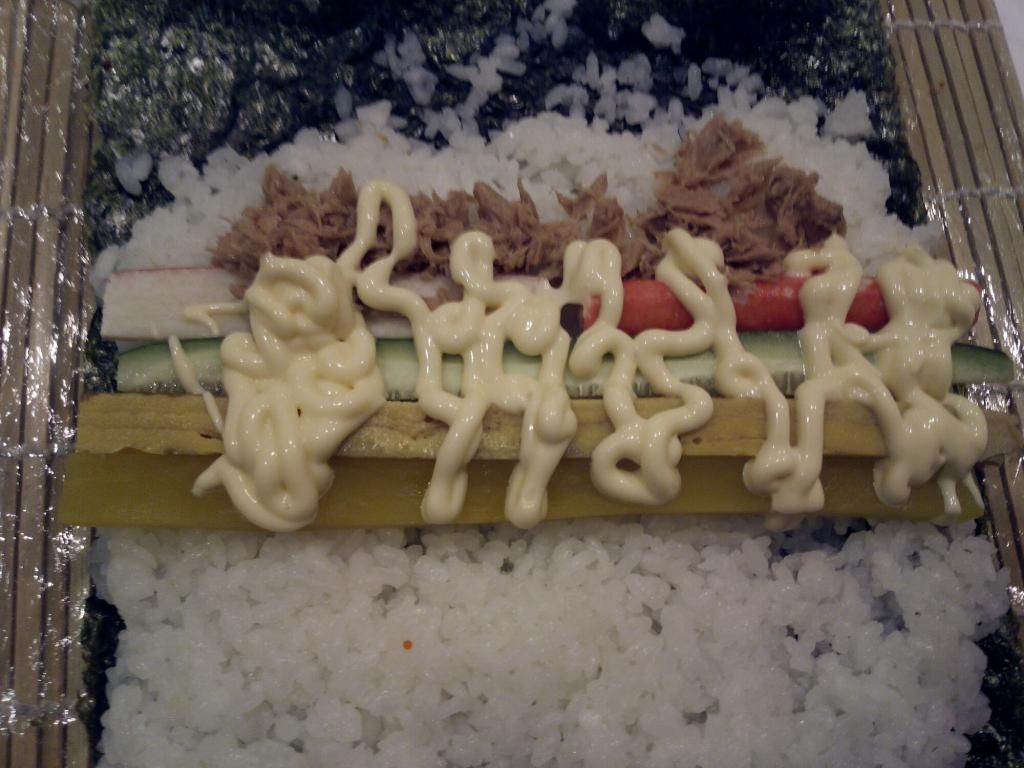 This one's the ingredients for for sushi rolls. The ingredients was nori sheet, vinegered Japanese rice, pickled radish slices, cucumber slices, crab sticks, tamago, tuna flakes and creamy Japanese mayonnaise.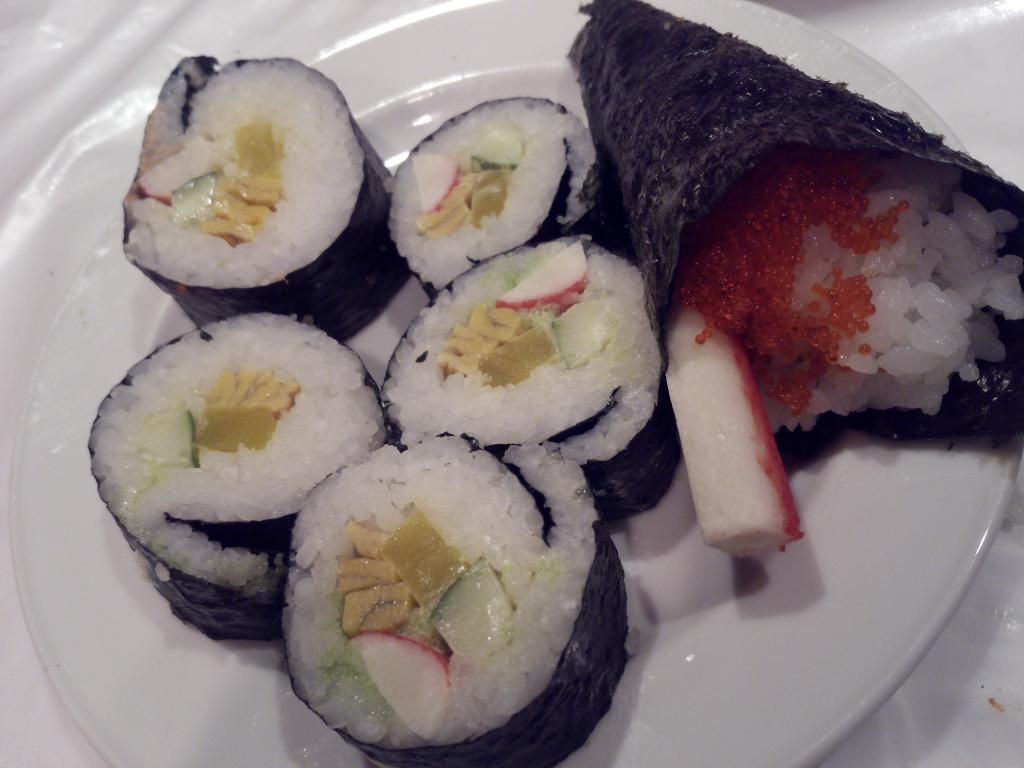 Here's the final products that I made. Not too bad, huh?
Naturally, the 'See, Do&Eat Interactive Workshop' is my favourite part of the tour.
Interested to join the Genting Behind the Scene Tour and take a sneak peak behind their daily operations? Below is the details for it:
Meeting point:
First World Indoor Theme Park Wristband Tagging Counter or
Registration counter at Vision City Video Games Park (next to post office)
Tour dates available
September : 6,7,13-21, 27,28 (13 days)
October : 4,5,6,11,12,18,19,23,24,25,26 (11 days)
November : 1,2,8,9,15,16,22,23,28,29,30 (11 days)
December : 5,6,7,12,13,14,19,20,21,25,26,27,28 (13 days)
Price : RM20 per person
Time : 2.15pm – 5.00pm
Itinerary:
2.15pm  – Everyone gathers at First World Tagging Counter or Vision City Video Games Park
2.30pm  – The Visitors' Galleria
3.00pm  – Genting International Showroom
3.30pm  – Visit to First World Hotel Laundry
4.00 pm – See, Do & Eat Interactive Workshop
5.00pm  – End of Program
Pre-booking is recommended by email to themepark.info@rwgenting.com (3 days before the tour date) or call 03-61011118 ext.55678
For walk-in guest, please sign up at First World Indoor Theme Park Wristband Tagging Counter or registration counter at Vision City Video Games Park before proceeding with payment.
The tour is limited to maximum 30 pax per day. In the event that bookings do not reach the minimum number of participants of at least 10 persons, the tour will be cancelled and full refund will be made.
Behind the Scene Tour was made possible by Resort World Genting.
My family and I were invited to Resort World Genting quite some time ago to experience the Sub Zero heroes, from Ice Age and have a Behind The Tour Scene in First World Hotel.


Ice Age Adventure is an interactive section aimed to the young and the young at hearts and is happening from 1 September – 26 October 2014. Touring Ice Age Adventure will allow you to meet the Sub Zero heroes, Manny, Ellie, Sid, Scrat and Diego who will bring you on an extraordinary adventure that includes lots of fun and
games as well as plenty of once-in-a-lifetime photo moments.

Here is a bit of a walkthrough for Ice Age Adventure, in case you're planning a visit.

There is 3 main sections in Ice Age Adventure which is: Ice Age Playground, Ice Age Theater and Ice Age Meet and Greet.
In Ice Age Playground, there is makeup of Ice Age interior where selfies lovers can roam free to take pictures at over 30 photography spots based on real movie scenes.
The replica of Captain Gutt's ice ship from the animation is also stationed at this zone.

Even the adults couldn't resist from posing here.
There is also section where a mini arcade where there is a variety of skill games and redemption machines to test your skills.
Activities corner is here too where you can make your own Ice Age character mask.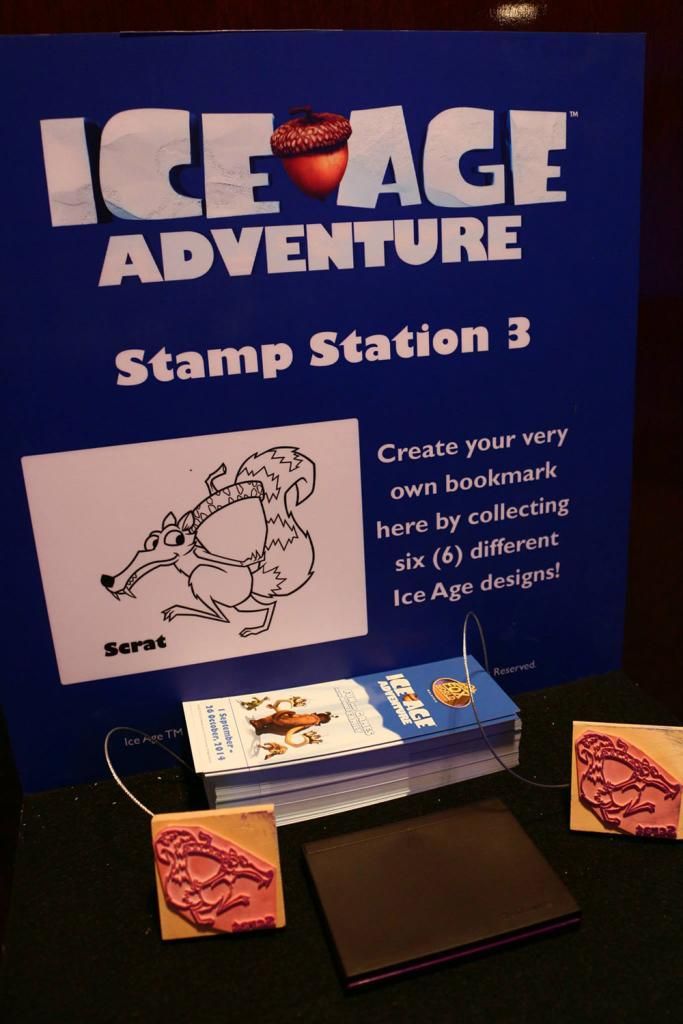 Apart from taking pictures with the props, you can also create bookmarks over here while you are at Ice Age Adventure playground. There are 6 stations scattered around and you may collect 6 different Ice Age characters design from respective stations.

In the Meet and Greet session with Ice Age Characters, the kids and adults alike can meet and greet the much loved characters – Sid, Scrat and Diego. You can choose to dance, play games or just take'selfies' with them.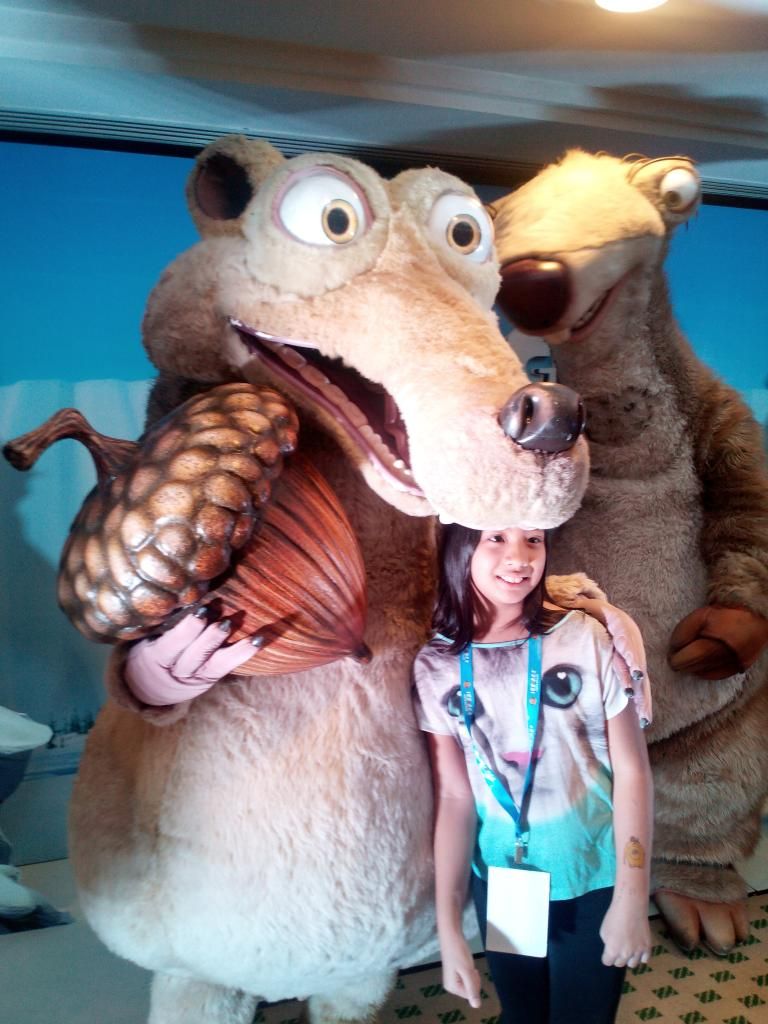 Photo opportunity with Scrat.
Kids can't help but fool around with the characters.

In Ice Age Theatre, there will be screening of Ice Age's Popular Short films such as Gone Nutty – the 2003 Academy Award for Animated Short Film, No Time for Nuts – the 2007 Academy Award for Best Animated Short Film & etc.
Here is the schedule of the show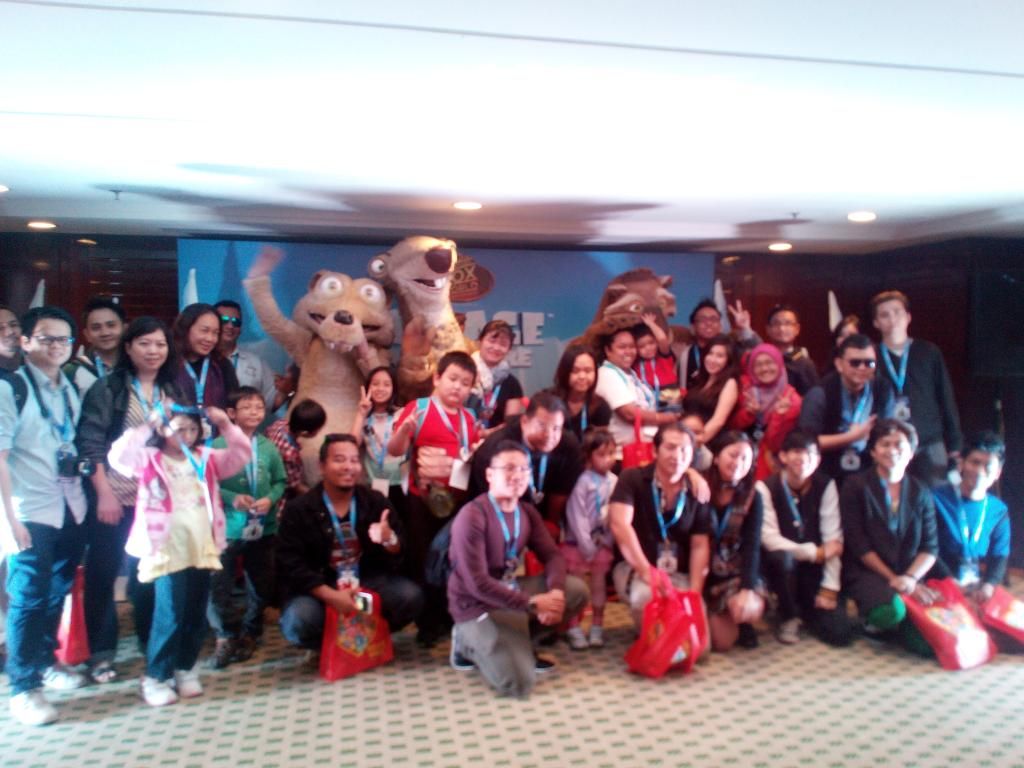 One for the album. Invited bloggers who were present that day. 

Next up on the blog: The Resort World Genting Behind The Scene Tour
Ice Age Adventure details:
1 September – 26 October 2014
10am – 10pm .
RM20 per person
Genting International Convention Centre
(Meeting rooms 7 – 12)
Well, as you can see, I am changing this blog's theme again. Not that I punggung gatal want to change theme, but the previous theme isn't responsive type of theme, that's why it will not change its layout when detect view from small screen devices such as smartphones.
As you can see as above, when it is viewed in landscape view with wide space screen, it displays as normal screen layout. And when rotate to portrait view, it changes its layout.
So now for those smartphone users, don't say my blog hard to read from your smartphone anymore.
Other than that, I had also removed a few of the widgets at the sidebar. And as this theme doesn't have the social profile buttons, I have to add another plugin to place all my social site's links. Well, these new social buttons looks nice also anyway.
Following our previous trip, Negeri Sembilan, a state known for its Adat Pepatih became the preferred location for the Cuti Cuti 1Malaysia Sahabat Media program.Here is a recap of the trip:
Sahabat Media entourage arrived Klana Resort Seremban. The resort is located within the park, surrounded by trees greenery. Klana Resort Seremban is famous as one of the best team building. Here we had a chance to try some team building activities such as flying fox and abseiling. Forces that oversees the program team building here pretty experienced and trained.
While enjoying refreshments, a press conference was held. Then we had lunch in Xinjiang Restaurant, a Chinese restaurant in Klana Resort Seremban. Do not worry about eating here because the restaurant is certified halal and the chef, Chef Ho Tui Kit is experienced in Chinese Muslim cuisine. The menu should be tried is deep fried cod fish with Thai Sauce, braised shark fin soup with crab meat, chicken with dried chilli and cashew nuts and many more. Klana Resort Seremban also offers a Japanese restaurant, Yuri Japanese Restaurant too.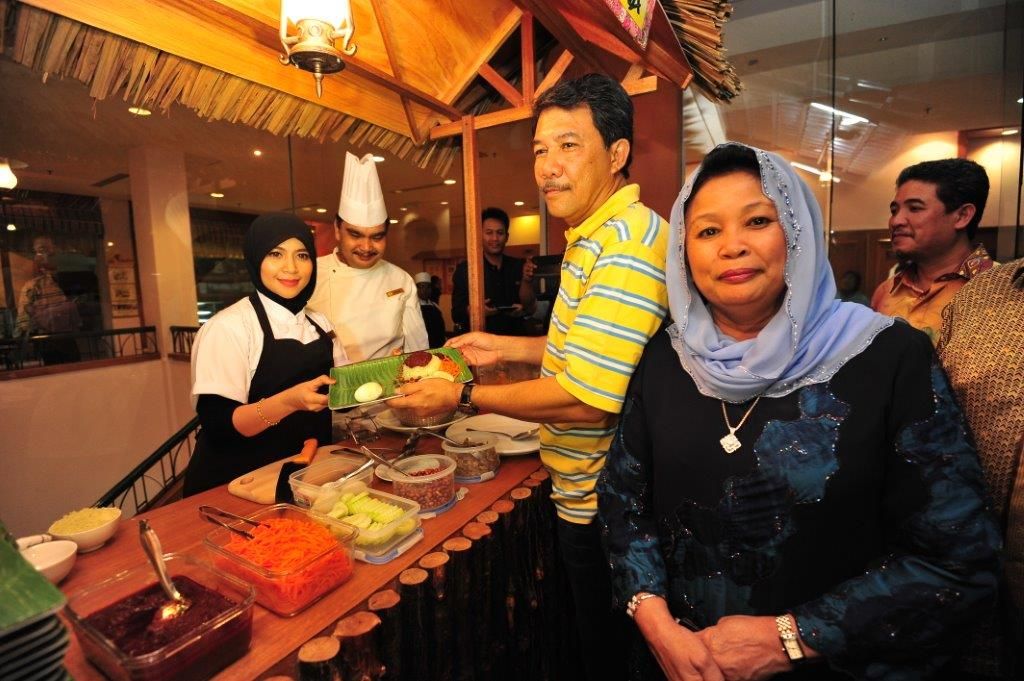 Klana Resort Seremban has also taken the initiative to introduce Klana Steamed Nasi Lemak. Steamed nasi lemak special the specialty of Shura, Celebrity Master Chef. In conjunction with the launch of this steaming nasi lemak, Negeri Sembilan Menteri Besar, YAB Dato 'Haji Mohamad bin Haji Hassan and his wife inaugurate this special steamed nasi lemak. Sahabat Media was also served with iftar menu Klana Resort Seremban.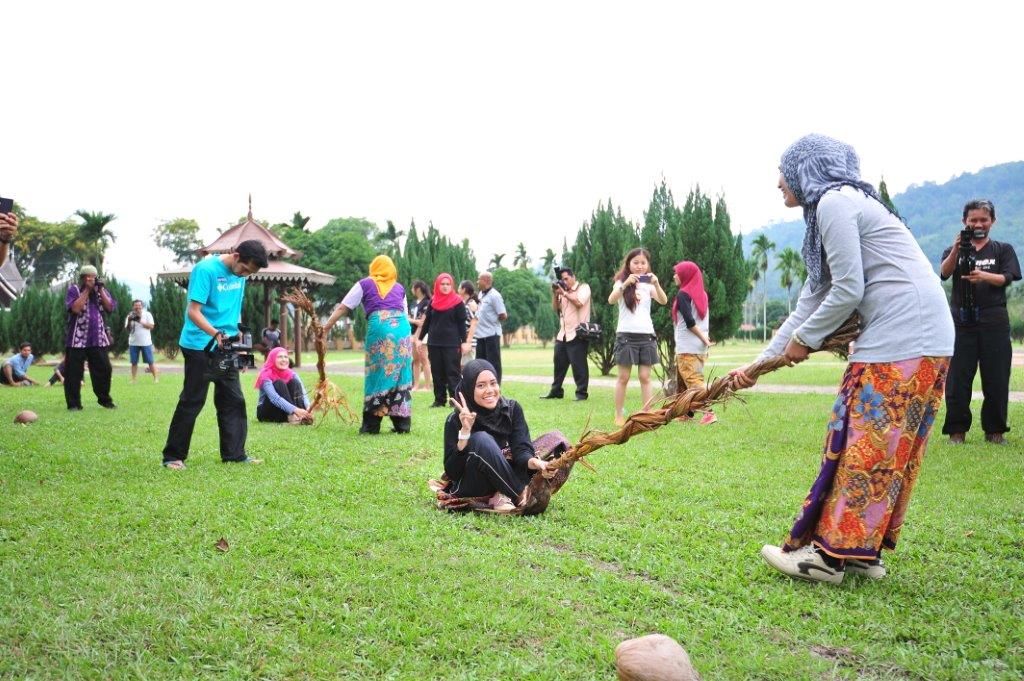 In the the evening, traditional games competitions as konda-Kondi, pull the stork nut and coconut bowling was held at the Istana Seri Menanti. It was really an exciting time for all of us.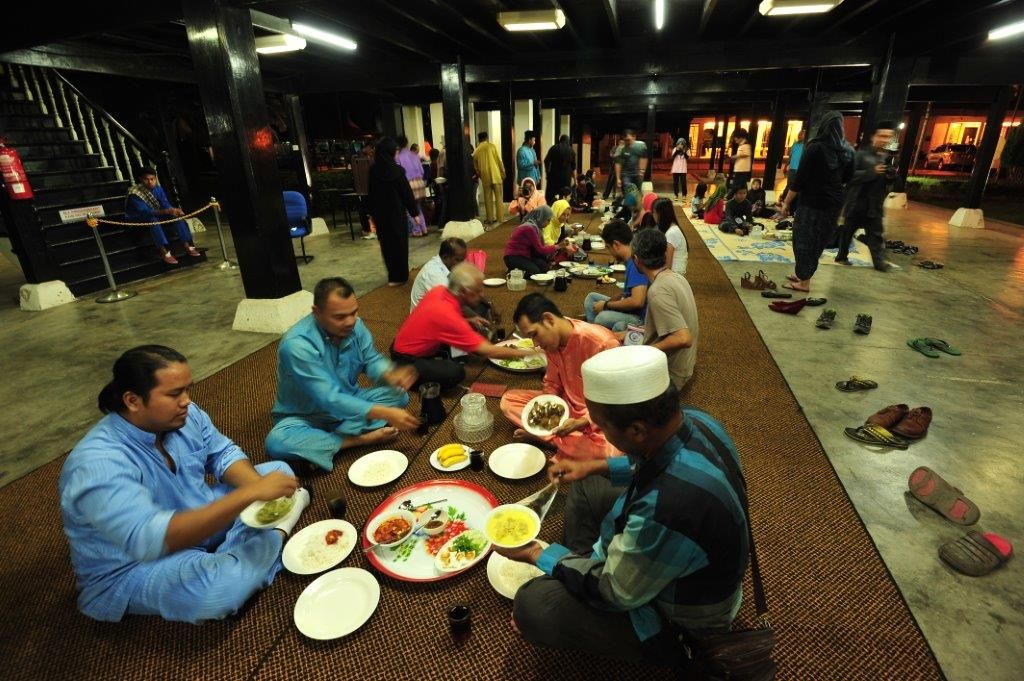 By dinner, we all were treated to Negeri Sembilan Traditional Food in the 'Makan Bersilo'.
On the third day, as early as eight o'clock in the morning, we were all taken to the Seri Menanti Resort. For golf enthusiasts, you can try to play here because the fields are quite challenging. According to Mr. Ibrahim, who hails from Kuala Lumpur, the golf course is quite challenging because it is hilly and narrow.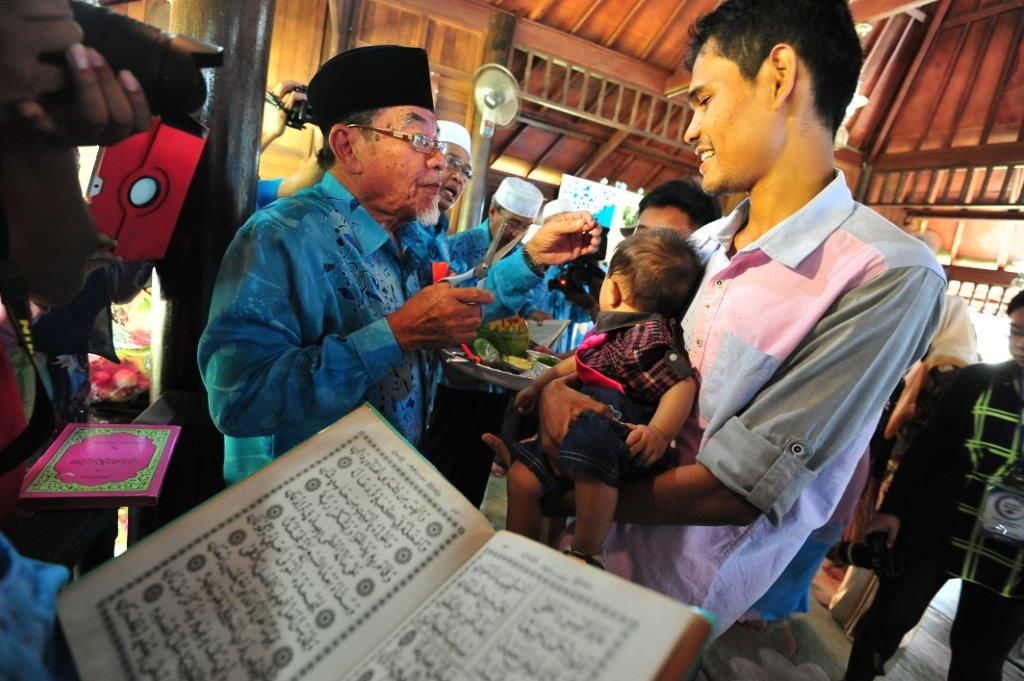 Sahabat Media also get to see a Majlis Berendoi where the event aims to celebrate the birth of a baby. Islam encourages shaved bald baby up so that all the dirt that comes out of the uterus can be removed and allow new hair to grow healthily. There was also berzanji and marhaban during the Majlis Berendoi.
After that, Sahabat Media were brought to Starfresh Agro Park. It is a place that has a restaurant, livestock, spa and much more in the same place. Do not worry because even Starfresh Agro Park has farm animals and a restaurant, cleanliness is assured, no odors or animal feathers flying. Starfresh Agropark this area 40 acres and was built in 1985 but at that time there were only fruit plantations only. In 2009, it was developed into one of the agro-tourism attraction. Here also serves a variety of food such as Chinese Muslims, steamboat, Thai Cuisine and Western cuisine. Most vegetables that is used in the dishes are harvested from the farm at the back of the restaurant. There are various herbs like cat whiskers, an elephant's trunk and various other herbs. . Besides the restaurant, there are also other attractions such as paintball, spa, dorm halls, fruit orchards, livestock areas, and more.
Sahabat Media journey in Negeri Sembilan ends here and we were transported back to Matic.