One of the place of interest you can visit while you are in Genting Highlands is Chin See Caves Temple.
Located at 4,600 feet above sea level, the temple is about 5–10 minutes' drive from the peak of the mountain, there is plenty to see in the vicinity of the temple, even if you are not a worshipper.
Apart of a giant Buddha and Goddess of Mercy's statues, you'll discover that the temple also offers journey to enlightenment through the depiction of heaven and hell via realistic scene brought to life through statues.
Journey to Enlightment
The tortures of Hell
The beauty of heaven
To drive up, refer to Waze or Google Map. Below is the address for your reference.
Chin Swee Caves
Genting Highland
69000 Genting Highland,
Pahang, Malaysia.
Coffee Terrace at the Lobby Level of Genting Grand Hotel is currently having a promotion for their guests who happens to drop by this school holiday. For just RM38 for adult and RM19 for child, you can enjoy delicacies from the opened kitchen buffet concept eg Local, Flavors of Malaysia, Chinese, Western, Japanese & Western Asian. There are also varieties of appetizer, salads and desserts on the buffet spread.
Entrance to Cofee Terrace.
Flavours of Malaysia
Homey dishes
Local favourites
Chinese food selection also offers a variety of local favourites.
Western delights
Some of our favourites
Desserts
Walk in welcomed. For bookings and inquiries, click HERE
Coffee Terrace
Lobby Level of Genting Grand Hotel
69000 Genting Highland,
Pahang, Malaysia.

Ed Alonzo, one of America's foremost comedic magicians has appeared in a number of television shows, will be showcasing his magic cum circus like show from 7th November 2015 to 13th March 2016. Right now, there is one ongoing magic show that I could personally recommend for the whole family; Ed Alonzo The Psycho Circus of Magic and Mayhem. Highly interactive and engaging, the show will keep you hooked.
Aso known as the 'Misfit Magician' for his famous madcap sense of humour, Ed Alonzo will be showcasing his magic cum circus like show, he will make you wish that you're part of his mad circus.
Psycho Circus of Magic & Mayhem is priced from RM88 (PS2), RM128 (PS1) to RM168 (VIP). Children's ticket price are at RM48 (PS2), RM68 (PS1) and RM88 (VIP). For bookings and inquiries on the show, you may check out HERE
Looking for some authentic Asam Pedas? You don't have to go all the way to Melaka or Johor to get authentically spicy ones. If you are living in Klang Valley or the areas nearby, you can just go to Dataran Kuala Kubu Bharu and have some authentic Asam Pedas.
Asam Pedas Kuala Kubu Bharu is one of the district's best kept secret. Known to the locals but not much to outsiders.
The small restaurant is located at the food court of Dataran Kuala Kubu Bharu, offering assorted Asam Pedas for your pleasure.
The chef's specialty is the Asam Pedas Udang Galah.
The portion is huge and the prawn is really big.
Asam Pedas Ikan Tenggiri is also one of their bestseller and is not too bad either.
Highly recommended. Price is affordable too.
For more info on Asam Pedas Kuala Kubu Bharu, please visit their FB page HERE
Following my family's adventure with our friends from Tourism Malaysia Selangor program for media and bloggers after the Kalumpang Rainforest Jungle Run 2015, we ventured deep into Kalumpang to Kalumpang Resorts and Training Centre.
Located deep in Hulu Selangor, Kalumpang Resorts and Training Centre is an agro tourism resort that was built in the orchards on land covering 17 acres.
Kalumpang Resorts and Training Centre has more than 70 units of chalets built with both natural and modern elements. Apart from that, there are hostels for visitors who come in groups. For those who are more adventurous, campsites with tents for rent.
The place is also offering Team Building and Adventure Package, where guests will have a chance to try various activities like river tubing, abseiling, 4×4 jungle trekking ride, horseback riding and many more.
Here's sharing our recent 2D1N retreat in Kalumpang Resorts and Training Centre with Tourism Malaysia Selangor.
Day 1
Perfect chalet accommodation by the river.
Our chalet was RM200 per night with Queen Size bed and bathroom ensuite, inclusive of breakfast for two.
Our host has specially provided us lunch and after having a rest at our room, we proceed to the next activity,which is having a swim in the river and tubing.
Swimming in the river
River tubing is one of the activities that you must not miss when you are here in the Kalumpang Resort and Training Centre.
Challenging but those who enjoys adrenaline pumping activities would love this one. Marshals and lifeguards are always on duty, so no worries about getting into trouble here.
After we had enough of swimming and tubing, we proceed to have a rest in our respective room before going for a BBQ Dinner.
Our dinner, fresh fishes
From the river, and onto our plates.
We also had fun time and karaoke session that nighy with Tourism Malaysia Selangor guys before retiring for the night.

Day 2
We woke up early and went for breakfast.
Kampung Style Breakfast was served. On the menu was nasi lemak with condiments. Quite heavy breakfast, but it is good as next on our itinerary was team building activities.
Team building activities. The ladies opt out of this, so we men have to take up the challenge. First challenge was making connecting together plastic pole and make it stand erect by using thin rope.
It is not easy to do. We took a very long time before we manage to complete this task before going to the next task, which is walking in giant slipper.
We had to hold each other for balance,okay. Not easy as it looks.
After breaking a sweat, our host served us some snacks to replace back the calories that we burned before we proceed to our next activity, which is an off road trip to the jungle by riding 4WD.
4×4 Jungle trekking ride. It was really a tough ride. Don't be fooled by the picture.
We went deep into the jungle and it was a shaky ride.
Our 4WD got stuck for a while
And had to be pulled by using thick cable. I was worried for awhile but all was good. We managed to get out of trouble and went back to resort for our lunch.

Picnic lunch ended our 2D1N stay in Kalumpang Resort and Training Centre and we adjourned to our last stop for the program, which is Dataran Kuala Kubu Bharu for some Asam Pedas.
After staying there for 2D1N with my family and friends from Tourism Malaysia Selangor, I can assure you that Kalumpang Resorts and Training Centre is not just a place for recreation, but it is also suitable for training, courses, seminars, meetings, family day and camping. 
FEE & ADMISSION
Day trip :
Adult (>12 years old) – RM10
Children (5-12 years old) / Senior Citizens (≥55 years old) – RM5
Children (<5 years old) – FREE
Halls :
Hall + PA System – RM650
Hall 1 day (morning – evening) – RM350
Additional LCD TV/Monitor – RM220
Campsite (Day trip admission fee applied) :
Tent (4 person) + Campsite – RM40/tent
Campsite only (4 person) – RM20/tent
Tent installation – RM10/tent
Additional person – RM10/tent
Others :
Karaoke + Technician – RM550/3 hour
Karaoke + Technician (Coffee House / Canopy) – RM400/3 hour
BBQ hut + 2 packs of charcoal – RM50
For booking inquiries, please refer to the information below:
KALUMPANG RESORT & TRAINING CENTRE
Lot 426 & 427 Jalan Sg Inki,Kg Pasir Putih, Kalumpang 44100 Kerling, Hulu Selangor, Selangor
Tel : 03-6049 1969
Fax : 03-6049 1087
Email : kalumpang.resort@yahoo.com / krtc_resort@yahoo.com
The First Sungei Wang Plaza Sci-Fi Festival blasts off from 7th November 2015 to 15th November 2015.
The Sci-Fi Festival is initiated to create a platform for Sci-Fi "geeks" and cosplay lovers with same interests to get together and interact with each other in this remarkable event and take advantage of the amazing promotions & discounts offered by the cosplay & toy shops in Sungei Wang Plaza.
Starting with the Intergalactic Showdown on the 7th and 8th November 2015, followed by the Clash of the Superheroes on 14th and 15th November 2015 at Concourse Level, Sungei Wang Plaza, this 4 days jam packed with performances, parade and activities for hard-core Sci-Fi fans to participate in.
Dress up in favourite superhero attire and join in the fun – Star Wars Fan Parade and Superheroes Parade. There will also have Saber performance by Lightsaber Academy and Superheroes Skit Performance.
For shoppers who like to take selfie or wefie, you may head to Sungei Wang Plaza to take pictures with your favourite Superheroes character 3D statue such as Superman, Batman, The Incredible Hulk or any element of the Sci-Fi Festival and stand a chance to win the facebook/instagram contest. The photo with the highest number of Facebook "Likes" will bring home cash vouchers amounting to RM300.00. Shoppers can also design their own lightsaber and superhero identity (superhero mask) in the workshops organised during this Sci-Fi Festival.
The Fans of Sci-Fi may join us during our event day on the 7th, 8th, 14th and 15th November 2015 in your own Sci-Fi costume and stand a chance to grab our Star Wars merchandizes such as 3D deco lights, Superheroes toys, Star Wars Dvds and many more! Our performances and activities line up are as below:-
7th & 8th November 2015

Saber Performance
Star Wars Fan Parade
Intergalactic Quiz
Design you own Lightsaber
Saber Performance & Academy
14th & 15th November 2015
Superheroes Skit Performance
Superheroes Parade
Superheroes Quotes Quiz
Design your Own Superhero Mask
Superheroes Coloring Contest*
For latest information about the events and promotions at Sungei Wang Plaza, kindly visit: Sungei Wang Plaza website at http://www.sungeiwang.com or Sungei Wang Plaza Facebook at www.facebook.com/sungeiwangplaza. For All Kinds of Everything!
Celebrating 50 years of Singapore-Malaysia ties, TITIAN BUDAYA will be held in Kuala Lumpur, Malaysia from 21 November 2015 to 17 January 2016. Presented by the Ministry of Culture, Community and Youth, Singapore (MCCY) and supported by the Ministry of Tourism and Culture, Malaysia (MOTAC), this cultural season showcases the creative talents of Singapore and Malaysia across a wide spectrum of art forms.
TITIAN BUDAYA will reach out to a wide range of audiences in Malaysia to celebrate the shared cultural connections between Singapore and Malaysia. Held over a span of three months, TITIAN BUDAYA will feature an estimated 400 participants from creative communities in Singapore and Malaysia in diverse programmes across different venues in Kuala Lumpur. MCCY has commissioned CultureLink Singapore to conceptualise, develop and produce the event.
The events underline the spirit of partnership, collaboration and co-operation between the two countries, and will involve about 150 Malaysian participants alongside Singapore creatives. The events also explore cross-cultural expressions, and highlight shared cultural and entertainment traditions and icons familiar to both countries. Additionally, TITIAN BUDAYA introduces aspects of Singapore's creative scene that have not been widely encountered in Malaysia.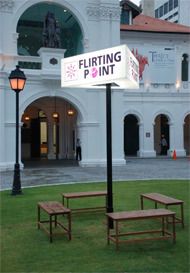 TITIAN BUDAYA festivities will kick-off with a supercharged weekend carnival titled Next Door at Publika on 21-22 November 2015 with a series of four events transforming the mall into a cultural playground. The theme 'Next Door' aptly conveys notions of everyday living with shared experiences in a common neighbourhood. The first event features the opening of Art Next Door, a contemporary art exhibition that will run till 13 December 2015. Specially selected and commissioned art works by artists from Singapore and Malaysia are featured alongside one another, providing glimpses into photography, video art, and installation works of Singapore's post-1965 generation and their Malaysian counterparts. The exhibition is curated by Tang Fu Kuen.
The public will also get the opportunity to dip their creative hands in Bazaar Next Door, a family friendly event within the Boulevard at Publika. Organised in partnership with Art for Grabs, Kuala Lumpur's most popular arts, design and crafts market and the Singapore Makers Association, there will be over 70 stalls that will occupy and delight Malaysians young and old.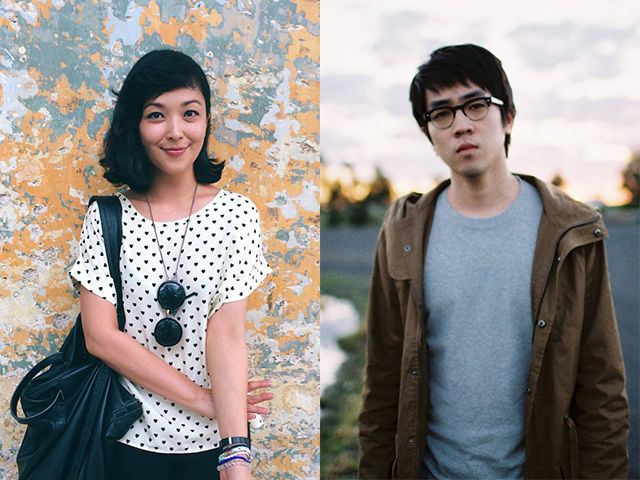 The third programme at Publika is Music Live Next Door that will feature performances by some of Singapore's top and emerging music groups: Kailin Yong's PLUS Trio, Rustic Vibes and SA (仨). Popular Singaporean and Malaysian singer-songwriters Charlie Lim and Liyana Fizi will perform with their respective bands as well as share the stage in a duet. All music performances will be held at Publika's outdoor stage The Square.
The fourth and final programme at Publika is Cinema Next Door, that will include a live animation concert by the TO Ensemble; animation films based on stories by five Singapore writers; and a collection of Singapore's best short films. On Sunday 22 November 2015, we wind down the weekend with an outdoor film screening of Jack Neo's iconic I Not Stupid.
A significant highlight of TITIAN BUDAYA is TITIAN BUDAYA NIGHT, which will be held on 8 December 2015 at Dewan Filharmonik PETRONAS, Malaysia's world-class concert venue. This one- night-only gala event is infused with the colours, flavours and rhythms of the region that gives full meaning to the spirit of building bridges across cultures, boundaries, and art forms. A star-studded cast of soloists that includes jazz maestro Jeremy Monteiro and Singapore Idol Taufik Batisah will join the Singapore Chinese Orchestra to perform the works of well-known Malaysian and Singaporean composers in a multicultural extravaganza. Tok Dalang Eyo Hock Seng will lead the Kelantanese wayang kulit troupe Kumpulan Sri Campuran to perform a specially commissioned work from Malaysian composer Yii Kah Hoe, based on the play The Silly Little Girl and the Funny Old Tree written by the doyen of Singapore theatre, the late Kuo Pao Kun. The concert also celebrates the music of the legendary late P. Ramlee in a medley of his beloved songs especially re-arranged by Eric Watson. The entire programme will be musically supported by a 90-piece Singapore Chinese Orchestra, one of Singapore's two national professional orchestras.
Dance enthusiasts are also in for a treat too, as TITIAN BUDAYA, in collaboration with Damansara Performing Arts Centre and T.H.E. Dance Company, will present the Company in two performances on 19-20 December 2015. The Company will perform a double-bill comprising a work by its Artistic Director Kuik Swee Boon, as well as premiere of a new piece commissioned by Indonesian choreographer Jecko Siompo.
From 14-17 January 2016, the inaugural SINGAPORE FILM FESTIVAL in Malaysia will close TITIAN BUDAYA. The Film Festival is produced in collaboration with the Singapore Film Society and National Museum of Singapore. It presents an anthology of post-independence Singaporean films starting with the revival of local cinema since the mid-90s, and showcases 10 breakthrough works by Singaporean filmmaking talents from first-generation directors such as Eric Khoo and Jack Neo, to a younger generation of filmmakers like Anthony Chen, Boo Junfeng, Liao Jie Kai, and Royston Tan. The festival will highlight award-winning films and box office successes that have put Singapore cinema on the world map. Screenings will take place at Golden Screen Cinemas at 1Utama Petaling Jaya and Pavilion Kuala Lumpur.
TITIAN BUDAYA will also feature talks and discussions to deepen the knowledge and understanding of creative engagements, as well as facilitate cross-border networking and learning between Singapore and Malaysia socio-cultural institutions. These will be organized in conjunction with MY Performing Arts Agency. There will also be an arts-enabling project UNSEEN by artist Alecia Neo who works with visually-impaired communities in Malaysia. This project will be supported by the Singapore International Foundation and aims to use art as a means to effect positive change amongst the participants, as well as the larger community.
For more information on Titian Budaya, please visit www.titianbudayasg.com