It's been awhile since my family and I went for a media/ FAM trip due to work commitment. The last was in September where we spent time together up on Resort World Genting for Ice Age Adventure and First World Hotel Behind the Scene Tour.
Been itching for some Cuti Cuti Malaysia moment with my wife and son again to de-stress, and the invitation to Klang Parade Bloggers Day Out came just in time. The motive of this day out is to explore the newly revamped Klang Parade Mall.
Klang Parade underwent a massive makeover  and was refurbished since June 2013, introducing structural additions to the mall including two new brightly lit atriums drenched in natural sunlight during the day, new travelators and a sense of serenity. A product of very careful planning and design by the mall 's owners ARA Asset Management Limited, a new al fresco food and beverage area has been established in front of Klang Parade, replacing spaces previously used as a carpark ramp. Being one of the largest malls in the area, Klang Parade definitely has gone the distance to guarantee a pleasant shopping experience for shoppers like me, paying attention to the assortment of international and regional brands open to the public.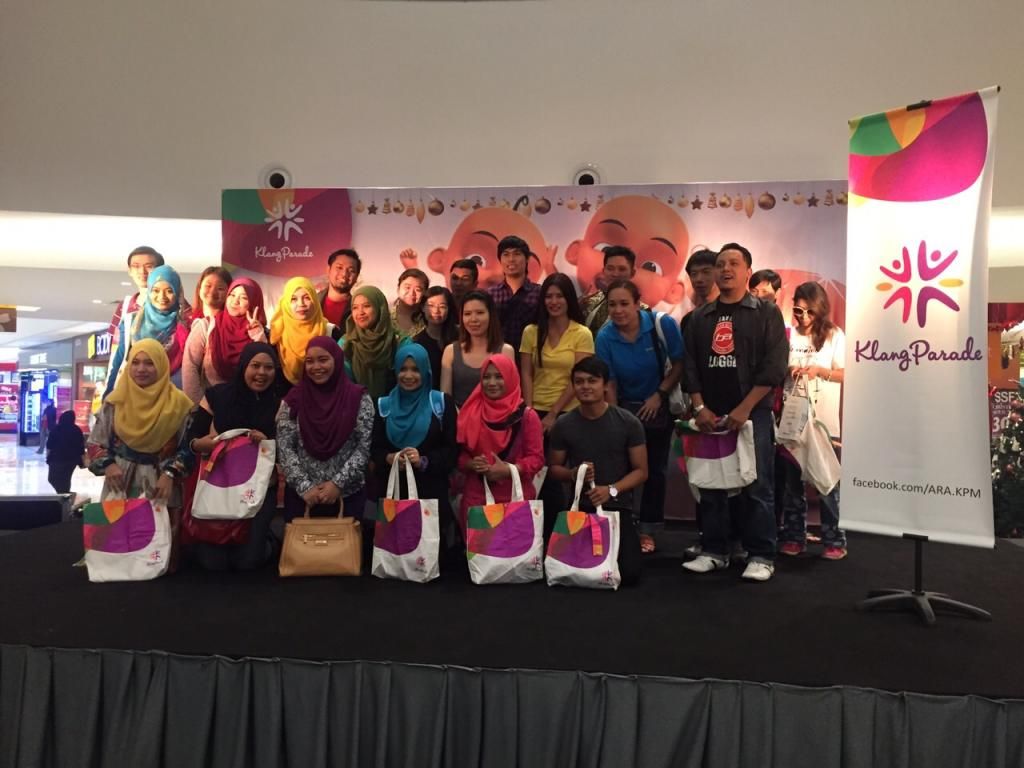 Klang Parade Blogger Day Out. A group photo before the activities of the day started.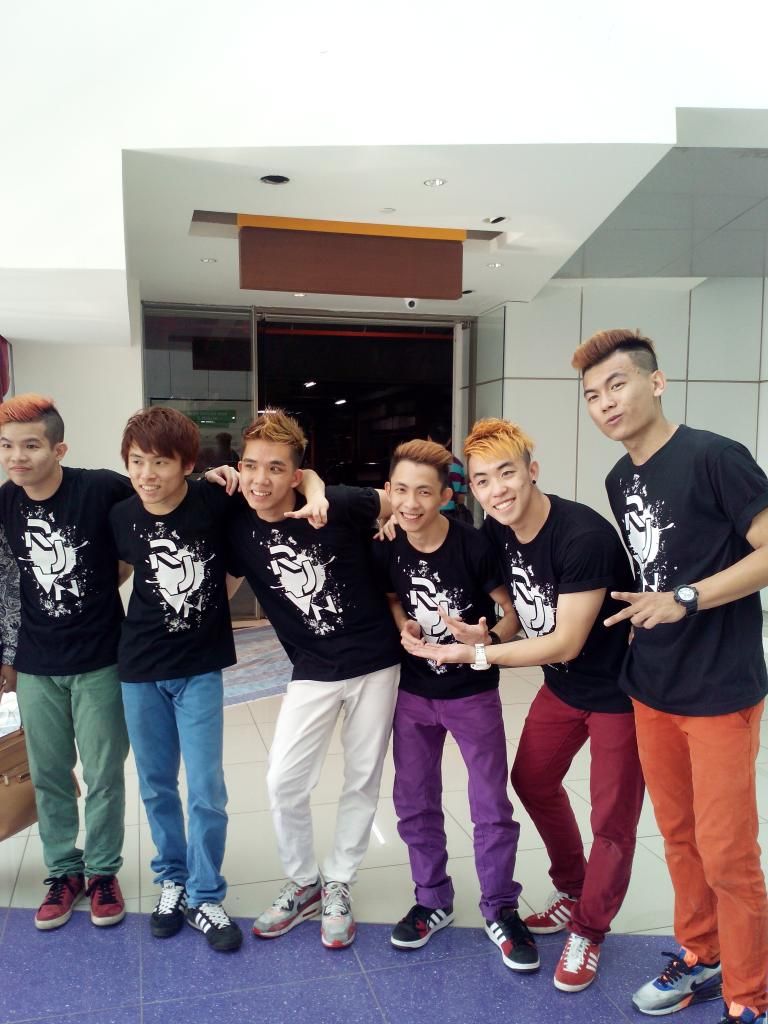 On the way to the first activity on our iterinery was a surprise dance by Rejuvenate Dance Crew, who showcased  energetic choreography movements, just outside their soon to be opened dance studio, called the Peanut Butter Studio.
Look up the Peanut Butter Dance Studio in Klang Parade soon if you want to learn how to breakdance like them
We were ushered to Firezone Family KTV. The Firezone Family KTV is located on the 5th floor after that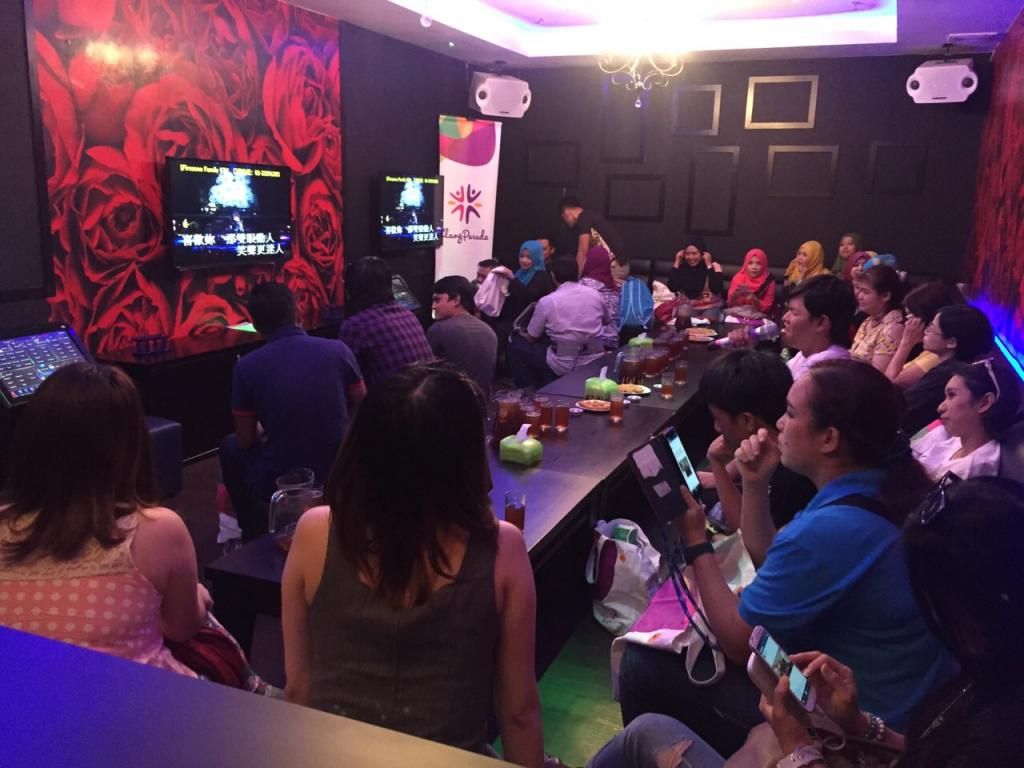 Spacious karaoke rooms provided at Firezone Family KTV, a one stop family KTV with Wifi, Cafe, Snack & Pool KTV. Firezone Family KTV in Klang Parade has 44 units of small, medium, VIP and VVIP rooms. Highly recommended if you are looking for a fun karaoke-ing time with family and friends…or a party.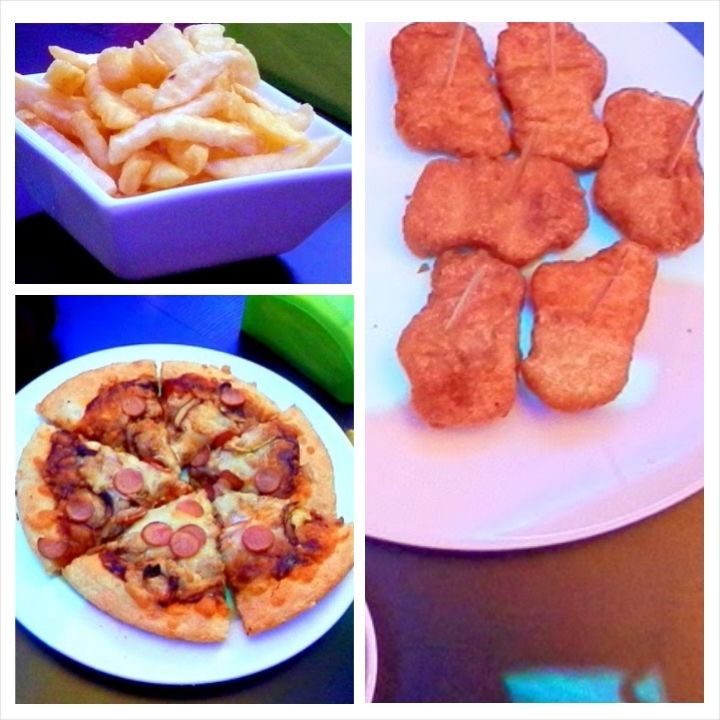 Snacks are readily available to order to in Firezone Family KTV.  We were served pizzas, nuggets and French fries during our session there that day.
To make reservation for karaoke session in Firezone Family KTV Klang Parade, call: +6-03-3359 6303.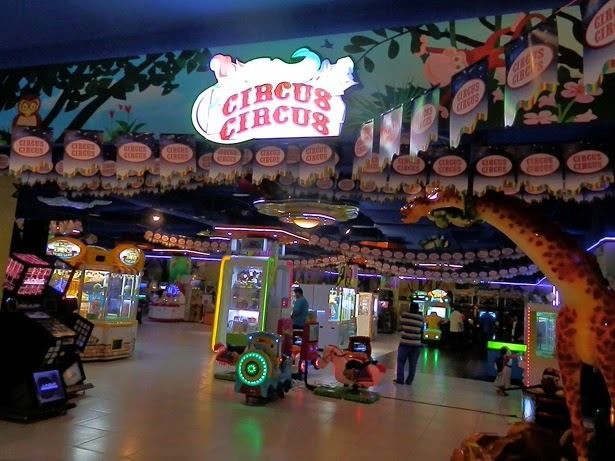 Next stop was the Circus Circus Arcade. The arcade was located 4th floor of Klang Parade.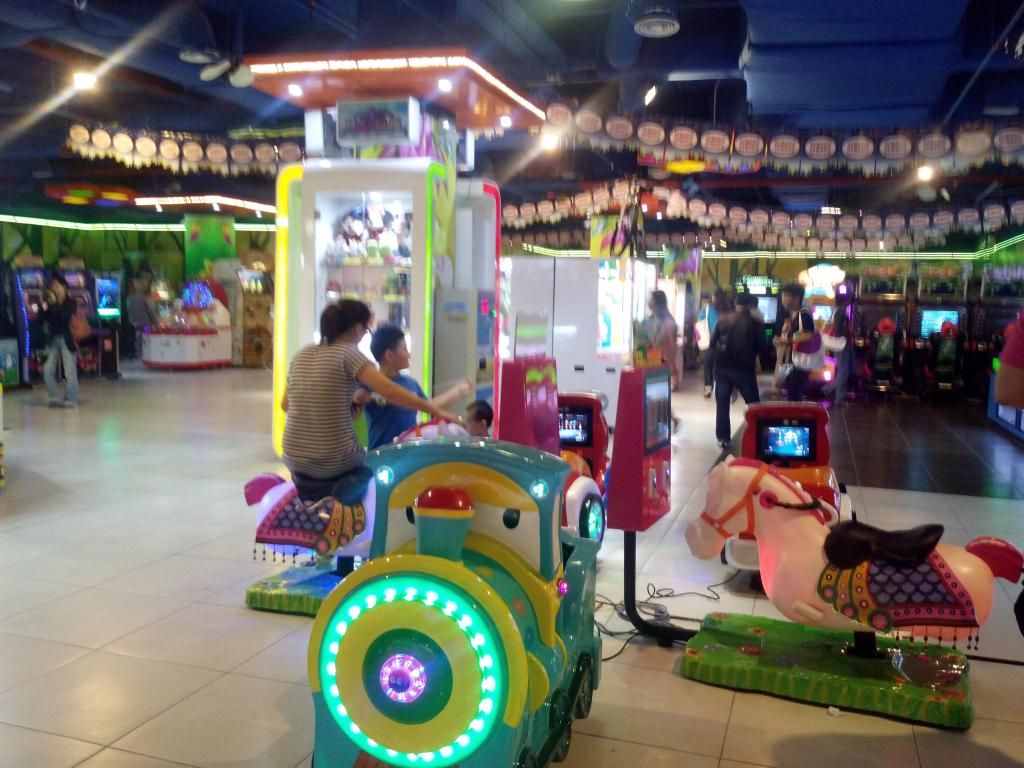 The arcade provides hours of entertainment for both small children and adults alike.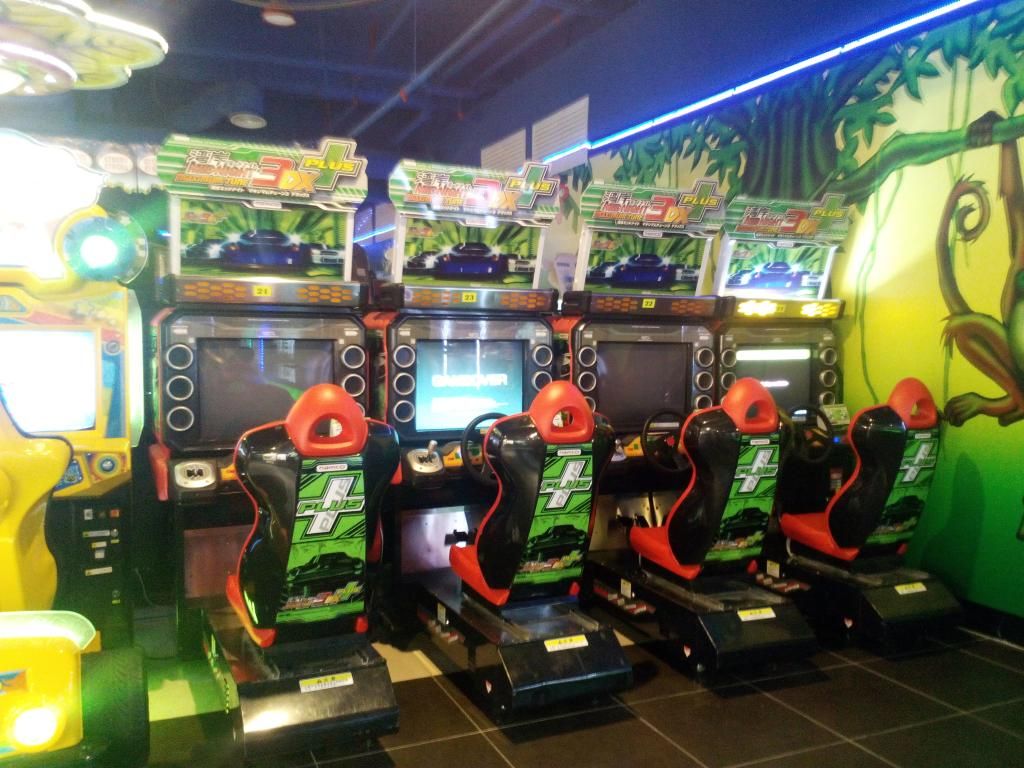 Arcade video games are readily available. My all time favourite? Is of course the car racing machine.
After the arcade visit, bloggers were assigned into three groups for the mall hunt, and here's our first stop. Tune Talk Service Centre. We were introduced to the Tune Talk services and packages and given our very own Tune Talk simpack. My wife was very happy as the number our simpack is 520. Our anniversary date, and also means 'I love you' in Cantonese.
Second station during our mall hunt, Fresh Fruits stall our task was to make our very own skewered fruits.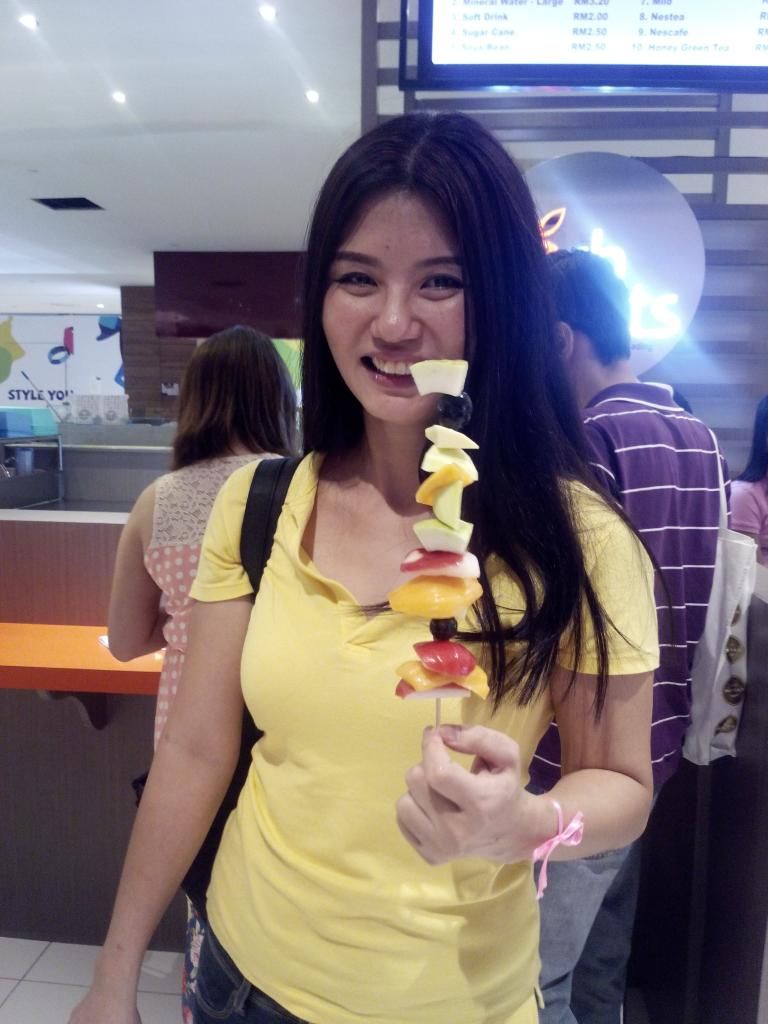 Blogger friend Rane with her skewered fruits.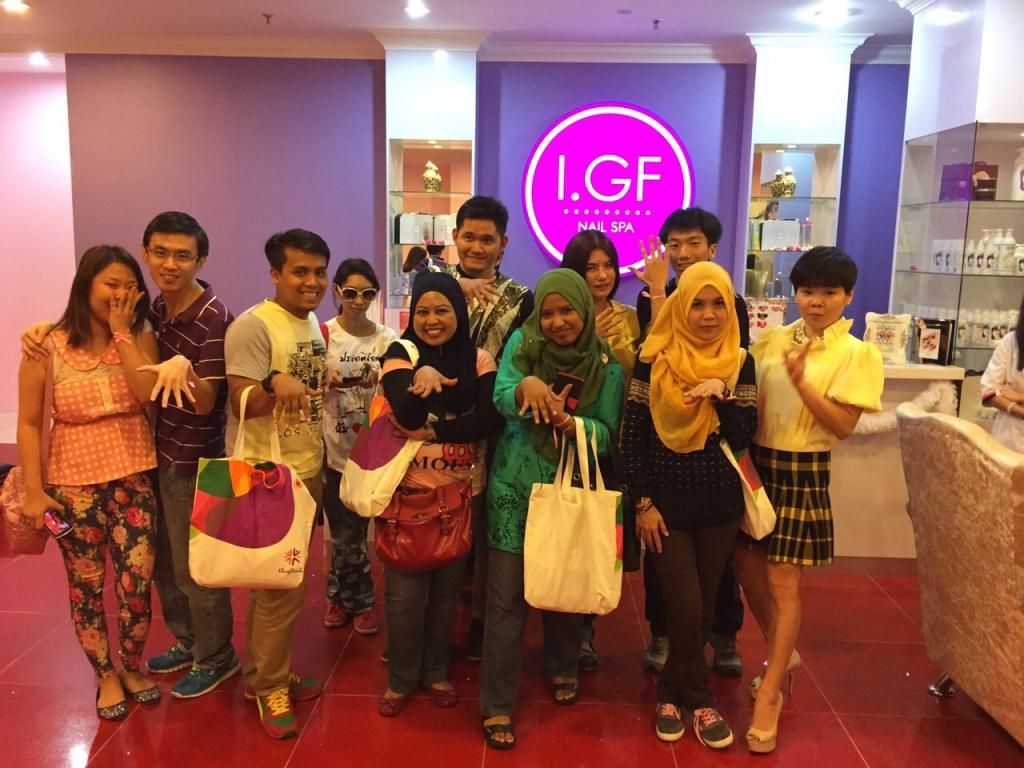 Third station is the I.GF Nail Spa, an obvious treat for the ladies in our group.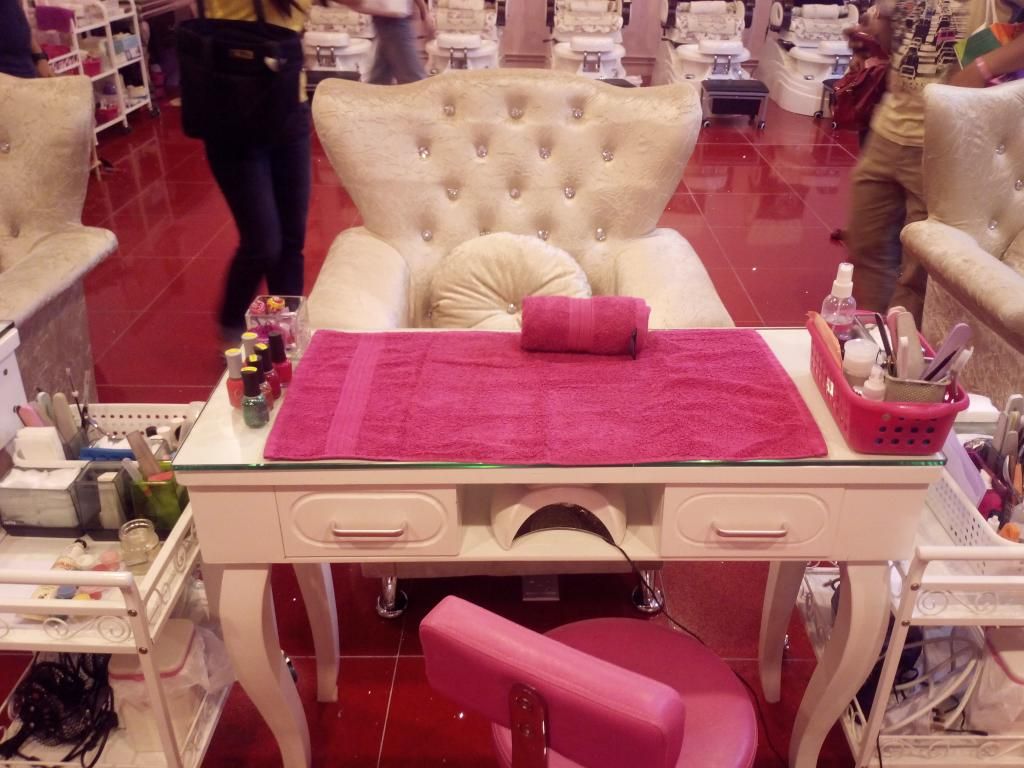 Feminine and girlish setting.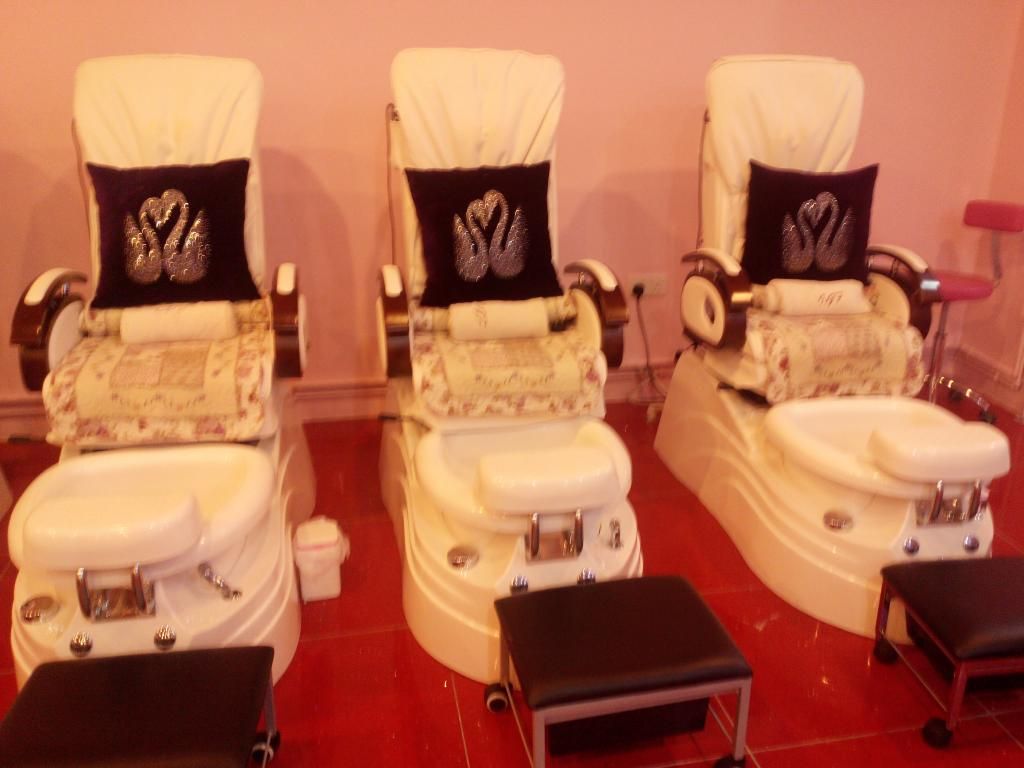 Comfortable chairs for pedicure sessions.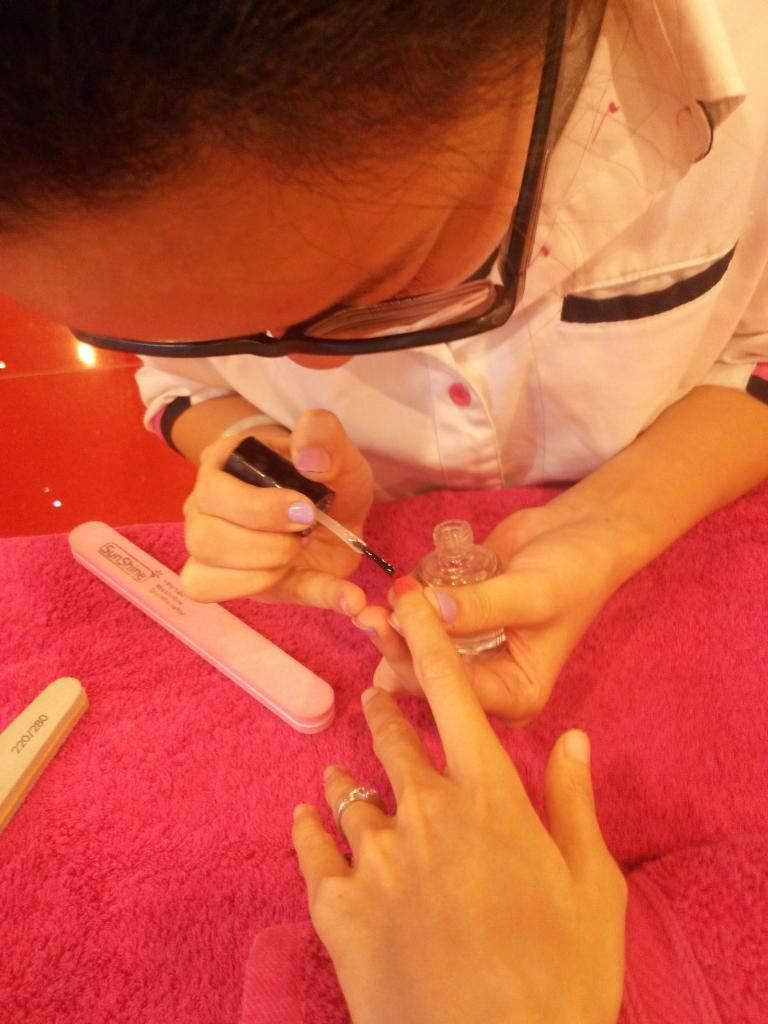 My wife…getting her nail art done.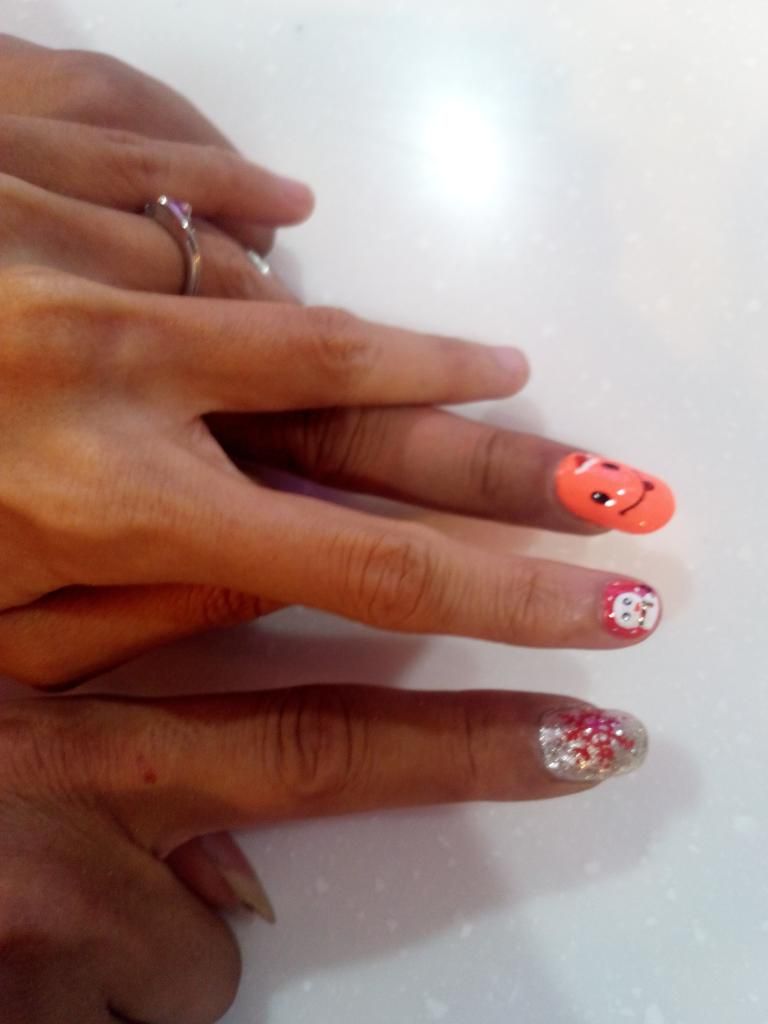 I did not want to miss the fun and cheekily got mine done too. Who says men can't indulge their metrosexual side? Here is me…holding hands with my missus after the session.This nail spa is highly recommended and a must visit if you're into nail arts.
After the nail spa session, we were ushered to the food court in the vicinity of the Klang Parade Mall for dinner.

The Next Food Junction. There was plenty of stalls in the food court, separated into two, the Halal section and the Non-Halal section.
The food court is rather disappointing in terms of food availability and service was quite slow at the Halal section even though it was not really crowded, but price-wise. It was all right. Hop over to wife's blog HERE to see what she thinks about the food court.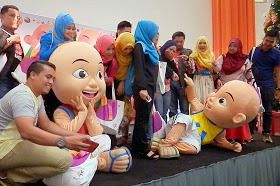 After dinner we proceed to the Upin and Ipin meet and greet and had photography session there. Can't say much about the shopping experience there yet as we did not manage to shop that day, but I can safely say that the mall have is a one stop centre where there is something for the whole family.
Will be dropping by with my family again soon if we are ever in Klang again.
For more information about Klang Parade, visit their facebook page HERE
Klang Parade
2112, KM2 Jalan Meru, 41050 Klang, Selangor, Malaysia
Tel: +603-3343 7889
Utara Coffee House in Armada Hotel, PJ has been my wife and my own personal favourite place to dine. Good service, good ambiance, attentive staff, and usually we have nothing to complain about by the end of our meals. The most recent visit for their American BBQ promo is no exception. American BBQ at Utara Coffee House, Armada Hotel PJ. The American BBQ will be ongoing from 1 Nov 2014-1 Dec 2014.The food is not only fabulously prepared but have an affordable price tags too. So, ladies and gentlemen, if you are looking for a place to dine with your spouse, friends or colleague, just head to Armada. You couldn't possibly go wrong over there.
We enjoyed what they had to offer, and here's sharing with you what we had: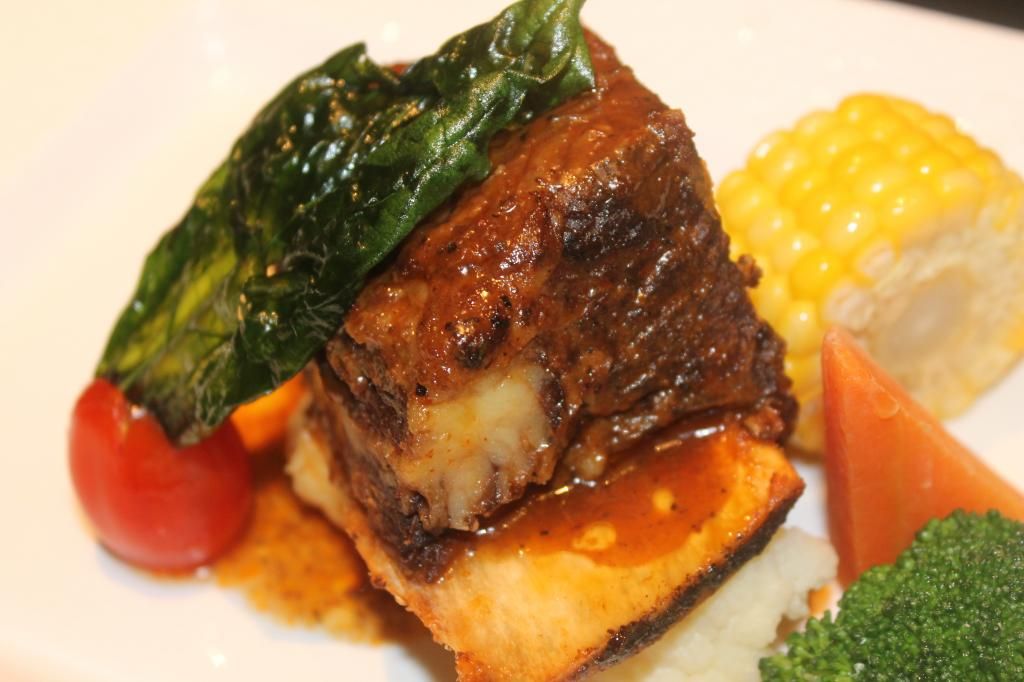 Chicago Beef Ribs (RM 45.00). Braised spare rib in sweet onion BBQ sauce,served with mashed potatoes and fresh vegetables.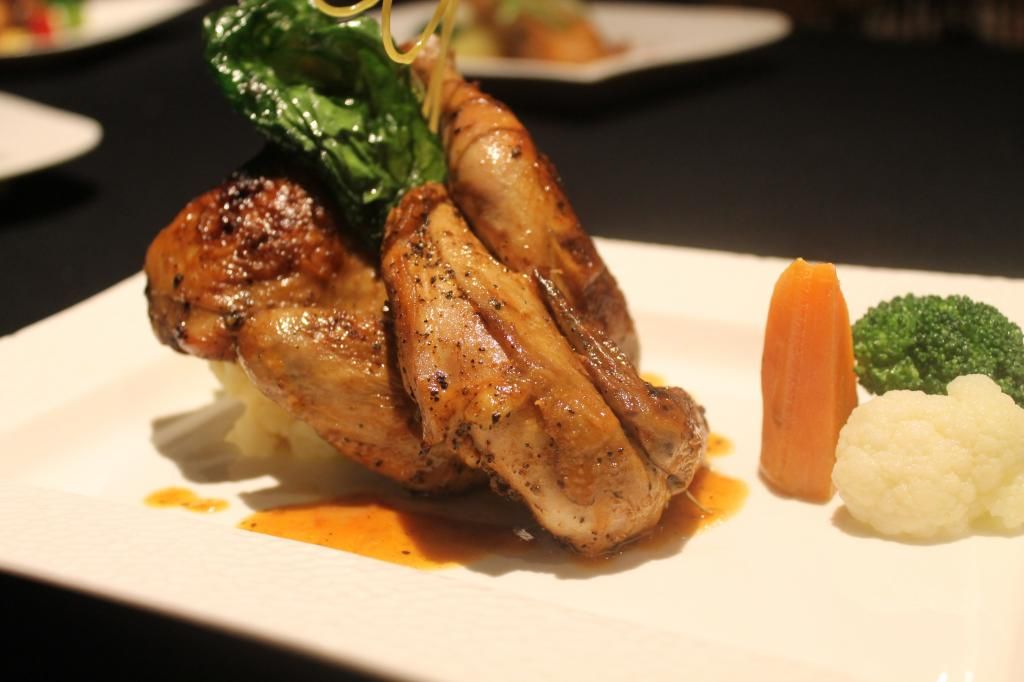 Latin American Chipotle Spring Chicken(RM 32.00)Marinated smoked dried Jalapeno chicken charbroiled, served with potato and farmer's vegetables.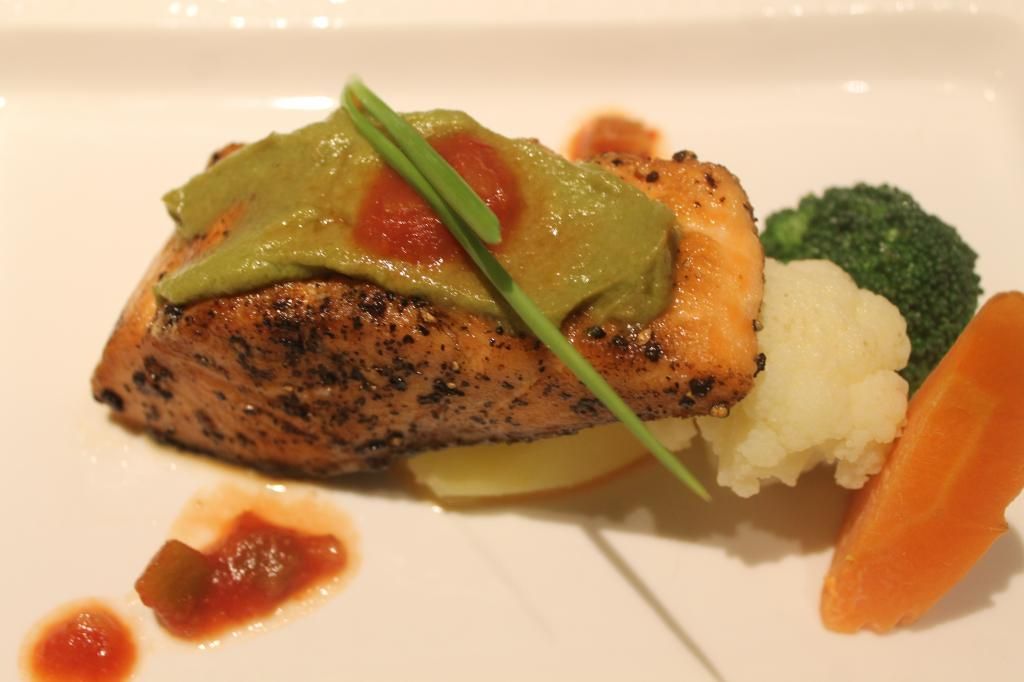 BBQ Salmon Steak (RM 32.00) Lemony marinated salmon steak grill,served with avocado tomato salsa, potato & farmer's vegetables.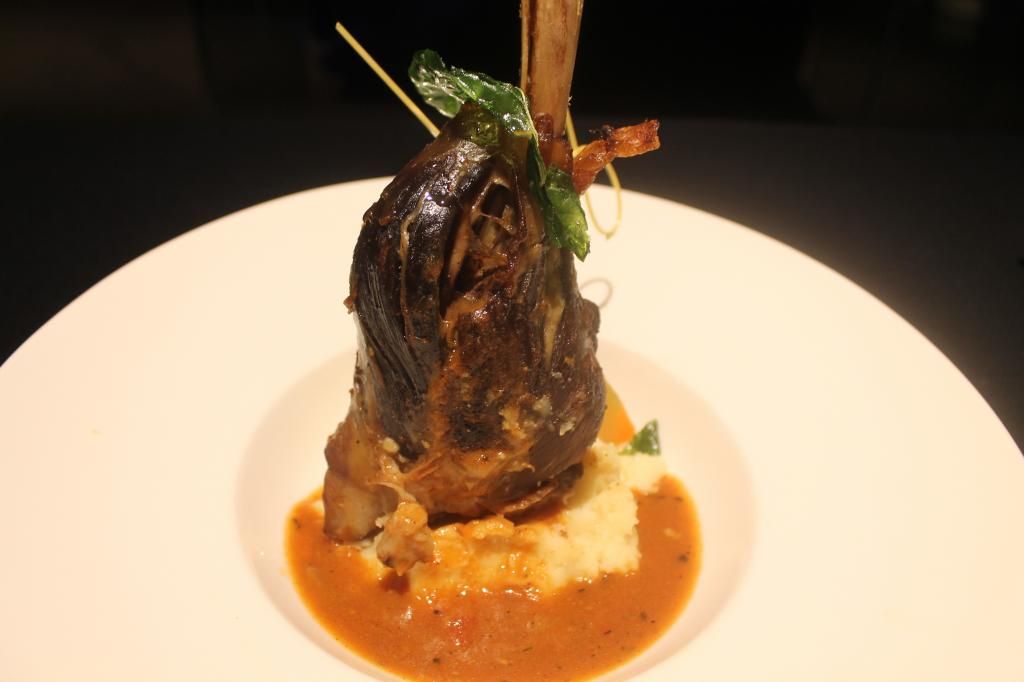 Texas Osso Bucco (RM 43.00) Quite a tongue twister to pronounce but this lamb shank with honey BBQ is marinated and charbroiled to perfection. Served with ginger mustard BBQ sauce and a bed of buttery and creamy mashed potatoes.
Hawaiian Barbeque (RM 40.00) If you fancy some variety, then go for this hearty mix of tasty beef, chicken and lamb cutlet.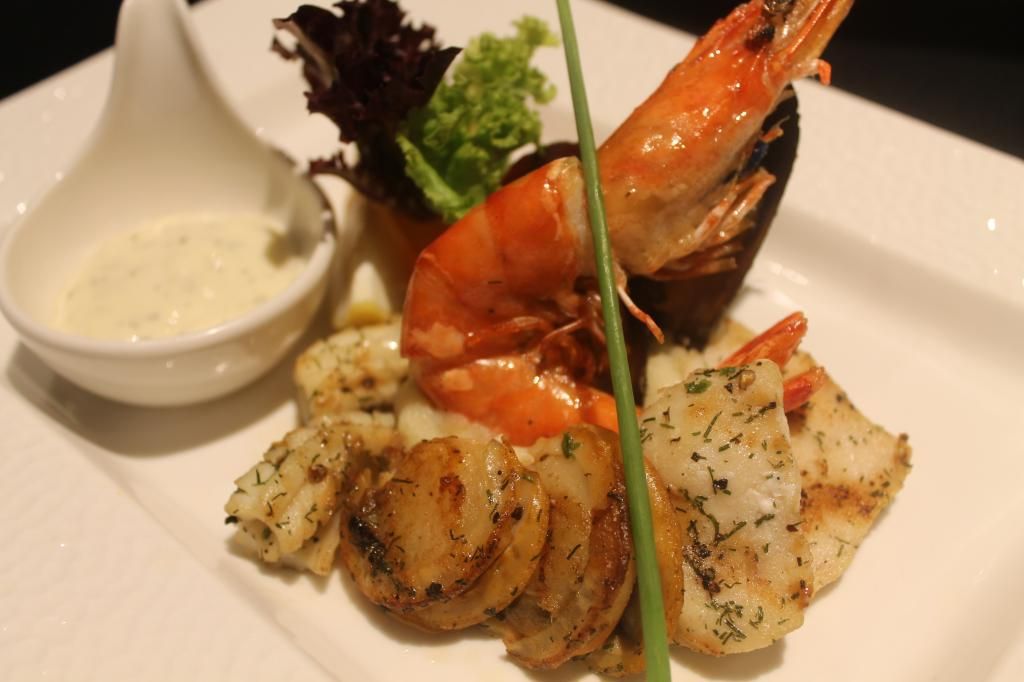 Fisherman's Treat (RM 38.00). Any seafood lovers would be tempted to reel this in. This platter consists of a grilled combination of seafood, fish, prawns, mussels and squid, served with garden salad and lemony BBQ sauce.
For booking and reservation please contact:
Armada Petaling Jaya
Lot 6, Lorong Utara C, Section 52
46200 Petaling Jaya
Selangor Darul Ehsan Malaysia
Tel : (603) 7954 6888
Fax : (603) 7956 8088
Email: armada@armada.com.my
Are you a parent? I am. My son is currently in primary school, and I find it difficult to find a suitable edutainment show for him to watch. But lucky me, Chi & ChaCha, Asia's first children edutainment series featuring live action celebrity hosts, song, dance, music and 3D animated baby animal characters is here to the rescue.
ChiChi & ChaCha
It is currently being aired on Astro Ceria (Channel 611) & Astro Maya HD (Channel 135) every Saturday and is targeted for children from kindergarten to early primary. It's really a good show for kids.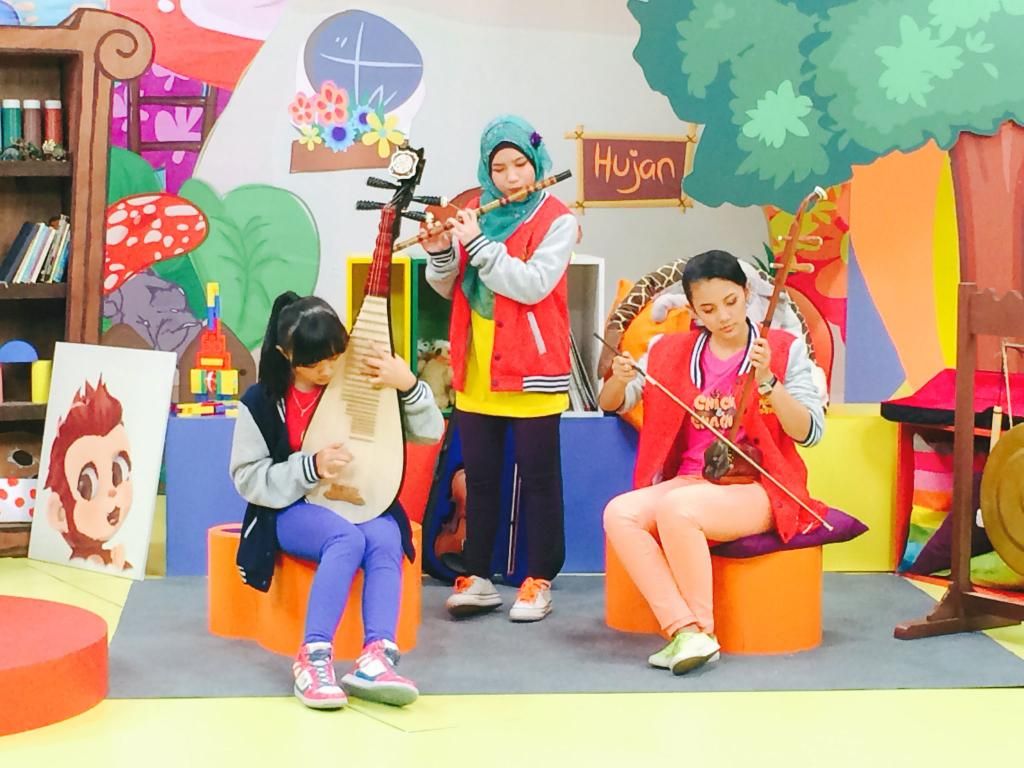 Kids will be able to learn lotsa things though various ways while watching the show. All of these fun and educational things run throughout the episodes for both children's learning enjoyment. Chi Chi & Cha Cha edutainment show include 3D animation, which are exciting ways for children to remember the lesson.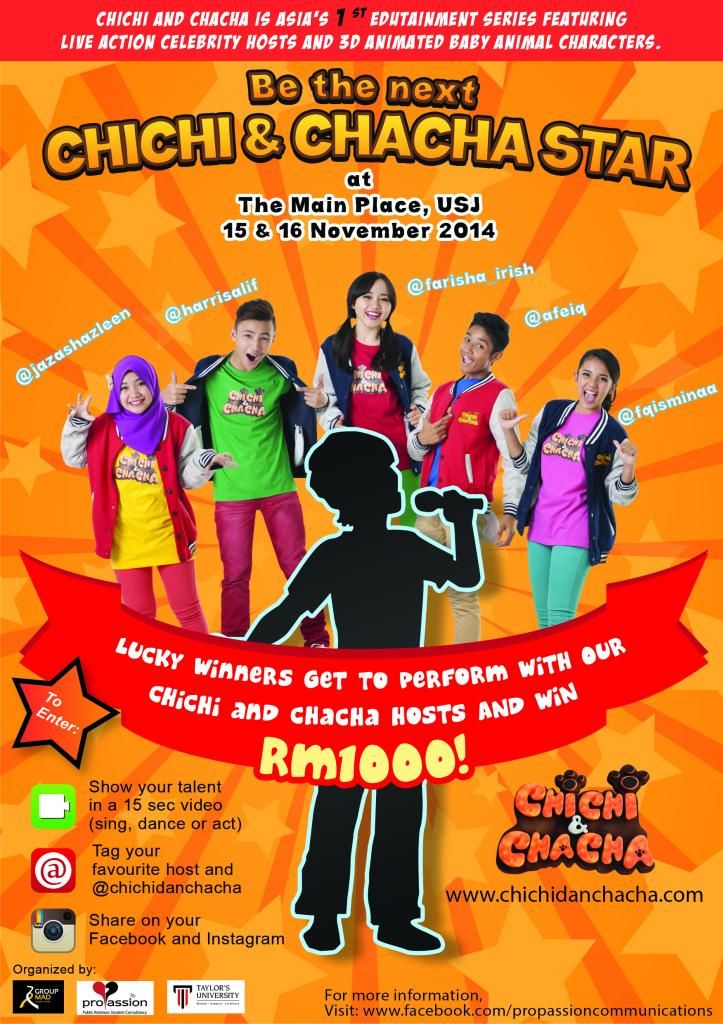 And here's a good news for parents out there. There will be a star search for kids to be next ChiChi & ChaCha Star.
Register yourself at http://goo.gl/forms/YlQy3bx5VC
Take a video of your talent in less than 15 seconds on Instagram (sing, dance or act) then share it on your Facebook account
Shout out "Saya nak jadi bintang ChiChi & ChaCha" in your video
Tag one of your favorite hosts ( @afeiq, @farisha_iris, @jazashazleen, @harrisalif, or @fqisminaa) and @chichidanchacha )
*30 entrants will be picked for the Challenge Round on 15th November where they will be given 90 seconds to showcase their talents. From this group, the Top 10 will be selected to proceed to the Grand Final on 16th November. They will be tested based on 3P's – Performance, Potential and Personality. All finalists will be given maximum 4 minutes to showcase their talents and dance to CC2 songs.
For more infomation about it, please go to http://www.chichiandchacha.com
Hailing from the award-winning Si Chuan Dou Hua in Singapore, Master Dim Sum Chef Peng Yi Chun's culinary showcase marks the launch of Si Chuan Dou Hua's Dim Sum Feast, comprising a mouth-watering repertoire of 58 items available from 1 November 2014 to 31 January 2015.
Kicking off the promotion, Guest Chef Peng will personally showcase the Sichuan art of knife shredding noodles in the restaurant from 1 to 9 November 2014.Chef Peng is shredding noodles from a piece of large dough in quick strokes.
Conveniently located at the heart of Kuala Lumpur's bustling shopping belt, Sichuan Dou Hua at Parkroyal Kuala Lumpur serves up a dining experience that exudes elegance and style with authentic Sichuan and Cantonese cuisine that delights all.
The Dim Sum feast is available for lunch from 12.00 noon to 2.30pm from Mondays to Fridays and for brunch from 10.00am to 2.30pm on Saturdays and Sundays from 1 November 2014 to 31 January 2015 at RM58 nett per pax. Savings applies for selected bank card members. The restaurant is pork-free and children friendly.
My wife and I were invited to sample a preview of what Si Chuan Dou Hua have to offer and below is some of the dim sum dishes that you can expect during the feast: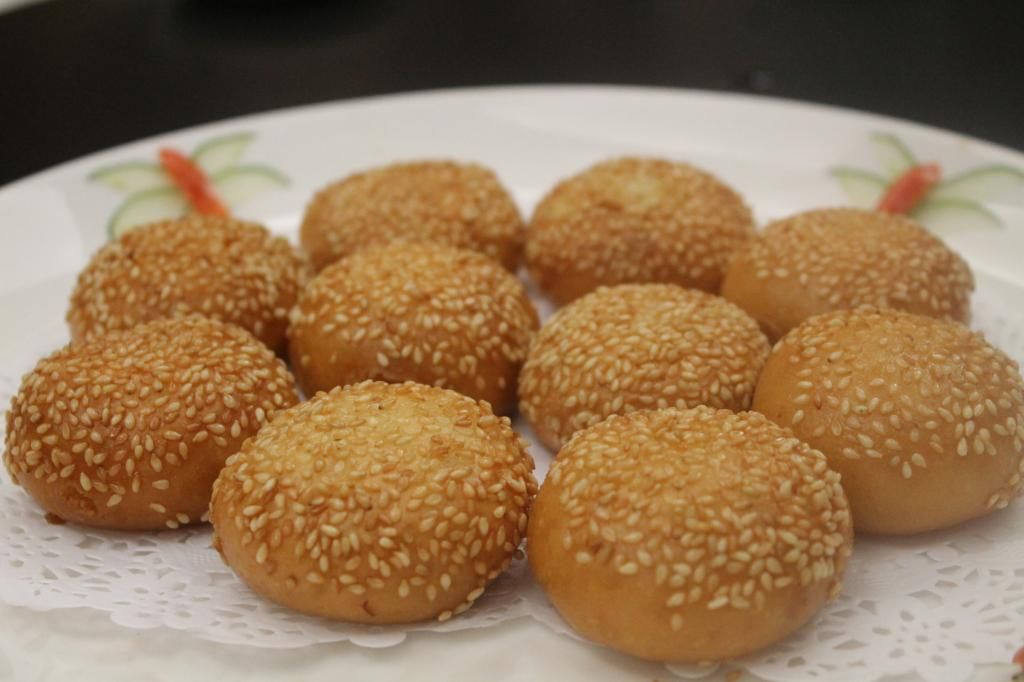 Pan-fried Pancake with Chicken Floss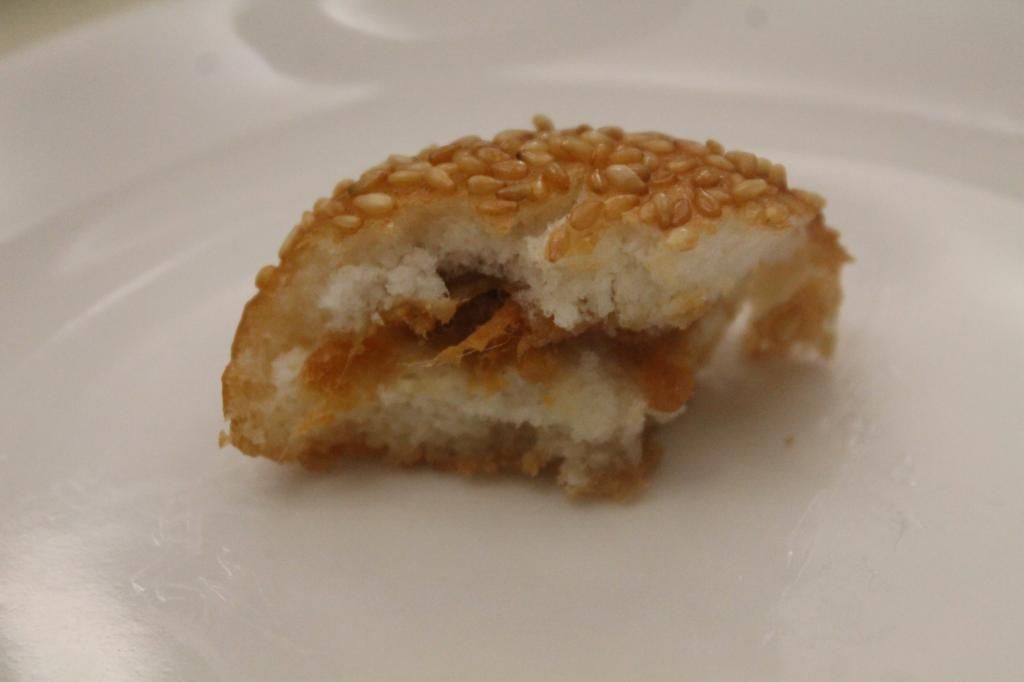 Physically it looks like our local Nyonya kuih, Ondeh-Ondeh. Fried, small in size and topped with sesame seeds. But if you are expecting it to taste like one, then you'll be amazingly surprised. This dimsum is filled with the savoury filling of finely made chicken floss. It was perfectly fried and not greasy at all. Highly recommended for those who loves fries food items.
Steamed Chives Dumpling comes with beautifully thin translucent skin. You may dip this into some spicy sauce but it is good to have on it's own. Juicy and bursting with flavours.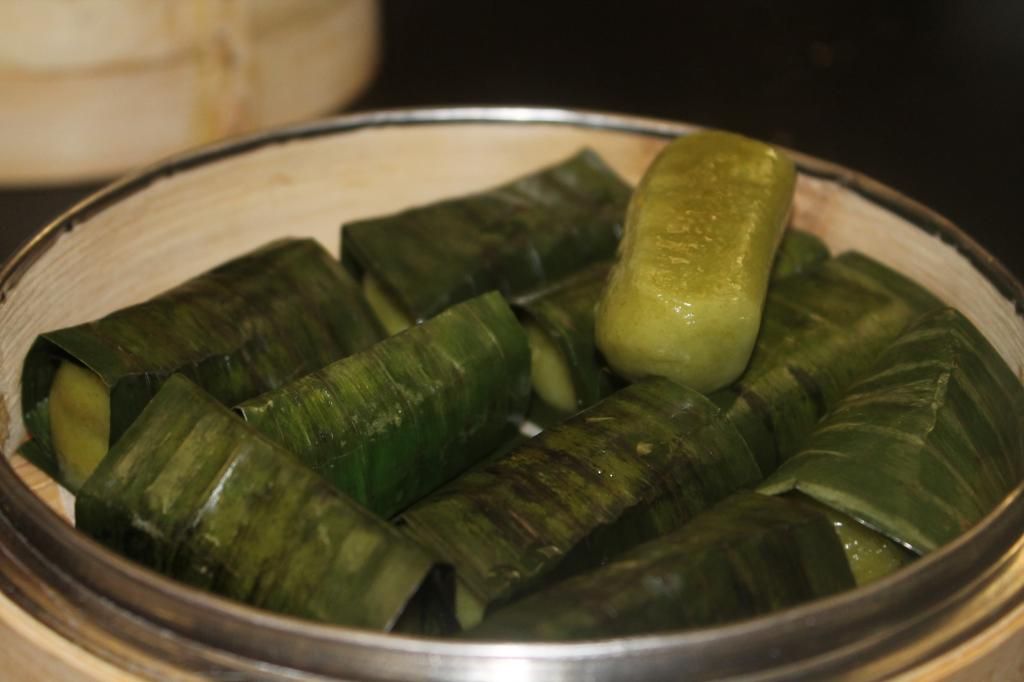 Minced Chicken Dumpling Wrapped in Banana Leaf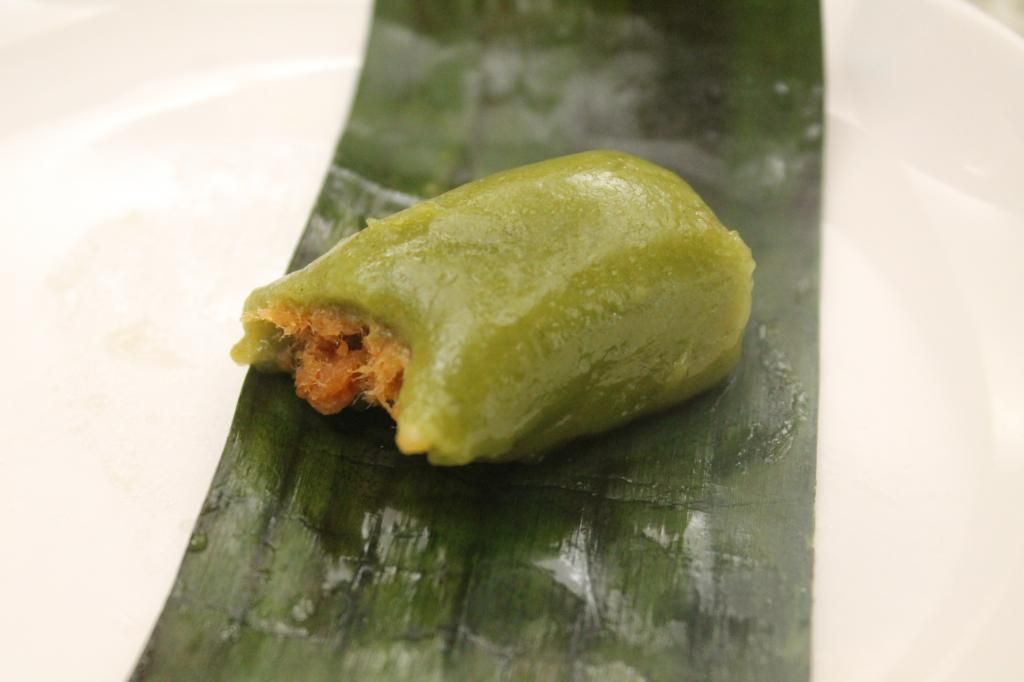 This item is made from glutinous rice flour and filled generously with minced chicken. A tad chewy and quite challenging to eat for me but it's simply delicious and flavourful and I wish I could have seconds.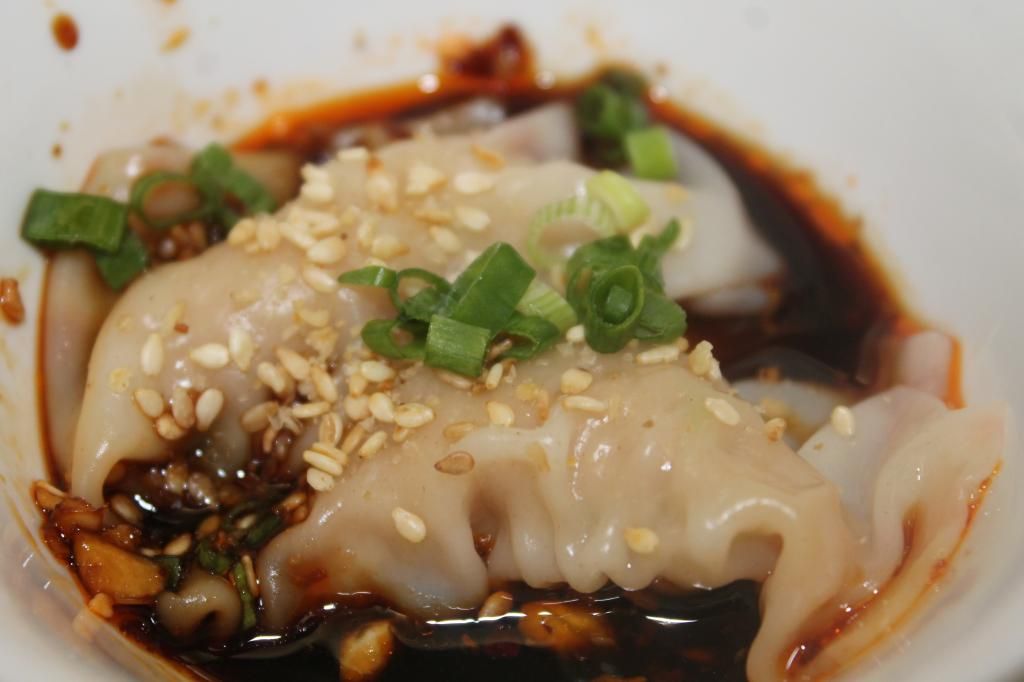 Minced Chicken Dumpling in Chili Oil may look intimidating to some, but don't let the flaming red chilli oil scares you. It is not as spicy as it looks and such a divine thing to have. But those with sensitive tongue will find having a piece of this can be quite a tongue numbing experience. The chilli oil gives you quite an aftertaste, but the problem will go away if you wash it down with the accompanying Chinese tea.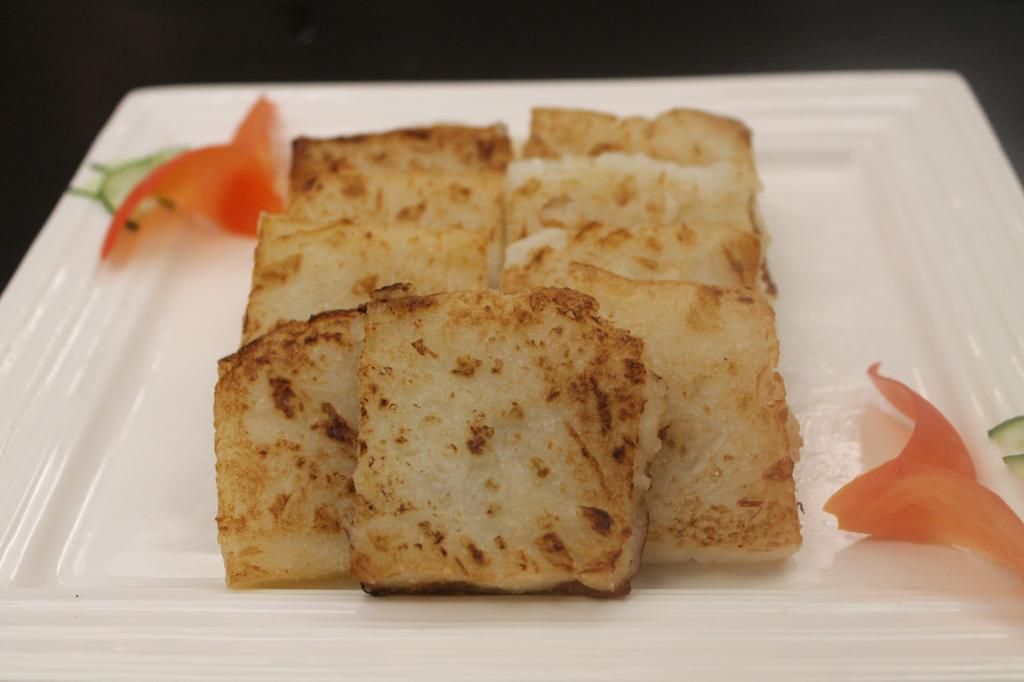 Pan Fried Carrot Cake with Dried Scallop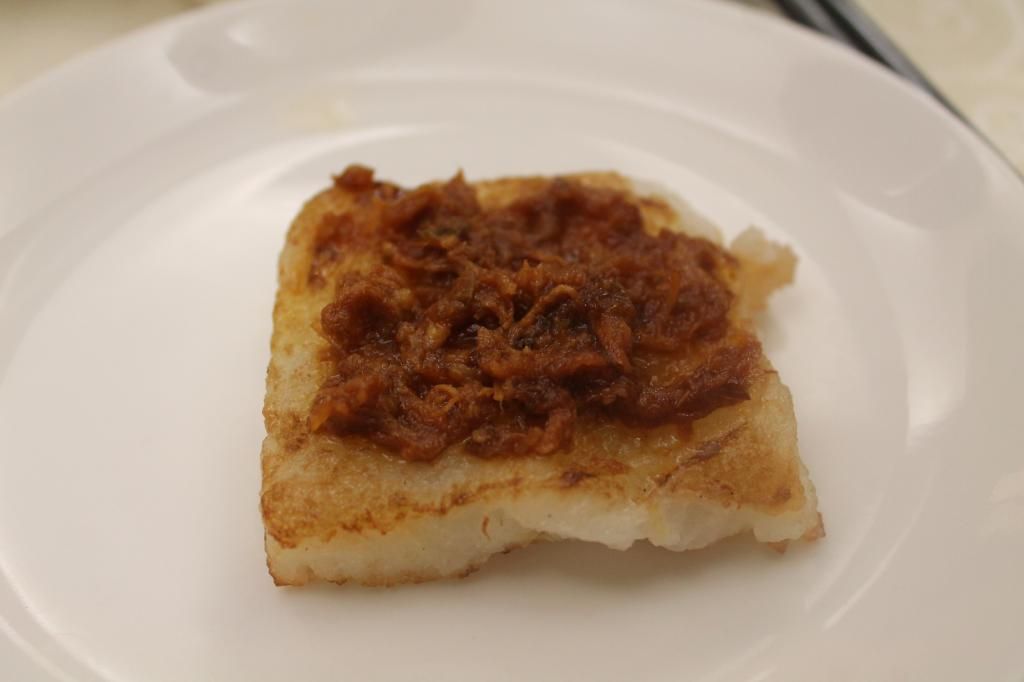 With XO sauce on top, this humble dimsum dish is simply irresistible. It reminds me of home and the good old times when I was still growing up where these are served for tea. Definitely approve this piece. A must try item if you ask me.
Steamed Celery Dumpling with Conpoy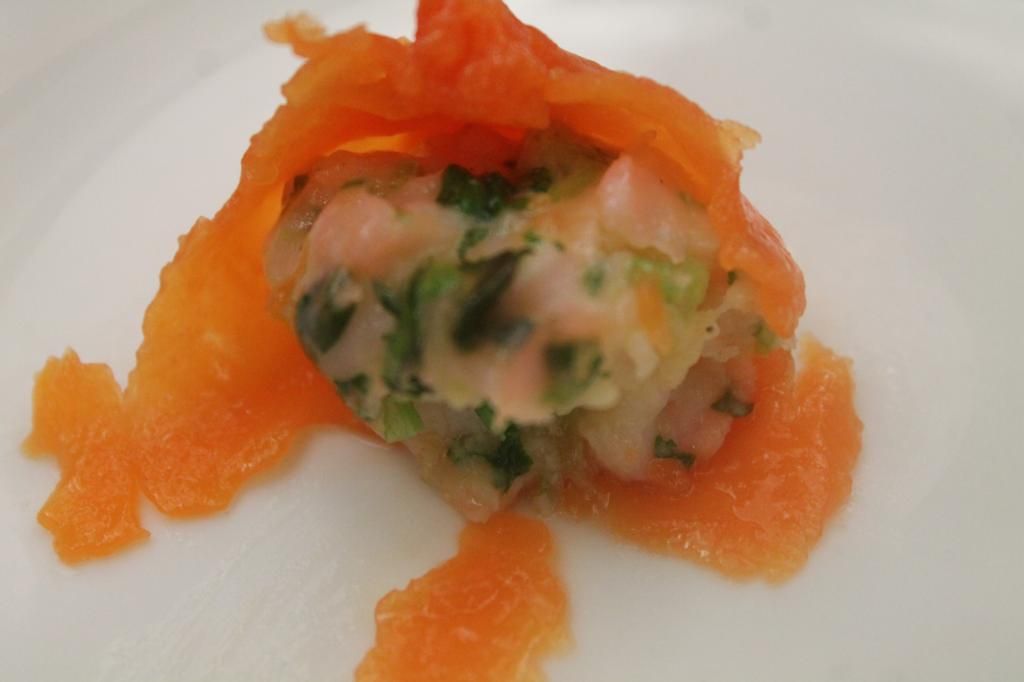 Easily voted the most striking dimsum that we had that day. The colourings comes from carrot juice and have quite a unique taste to it.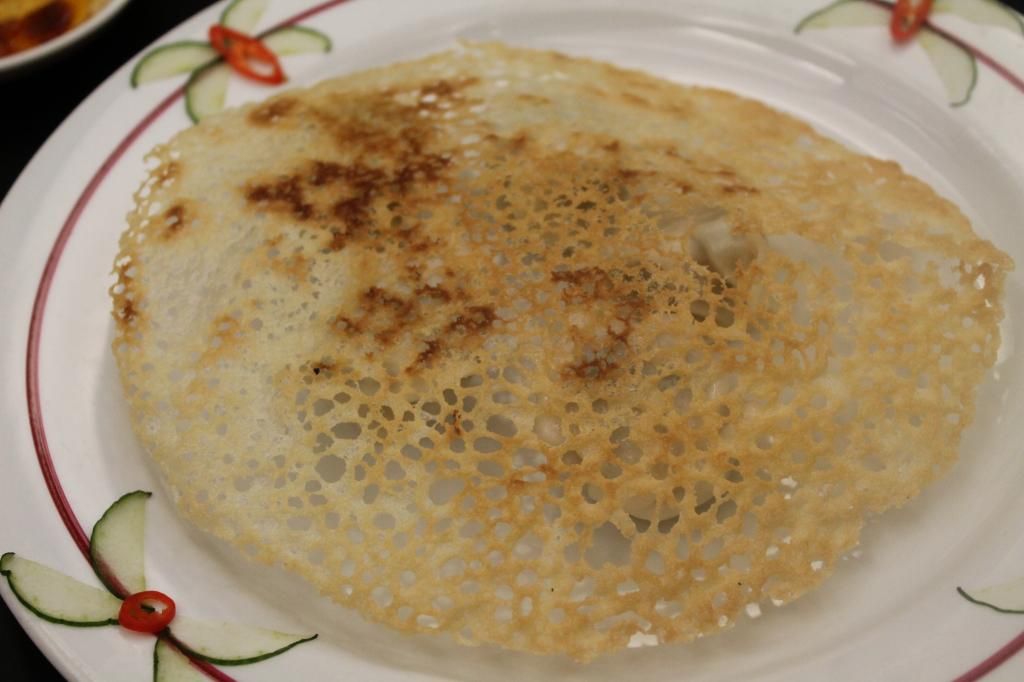 Pan fried Minced Chicken Dumpling with Chives. The dumplings are served with a thin layer of flour batter that is lightly fried to form a beautiful crusty pancake.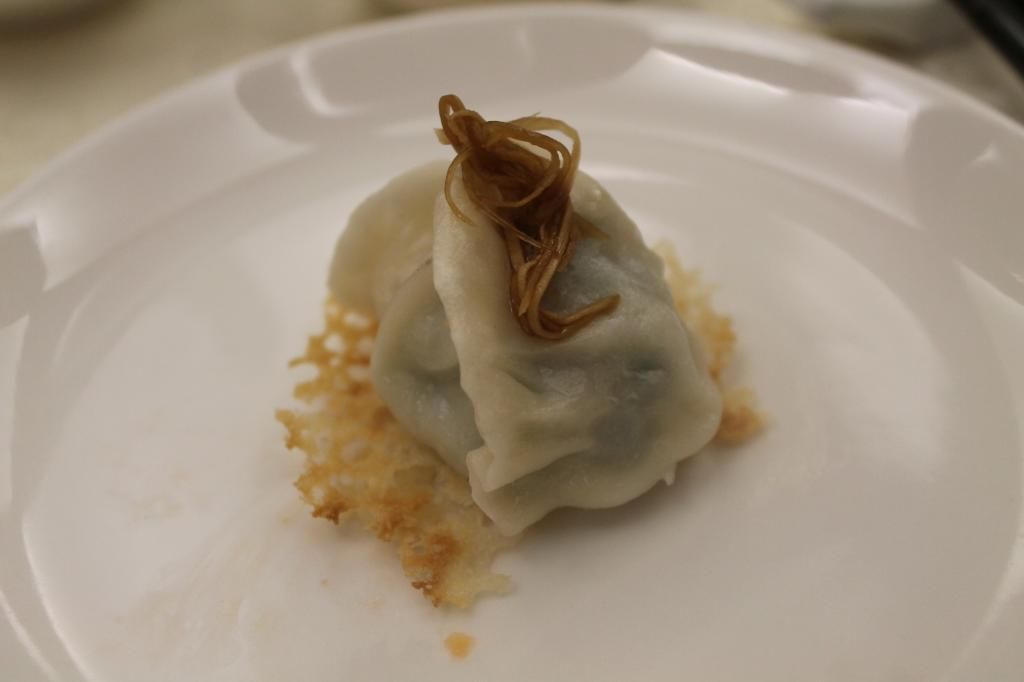 Taken with a special ginger sauce, these dumpling proves to be a very interesting dish on the palate. It has a unique taste and texture.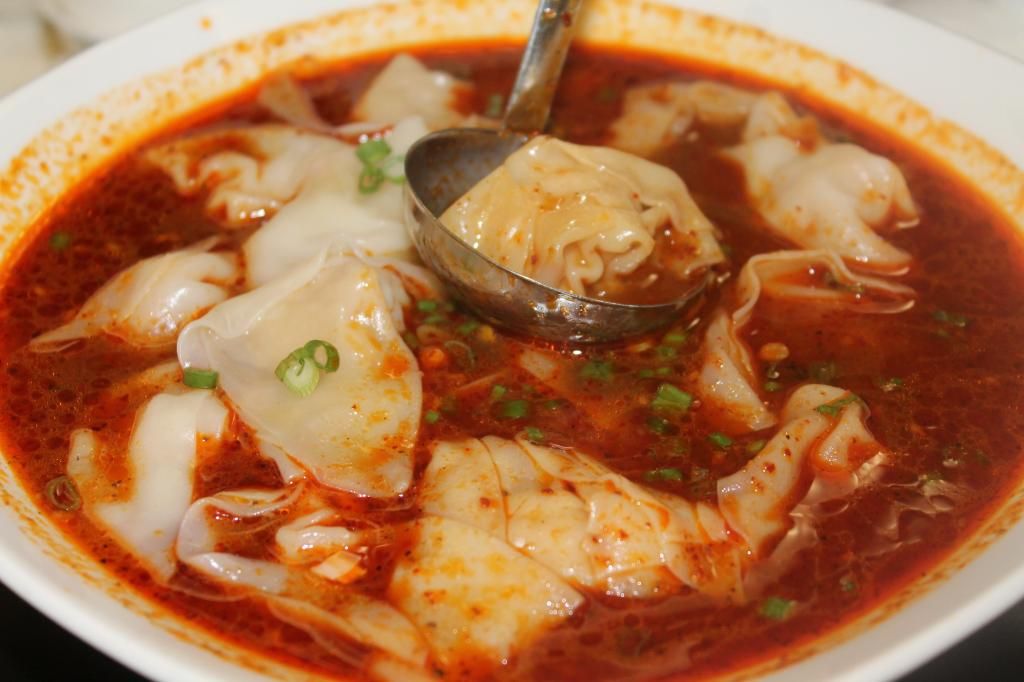 Boiled Mince Chicken with Hot and Sour Sauce may not look so appealing in comparison to other beautifully crafted dimsum, but never judge a dish by it's presentation. My fussy eater son had five piece of these and that is more than enough to say how good the dish was.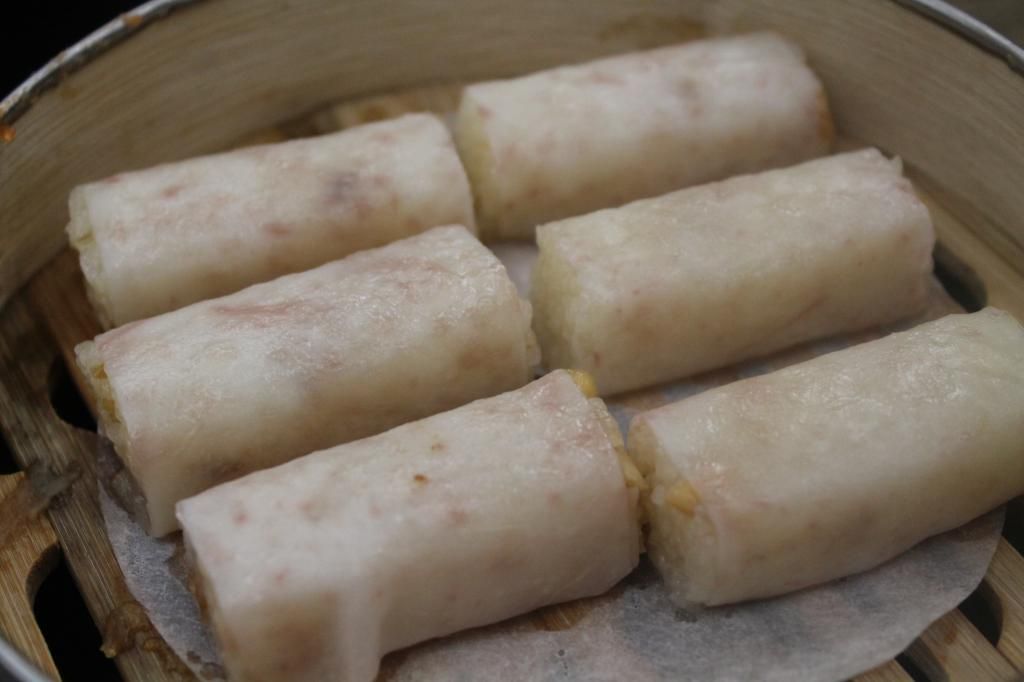 Steamed Glutinous Rice with Dried Shrimp Wrapped With Yam was a tad sweet and chewy, but I enjoyed these very much.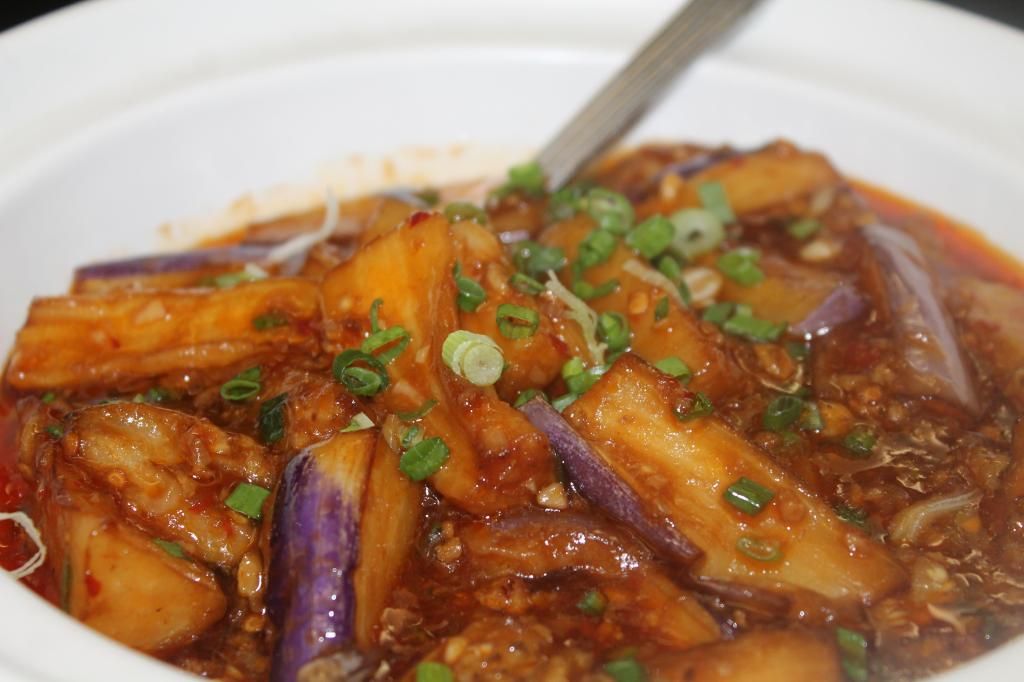 Braised Eggplant with Garlic and Chili Sauce is practically begging for a bowl of rice to accompany it. The eggplant was fresh, succulent and fully absorbs the chilli sauce flavours.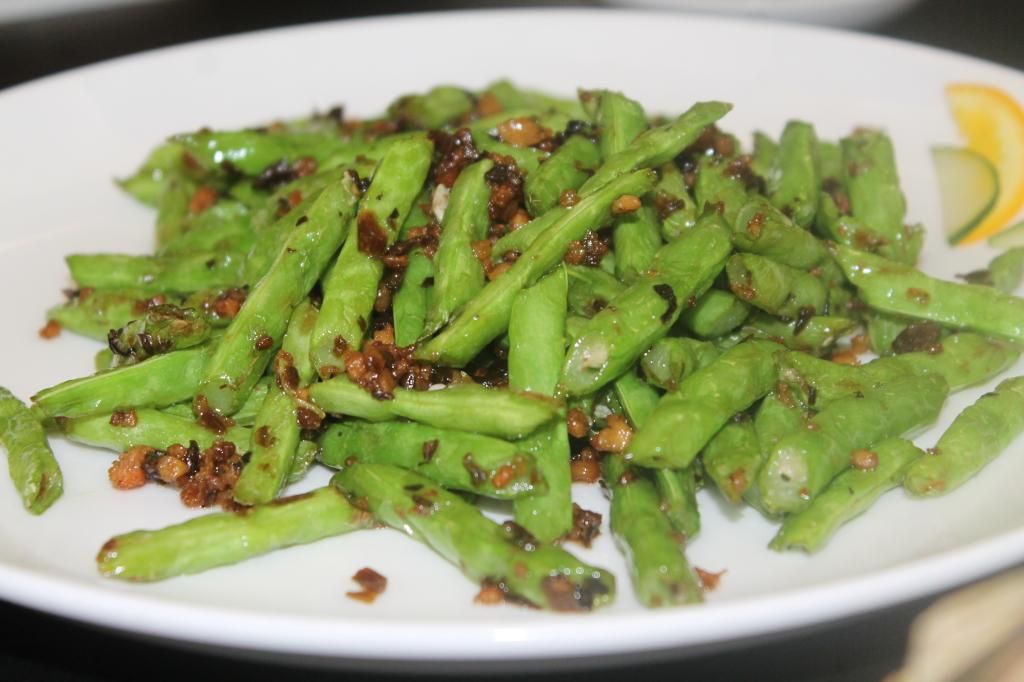 French Beans with Minced Garlic. I'm not a fan of beans of any variants but sampled these nevertheless. Like the eggplant dish, this would go very well with a howl of piping hot white rice too.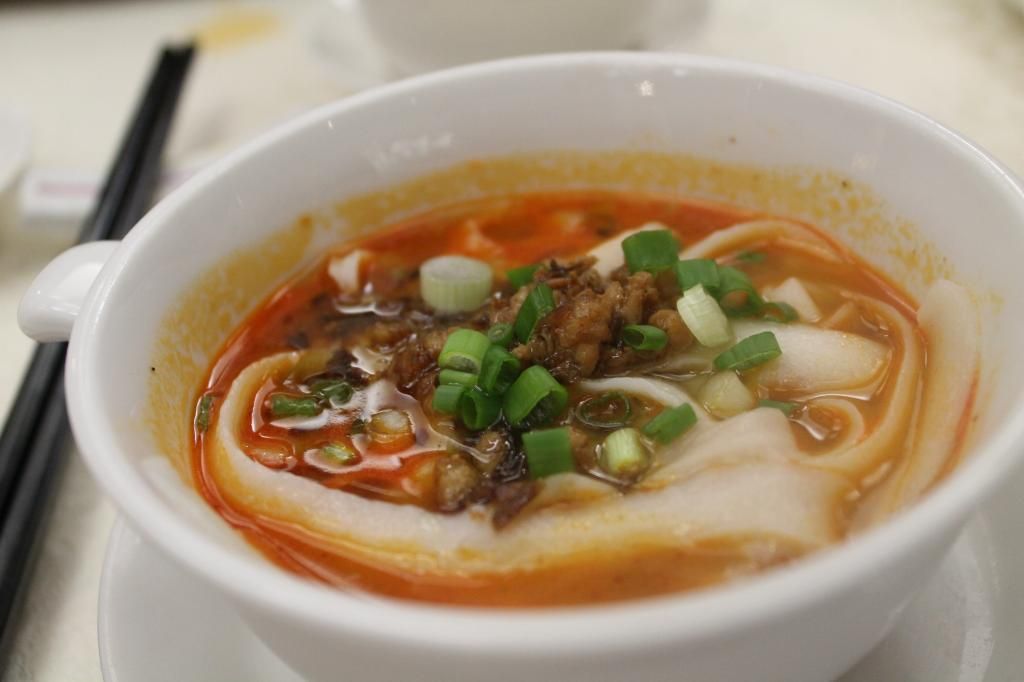 Handmade noodles in Sichuan Chili Oil.The item where Chef Peng demonstrated the slicing process. Spicy and numbing, not for the faint hearted. Love this to bits.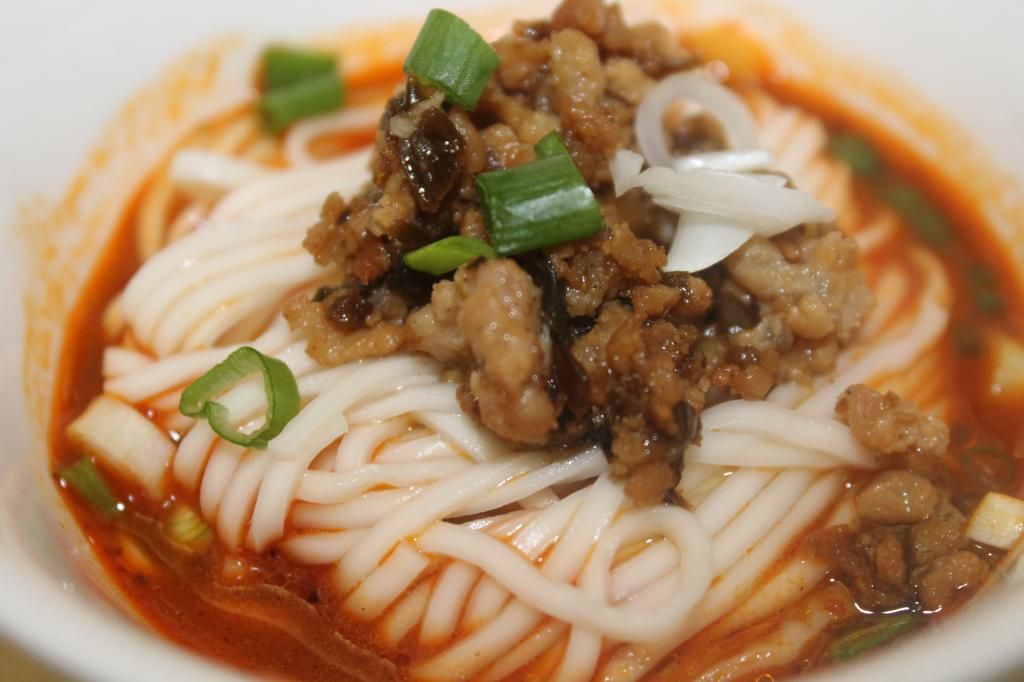 Si Chuan Dan Dan Noodles is one of the dimsum item that Chef Peng taught us how to make in the dimsum masterclass earlier. Absolutely fine in texture and taste. Mildly spicy, but not anything I can't handle.
Steamed Glutinous Rice Ball with Purple Sweet Potato Paste was one of our dessert. Beautifully crafted and sweetly wonderful on the palate too. The purple sweet potato paste filling was not overwhelmingly sweet either. I definitely approve.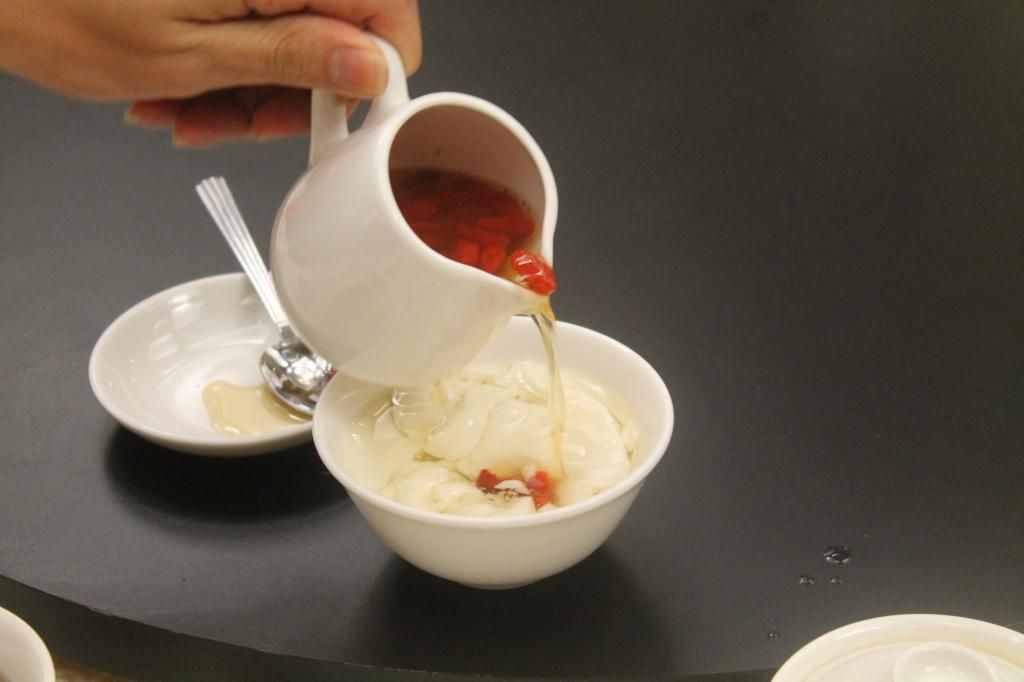 Home Made Fine Bean Curd with Wolfberry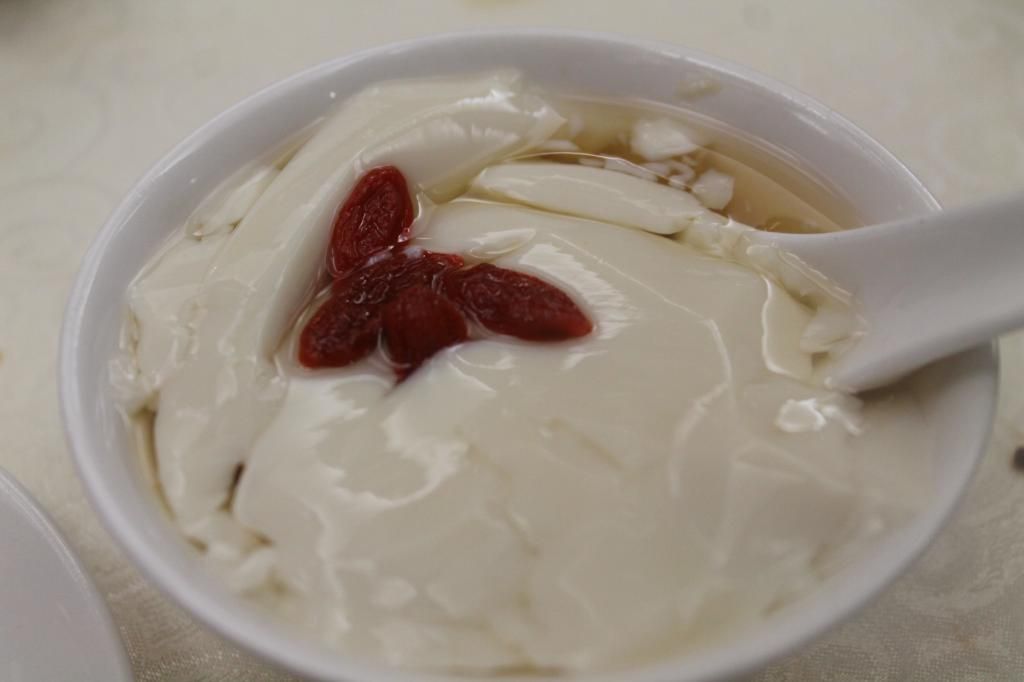 A bowl of it is definitely not enough. The beancurd topped with wolfberry and sugar syrup is fine and silkily smooth. Wish I could go for another bowl but ruefully, my tummy was already begging for a rest after all the feasting that I have done on the dimsums.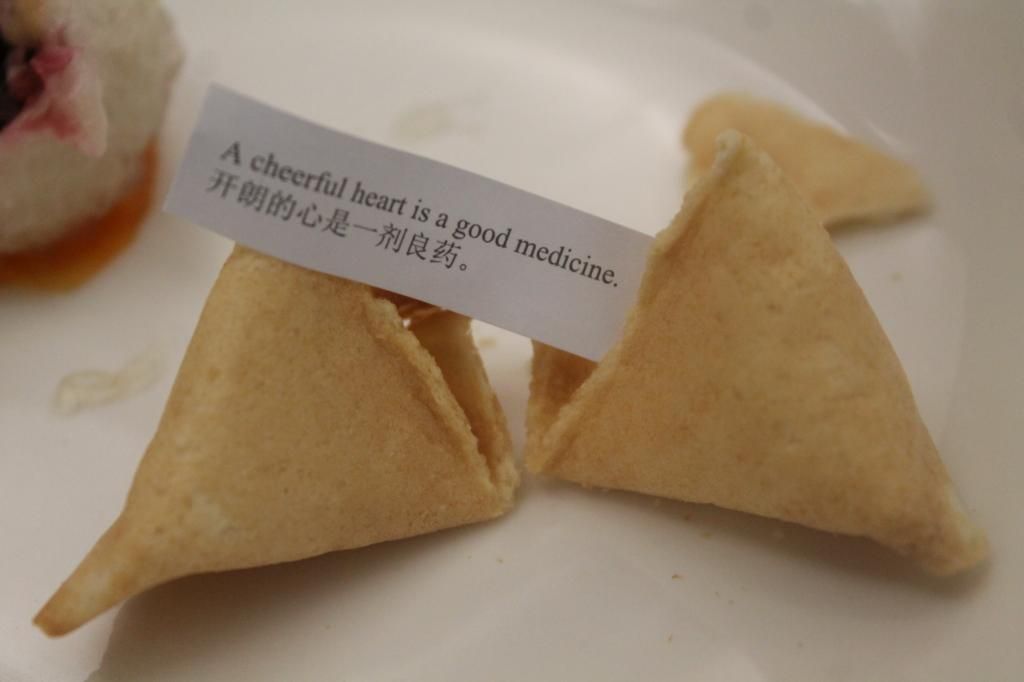 We were also given a fortune cookie each before we ended out meal, and here is what mine says.
Overall, the dining experience was wonderful and if you are looking for a pork-free dimsums, you should consider dining at Si Chuan Dou Hua, Parkroyal Kuala Lumpur.
Lookup the info below for reservation or enquiries:
Si Chuan Dou Hua, Parkroyal Kuala Lumpur
Jalan Sultan Ismail, 50250 Kuala Lumpur, Malaysia
Tel: (603) 2782 8303
Fax: (603) 2782 8455
Email: douhua.prkul@parkroyalhotels.com
This October, enjoy a sizzling good meal as it's all about sausages! In conjunction with the Octoberfest celebrations, visit Utara Coffee House and try some of the sensational sausages on offer! Indulge in the various choices of beef & chicken sausages served in five different styles. This includes the Foot Long Sausage, Cheese Frankfurters, Chicken Jumbo Sausage, Spicy Sauteed Sausages and German Bratwurst. Get sizzling as sausages never tasted this good!
Priced between RM24++ to RM26++, each set comes with a serving of sauerkraut and mashed potatoes, please call 603-7954 6888 ext 4557 for reservations.
Available all day @ Utara Coffee House