Looking for a short retreat in Selangor? Here's one that is great if you would like to escape the rat race for a little while; Eco Murai Rimba.
Eco Murai Rimba is a Bed & Breakfast place located somewhere by the riverside in Batang Kali, Selangor. It takes about just 45 minutes drive from Kuala Lumpur. Quite tricky to get there as it is quite hidden and there are no landmarks pointing to the location, but it is reachable easily if you use Waze.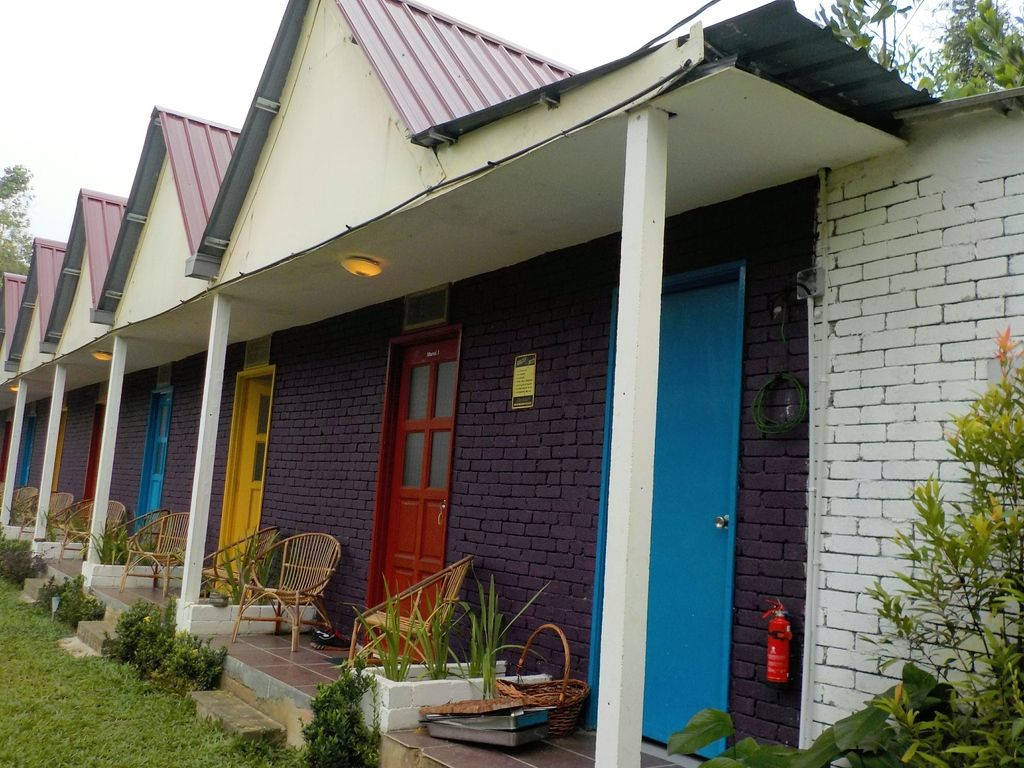 There is a total of 9 rooms here.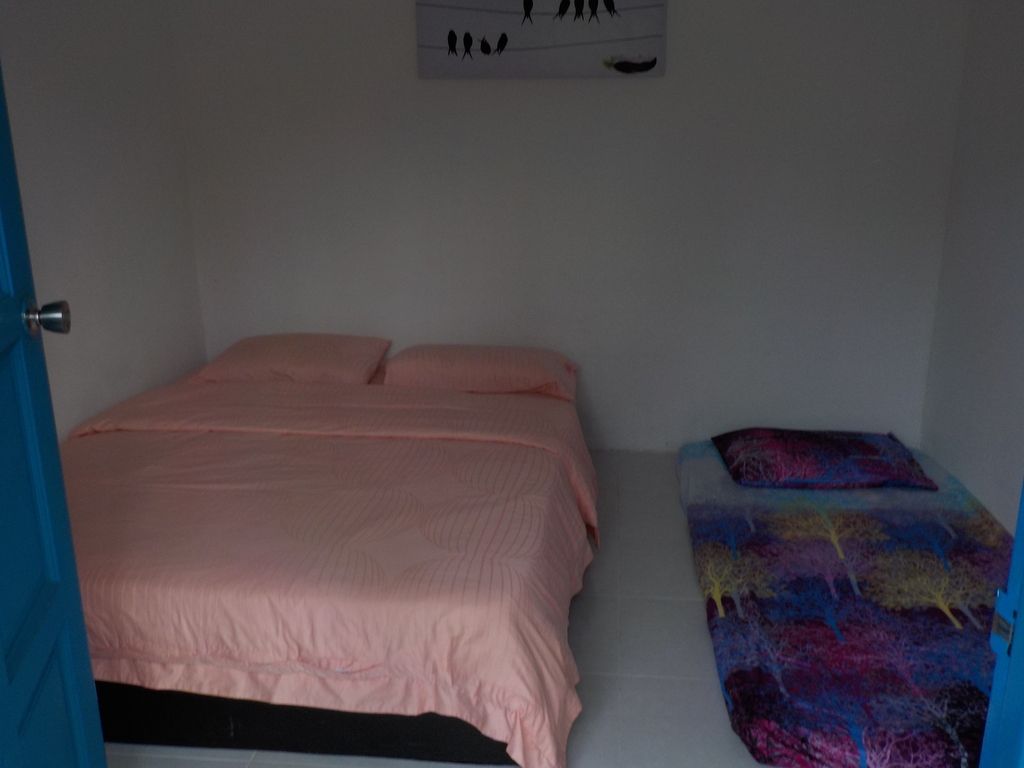 All rooms are equipped with Queen sized bed and could accommodate 2pax. Additional bedding can be requested to accommodate an extra person in the room.
Family room is also available.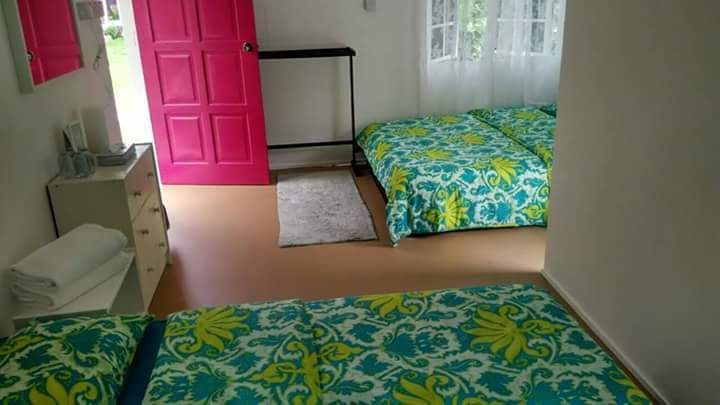 This family room can accommodate up to 4-5 pax and it have great view as it is facing riverside.
There are no toilets in all of the rooms. The restrooms are located outside and is public sharing basis. Washing lines is provided for your convenience.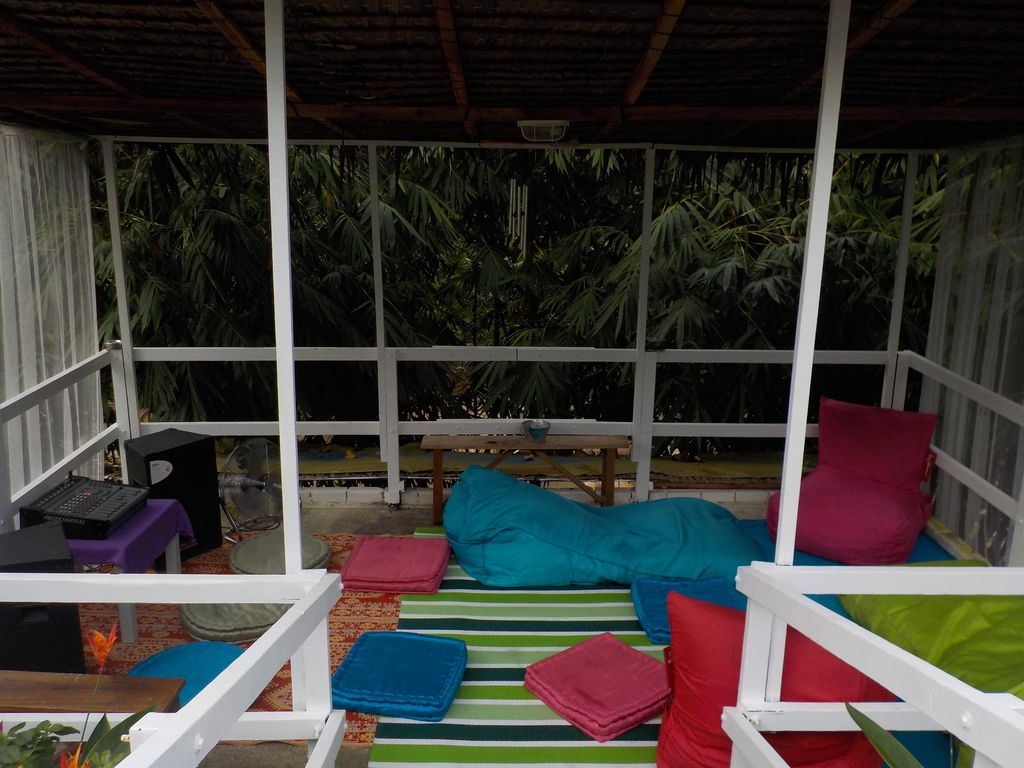 Common area for leisure
Kitchen/dining area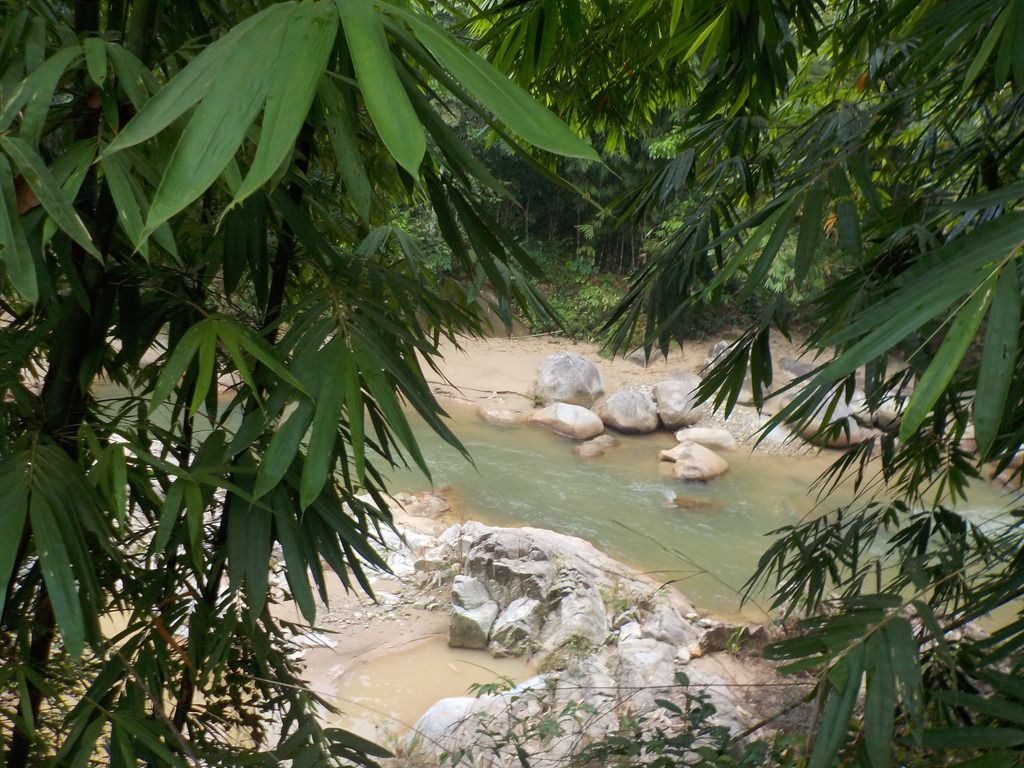 As Eco Murai Rimba is located just by the riverside, water activities is highly recommended. But swim at your own risk and take precaution always as the water stream can be pretty strong.
A room for 2 pax in Eco Murai Rimba costs RM150 per night, inclusive of breakfast.
For current promotions, room bookings and reservations, please refer to the information below:
Eco Murai Rimba
B66, Jalan Lama Genting,
Sungai Pinang,
44300 Batang Kali,
Selangor.
Telephone:012-2505507 & 014-6355081
Email:ecomurairimba@gmail.com
Facebook: https://facebook.com/EcoMuraiRimba
While Kelantan and Terengganu is always mentioned when it comes to Batik, one does not really need to travel all the way to the East Coast just to get exclusively designed batik produce. There is one, for example, located in Gombak, Selangor.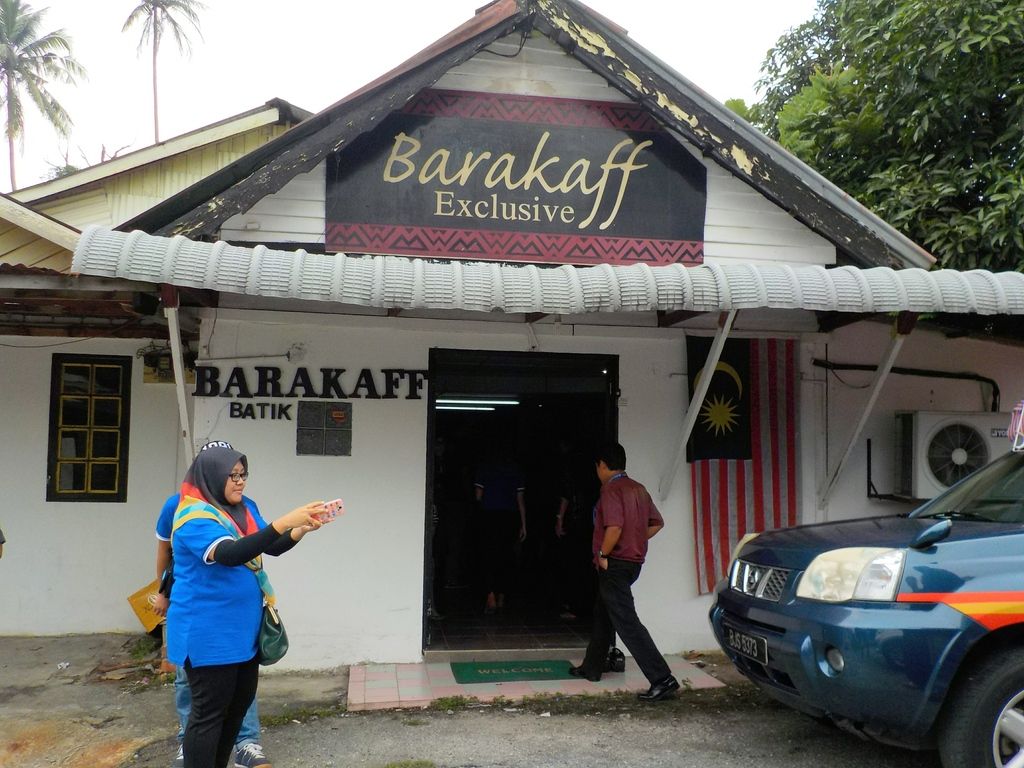 Barakaff Exclusive is a batik boutique and is located in a humble residential area in Batu 9, Gombak. It is undeniably a well hidden Selangor's gem.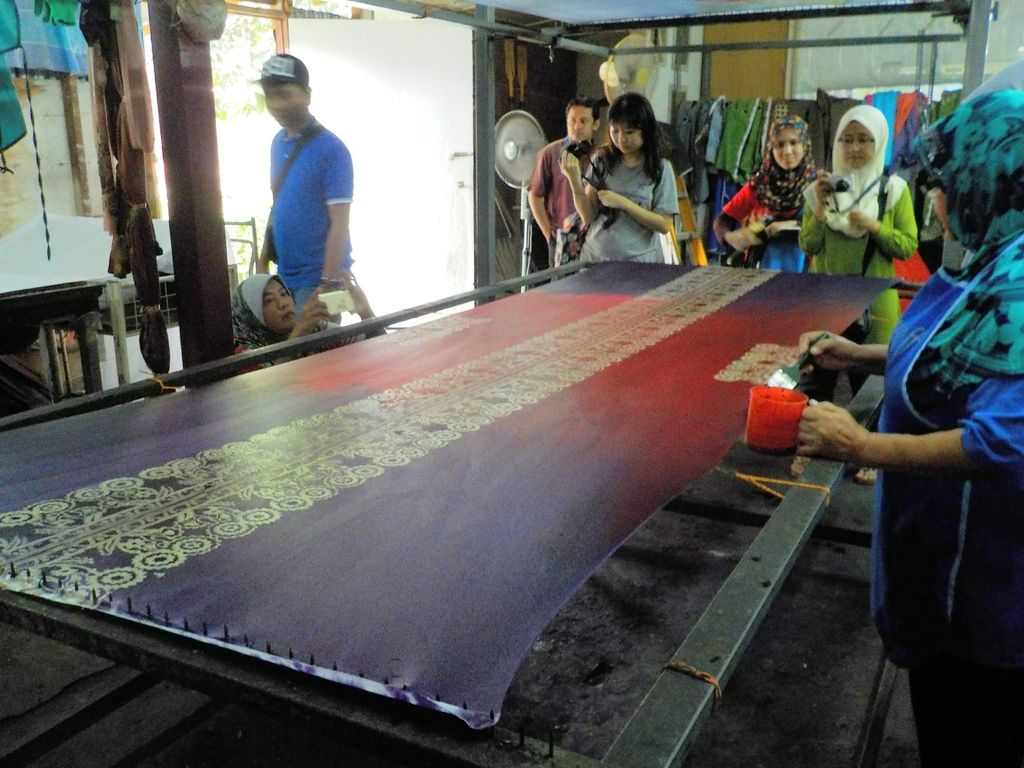 Visiting their workshop. Located inside the Barakaff Exclusive boutique. They actually produce all their clothing in- house instead of sourcing their fabrics or printed materials. All of the batik prints clothing are exclusive and none of it is identical to each other.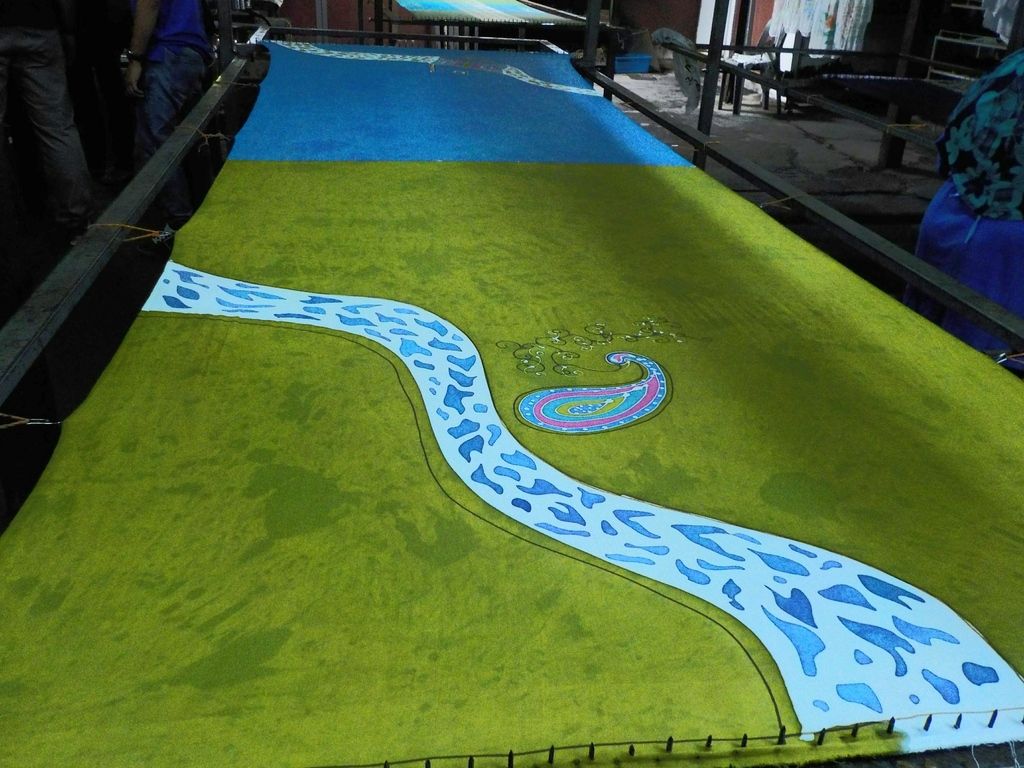 Unlike the traditional ones that is commonly found in Kelantan and Terengganu, those produced by Barakaff Exclusive is quite modern in terms of motifs, prints and colour combinations.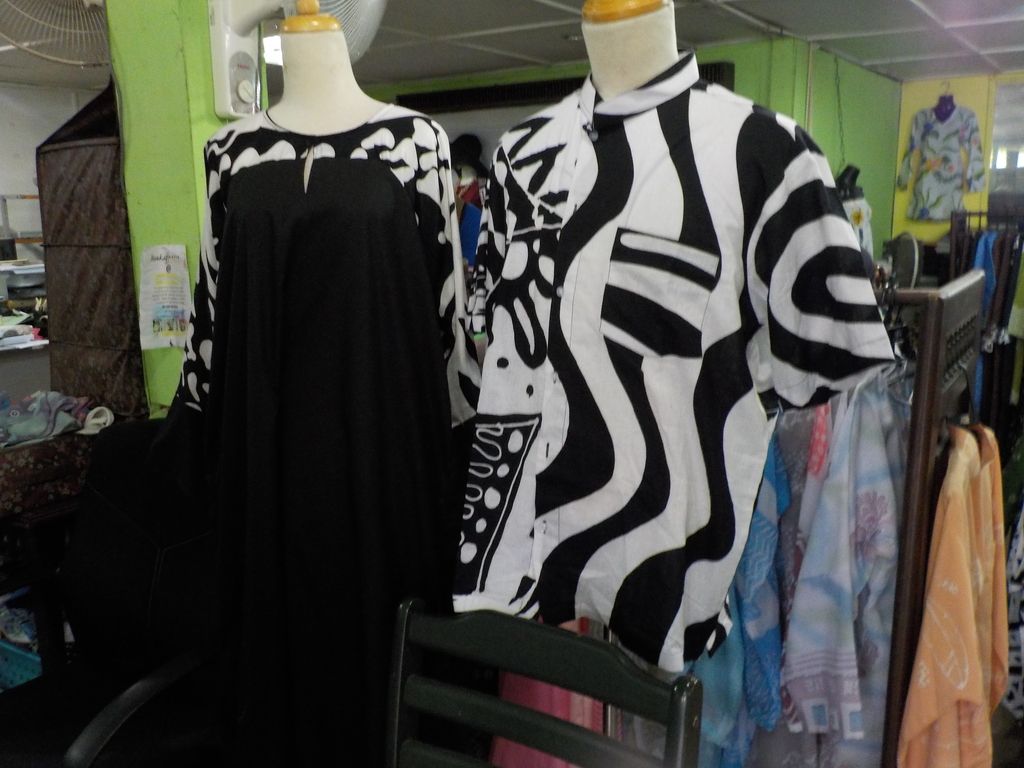 Some of the clothing are made for couples to wear.
Modern printed batik shirts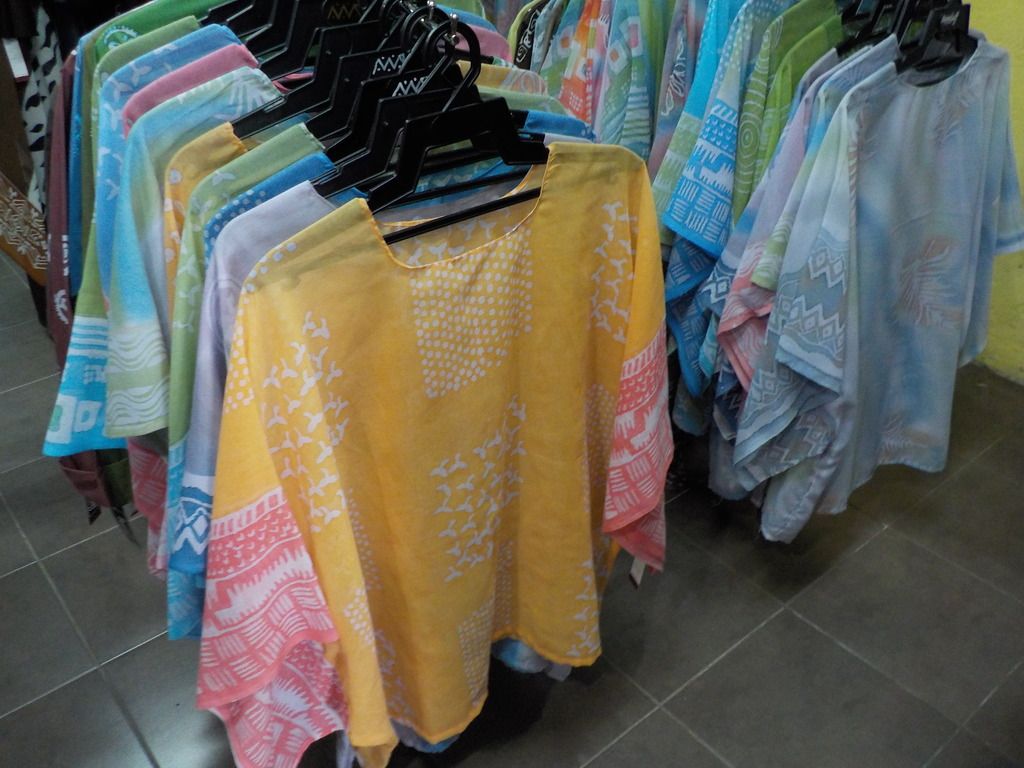 Pastel coloured blouses for ladies.
Shopping tips: Price range is at about RM60-RM250 per piece, but you can bargain the price with the shop owner to get better deals, and more discounts are given if you buy in bulk.
Below is the info to Barakaff Exclusive in case you are interested in getting yourselves some exclusively designed batik clothings.
Address:
Barakaff Exclusive
Lot 2095, Batu 9,
Jalan Gombak,
53000 Selangor.
Email: barakaff@yahoo.com
Facebook: Barakaff Batik
Contact: Syed Ahmad: 013-6666322
While 5 stars accommodation is preferred by many, Homestays all around Malaysia has much more to offer in terms of culture. By staying in homestays during your vacations or a short getaway, you not only get to experience how it is like to stay with a host family but you get to get to know and experience their culture first hand too.
There are a lot of homestays in Malaysia but here is one in particular that I would like to highlight, located in the busy state of Selangor:
Bagasta Bougainvillae Homestay, Sungai Kertas.
Bagasta Bouganvillae Homestay is located strategically between the forests of Ulu Yam and the well famed Batu Caves limestone temple. Bagasta Bouganvillae Homestay is particularly unique in it's offering as they aim to allow guests experience their ethnic culture first hand. In case you are curious, here's a little glimpse on what guests will be experiencing :
Sambutan Ulos upon your arrivals. Sambutan Ulos is a welcoming cultural ceremony by Mandailing group to people with higher status in a community.The Mandailing is a traditional cultural group in Southeast Asia. They are found mainly in the northern section of the island of Sumatra in Indonesia. They came under the influence of Kaum Padri who ruled the Minangkabau of Tanah Datar. As a result, the Mandailing were influenced by Muslim culture and converted to Islam.There are also a group of Mandailing in Malaysia, especially in the states of Selangor and Perak. They converted to Islam and intermarried with Minangkabau and the Malay peoples. Mandailing society is patriarchal, employing family names, or marga,. The well-known marga(s) in Mandailing clan are: Lubis, Nasution, Siregar, Hasibuan, Harahap, Dalimunthe (originally from Munthe), Matondang, Rangkuti, Parinduri, Pulungan, Rambe, Daulae(y), Pohan, Batubara (not to be confused with the Batu Bara people from the east coast of Sumatra), Barus and Hutajulu.
Part of the activities in this homestay is
hands on experience in making sambal tempe. Sambal tempe is a traditional Javanese dish found in almost every Malay food stalls in Malaysia.
Guests being introduced to of nasi upah, a popular Mandailing menu similar to nasi ambeng; where everything is placed on a huge tray and communal eating with hands is practiced.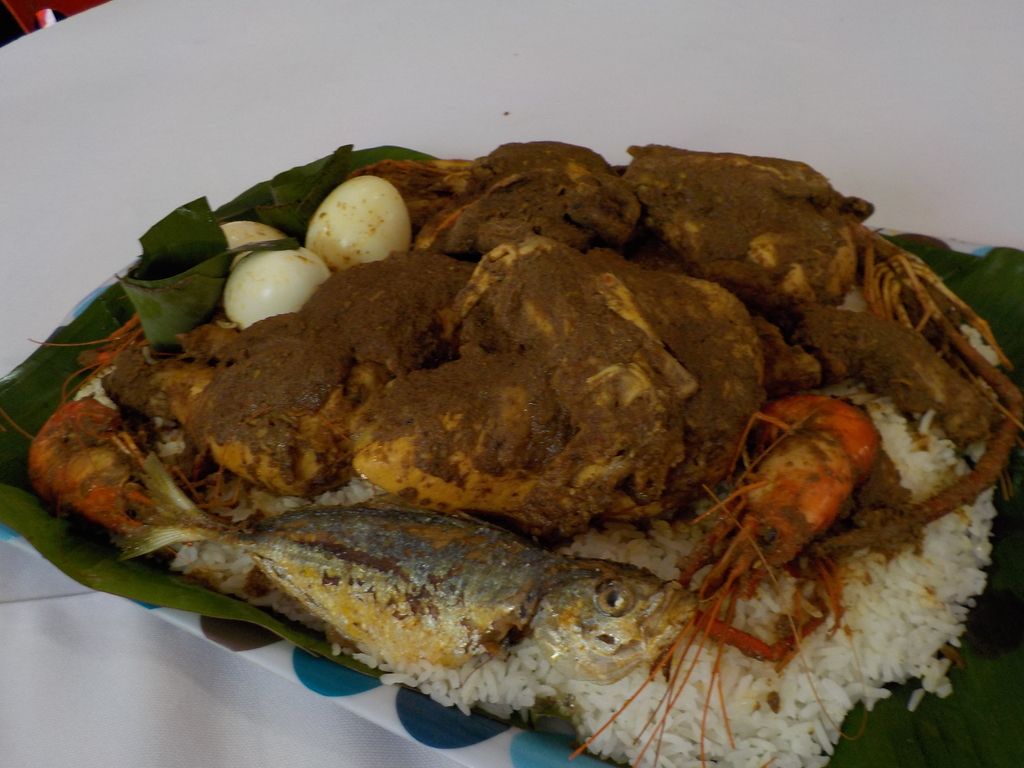 This is the nasi upah. The eggs in nasi upah symbolises unity among the community. Fish brings the meaning of plunge into the hearts of the society while the prawn means pride and arrogance.
If you are looking for something cultural and educational during your holiday, this is a good place for you to stay.
Package price for the homestay per person is RM120++, inclusive of meals and room.
Address:
No 78, Jln KSK 4,
Kg Sungai Kertas,
68100 Batu Caves.
Contact:
bouganvillea505@gmail.com
Tn Hj Ruslan bin Ahmad 016-3920439/ 03-61885515
One of Selangor's hidden gem is Gua Damai extreme Park. A home to extreme sports like rock climbing and abseiling and a base jumper paradise.
Gua Damai Extreme Park
The place boasts of over 70 over climbing routes which is a place that still less known among the local although it is internationally known among extreme sports enthusiasts.
The spacious climbing area has spotlight for night climbing, ample parking area, toilet and children playground.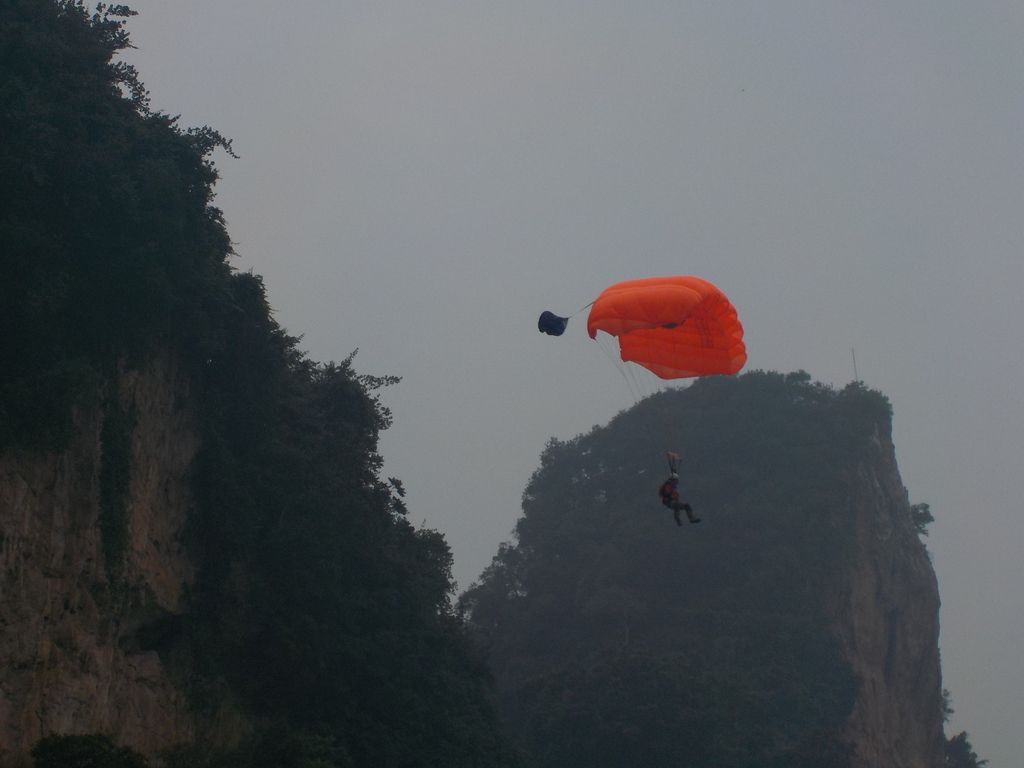 Gua Damai Extreme Park is also the first and only place  in Malaysia where base jumpers can jump at the height of 316 feet from the peak of Gua Damai. .
Package offered for basic rock climbing:
Basic Rock Climbing
Price: RM160 (1 day course)
Module:
-Knowing the equipment
-Tying the knots
-Rules of belaying
-Safety of fundamentals
-Communication
-Basic climbing (top rope)
*Package caters to groups of more than 12 persons with packed lunch, full usage of climbing equipment and experienced guides
Fun climbing
Price: RM70 
Duration: 1/2 a day trip
(morning or afternoon session)
Time: 9.30am- 1pm/ 2pm-5pm
*Accept walk in
Fun abseiling
Price: RM60
Duration: 1/2 a day trip
(morning or afternoon session)
Time: 9.30am- 1pm/ 2pm-5pm
*min 6 persons 
Fun climbing & abseiling
Price: RM100
Duration: 1 day trip
(morning or afternoon session)
Time: 9.30am- 1pm/ 2pm-5pm
Caters to groups of more than 12 persons , includes packed meals, full usage of climbing equipment and experienced guides.
Gua Damai Exploration package:
Price: RM130 
Duration: 1 day trip
-Spot traditional herbs while trekking
-Educational caving
-Glide 250m zip line
-Abseiling
-Spelunking 
*Cater to a groups of 12 persons, includes packed meals, full usage of climbing equipment, experienced guides.
Getting there:

KTMB commuter: stops at Batu Caves station and take a taxi to Kg Melayu Wira Damai.
Rapidkl: stops at Pniggiran Batu Caves and walks briskly for 20 minutes to the destination.
Car: accessible via Jln Kuching or MRR2 from Kepong or from Hulu Kelang. Duke Highway heading for Gombak would take you to Sri Gombak. Once on the flyover of Sri Gombak, drive straight on Lebuh Utama Sri Gombak until you reach Taman Gombak Permai. Turn left into Jalan Gombak Permai 2 and via Jalan Gombak Permai 3 where there will be an open field that welcomes you into the view of gua Damai.
Address:
Sri Subramaniam Temple,
Jalan Zamrud,
Kampung Melayu Wira Damai,
68100 Selangor. 
GPS coordinate:
N 03 14.902″ E 101 41.225″ 
Contact:
Wira Adventure Consultant
No 3-2, Jalan PGN 1A/1,
Pinggiran Batu Caves,
68100 Batu Caves, Selangor
guadamaixpark@gmail.com
Mustapha: 012-4812005
Being one with the United Nation World Tourism Organization (UNWTO), Malaysia will be celebrating the World Tourism Day which announced on 27 September each year to show the importance of tourism in global economy.
This years celebration is themed 1Billion Tourists, 1Billion Opportunities aimed to foster awareness of the importance of tourism and its contribution to social, cultural, political and economic value.
The global World Tourism Day 2015 celebration will take place in Burkina Faso, West Africa.
Adding colours to the World Tourism Day 2015 celebration, Ministry of Tourism and Culture Malaysia through Malaysia Tourism Centre (MaTiC) is organising #Kolektif1 which is a photography exhibition consists of a total of 78 beautiful pictures taken by 28 professional local photographers starting from 26 September until 30 October 2015.
Other exciting activities during the celebration include the Fuji Global Photo Walk; Photography Talk; Hop on Hop off (HOHO) World Tourism Day 2015 Bus Launch and also the Media City Tour.
A lot is happening for this year World Tourism day 2015 celebration as the Ministry is also collaborating with Taylors University for an institutional level World Tourism Day celebration on 29 September 2015 through the National Blue Ocean Strategy (NBOS). More than 3,000 participants including students, lecturers, representatives from various tourism agencies as well as industry players such as Pacific Asia Travel Association (PATA) and Tourism Educators Association of Malaysia (TEAM) are expected to join the celebration.
Among the activities are the Cultural Stalls, Orang Asal Demonstration, Cultural Performances, 1Billion Tourists, 1Billion Opportunities Tourism Talk and many more. It is hoped that this collaboration will help to increase awareness, knowledge and opportunities especially among students about tourism diversification to national development and a key-driver to socio-economic progress.
It has also been an honour and another accolade to Malaysia especially in conjunction with World Tourism Day 2015 celebration as the Minister of Tourism and Culture Malaysia, YB Dato Seri Mohamed Nazri bin Abdul Aziz was elected as the Vice President of the 21st UNWTO General Assembly in Madellin, Colombia on 16 September 2015.
To support the local tourism industry as well as heighten up the celebration, public are encourage to upload photos of their visits to local tourist destinations with hashtag, #MYWorldTourismDay. Globally, UNWTO also invites everyone to join them showcasing the power of travel and tourism sector in global conversation using hashtags #1billiontourists and #WTD2015 in social media.