It is an undeniable fact that if you want to survive and be commercially and corporately competitive in any industry, you ought to have a certification in the field that you're in. Realizing this fact, I know that it is crucial that I get myself certified in the IT industry. If you've read my previous post, you'd noticed that I've been in the IT industry for quite awhile, but I did not exactly major in IT back when I was studying. Being in a fast-growing industry that is ever-changing, I feel that my knowledge is pretty limited as I only learn through experiments and self-research.
I wish to broaden my knowledge, and I thought checking out the new INTI International College Subang during their INTI Edge Festival was quite a good idea as I've been considering to further my studies in INTI for quite some time now.
I arrived just in time for the INTI Edge Festival Youtube Celebrity Gathering, featuring Jinnyboy, The Ming Ting, The Grimfilm and many more. The gathering features presentation session where they presented never seen before vids and yet to release singles. The Q&A session was impressive, and I noticed that students who were there during the Youtube Celebrity Gathering session was inspired to be as bold and as daring as the Youtubers.
Great to note that INTI makes this kind of initiative to inspire their students. Makes me feel comfortable as this only proves that INTI is not just there to educate you academically, but to seek to inspire you as well.
The gathering was held in a huge, hi-tech auditorium. It was not only spacious and comfortable, but well designed for students too, in a sense that the sound system is as good as a 5 star cinema and the seats are equipped with power outlet for your laptops or tablets. You definitely wouldn't miss any details or notes during lectures in auditorium, I reckon.
Anyway, we were given a chance to tour the new campus exclusively after the Youtube Celebrity Gathering session.
There are plenty of classrooms to accommodate students in the new INTI International College Subang
And here is the window to the Maclab. No pun intended.
There are no Windows in the lab. Only MacOS.
The Maclab is well-equipped. There was a total of two Maclabs with a total of 40 Macs .
And the lab could fit 25 students at one go. Particularly interested in IT courses in INTI, I've made an enquiry during the exclusive campus tour and was pleased to discover that INTI is not just concentrating on training students to be Windows oriented where IT is concerned, but the syllabus does includes to train IT students to be well-versed in Open Source as well. Very impressive, not many college or universities in Malaysia does that. Most are merely Windows oriented. If you aspire to be a techie that is very competitive, you ought to consider INTI. Being competent in Open Source would mean you're ahead of the rest in the IT industry. People who are literate where Open Source is concerned are highly sought after. Trust me on that.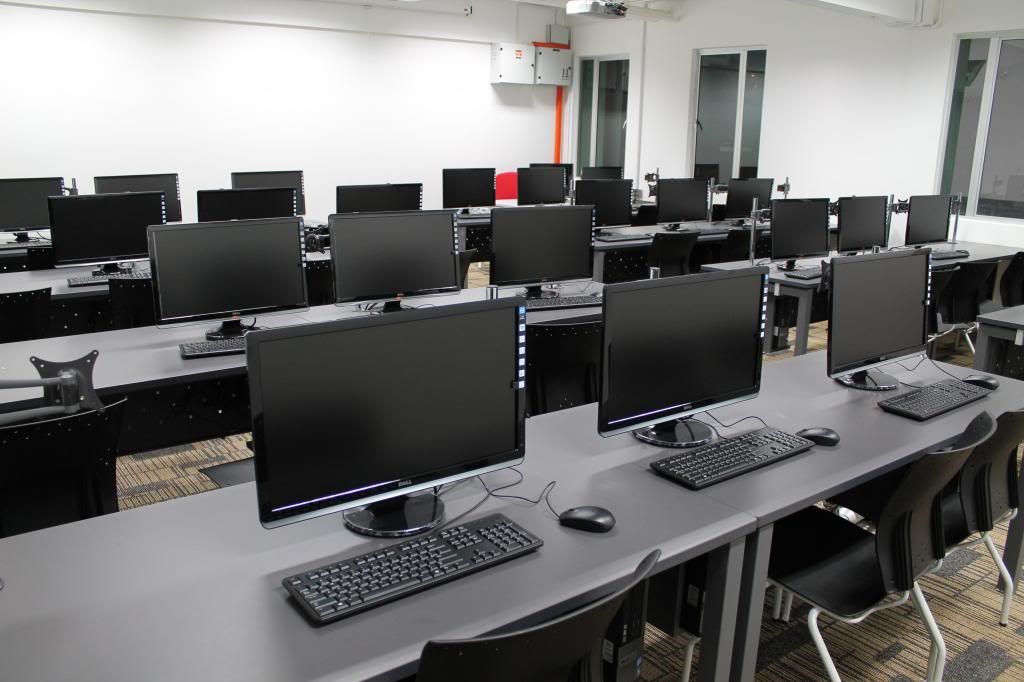 The CAD Lab for engineering and architecture students is also awesome, and I bet, anyone who aspire to take up engineering or architecture will drool over the facilities in this lab.
The highlight of the tour was the dance party that lasts til midnight, but I was much more interested in what they have to offer in terms of academic. I cannot really comment much on the festival itself as I only manage to go for the Youtube Celebrity Gathering, but I'm sure the rest of the activities during the INTI Edge Festival was awesome. I heard they showcased the college culture through various activities international food tasting/show, graffiti art competition and fashion show as well and it was a huge success.
Anyhow, I'm pleased to report that they have plenty of courses to offer. After the short tour throughout the campus ground and after taking a look at their modern amnesty and facilities, I've come to a conclusion that INTI is an awesome place to study for people like me, considering that they are not only academically oriented, but sought to nurture a well-rounded individual as well. Very inspiring, in my humble opinion.
And I'm happy to note that they are offering night class and weekend class. Certainly a plus point and something that can suit my schedule just fine since I'm a working individual. I can't possibly sign up for full-time course as I still need to work.
If you are like me and is interested in furthering your studies here in INTI, you may visit www.newinti.edu.my for more info.
As most of you know, I had been in the IT industry for several years as a system admin/engineer without having an IT degree. All the while, I've been getting my income with the experience and skills I have.
It works pretty well so far, until my business was sabotaged over and over again, and loosing my customers one by one. And even loosing some contracts which was originally enable me to put foods on the table. Glorious moment of my empire finally comes to the end due these sabotages. My income fell from several thousands a month(sometimes up to 20k+), until become negative, where I started to facing financial problem, which the source of the financial issues was something that can actually be avoided.
Out of desperation, I started to seek help from 2 of my friends who already work in an IT company, and request for arrangement for me to enter that company. I succesfully get into that company and doing the same work I did when I was a lone ranger. My financial issues had then been reduce a bit by a bit.
It was fortunate that I have an LPIC-1(Linux Proffesional Institution Certification) which actually did help a lot during the interview. For a person like me, who do not even have a diploma in IT, that proffesional certificate in the industry does help a lot.
I then realize that, in order for me to get more increment, and able to archieve more in this industry, I do need a degree in this industry. At lease, it does help a lot when I went for meeting with clients. My brother once said, he was involved in a meeting with a client who having MBA, was trying to ask my brother to shut up and only alllow him to talk alone, while my brother suppose to be the one who do the presentation. The words that the client said is damn corky and ignorant. Guess what? That MBA dude said "Are you a MBA holder? If not, then shut up and let me talk."
Well, that piece of paper not only ensures our power of talking, but it also ensure that we can put more cash into our pocket. The more you invest into your education, the more money you can put into your valet after you graduate.
I'm seriously giving INTI International College Subang (IICS)a thought. INTI is a part of world's largest private education network with a presence in 29 countries, with more than 60 accredited universities and 130 campuses, serving more than 740,000 students globally. Students in INTI will benefit not only from it's over 25 years of experience and strong track-record, but also gain from the global synergy and resources that Laureate International Universities provides. INTI embraces the concept of a cosmopolitan learning environment, with emphasis on openness and community. Just the thing that I need if I were to pursue my studies again.
INTI International College Subang (IICS) is at the final stage of reconstruction and upgrading works following an RM40 million investment to redevelop the campus.
That definitely translate to new and polished facilities apart from great study environment for the students. IICS will have capacity for 7,000 students from Malaysia and across the globe. Sounds cool, huh? It certainly sounds pretty cool to me.
Amenities will include a new three-storey building housing a 350-seat auditorium that will serve as an impressive venue for presentations by local and international speakers as well as ample learning spaces.
It will also house INTI's new School of Art & Design complete with a design gallery, studios, Macintosh and Autocad labs, materials library and design centre.
The new campus plaza will provide abundant space for outdoor meetings and open-air events as well as social and recreational activities to augment well-rounded personal development. Food and beverage outlets serving a variety of local and international fare will be accessible to INTI's students, staff and visitors. Ample parking bays come with a sub-basement parking lot for 150 vehicles, so parking will not be an issue for students with own transport.
I thought of signing up for some IT programs over here in INTI, but then again, it will be wise if I check them out first before I make any commitments.
IICS will organize INTI Edge Festival from February 20 to 22, 2013 to showcase the new environment to the public. High time to check them out, I reckon.
The INTI Edge Festival will feature insightful workshops, competitions, celebrity appearances and international cuisines for guests to feast on. YouTube sensations JinnyBoy TV to celebrity DJs Patricia K and Joey G will also be there too during the festival.
Care to join me over there, folks? If you're interested in going, call 03-56232800 or visit www.newinti.edu.my for more info. I'll be there to check things out, and so should you if you intend to pursue your tertiary education.
Happy Valentine's Day to all you lovers out there.
Here's wishing everyone who celebrates a very Happy Chinese New Year. May the snake brings you abundance of health and wealth this year.