Eat, shop & go on two wheels in Taiwan!
Before that grab the best travel deals at Taiwan Travel Fair

Whether you are considering a first or subsequent visits to Taiwan, there's never a better time to tour the island than in 2015! Taiwan Tourism Bureau Kuala Lumpur (TTBKL) is organising its first-ever Taiwan Travel Fair in Malaysia. With the theme of "Time to Enjoy Life", it will be held at 1 Utama Shopping Centre, where the public can get the best deals for Taiwan travel at this one-stop event from 25 to 29 March 2015.
With the first Taiwan Travel Fair, TTBKL hopes to present great value travel deals to Malaysian families. They have tied up with top Taiwanese and Malaysian travel agencies to offer a variety of exciting packages and the most attractive travel deals for all destinations in Taiwan. This also includes customised packages or tours specially-catered for Muslim visitors.
For visitors of the fair who purchase any tour package from participating agents, they stand a chance to participate in a lucky draw for every RM500 spent. Prizes include Taipei return flight tickets sponsored by China Airlines and Eva Airways; and East Asia cruise on Star Aquarius, Star Virgo and Aquarius liners sponsored by Star Cruises. So do make a date with us and visit the Taiwan Tourism Fair to bring back these fabulous prizes!
The Taiwan Travel Fair will be held at the Oval concourse in 1 Utama Shopping Centre from 25 to 29 March 2015. Opens 10 am daily. For more information, visit https://www.facebook.com/tbrockl !
Based on a survey conducted by Taiwan Tourism in 2012, the top attractions for inbound tourists are sights and sceneries, food and shopping. As such, the Taiwan Travel Fair will also highlight three major experiences under the theme of "Time to Enjoy Life":
Time to Eat
When it comes to food, Taiwan has it all. Dine like royalty without paying a king's ransom for it. From juicy seasonal fruits, sumptuous traditional Chinese dishes, healthy vegetarian dishes, icy desserts to creative tea drinks, Taiwanese cuisine makes full use of local ingredients and age-old techniques to surprise and satisfy your palate.
Don't forget the world-famous night markets, filled with the enticing aromas of delicious street food and snacks!
Time to Shop
Taiwan is a shopaholic's dream come true, with many large shopping centres and chain department stores in all four corners of the island. Shop for anything you want, from high-quality made-in-Taiwan 3C products, to famous highland tea and handmade weavings.
For the fashion lover, all kinds of affordable clothing, leather goods and branded products are at your fingertips. In Taiwan, you are sure to find just about everything you want.
Time to go on Two Wheels
These days, the LOHAS (Lifestyles of Health and Sustainability) trend is gaining popularity as people begin to be more health and eco-conscious. Taiwan is well-known for its LOHAS practices, and there is no better way to experience it than to travel along the breath-taking coastal highways by bicycle! Immerse yourself in the beauty of nature and appreciate the simple yet wonderful things in life with your loved ones.
Busy working? Need a quick Japanese food fix? You might want to try Yoshinoya or Hanamaru Udon. Outlet is recently opened and located in Mid Valley Kuala Lumpur.
My wife and I were recently invited for their launching and we managed to try some of the things that Hanamaru Udon are offering.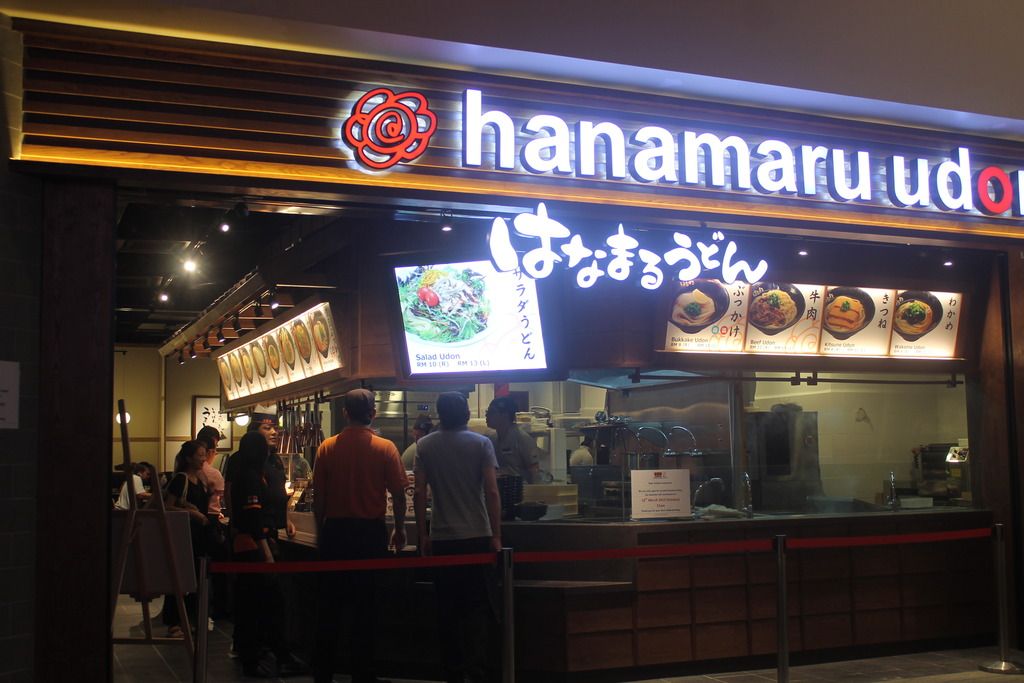 Hanamaru was founded in 2001 in Takamatsu, the capital city of Kagawa Prefecture, where Japan's famous home of Udon. They have 13 types of Udons available at this outlet. Price range from RM7 for a basic udon (zaru Udon, Kamaage Udon and Kake udon). They also have standard Udon (RM8 – Bukkake, Ontama Bukkake, Kamatama, Kitsune, Wakame),and chef's specialty (Salad Udon, Curry Udon, and Beef Udon) and Chicken Soup Udon.
Here's sharing with you we managed to try.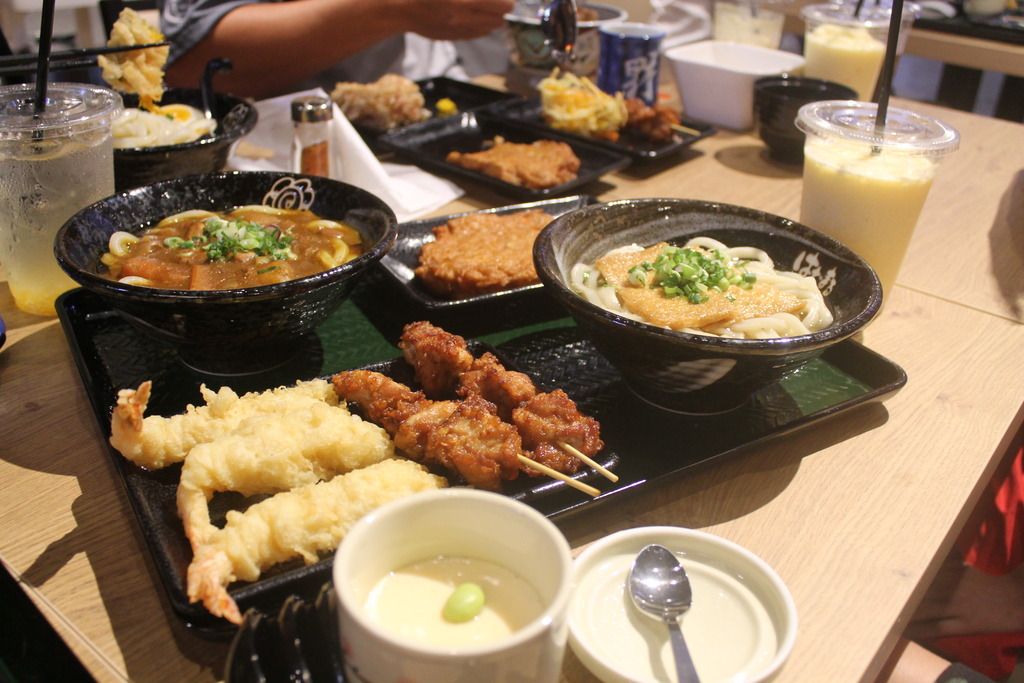 Kitune Udon, Curry Udon, Karaage,  Yasai Age, Ebi Tempura, Chawan Mushi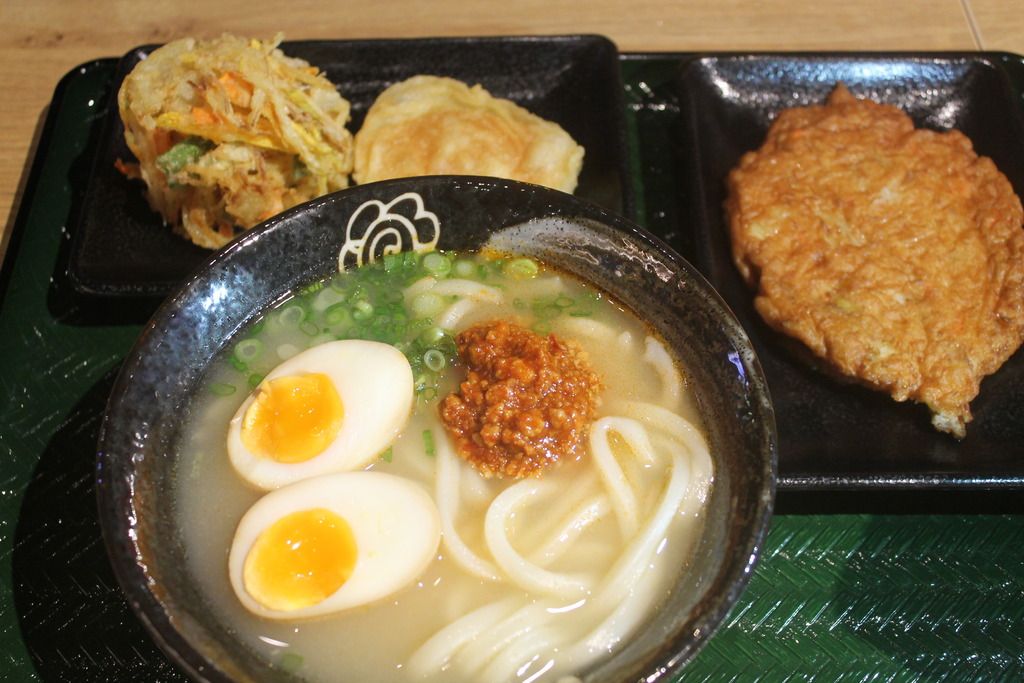 Spicy Miso Chicken Udon, Kakiage
Curry Udon (RM10) It is not only flavourful, but a tad spicy as well. Not very common for Japanese curries but my wife loves this.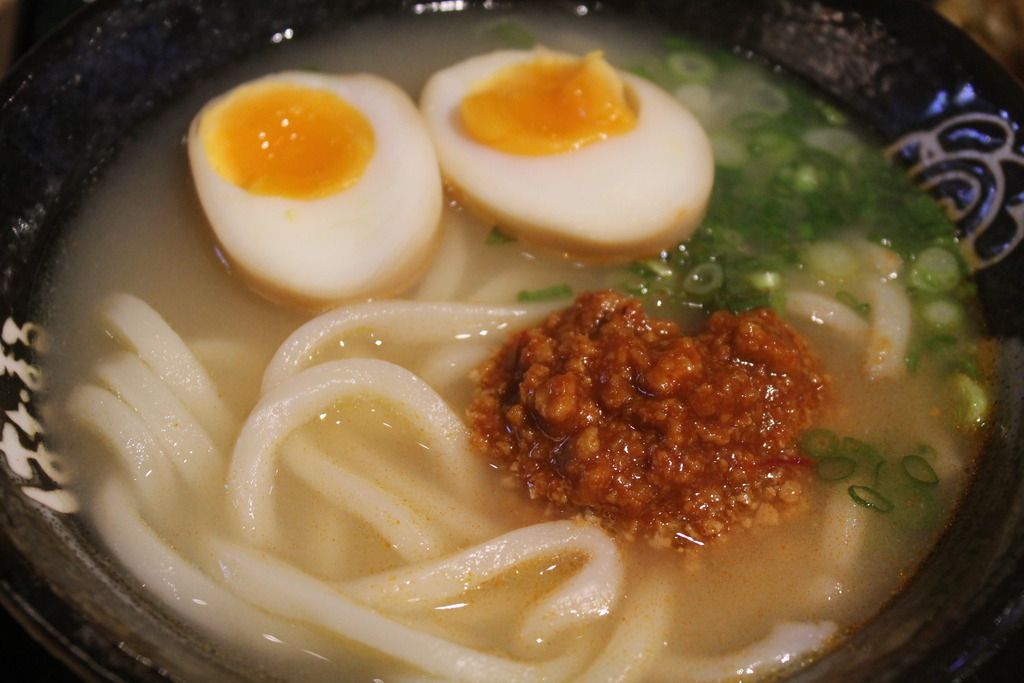 Spicy Miso Chicken Udon (RM12) was rich and flavourful but definitely not for those who doesn't like spicy food. This one gives lingering aftertaste after you had them.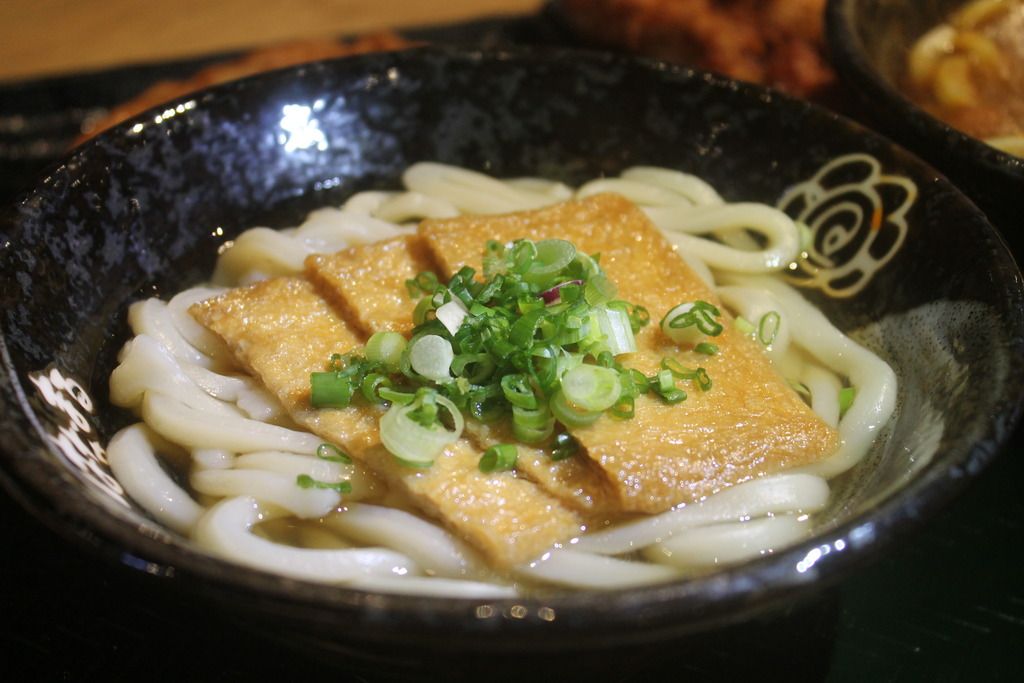 Kitsune Udon (RM8). Kitsune Udon is a delicious dish made with thick udon noodles served in a dashi based soup stock and served with a piece of fried tofu. Great for children or for those who prefers simple udons.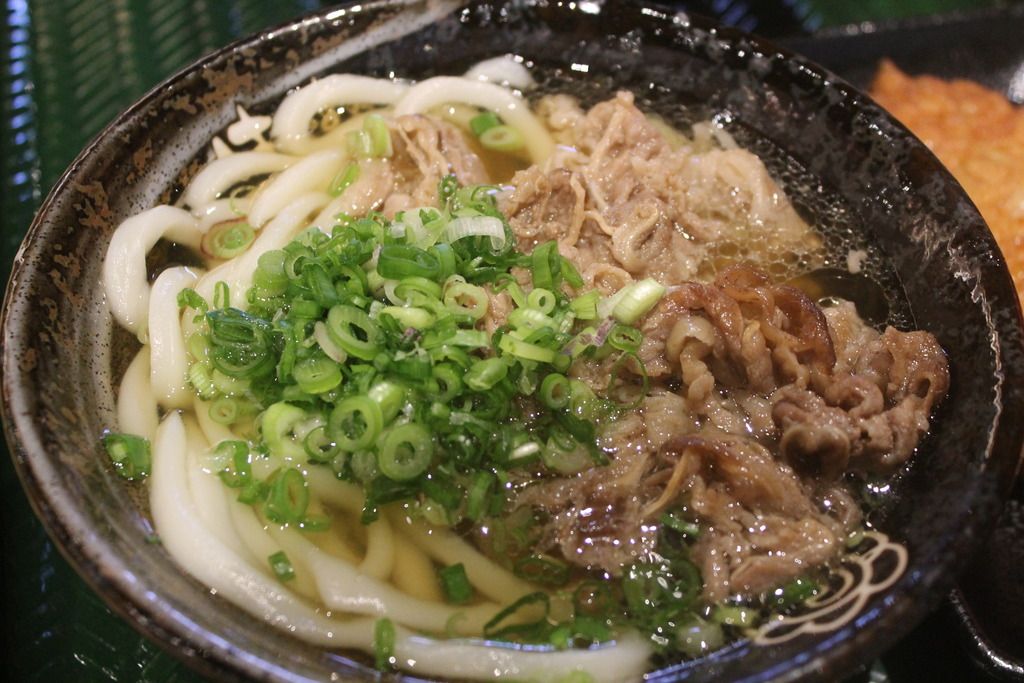 Beef Udon (RM12). I did not had this. My wife and son shared this bowl of udons, so no comment here.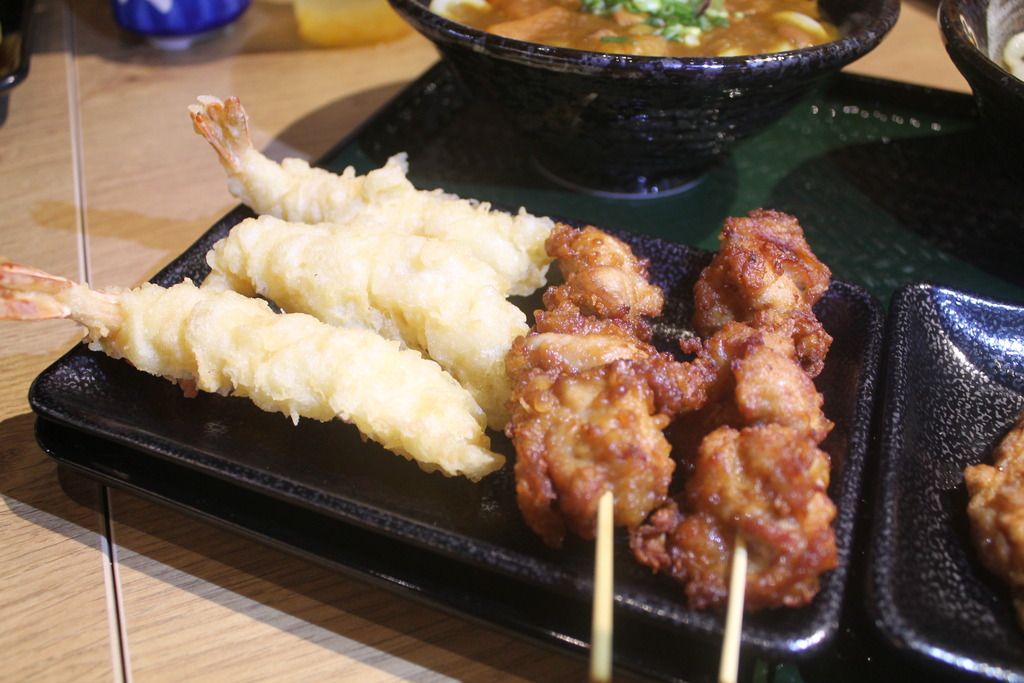 Karaage (RM12), This Karaage is one of those dishes that strikes the perfect balance between flavor, texture and richness. Ebi Tempura (RM20) on the other hand, was a just all right. Quite oily in my opinion though.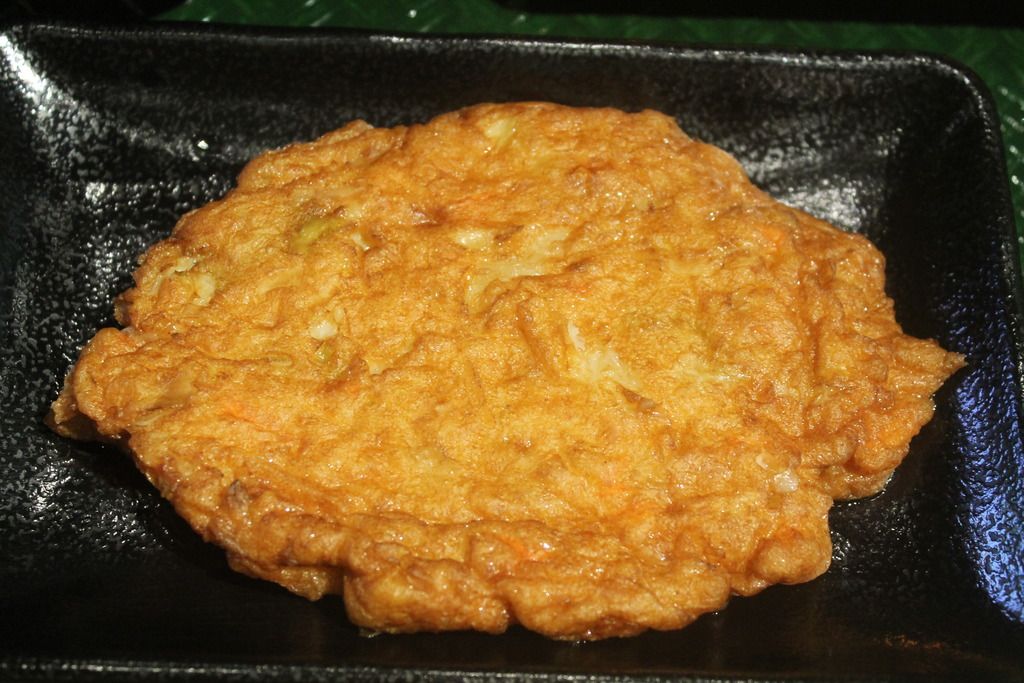 Yasai Age (RM6) . This can be had on it's own or you can add it as a side dish to your udons. Love the taste and the texture.
Sweet Potato Tempura(RM3) and Kakiage (RM3). The sweet potato is just so-so in my opinion. Nothing to complain and nothing to shout about either, but the Kakiage is adeptly fried and rather wholesome.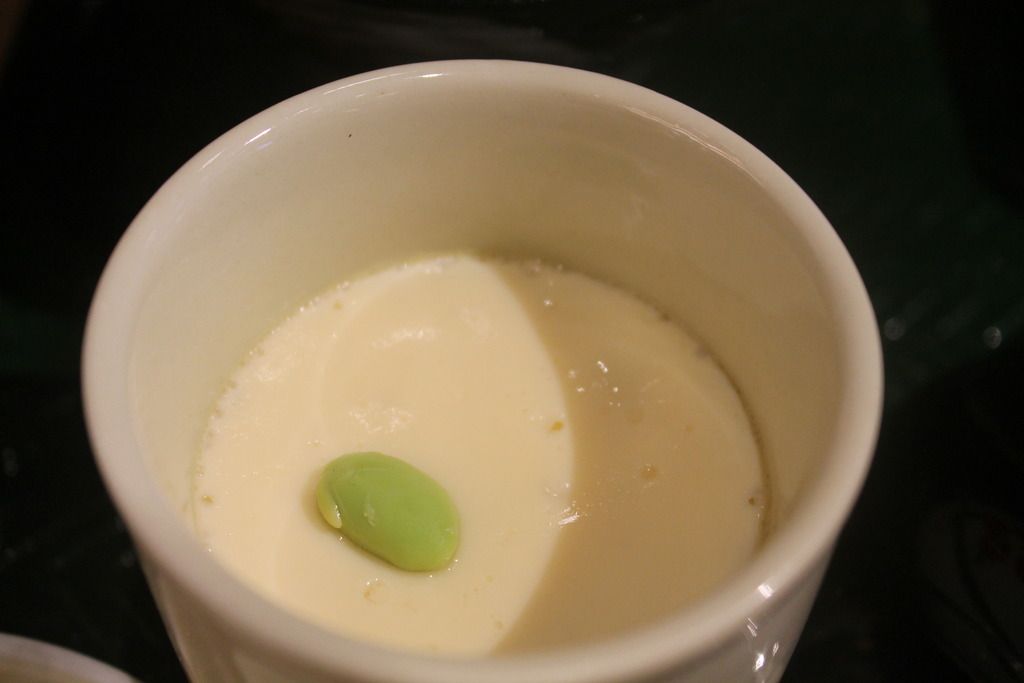 Chawan Mushi (RM8) is worth you calories, definitely. I like the taste and the texture and this one is generously filled with fillings too.
Drooling? Wanna try the Udons in Hanamaru? Below is the details of the restaurant:
Business hours: 11am-10pm daily.
Location: Lot T-015B, Level 3, Mid Valley Megamall, Mid Valley City, Lingkaran Syed Putra, 59200 Kuala Lumpur. (Opposite exhibition hall)
Outlet is Pork Free
Tel: 03-2201 8789
My wife and I did not do those 'traditional' kind of dating like going out for movies or window shopping when we were younger. We had our son quite early in life and we were busy being young parents instead of hanging out around as a couples our age. We were busy changing diapers and whatnot instead of dating.
But as time goes by, the boy grew up and we rediscovered the art of being a youthful couple once again and started dating.
Hanging out in the shopping mall, dinner together and checking out new movies at the cinema became our favourite past time. We do it about once or twice a month these days, depending on what nice movies is being screened.
The most recent one is, Ah Boys To Men 3: Frogmen.
Ah Boys to Men 3: Frogmen brings Singapore's favourite recruits back to the days before enlistment in ABTM. Instead of reporting to Pualu Tekong, the Ah Boys are posted to the Naval Diving Unit (NDU).
Returning to active duty are familiar characters – Ken Chow (Joshua Tan), the spoilt, rich kid, who tries to 'keng' his way out of NS. Aloysius Jin AKA Wayang King (Maxi Lim), whose over-enthusiasm creates more problems for his cabin mates. Lobang (Wang Weiliang), the street-smart wheeler dealer, out to make a quick buck off his cabin mates. Joining them is new face Hei Long AKA The Black Dragon (Wesley Wong), an aggressive gang leader, who prefers to talk with his fists instead of his mouth.
Together, these ragtag band of misfits must somehow survive 40 weeks of training in hell.
So, did we like the movie? Well, I have to say that the movie surpassed our expectation. It's full of action, packed with innuendos that will surely tickle your funny bones and at the same time, is a tearjerker as there is touchy emotional element embedded in some of the scene.
Ah Boys To Men 3: Frogmen will be screened in Malaysian cinema nationwide from 19th March 2015 onwards. It is rated PG-13 for vulgarities and mild nudity. Definitely a movie that's worth paying for and I would rate it a 5/5, so do check it out.
Being married is not easy. It doesn't take just love or plain lust to make it work, but also hard work and effort to be together. I've been with my wife for 12 going on 13 years and it is not quite a walk in the park for us. Sometimes things are not so sunny in paradise. A few wrong turns and some rainstorms every now and then, but we do make effort to brave the storm and survive it regardless. We are still together as husband and wife, against all odds.
As I mentioned earlier, it is not easy to be married. You can't take anything for granted, especially your spouse's feelings. Ladies, or rather wives are particularly sensitive, even if they pretend they are not and doesn't show it. Trust me. If your wife really loves you, they would want you to spend as much time as you can with them. So, husbands, sometimes gifts or token of love although it is much appreciated, is immaterial.
Somewhat growing up together(she was my college sweetheart), my wife loves to date me and spend time with me. She is a bit young at heart and somehow never got out of college in some ways. Loves dating, play bowling, go to the movies, and traveling, but as an engineer time is a commodity that I don't always have. Work demands most of my time. I rarely even have time for myself.
Although I make the best of effort to make her happy by obliging to her whim and fancy and spend as much time as I can with her and our son; I always find that time is always envious. We had to make the best of weekends and public holidays to do stuff that we love to do before reality and work intrudes. And as the age catches up, I feel so worn out and tired. VERY TIRED. At some point I felt so drained and exhausted to the point I couldn't even concentrate on anything, what more focus on my wife and son when I'm with them.
Lack of time and energy because you are too busy working is quite a relationship killer, I must say, adding up to the financial stress and whatnot. It can make a marriage rather 'stormy'. Husbands out there would agree with me on that, I'm sure.
Although I have no suggestions on how you can improve the 'lack of time' part, I do have some tricks up my sleeve where both men and women alike can remedy the 'lack of energy' part of the problem.
Boosting your energy help your relationship in a sense that you could focus to spend your quality time with your spouse or partner. Trust me, it makes a lot of difference. Nobody likes to spend time, or make love with a zombified partner who looks like he or she has just stepped out of Twilight Zone. If you can't be focused and going to zone out whenever you are with your loved ones, you might as well don't do it at all and just go get a good night sleep.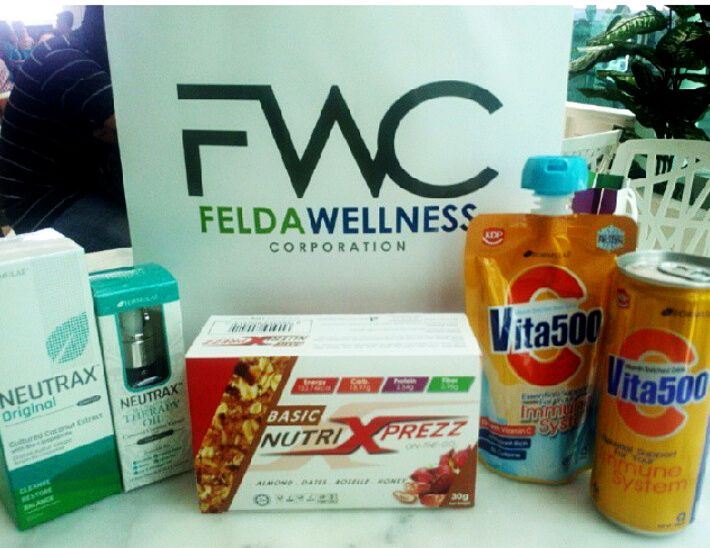 Products by Felda Wellness Corporation
I was recently introduced to this product by Felda Wellness Corporation; NEUTRAX Original and NEUTRAX Therapy Oil, a natural wonder. The product claims to help improve your health inside out.
I was skeptical at first, but after almost about 3 weeks using these two products, I feel quite different. It is positively a natural wonder.
So now, dear readers, allow me to elaborate and share with you about these two fabulous products.
First, let me share with you the benefits of NEUTRAX Original.
The 5As benefits of Neutrax Original :
1)Anti Microbial – Manage diabetes, kills candida fungus, curb infections. 
2)Anti Inflammatory – Reduce and manage gout. arthritis, rheumatism, fibroyalga, diabetis. 
3)Anti-Oxidant – Prevent Alzheimer, slows aging and promote cell regeneration. 
4)Active Lipid – Reduces bad cholesterol, reduces risk of heart diseases, boost metabolism. 
5)Active Immunity – Manage asthma and severe eczema, speed up recovery process.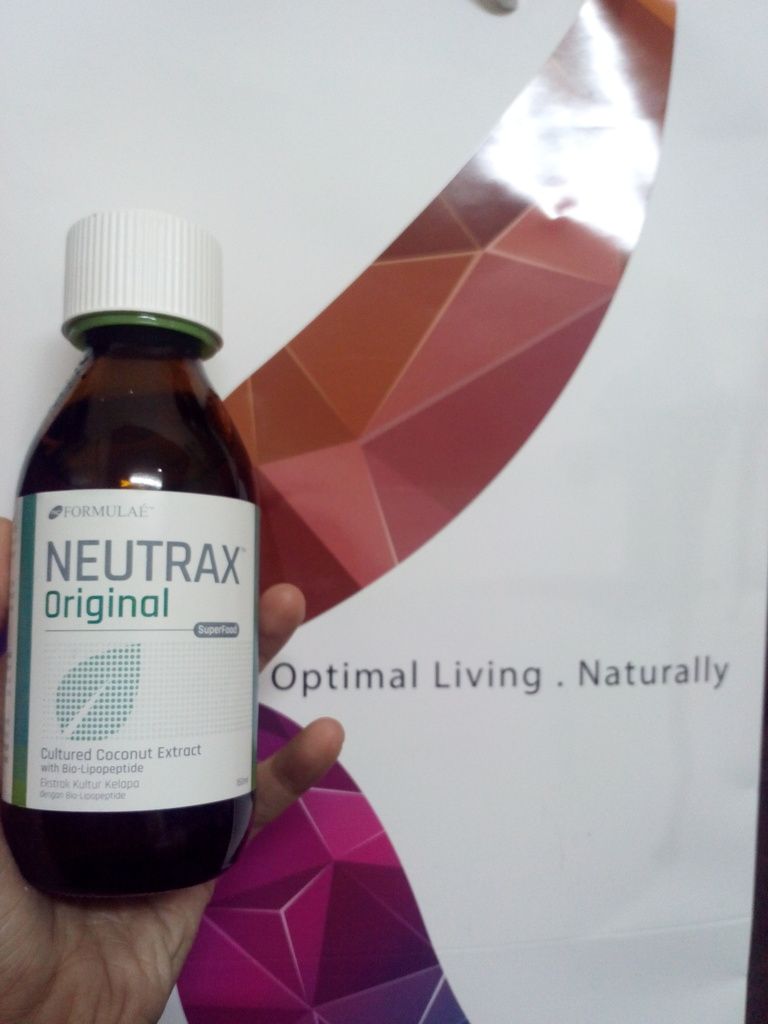 NEUTRAX Original is a premium quality Superfood like no other. It is actually Cultured Coconut Extract (CCE)with Bio-Lipopeptide; made through a proprietary advanced microaerophilic fermentation process using carefully selected coconut milk that is ethically harvested at a specific maturity. 
NEUTRAX Original contains extraordinary immune boosting lauric acid, found only in breast milk, which is known to improve energy levels, boost immunity, regulate hormones, stabilise sugar levels, and boost the cellular healing process.
NEUTRAX Original is fairly easy to use. It is to be taken orally.
NEUTRAX Original can be taken:
* 2 tablespoons daily; (unless instructed otherwise by doctor or health advisor)
* NEUTRAX Original can be taken on its own or can be mixed with food or beverage
Take a look at the video of Arief Farhan, a busy young entrepeuneur, entertainer who also happens to be a NEUTRAX Original user,demonstrating how to consume NEUTRAX Original and telling us the effect on him. Interview credit goes to Cleffairy.
Easy right? Very fuss free!
As it is Pure Coconut Extract, it is also suitable for pregnant and breastfeeding mother, so gentlemen, if your wife is pregnant or breastfeeding, you might want to consider adding NEUTRAX Original as her supplement. It would be helpful to increase her immunity as well as boost up her energy.
But do play safe if you wanna consume this. Consult your healthcare practitioner before using this product
One thing you should note though, the product may solidify if stored below 24'c but it does not change its nutritional value.
I take NEUTRAX Original twice daily. Initially I did not see much difference, but constantly taking it for two weeks consecutively non-stop, my wife told me that I look different. She said I'm much more alert and much more energetic. She also mentioned that I'm much more focused and much more amorous in the bedroom department. The improvements have been gradual, but I realized that she is right. The changes has been rather gradual so I didn't really noticed, but I do feel different now. Less tired, much more energetic and could focus on what I'm doing much better. Apart from feeling much more rejuvenated, I also noticed that I no longer constipate. I suppose true to it's claim, NEUTRAX Original helps to detox too, hence I feel greater and much healthier.
My wife is much happier now as I'm not tired all the time when we spend quality time together and couldn't stop trying to touch me and being all lovey dovey. Good thing, I guess? She mentioned my skin improves and I smell better too. I guess I can thank Neutrax Therapy Oil for that.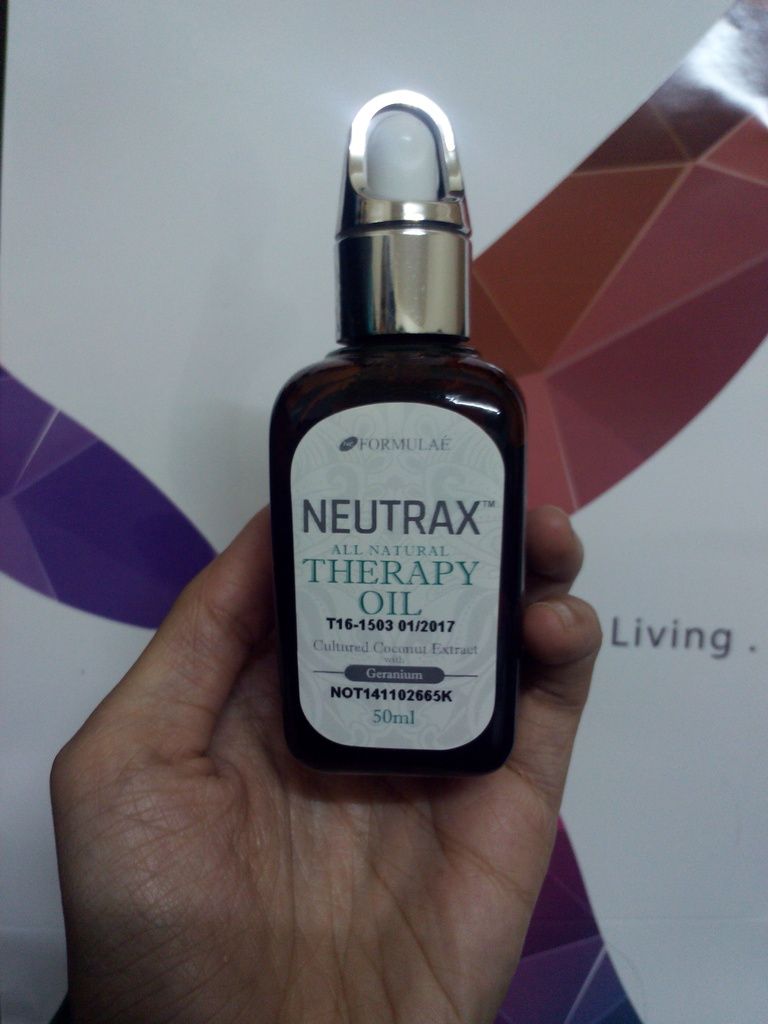 As I mentioned earlier, I'm not only using NEUTRAX Original but NEUTRAX Theraphy Oil too. NEUTRAX Therapy Oil Intense Beauty Care's potent formula is 100% plant based, with Bio-Lipopeptide.
Here's some of the benefits of using NEUTRAX Therapy Oil.
 1. Deep moisturising for healthy glow 
 2. Protects against extreme weather, environment pollution, and lifestyle stresses 
 3. Regulates sebum production – Cell renewal and restoration (eg skin with burns & scars) 
 4. Prevents premature aging 
 5.Protects against UVA/UVB oxadative stress 
 6. Rehydrates skin/hair, uneven skin tone, pigmented, sensitive and irritated skin (eg acne, eczema) 
NEUTRAX Therapy Oil is highly absorbent, with added Geranium essential oil, which is known to regulate hormones, relieve stress, reduce inflammation and irritation.
Apart from that, it also alleviate the effects of menopause, improve circulation, tighten skin for healthier and more beautiful skin, hair and nails. So guys, I highly recommended for ladies to use this too.
It is also easy to use. Check out the video of another NEUTRAX Therapy Oil user to show how to use the product.
Video credit to Cleffairy.
This gentle, mineral-free formula is suitable for daily use. Apply three (3) to four (4) drops to clean, damp skin as part of your morning and evening skincare regime. Massage into skin with gentle, circular motions, and watch it slowly work wonders on you.
Apart from using NEUTRAX Therapy Oil on my skin, I also applied some in my scalp after shower, and it helps quite a lot with my dandruff woes and I can now wear dark and black clothing without having to worry about those snowy flakes looking visible on my clothes.
My life, personal and professional life have changed for the better with Neutrax. I feel better, look better and feel happier.
Won't you want to lead a better and a higher quality lifestyle like me?
For more information on NEUTRAX Original and NEUTRAX Therapy Oil, you may check these out:
Website: www.neutrax.com.my

Facebook: http://facebook.com/felda.wellness
Careline: 1-800-222-FWC (392)
Want to feast like an emperor this coming Chinese New Year? My wife and I managed to try some no-nonsense and strictly traditional menu item a few weeks back and thought what Utara Coffee House have to offer is pretty decent.
Here's sharing with you what we had: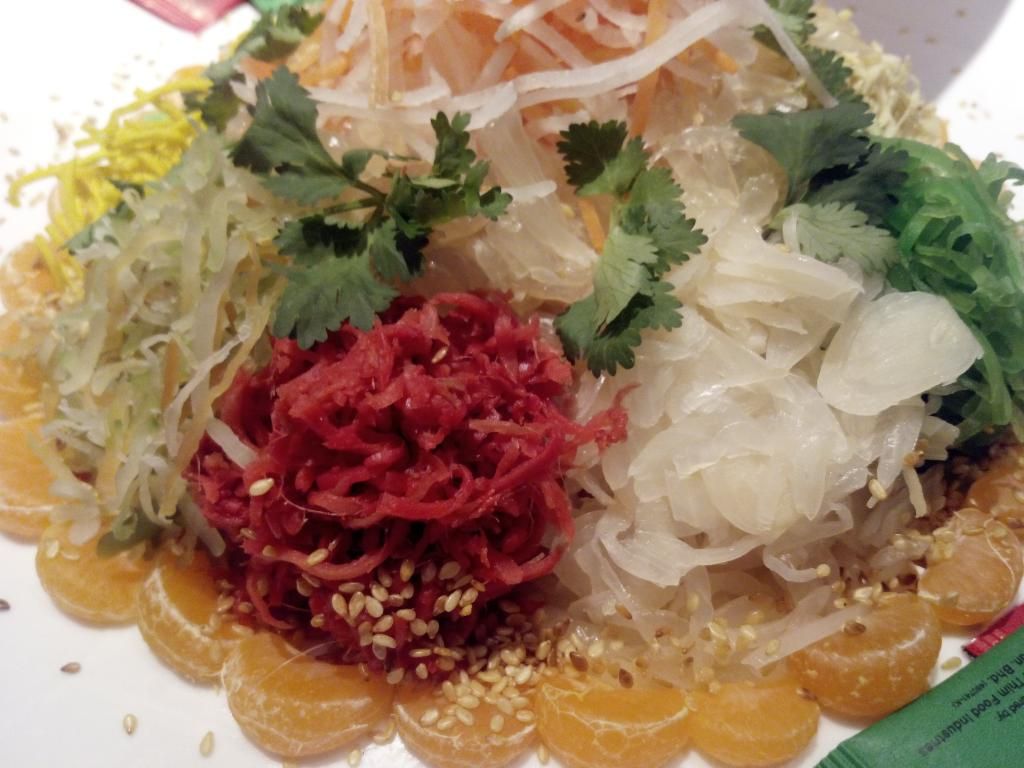 Prosperity Yee Sang with Salmon doesn't disappoint and no fanciful, does not complement the mix item in it.
Shark's fin soup. Yes. Quite controversial, but I do appreciate having this in my bowl.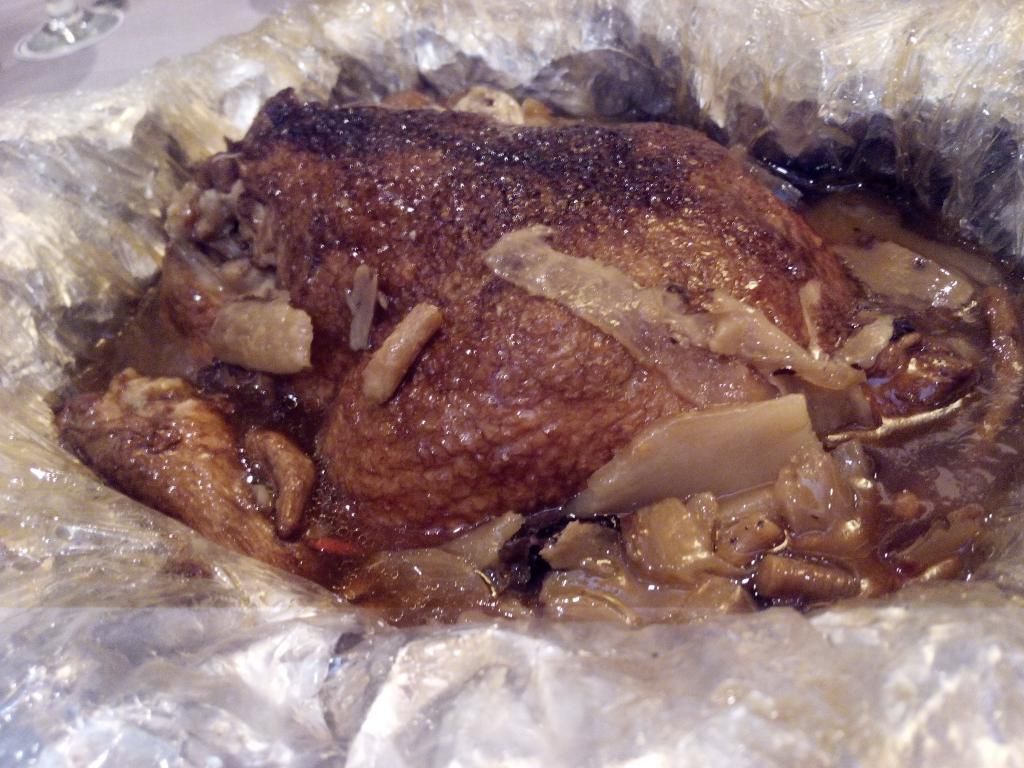 Chinese Herbal Chicken. Wife did not like herbal items, but I'm a huge fan, so I polished off hers happily when I was done with mine.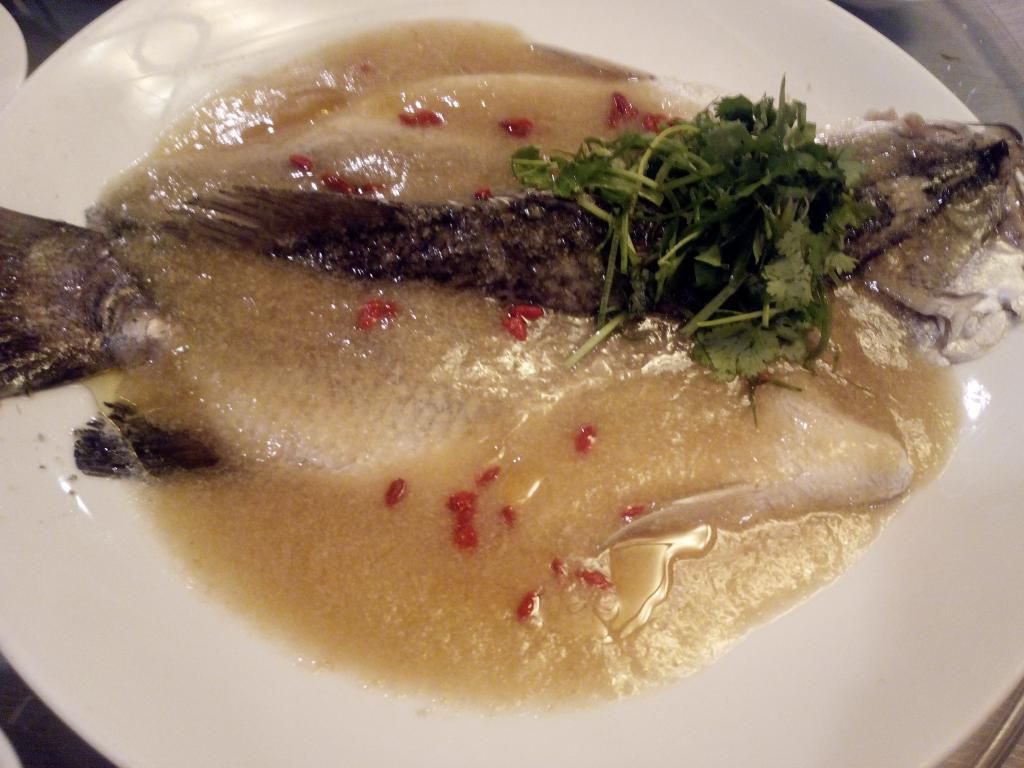 Steamed Seabass with Ginger Sauce was okay. Flavourful and no fishy smell whatsoever.
Fried Prawn with Salted Eggs and Butter Flakes. Easily my favourite that night.
Fried Mixed Vegetable and Fat Choy. Very basic and original. The veggies are fresh and sweet.
Chinese New Year Lotus Rice. I gave this a miss as I was already too full from previous dishes, but my wife helped herself to this more than once, so I guess it tasted pretty good.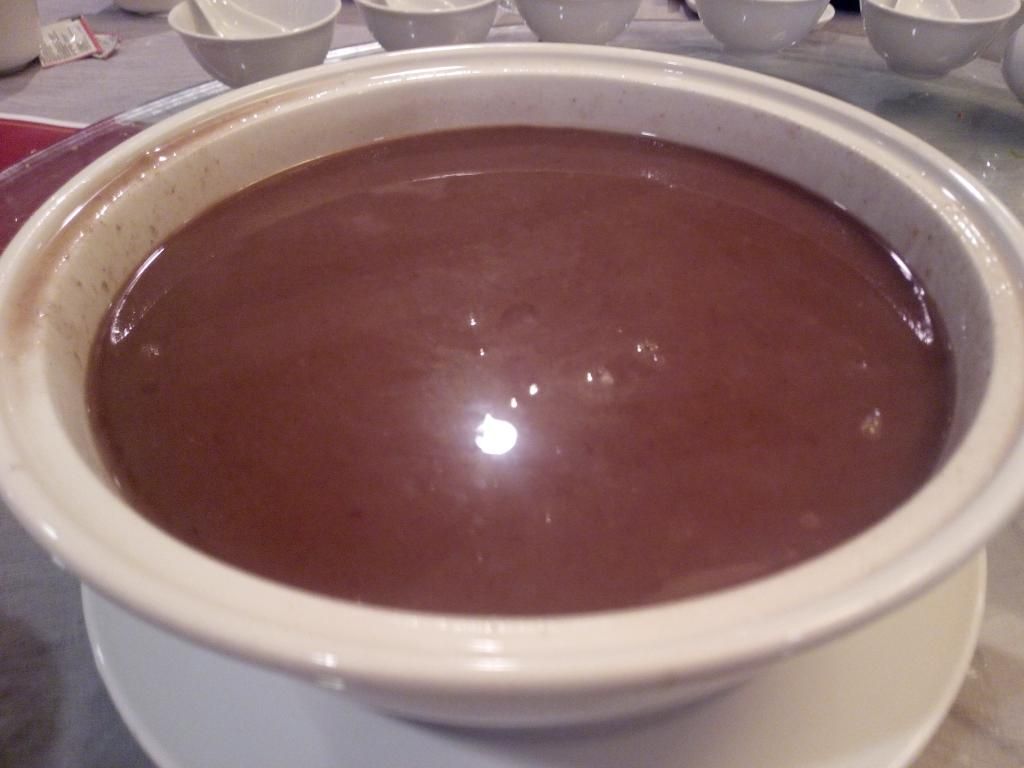 Red Bean Cream was delicious and not overly sweet.
Our meal ended with Chinese New Year's Pancake and Steamed Nian Gao.
Overall, what Utara Coffee House is offering for the upcoming Chinese New Year is strictly traditional.
Chinese New Year's buffet and menu is available from 19th January to 5th March with the pricing above.
For booking and reservation please contact:
Armada Petaling Jaya
Lot 6, Lorong Utara C, Section 52
46200 Petaling Jaya
Selangor Darul Ehsan Malaysia
Tel : (603) 7954 6888
Fax : (603) 7956 8088
Email: armada@armada.com.my